Welcome back to Week 52 in my weekly reports analyzing the Covid-19 pandemic and its effects on the country and higher education. For those of you reading this on my blog, Off the Silk Road, I have also launched a newsletter, where these reports can be sent directly to your email each week. Click here to subscribe.
Last week, we continued to focus on the split screen pandemic and "impending doom" as shown through vaccines and variants. This week, as "vaccine open season" approaches, we will look ahead at the next few months for vaccine distribution as Michigan and other states continue to battle surges.
A national look
One year ago, I published my first of these weekly updates — you can read the first one here. Having followed the pandemic since its early days when I was in China, I had published a series of daily updates in late January 2020. What initially started as a way to provide information on the state of the pandemic to family and friends on a weekly basis has turned into a newsletter with hundreds of subscribers. Thank you to all for your continued readership — I'm incredibly grateful.
In recognition of the newsletter's one-year anniversary, I invite you to send me one picture which you feel best represents your life throughout the pandemic over the last year. Please reply to this email with your submission and I will feature your photos in next week's newsletter. Here's mine — this was the first time I wore a mask in China.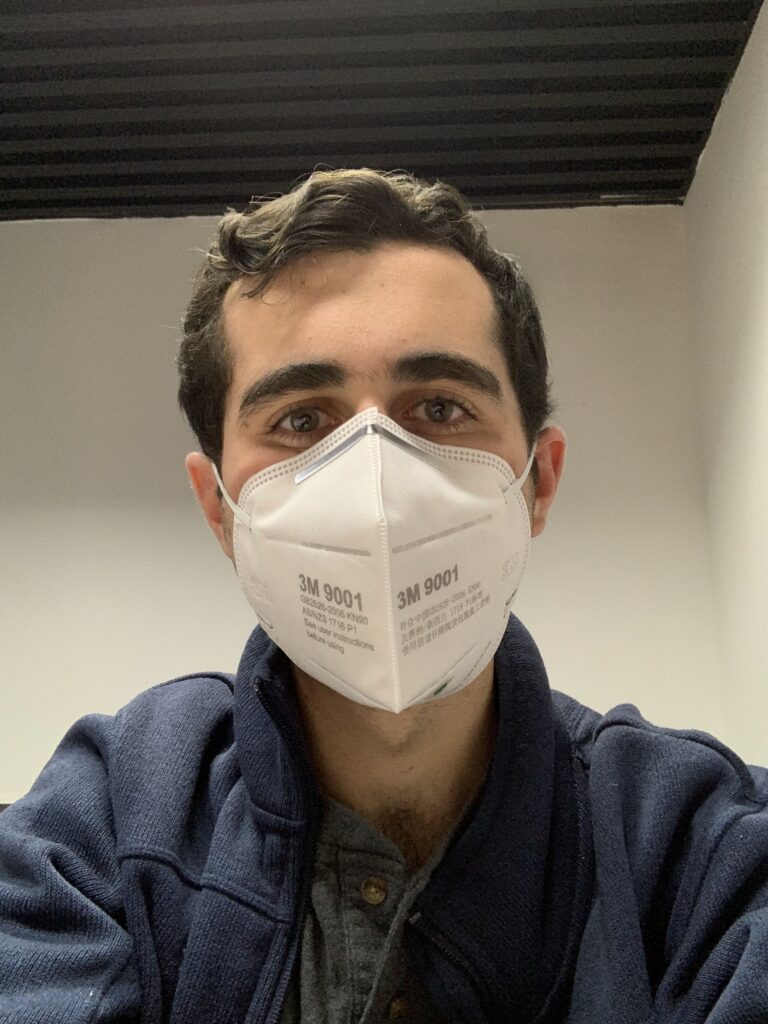 After a short testing and vaccination drop due to the Easter holiday, the U.S. continues its tight race between vaccinations and variants. This week, the CDC announced that the B.1.1.7 variant is now the dominant strain in the country, which has been expected among the epidemiological community and somehow comes as a complete surprise to some politicians. In some states with high percentages of variants, case declines have stalled. Nearly 44% of all reported U.S. coronavirus cases in the last week have come from just five states: New York, Michigan, Florida, Pennsylvania and New Jersey. In New York City for example, nearly 80% of cases sequenced this week are variants. In Michigan, the governor has called for a voluntary pause of schools and youth sports as the Biden administration has announced it will surge vaccinators (not extra vaccines), tests and therapeutics to the state.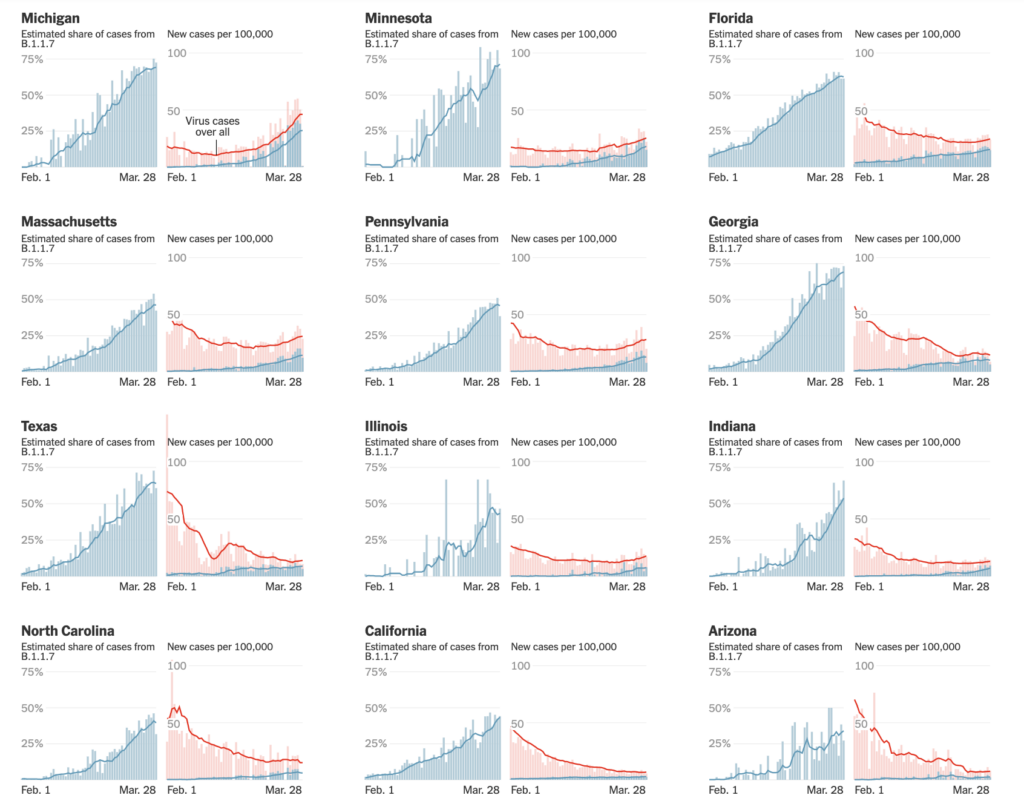 Also problematic is pandemic fatigue, which has continued to set in. Only 35% of U.S. adults now say they are very or somewhat worried about contracting Covid-19, the lowest point in Gallup's trend since April 2020.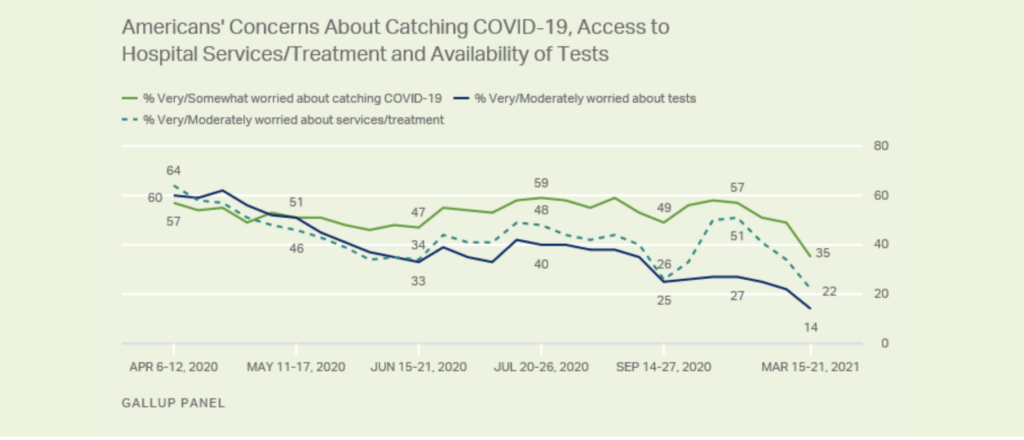 Let's take a look at some of the latest scientific developments:
According to a CDC report, 46 cases of Covid-19 were linked to an indoor bar opening event that occurred during February 2021 in a rural Illinois county. Event patrons were linked to secondary cases among household, long-term care facility, and school contacts, resulting in one hospitalization and one school closure affecting 650 students.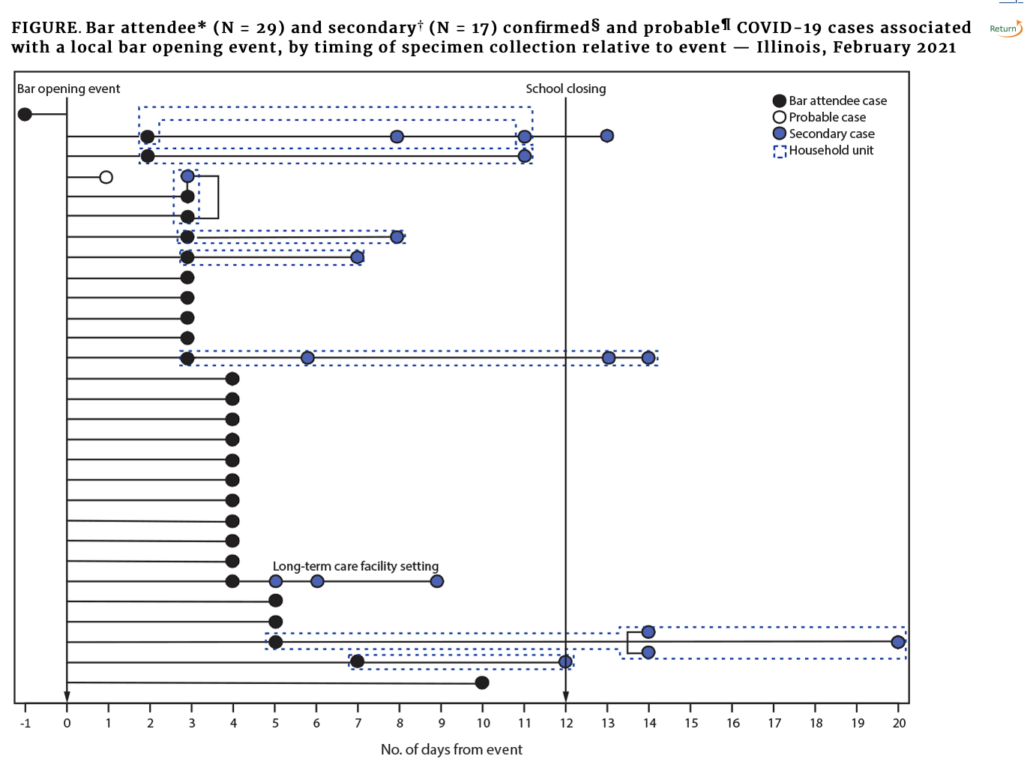 The era of "hygiene theater" may have come to an unofficial end this week, when the CDC updated its surface cleaning guidelines and noted that the risk of contracting the virus from touching a contaminated surface was less than 1 in 10,000.
England announced that its residents will be offered twice-weekly lateral flow tests — at-home devices to test for the coronavirus. Anyone over the age of 18 will be able to collect boxes of seven tests from their local pharmacy or a home delivery service. 
A new study published in JAMA Pediatrics shows another tragic result of Covid-19: Between 37,300 and 43,000 children have lost at least one parent due to the pandemic. 
According to a CDC report, an outbreak of Covid-19 at a church in Australia, where attendees were not wearing masks, suggests airborne transmission.
Researchers in England found that the B.1.1.7 variant increases transmission by ~55%. Lateral flow devices can detect up to 89.5% of infectious cases.
A CDC study from the Blackfeet Tribal Reservation showed that enforcement of stay-at-home orders and mandated use of face coverings in public, with potential fines and jail for noncompliance, were associated with a thirty-three-fold reduction in Covid-19 incidence
Dr. Carl Bergstrom and his team at the University of Washington have released new modeling on testing in a partially vaccinated population. The model shows that when 40% of a population is vaccinated, for example, weekly testing can turn possible outbreaks into controlled ones. After 60-70% vaccination, testing does not provide much benefit.
More than 3,600 U.S. health care workers perished in the first year of the pandemic, according to "Lost on the Frontline," a 12-month investigation by The Guardian and Kaiser Health News to track such deaths.
One in three Covid-19 survivors received a neurological or psychiatric diagnosis within six months of infection, an observational study of more than 230,000 published in The Lancet found.
A report in JAMA showed the geographic distribution and clinical characteristics of children with MIS-C, a multisystem inflammatory syndrome.
Yesterday, the U.S. reported a record of 4.63 million doses administered, with the 7-day average now at 3.11 million shots per day. More than 1 in 3 Americans have had at least one dose and 1 in 5 have been fully vaccinated. In 39 states, vaccinations are now open to anyone over the age of 16. All states have announced dates to open vaccine eligibility for all adults by April 19, in line with President Biden's new deadline.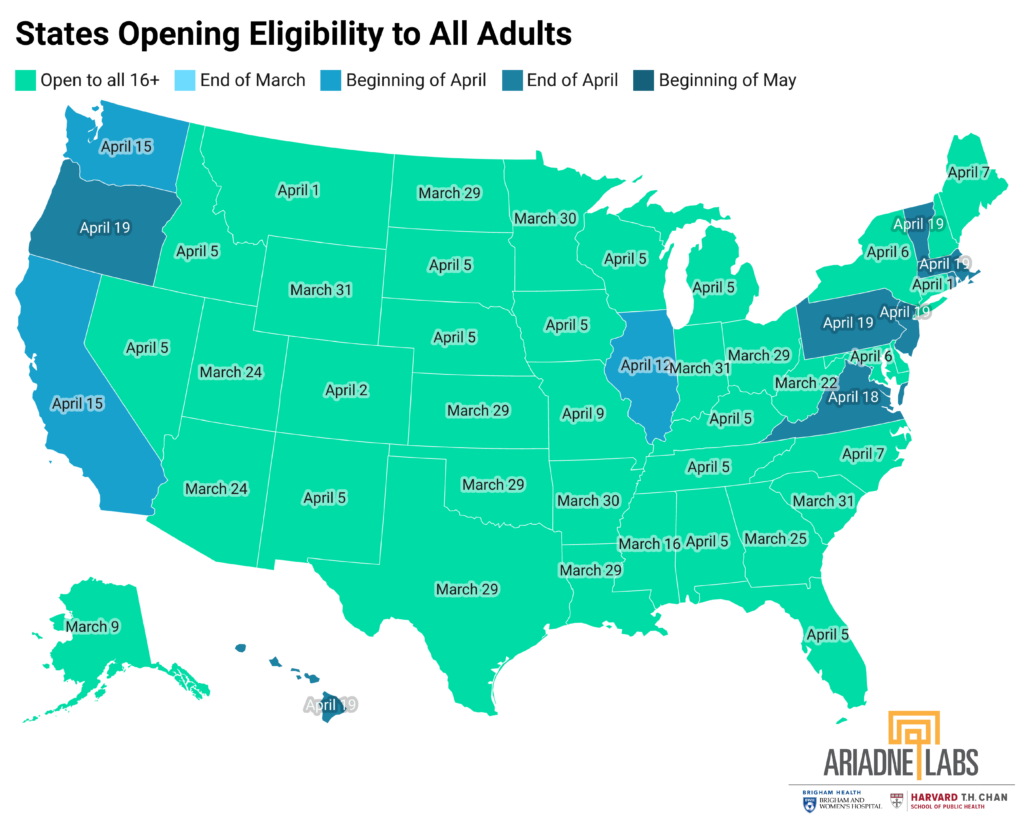 As the U.S. continues to report over 3 million doses administered per day on average, in many places America's vaccine supply problem has now morphed into a demand one. As I wrote in a Twitter thread on Friday, some states (such as Mississippi) now have thousands of doses and appointments and few people willing to take them, hindering the nation's progress to herd immunity. The key metric we are monitoring here is the gap between doses distributed and administered (the "gap"). Acknowledging there may be data lags, states in the darker colors are seeing a bigger gap, pointing to delivery issues or hesitancy.

States need to optimize their delivery systems. We need to leave no doses on the table. States have delayed ordering hundreds of thousands of vaccine doses available to them. With lower Johnson & Johnson allocations this month, states and localities need to overcompensate by surging doses as soon as possible to those communities. With the majority of states now open to all adults, outreach needs to begin now. A new poll from Surgo Ventures found that the national supply/demand shift will happen toward the end of April. 59% of the population now say they have already been vaccinated or want to be. In order to close the gap, we need to promote access and equity. Hesitancy will be addressed as a result. Think vaccination sites at train stations and supermarkets. The time is now, in states that have supply, to make it as easy as possible. One community around the world vaccinating someone on a donkey.
America is hitting a vaccine wall. One of the ways we can increase access is through the federal pharmacy program. An analysis of new CDC data which shows the breakdown of doses shipped through various programs (states, federal pharmacy, federally qualified health centers, etc.) finds that states who rely more on the federal pharmacy program have a smaller gap per capita. Creating more sites for people to be vaccinated is key.
We should be somewhat optimistic about what is to come. Based on polling from the Kaiser Family Foundation, everyone who would like to get a vaccine "as soon as possible" would be able to get their first dose by around May 3 and everyone in the "wait and see" group by May 27.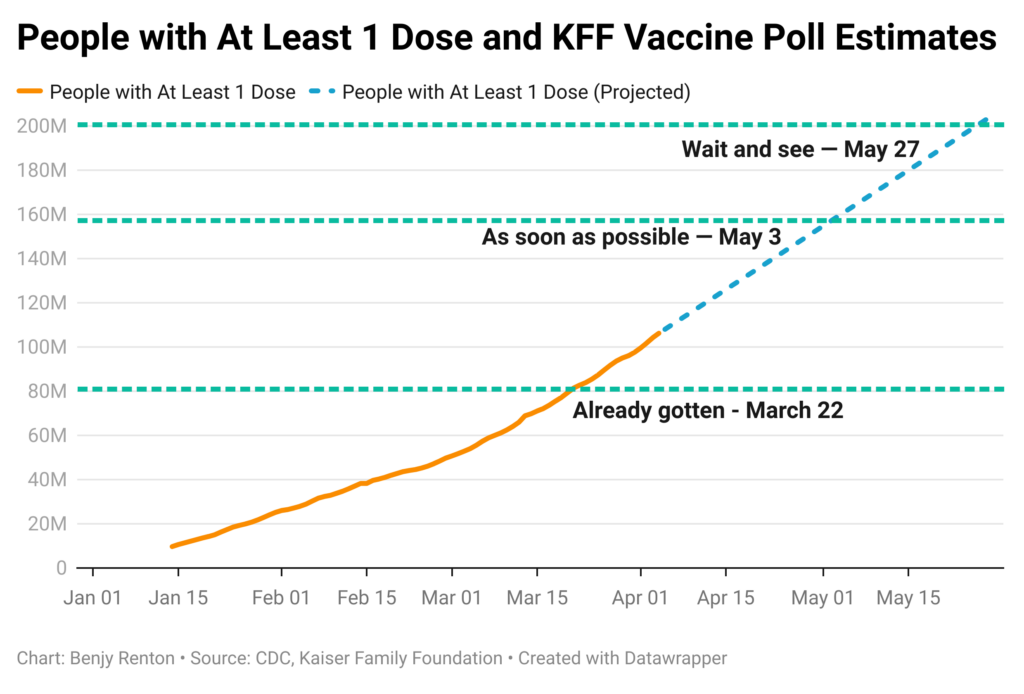 As we begin to calculate our way out of the pandemic, a new op-ed from Drs. Syra Madad, Monica Gandhi and Ashish Jha published in The Washington Post argues that two metrics are most important to monitor: Hospitalization rate (ideally less than 5 per 100,000 people nationwide) and vaccination rate (Israel data show cases start to decline with 40% of the population having at least one dose).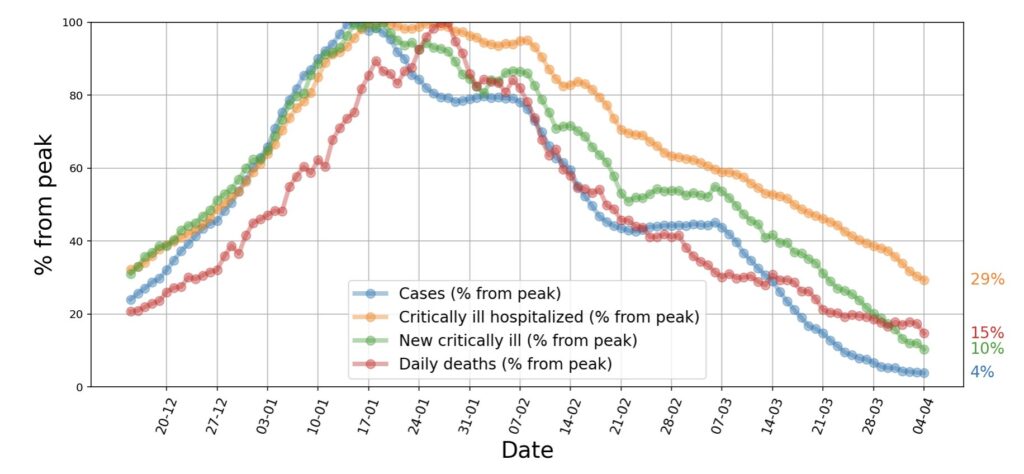 A few other updates on vaccines:
Pfizer and BioNTech requested that the FDA expand the emergency use authorization for their coronavirus vaccine to permit its use in children ages 12 to 15. If approved, it could allow young adolescents to start getting vaccinated before going back to school in the fall.
Two reports published on Friday in The New England Journal of Medicine help to explain how AstraZeneca's Covid vaccine can, in rare cases, cause serious and sometimes fatal blood clots.
An in-depth investigation from The New York Times found that the average infection rate in U.S. prisons is 34%.
Nearly 40% of U.S. Marines are declining Covid-19 vaccinations, according to data provided to CNN on Friday by the service, the first branch to disclose service-wide numbers on acceptance and declination.
A paper published in The New England Journal of Medicine found that after health workers saw low uptake on web registrations in San Francisco, they made calls, sent text messages and offered drop-in hours for vaccines. Like voting, we need to meet people where they are.
Walgreens has inoculated hundreds of thousands of Americans against Covid-19 this year with the Pfizer vaccine, but the pharmacy chain has not been following guidance from federal health officials about the timing of second doses. Walgreens put both the Pfizer and Moderna vaccines on four week intervals due to ease of scheduling.
Hosts of The Today Show received their vaccines live on air.
Wisconsin has been incredibly efficient in using as many of its doses as possible. So what worked? Strict tiering for 65+ (not opening the floodgates too soon), allowing more vulnerable counties to vaccine all adults sooner and tailored local outreach all contributed to the state's success.
The New York Times profiled Katalin Kariko, a 66-year-old Hungarian scientist who was a major force behind messenger RNA technology.
A Bloomberg analysis found that countries with the highest incomes are vaccinating 25 times faster than those with the lowest.
A preprint found that one dose of Sinovac's CoronaVac is still about 50% effective against symptomatic Covid-19 in Manaus, Brazil, where more than 85% of cases are caused by the highly transmissible P.1 variant.
One bar in New Orleans handed out free shots as long as patrons received the Johnson & Johnson vaccine first.
This pandemic won't last forever. However, mass vaccination campaigns are harder in their later stages as people play the "herd immunity game" and believe that they don't need the vaccine because others are protected.
A fascinating new paper from Yale professor Jason Schwartz and colleagues investigated the feasibility of using Dollar General and Dollar Tree stores as vaccination sites. Many of these stores are located in areas with high social vulnerability.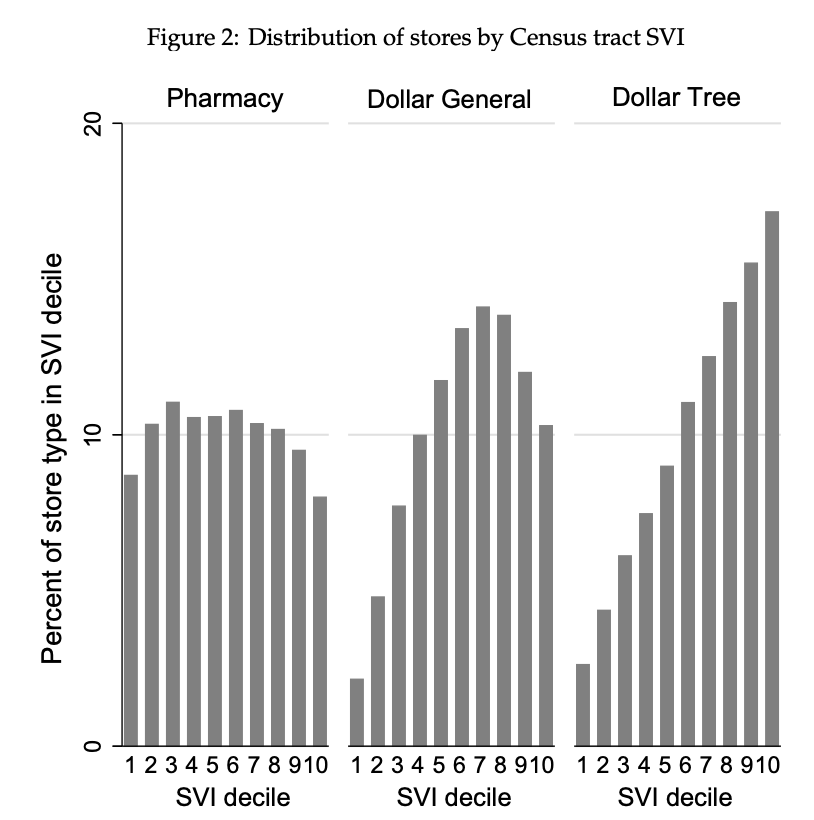 According to an article in STAT, there is a lack of tailored vaccine messaging to Generation Z.
A new study finds that to help convince conservatives to get the vaccine, messaging from the former president and other Republican elites would work best.
This week, more papers were published which give us hope for the effectiveness of these vaccines against variants. Studies found high levels of neutralizing antibodies against the B.1.351 (South Africa), P.1 (Brazil) and B.1.429 (California) variants.
Center for Public Integrity reporter Liz Essley Whyte wrote about her decision to get the vaccine while pregnant.
Bhutan has vaccinated 61% of its population in 9 days.
Throughout the vaccine rollout, there have been two major strategies at play: vaccinate those most likely to have severe disease or vaccinate those most likely to spread. Italy took the latter option early on and has now seen rising deaths in unvaccinated older people. In the U.S., we are witnessing the confluence of both strategies as cases climb in younger, unvaccinated people.
After months of tracking vaccines, I've finally tracked my own. I have received the first dose of the Pfizer vaccine and urge you to get vaccinated when you can. Thanks to the scientists, vaccinators and Pfizer CEO Dr. Albert Bourla, the son of Holocaust survivors who believed in the American Dream. It was especially poignant that my vaccination happened on Holocaust Remembrance Day. (For the record, the only side effects I have had so far is a sore arm for a day or so.)
After months of tracking vaccines, I've finally tracked my own. I received the first dose of the Pfizer vaccine and urge you to get vaccinated when you can. Thanks to the scientists, vaccinators and @AlbertBourla, the son of Holocaust survivors who believed in the American Dream. pic.twitter.com/CoUfwT2uOc

— Benjy Renton (@bhrenton) April 8, 2021
Let's move on to our discussion of higher education.
Higher education
As college students in many states are still largely not fully vaccinated, we have yet to see the effects of any possible spring break travel. College outbreaks persist at some institutions, including Bates College. Restrictions on in-room quarantine continue as the school has over 72 active cases and more students in quarantine.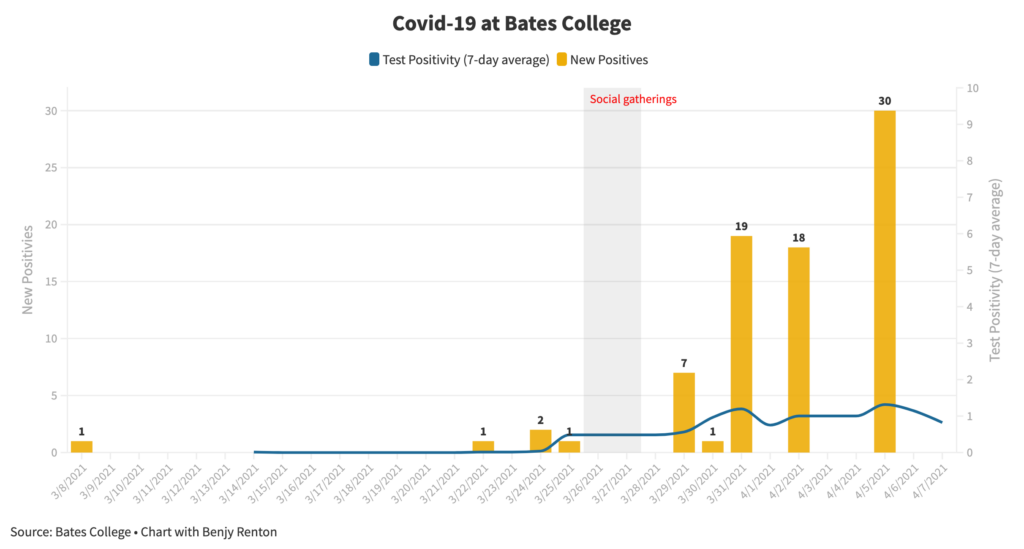 At some institutions, students are currently undergoing the process of being vaccinated. However, a decrease in this month's Johnson & Johnson doses means that some states need to readjust their strategy for vaccinating college populations. At Emory University, the student newspaper celebrated vaccinations with a special front page.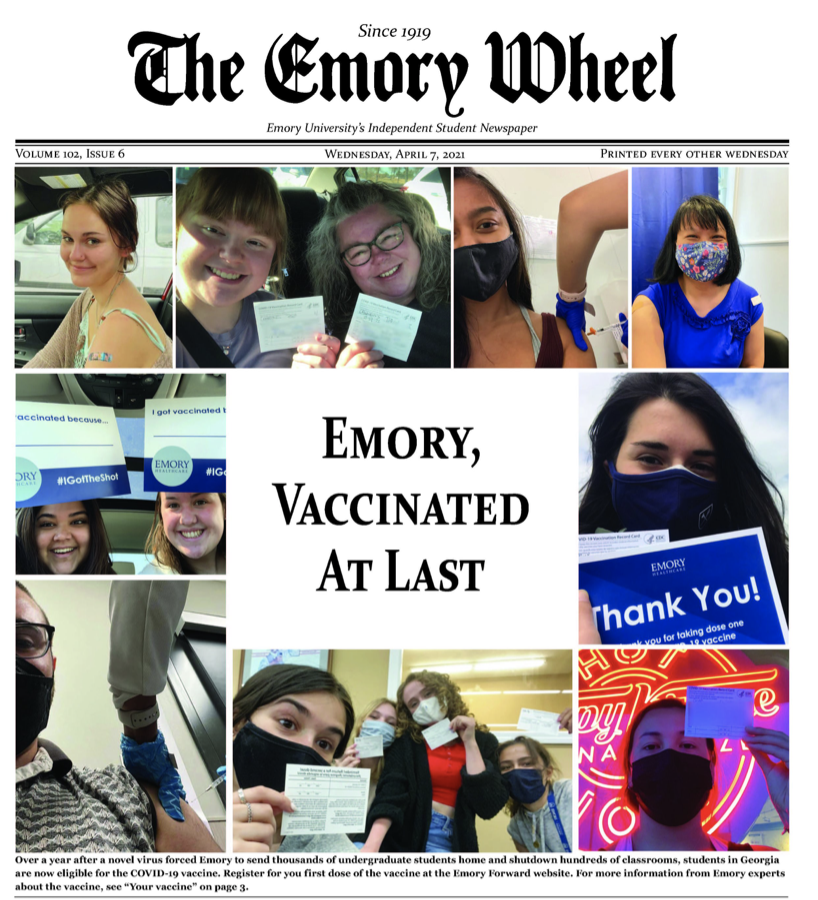 The biggest topic discussed in higher ed this week revolves around colleges requiring vaccinations before arrival on campus for the fall semester. By my count, 17 colleges have announced plans to require vaccinations. This list is only expected to grow in the coming weeks and we will be presenting more data as it develops.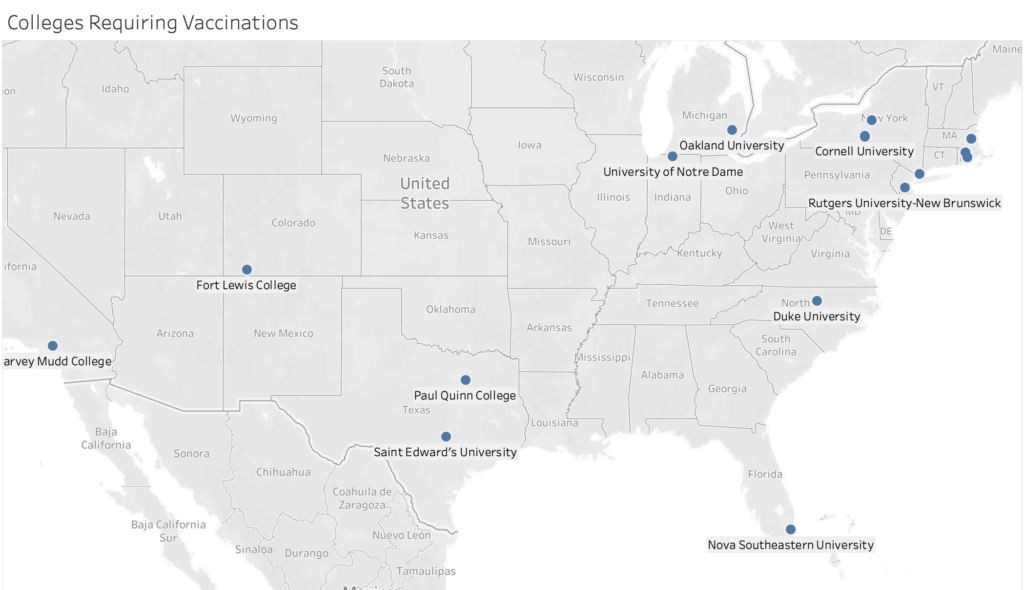 Here's a roundup of this week's higher ed news: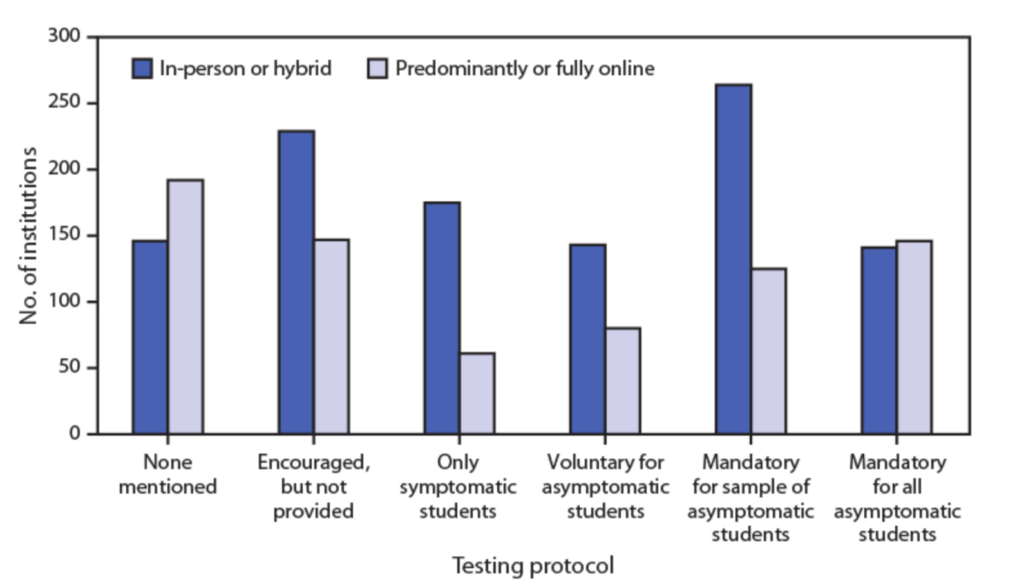 The Good Stuff
Let's roll the clips of the good stuff. In my usual tradition, I feature my favorite stories from the week. Here are my Top 10.
Conclusion
An outbreak anywhere is an outbreak everywhere. The surge in Michigan and its neighboring states represent a national crisis. Surging vaccines, especially when many states have access supply, would be a necessary step. As 1 in 3 Americans have received at least one dose and 1 in 5 are fully vaccinated, this number will only increase this month with more Pfizer and Moderna supply. The summer continues to shape up to be excellent, but we need to reopen slowly and cautiously.
And no, it is still unsafe to have a full stadium as the Texas Rangers did last week.
I'd like to thank all the student journalists with whom I have the pleasure of working. In the next weeks and months ahead, they will become vital in chronicling their colleges' paths forward for the spring and beyond. Support their work by reading it.
My best to all for good health.
Like what you see? Don't like what you see? Want to see more of something? Want to see less of something? Let me know in the comments. And don't forget to subscribe to the weekly newsletter!
For more instant updates, follow me on Twitter @bhrenton.