Welcome back to Week 55 in my weekly reports analyzing the Covid-19 pandemic and its effects on the country and higher education. For those of you reading this on my blog, Off the Silk Road, I have also launched a newsletter, where these reports can be sent directly to your email each week. Click here to subscribe.
Last week, we examined the "vaccine enthusiasm frontier" as many states are currently seeing thousands of available appointments and many communities remain largely unvaccinated. This week, we will continue to look at the state of vaccinations as India battles a crisis of monstrous proportions.
A national look
We are now seeing a new form of the split screen pandemic — as cases in the U.S. continue to decline, India is currently experiencing the world's outbreak, with daily cases topping 400,000. In a total failure of government to protect its own citizens, Indians are facing severe shortages of oxygen and other supplies. "Everywhere your camera turns we are seeing death," CNN anchor John Berman said to a CNN team on the ground. It's "nothing short of an apocalypse," Dr. Farah Husain, head of a Covid-19 ICU unit at a hospital in India, told CNN. The United States is delivering supplies worth more than $100 million in the coming days to provide urgent relief to India, including oxygen concentrators, vaccine materials and test kits. But it's not enough. This month, the crisis in India is only expected to worsen, as Dr. Anthony Fauci told Indian Express he would recommend shutting the country down for a few weeks until infections subside. Members of the Indian diaspora in the United States work day and night to help their struggling relatives. Our thoughts go out to all in India battling Covid-19. An outbreak anywhere is an outbreak everywhere, as cases in countries surrounding India have also increased.
The first of several emergency COVID-19 relief shipments from the United States has arrived in India! Building on over 70 years of cooperation, the United States stands with India as we fight the COVID-19 pandemic together. #USIndiaDosti pic.twitter.com/OpHn8ZMXrJ

— U.S. Embassy India (@USAndIndia) April 30, 2021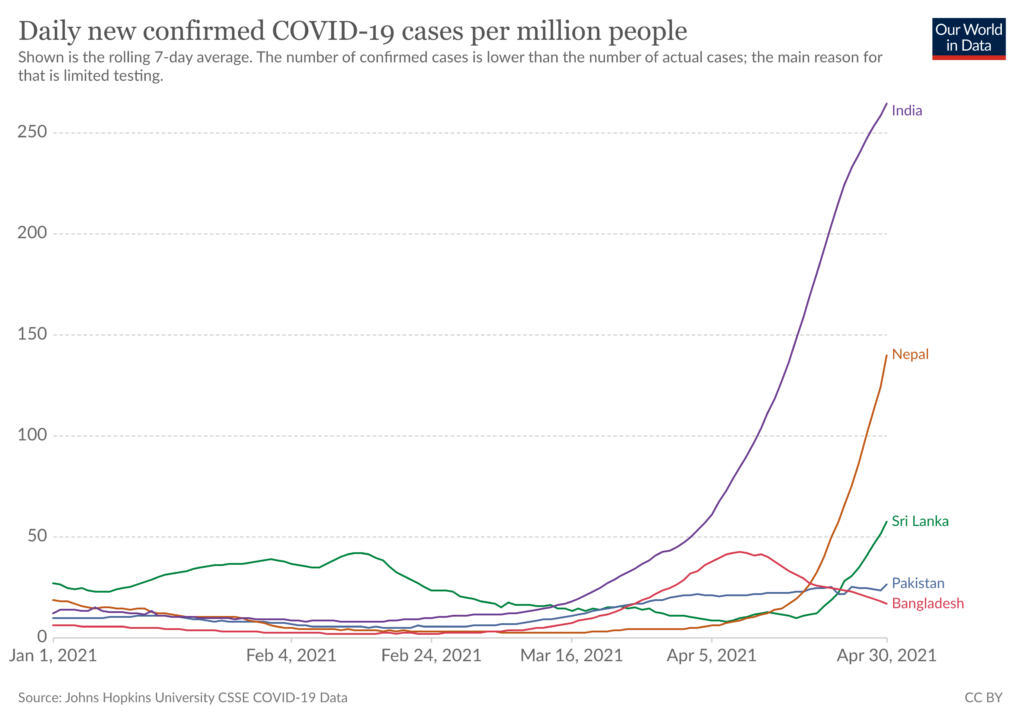 Let's take a look at some of the latest scientific developments:
The CDC updated its guidance for fully vaccinated individuals, stating that they do not have to wear a mask outside unless they are in a large group. Expect the guidance to change as more Americans are vaccinated.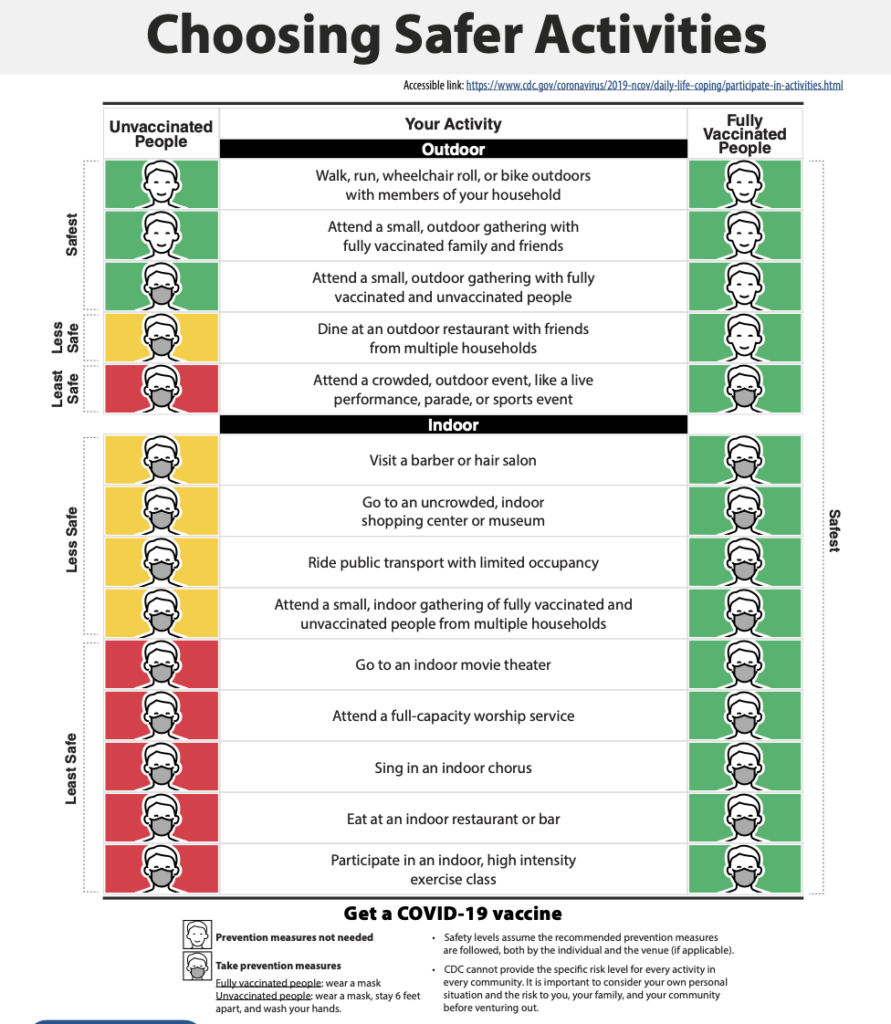 It has now been over 100 days of the Biden administration and immense progress has been made on the vaccination rollout. In 100 days, an impressive 220.8 million shots were put in arms, a remarkable achievement.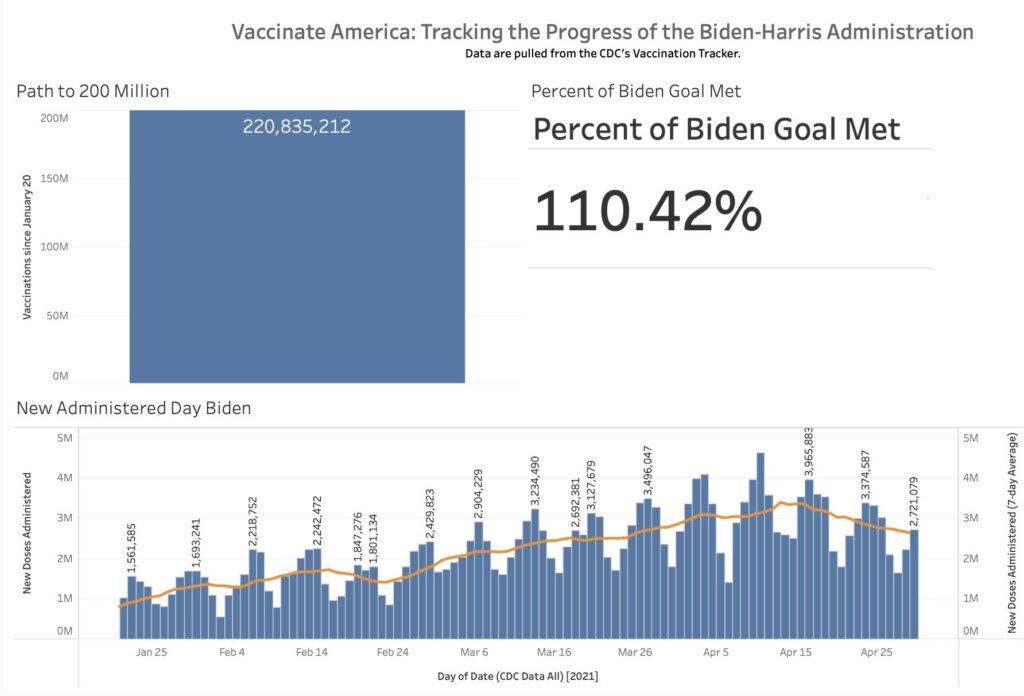 We have completed another week of the vaccine rollout and we continue to receive good news: We are seeing evidence that vaccinations are helping the U.S. stay ahead of variants and turn the corner on the pandemic. "I think we've hit a tipping point," Brown University School of Public Health Dean Dr. Ashish Jha told NPR. However, as I wrote in a Twitter thread on Friday, challenges remain. While the Johnson & Johnson vaccine has now been unpaused, the increase in vaccinations has not yet shown up in the data. New J&J doses administered are starting to creep up, albeit slightly. In some parts of the country, the J&J vaccine has regained popularity. On Tuesday in Bloomington IN, 1,355 people at a mass vaccination site chose J&J, while 407 took the Pfizer vaccine. The "one and done" appeal is huge.
Daily vaccinations are down 11% from last Thursday, with only 10 states reporting an increase in average daily vaccination pace. However, it is not just doses administered that have fallen. Some areas of the country have declined vaccine shipments due to lack of demand. In some states in the South, new doses delivered have decreased dramatically.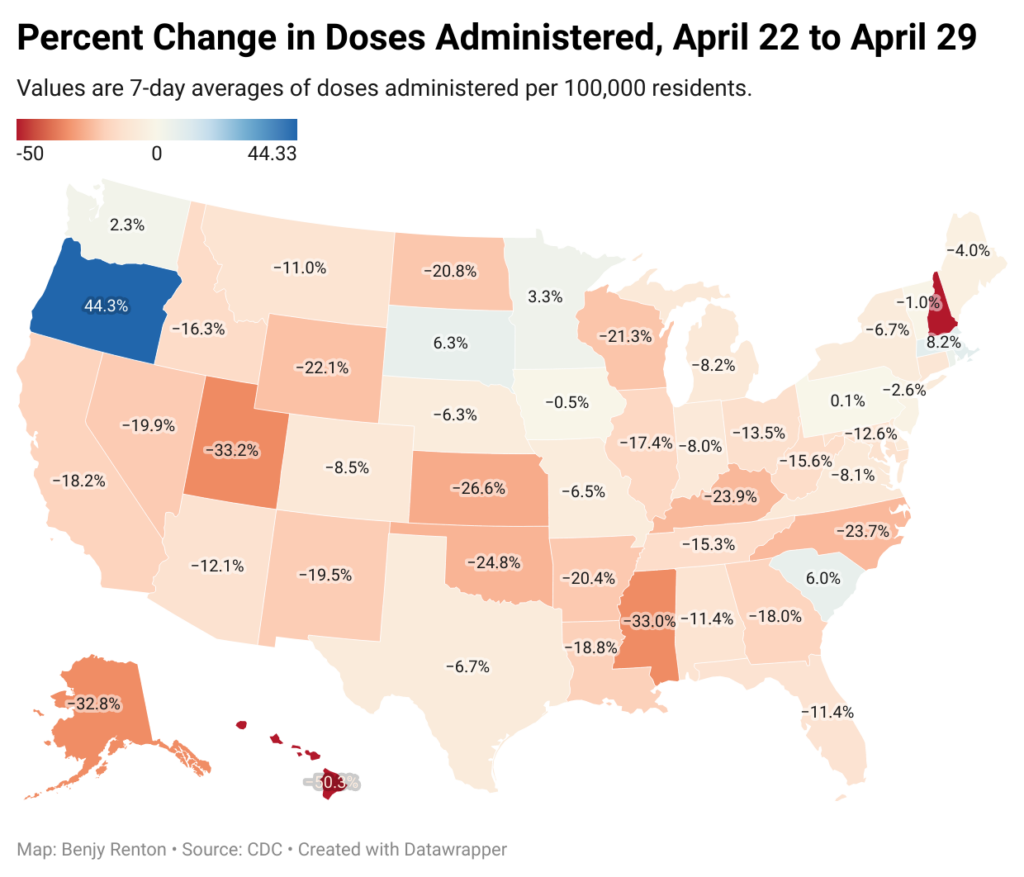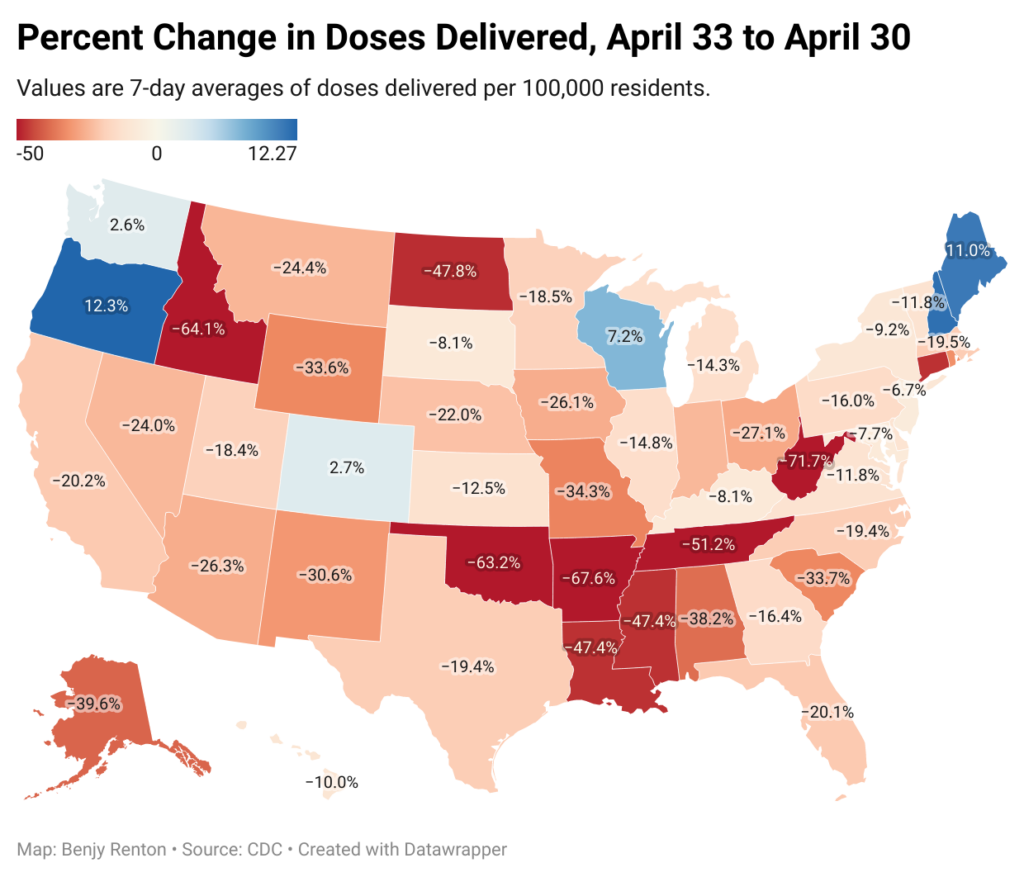 "From big swings to short strokes" defines the next phase of the vaccine rollout. The White House now plans on leveraging the power of the federal pharmacy program to increase the accessibility of vaccines to Americans. Appointments are now abundant across much of the country and in one of Philadelphia's largest vaccination sites, waiting chairs are empty.
The Pennsylvania Convention Center vaccination site is not busy. If you haven't gotten a shot yet and you live in Philly, the time is now! pic.twitter.com/Owjp84WtRP

— Jason Laughlin (@jasmlaughlin) April 29, 2021
In the U.S., 113.2 million doses were distributed in the month of April alone, bringing the total doses distributed to over 300 million. During that time, nearly 90 million doses were administered.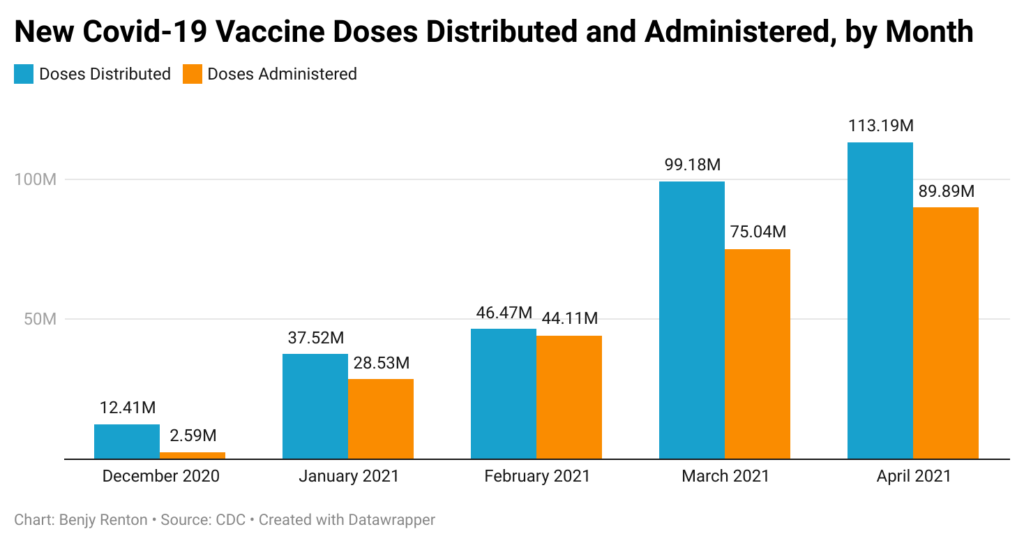 A few other updates on vaccines: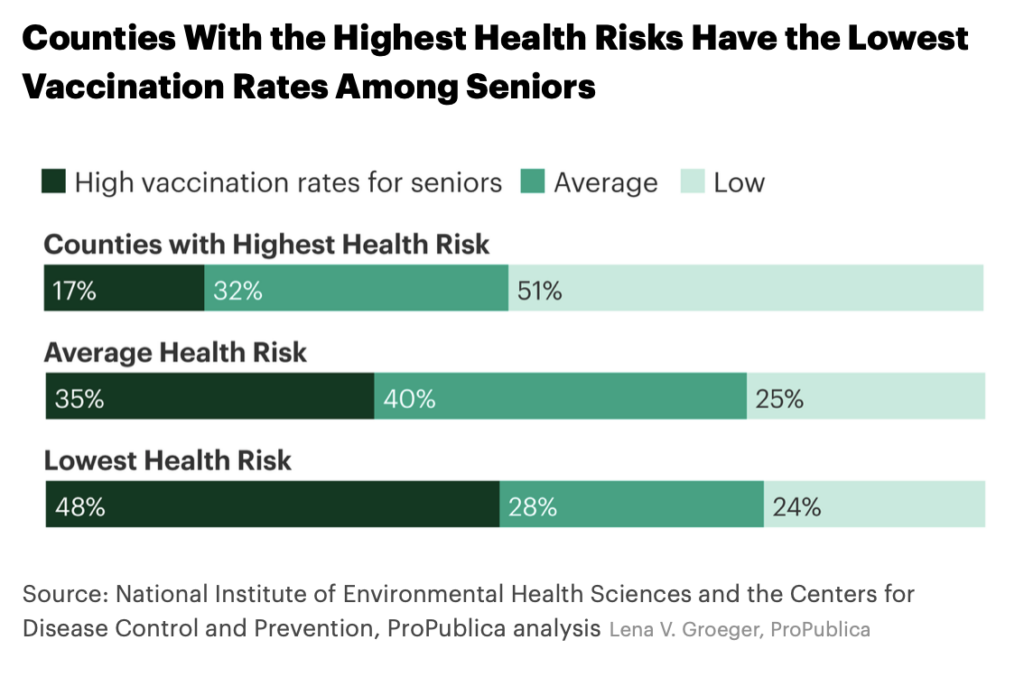 Let's move on to our discussion of higher education.
Higher education
This week, the conversation continues to center around vaccine mandates. The Chronicle of Higher Education has tracked 190 campuses that have announced vaccination requirements for the fall. These decisions so far are deeply political — only 15 are located in states that voted for Trump in 2020. Of those 15, just one, Cleveland State University in Ohio, is a public university. It is possible that after May 1, the date when seniors are expected to commit to their colleges and submit deposits, more colleges will announce vaccination requirements. Iowa State University will strongly encourage but not require individuals to be vaccinated due to a bill in the Iowa Legislature that is expected to pass, which will bar universities from mandating vaccines. The American College Health Association now recommends Covid-19 vaccination requirements for all on-campus college and university students for fall semester 2021. We will continue to monitor more vaccination requirements as they are announced.
Here's a roundup of this week's higher ed news:
The Good Stuff
Let's roll the clips of the good stuff. In my usual tradition, I feature my favorite stories from the week. Here are my Top 10.
Conclusion
As the U.S. continues to excel at vaccinations, less willing Americans remain the key issue between now and a healthy summer. Areas of the country, particularly in the South, still lag in vaccination rates. This next phase of the rollout must focus on increasing access and addressing people's vaccination concerns to combat hesitancy. Every vaccination counts. At the same time, the U.S. now must take a renewed stance and commit to vaccinating the world.
I'd like to thank all the student journalists with whom I have the pleasure of working. In the next weeks and months ahead, they will become vital in chronicling their colleges' paths forward for the spring and beyond. Support their work by reading it.
My best to all for good health.
Like what you see? Don't like what you see? Want to see more of something? Want to see less of something? Let me know in the comments. And don't forget to subscribe to the weekly newsletter!
For more instant updates, follow me on Twitter @bhrenton.