Welcome back to Week 58 of my weekly reports analyzing the Covid-19 pandemic and its effects on the country and higher education. For those of you reading this on my blog, Off the Silk Road, I have also launched a newsletter, where these reports can be sent directly to your email each week. Click here to subscribe.
Last week, we examined a major turning point in the pandemic with new CDC guidance as kids ages 12-15 are now eligible to be vaccinated. This week, we will discuss the effects these kids have had on the rollout as more states offer vaccine incentives and America heads towards normalcy.
A national look
As I mentioned last week, this is the last of my weekly newsletters on the pandemic. From the first one on April 17, 2020, 58 weeks ago (having never missed a week), thank you to all who have supported this project throughout. We've discussed topics such as college reopenings, testing, variants and vaccines, and I'm extremely grateful that you came along for the journey. In less than two weeks, I'm hitting the road, traveling 4,400+ miles to 23+ cities in 17 states to witness America's recovery and meet with many of the health professionals on the frontlines of the pandemic. I look forward to connecting with some of you on this trip, and you will most likely be receiving weekly updates from the road.
The U.S. has reported fewer than 30,000 cases for five straight days early this week, a sign that vaccinations are having a profound effect on the pandemic. In many ways, America is on the road to a normal summer. News programs no longer open with pandemic news. "I haven't had a single byline all week, which this might be a first since the pandemic started," The New York Times' Apoorva Mandavilli writes. "In any case, this is the first I've felt the virus' grip on me loosening." For the first time in a long while, no administration health officials are booked on any of today's Sunday shows. The White House is hosting events with fully vaccinated, unmasked audiences, both indoors and outdoors.
For the first time in a long time, the East Room looks…normal. Lawmakers and guests are milling about, taking pictures and shaking hands with no masks. President Biden is expected to sign the Asian-American hate crimes bill shortly. pic.twitter.com/Y4dXNxeF0u

— Kaitlan Collins (@kaitlancollins) May 20, 2021
In light of our nation's progress, we cannot lose sight of the inequities seen worldwide. India continues to report thousands of deaths per day and some Covid-19 patients have now been infected with a rare fungus. Although cases are declining, they are still at a very high level and the toll of the destruction is not fully realized or reported. No one is safe until we all are.
One issue we are facing in the U.S. is a rapid decline in daily tests conducted. As more Americans are vaccinated, testing will serve a new role in ensuring that outbreaks can be contained.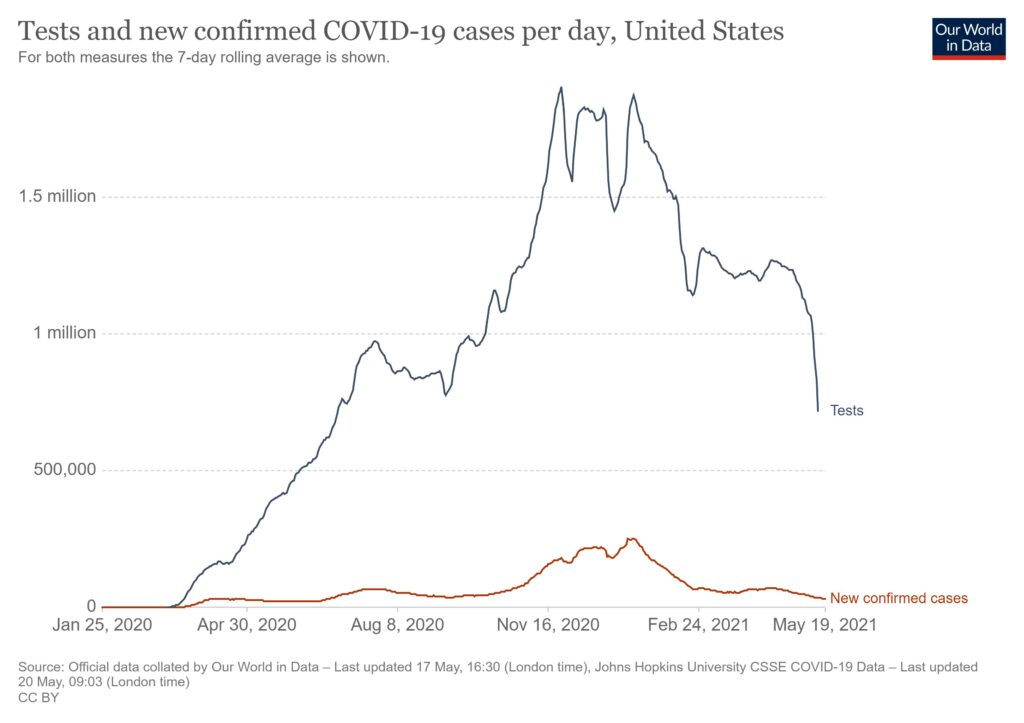 Let's take a look at some of the latest scientific developments:
This week, vaccination numbers have remained surprisingly stable, in no doubt partially due to the 1.2+ million kids just vaccinated. As I wrote in a Twitter thread on Friday, teens ages 12-15 are now making up 25-30% of the U.S.' daily vaccinations.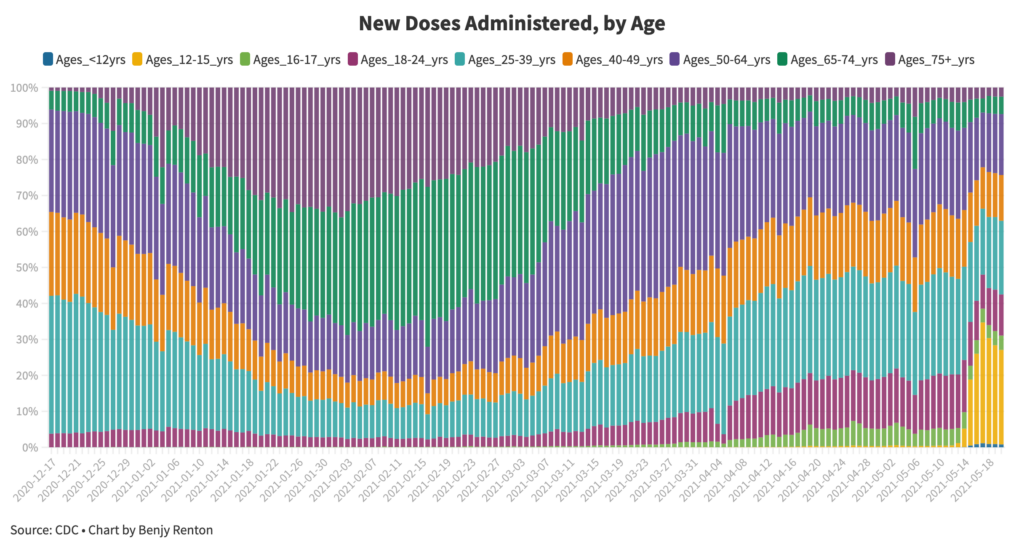 Cases and deaths are down more than 75% since January 1, 2021.
One optimistic trend we are seeing is an uptick in the number of new people receiving their first dose. Some may be due to the authorization in kids ages 12-15, but a fair number of adults have also started vaccination.
Access is still a major issue. According to the most recent Census data, around 19 million million unvaccinated people are willing to get a vaccine and another 15.5 million are unsure. This greatly exceeds those who are unwilling to get the vaccine. Access issues still exceed hesitancy issues.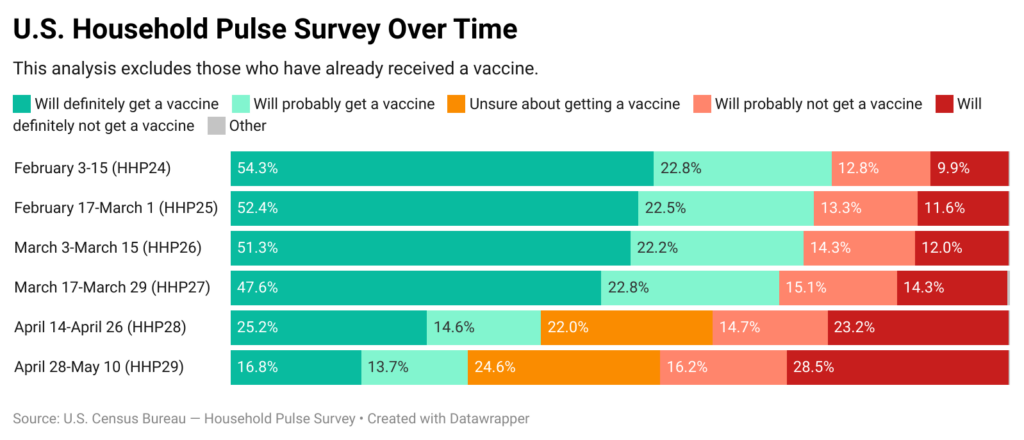 In a piece in The New York Times, Surgo Ventures' Dr. Sema Sgaier identifies four key subsets of the population experiencing barriers to vaccination: The Covid Skeptics, Cost-Anxious, System Distrusters and the Watchful. There's not a one-size-fits-all approach — we need different messages for each group.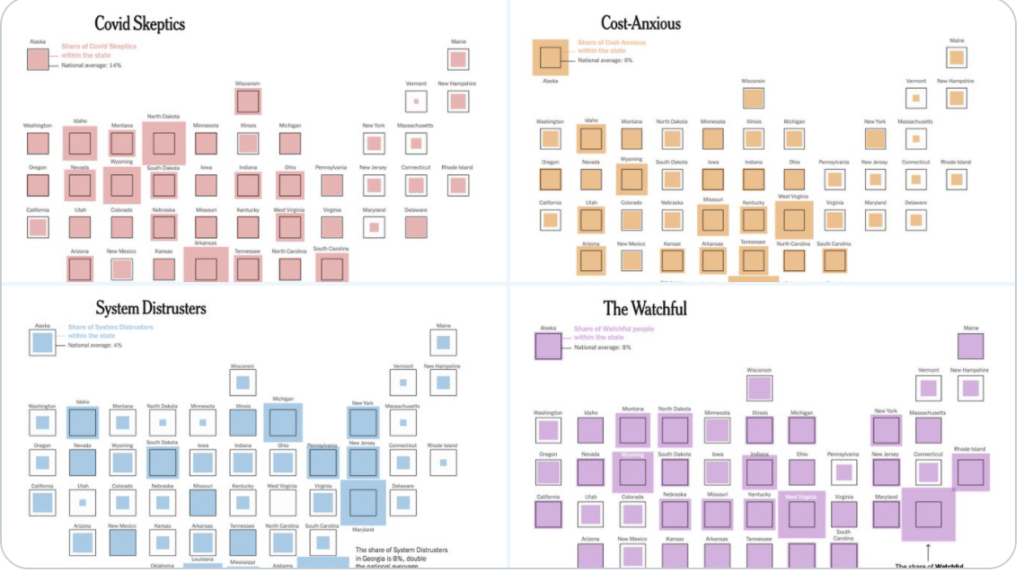 One of the major developments in vaccine logistics this week came from the FDA, which announced that the Pfizer vaccine can now be stored at refrigerator temperatures for up to a month. This was previously set at a maximum of five days. As Dr.Rebecca Weintraub and Dr. John Brownstein write in an ABC piece, this is a game changer for reaching more communities.
A few other updates on vaccines: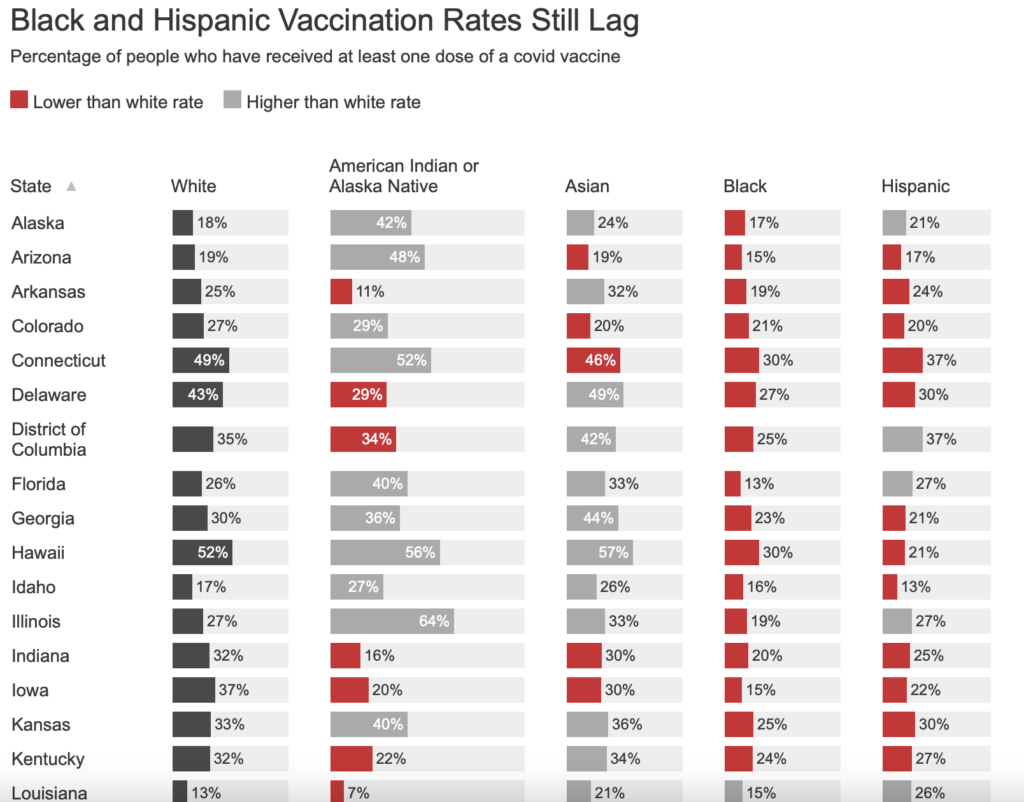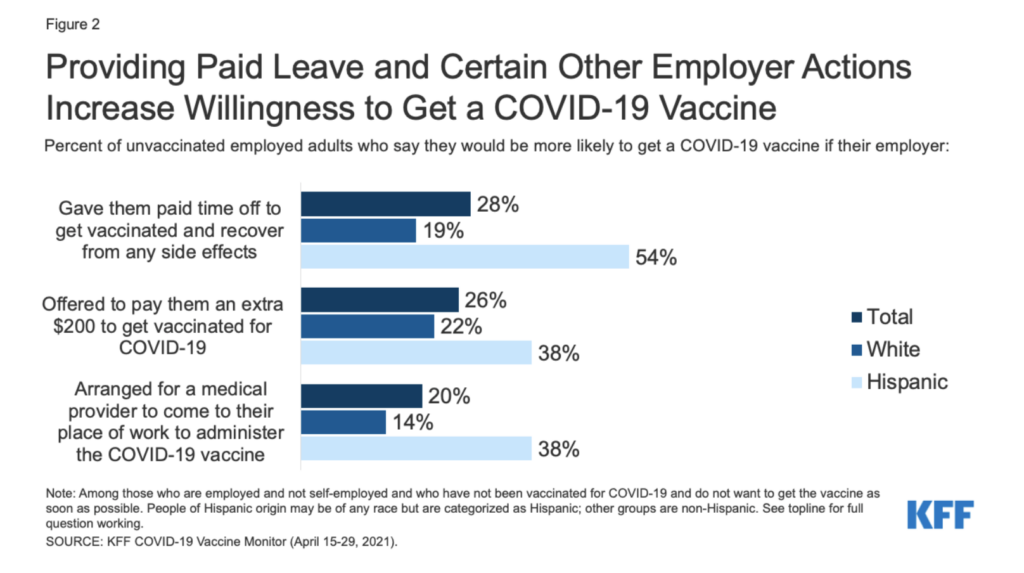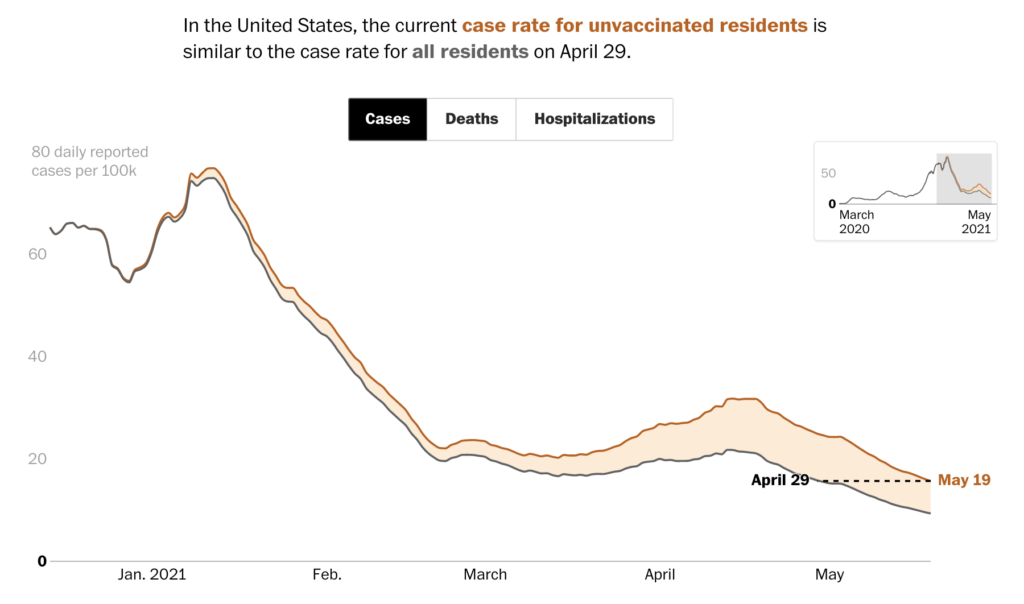 Let's move on to our discussion of higher education.
Higher education
Here's a roundup of this week's higher ed news:
The University of Texas at Austin has updated its masking policies: "Masks are optional inside university buildings and outdoors. For individuals who are not fully vaccinated or have weakened immune systems, masking and social distancing are optional but recommended." President Hartzell cites that this announcement is consistent with the governor's EO and CDC guidance. To be clear, the CDC guidance says people can resume normal activities after being fully vaccinated. This UT-Austin order seems to apply to everyone, vaccinated or not.
The Chronicle of Higher Education has now identified 404 campuses which have announced requirements for proof of vaccination by the fall, including Indiana University — a public university in a "red" state. According to The New York Times, only 34 — roughly 8% — are in states that voted for the former president in 2020. NBC News reported on how confusing each state's and college's rules are.
Based on HHS testing data, Northeastern University conducted more Covid-19 tests in 2021 than several states.
Vaccines work. There were zero new cases at Northwestern University this week.
The total cost of Duke's Covid-19 mitigation efforts has been around $35 million, according to The Duke Chronicle.
The New York Times published an interesting story on how Colorado Mesa University functioned as a laboratory for all kinds of campus Covid-19 technologies.
It's college graduation season and some ceremonies are quite different than usual. Here's a photo from University of Maryland student journalist Julia Nikhinson.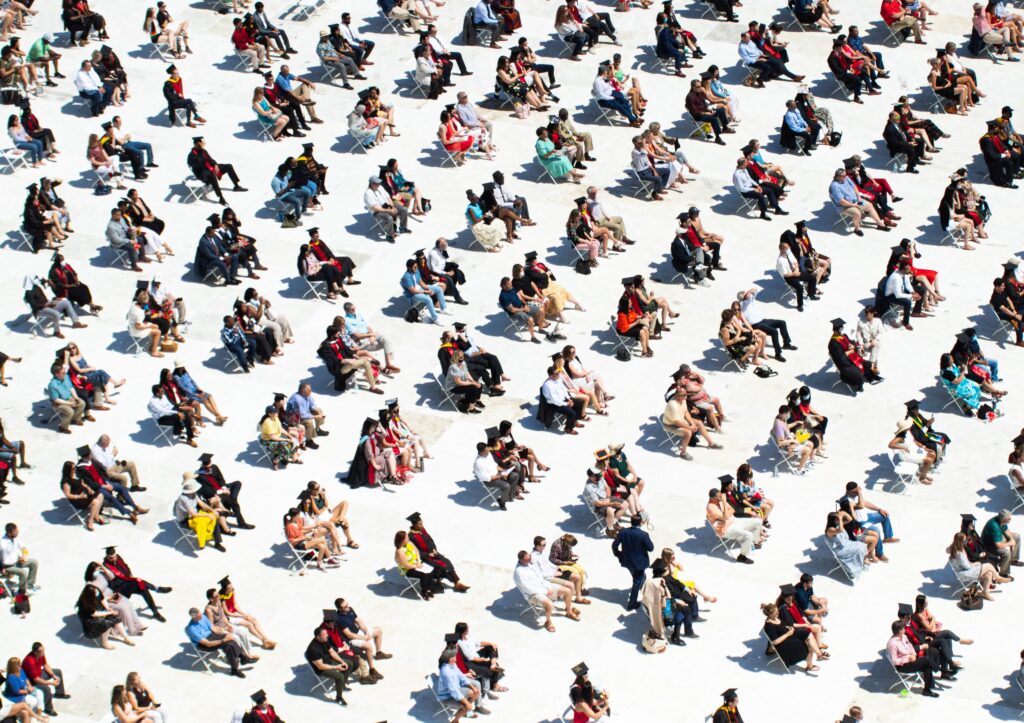 The Good Stuff
Let's roll the clips of the good stuff. In my usual tradition, I feature my favorite stories from the week. Here are my Top 10.
Conclusion
58 weeks later, we've been through a lot together. Thank you for your continued support and readership throughout this pandemic. While the pandemic is far from over, America has finally turned multiple corners with life-saving vaccines. Our main priorities should be to increase vaccine access domestically and contribute doses internationally. And as we begin to gather again, we cannot lose sight of the 589,223+ Americans we tragically lost up until this point. May they rest in peace and may their memories be a blessing.
For the last time in this format, my best to all for good health.
For more instant updates, follow me on Twitter @bhrenton.