Welcome back to Week 50 in my weekly reports analyzing the Covid-19 pandemic and its effects on the country and higher education in the Biden-Harris administration. For those of you reading this on my blog, Off the Silk Road, I have also launched a newsletter, where these reports can be sent directly to your email each week. Click here to subscribe.
Last week, we focused on the race between vaccines and variants as the administration accomplished its goal of 100 million shots in just 58 days. This week, we will examine the beginnings of a possible fourth surge as more vaccines continue to be distributed.
A national look
We begin today's discussion by mourning the loss of the 10 victims in yet another mass shooting in America, this one in the King Soopers supermarket in Boulder, Colorado. As Brown University physician Dr. Megan Ranney points out, gun violence is a public health problem. When we politicize human suffering, we all lose.
In the national data, we are beginning to see the signs of a possible smaller fourth surge, driven by the B.1.1.7 and other variants. National cases and hospitalizations are starting to increase. In Michigan, which has the highest confirmed B.1.1.7 cases per capita in the country, vaccinations are still lagging and cases are on the rise. In addition, the nearby state of Minnesota has the second-highest number of B.1.1.7 cases per capita in the country, indicating that the outbreak may be spreading to neighboring states.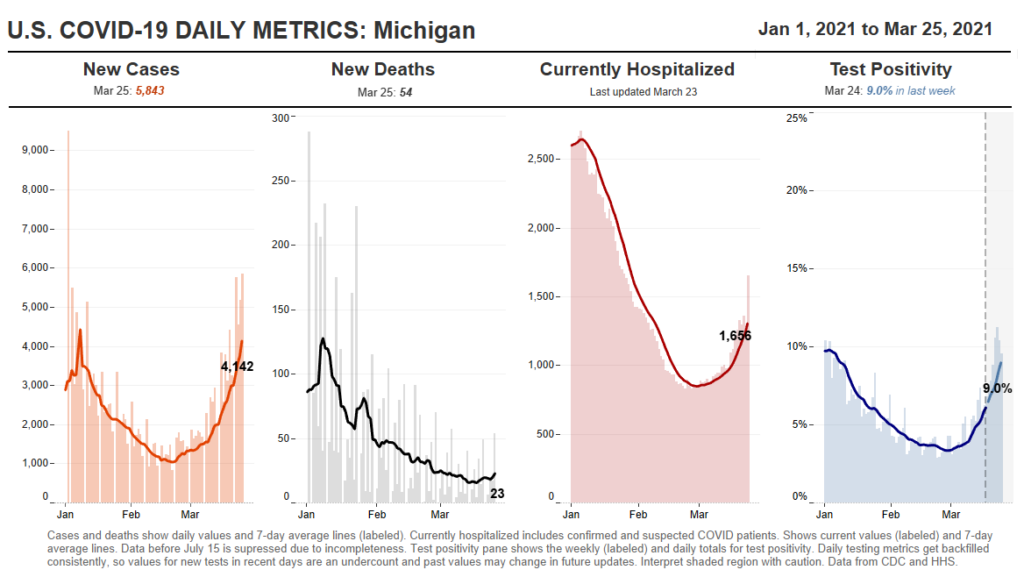 With 71.8% of Americans over the age of 65 with at least one dose of the vaccine, this next surge will likely primarily be driven by young people, especially those returning from spring break. In many states, the median age of new Covid-19 diagnoses is dropping.
This week, President Biden and his administration continued to take aggressive action against the pandemic. In addition to confirming Dr. Vivek Murthy and Dr. Rachel Levine to history-making positions, the administration announced a new goal of 200 million vaccinations by the end of the first 100 days. This would mean that the U.S. would have to vaccinate 2.5 million people each day, a goal which we can expect to meet. The administration also announced an investment of nearly $10 billion to expand access to vaccines and better serve communities of color and rural areas. In a round of surprising news, President Biden's team announced that Johnson & Johnson will meet its goal of distributing 20 million vaccines in March, with around 11 million being shipped next week.
President Biden's administration continues its commitment to transparency with the hard work of White House Covid-19 Data Director Dr. Cyrus Shahpar. Just this week, the CDC has released de-identified data on demographics, exposure history, underlying conditions and disease severity of millions of Covid-19 cases. This will enable researchers to best analyze Covid-19's characteristics. On Friday night, the CDC also released county-level vaccination data for most states.
Let's take a look at some of the latest scientific developments: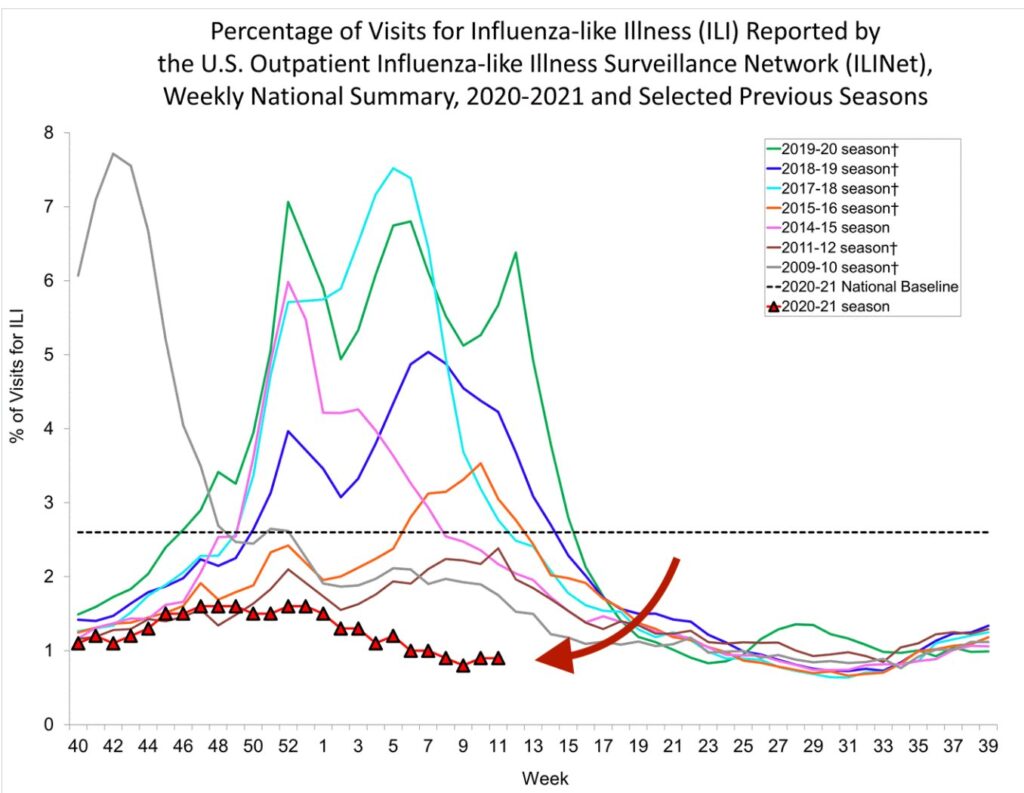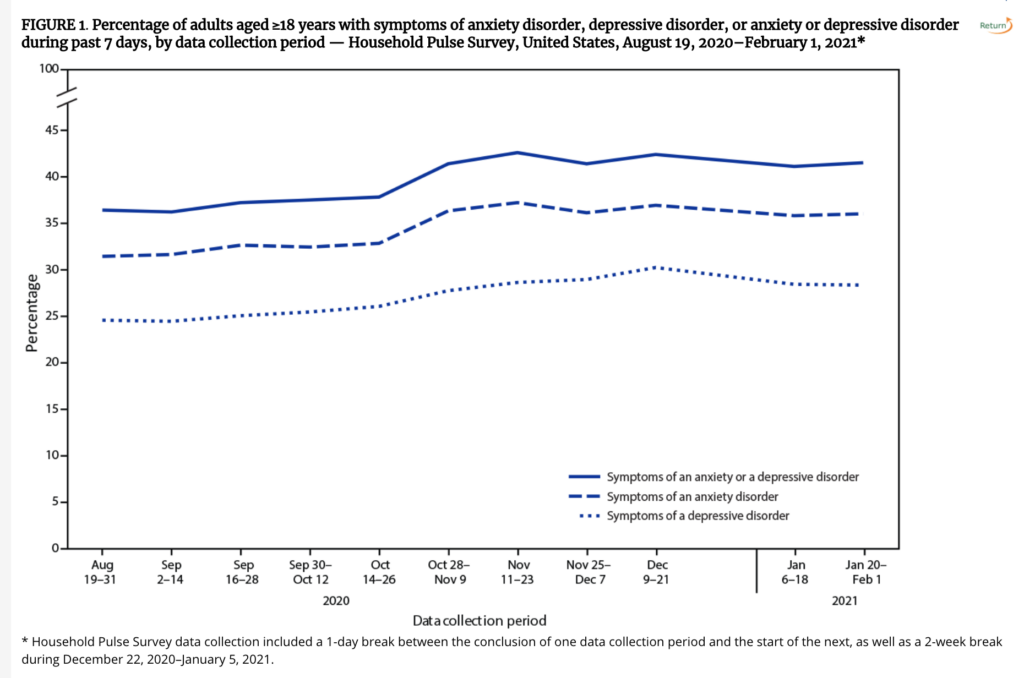 Yesterday, the U.S. reported a record of 3.5 million doses administered, with the 7-day average now at 2.68 million shots per day. 44 states have announced dates to open vaccine eligibility for all adults, with many moving up their timelines to before May 1.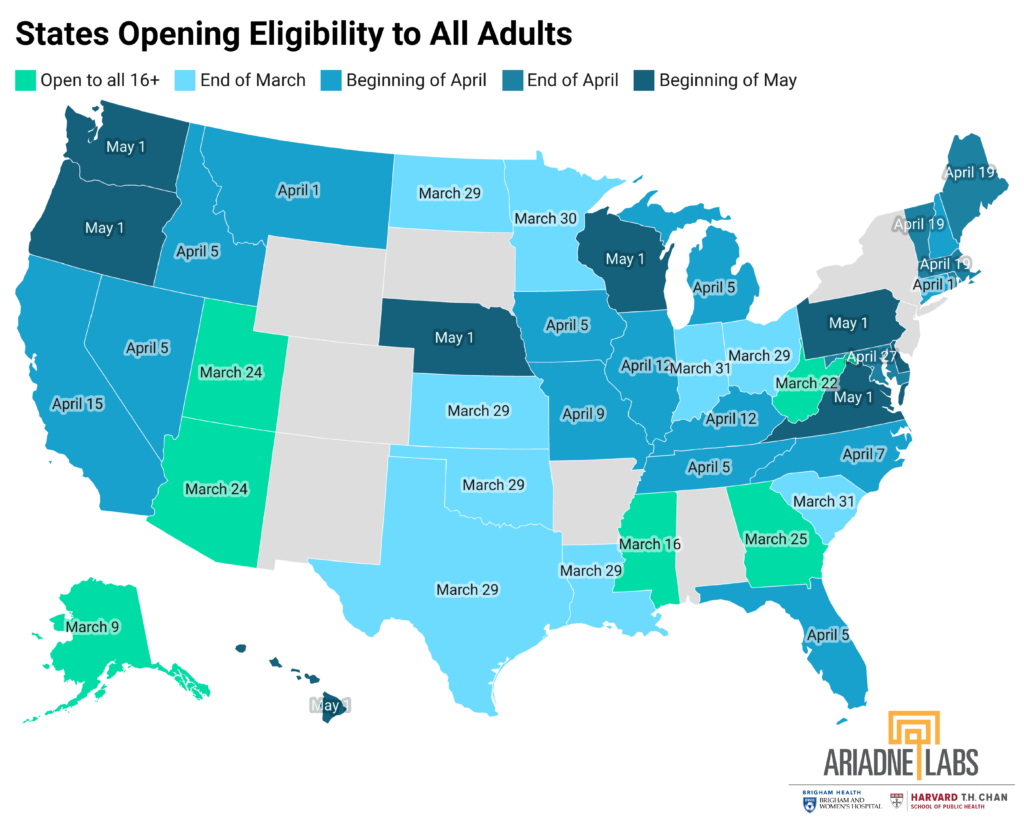 We are seeing early evidence that widespread vaccination of the older population is already having an effect. In CDC data from select states, including California and New York, we see a steep decline in hospitalizations in those 65+. In addition, nursing home deaths are down.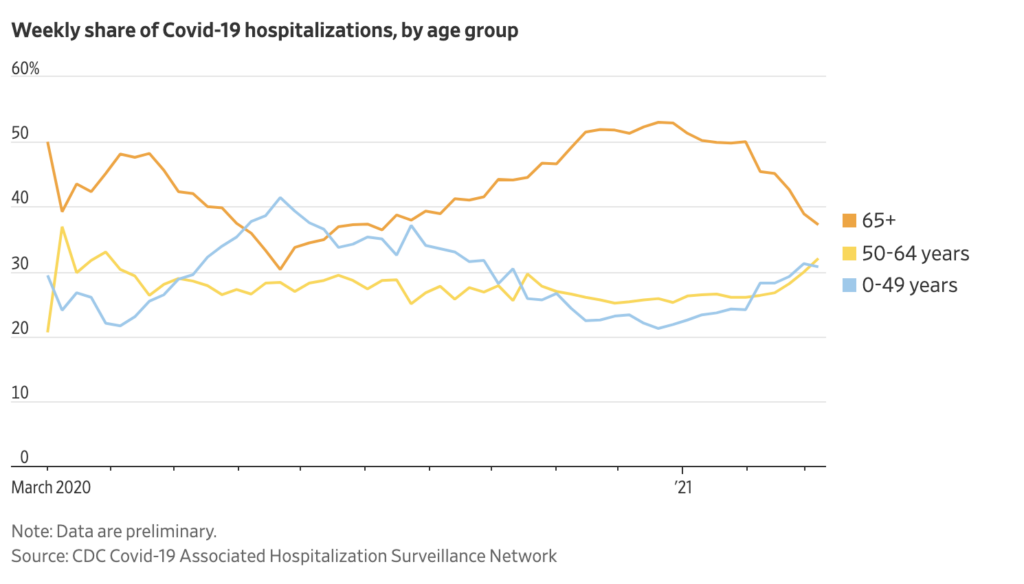 In the coming weeks, I will be posting more insights into the outlook of vaccine distribution in the U.S. The U.S. monthly vaccine output will triple from 48 million in February to 132 million in March. The increased output should be enough to fully vaccinate 76 million people in the U.S. in March, another 75 million in April and then 89 million more in May. From now, focusing on delivery channels will be key. As former CDC director Dr. Tom Frieden notes, "many people who are reluctant to get vaccinated elsewhere will get vaccinated by their doctor." We will need to focus on getting vaccines everywhere and using all distributed doses as efficiently as possible. In the past week or so, the gap between the doses distributed and administered has widened, possibly pointing to inefficiencies within the system or vaccine hesitancy.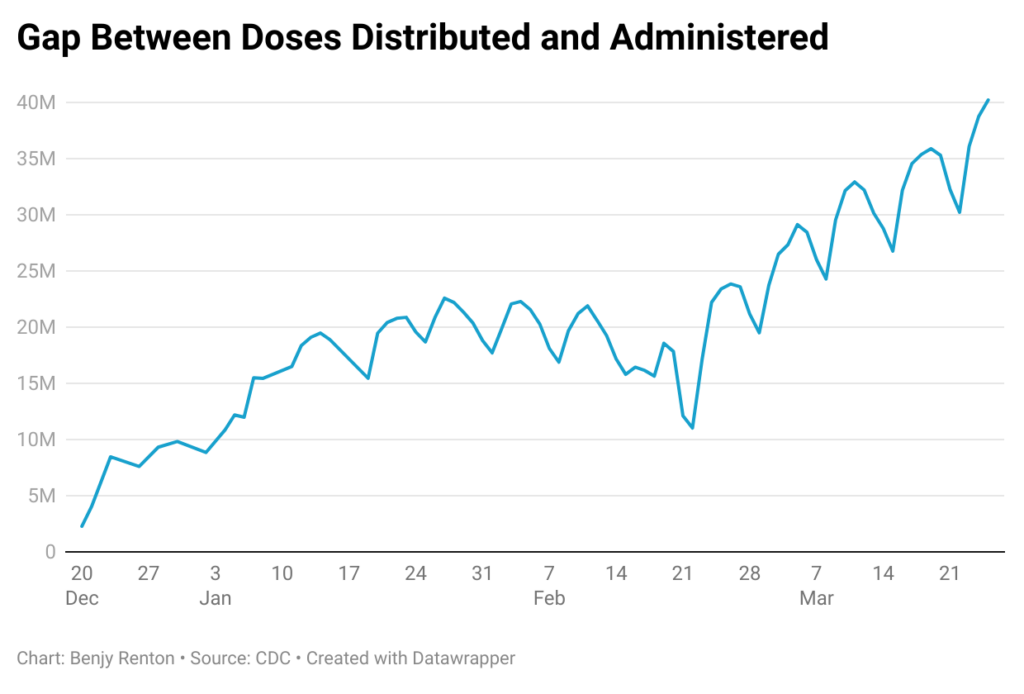 The New York Times' Nathaniel Lash explores vaccine barriers by classifying states as having vaccine oases and deserts.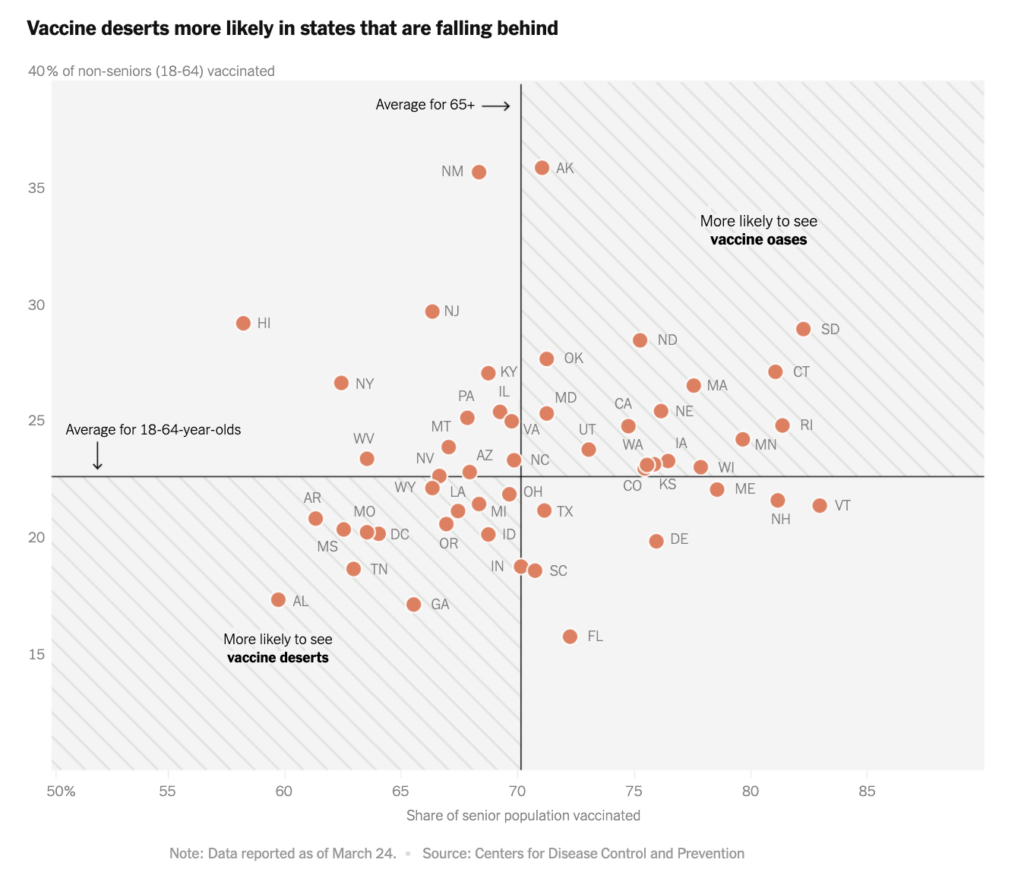 Until states open eligibility to all adults, many of the prioritization systems used actually worked, according to a new analysis from the AP and Surgo Ventures. The analysis shows that states who opened vaccinations to wide ranges of the population too early actually made the system less efficient.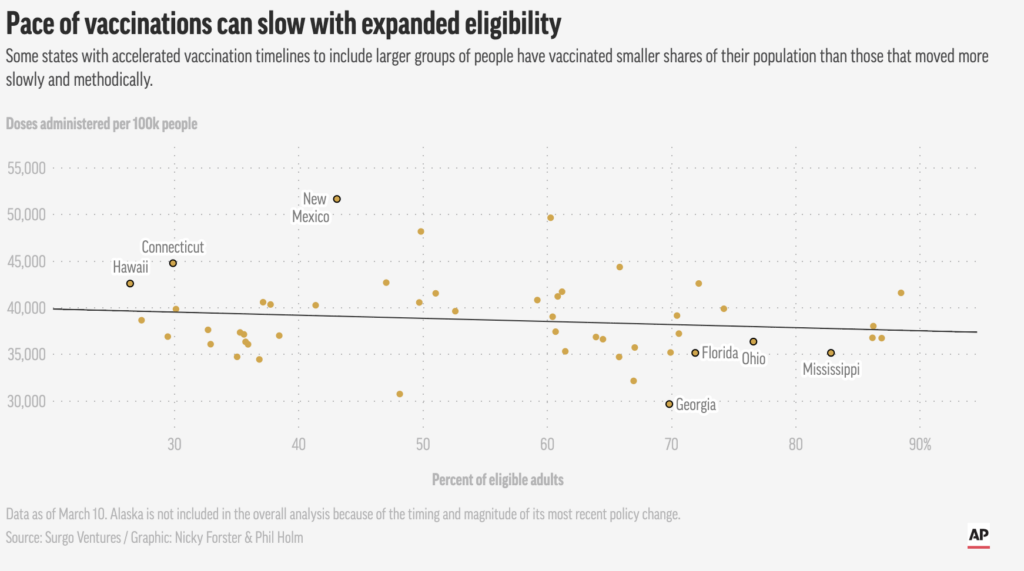 A few other updates on vaccines:
The beginning of the week was full of controversy from AstraZeneca, who initially announced that its vaccine was 79% effective at preventing symptomatic Covid-19. Only hours after AstraZeneca announced encouraging news about the effectiveness of its Covid-19 vaccine on Monday, a group of medical experts charged with monitoring the company's clinical trial made a highly unusual accusation: the company had essentially cherry-picked data to make its vaccine look better. Days later, the company issued a new analysis that showed its vaccine was 76% effective at preventing symptomatic Covid-19 and 100% effective against severe disease. It was 85% effective against symptomatic Covid-19 in people 65 and up. The bottom line: It is likely this vaccine is an excellent one, however its messaging and missteps may undermine public trust.
Three studies in The New England Journal of Medicine found evidence of vaccine effectiveness in real-world settings. In Israel, cases declined among healthcare workers following vaccination. In California, the absolute risk of testing positive for SARS-CoV-2 after vaccination was 1.19% among health care workers at UCSD and 0.97% among those at UCLA. In Texas, 2.61 of unvaccinated employees were infected, compared to 1.82% of partially vaccinated employees and 0.05% of fully vaccinated employees. The number of employees in isolation and quarantine decreased by over 90%. Vaccines work!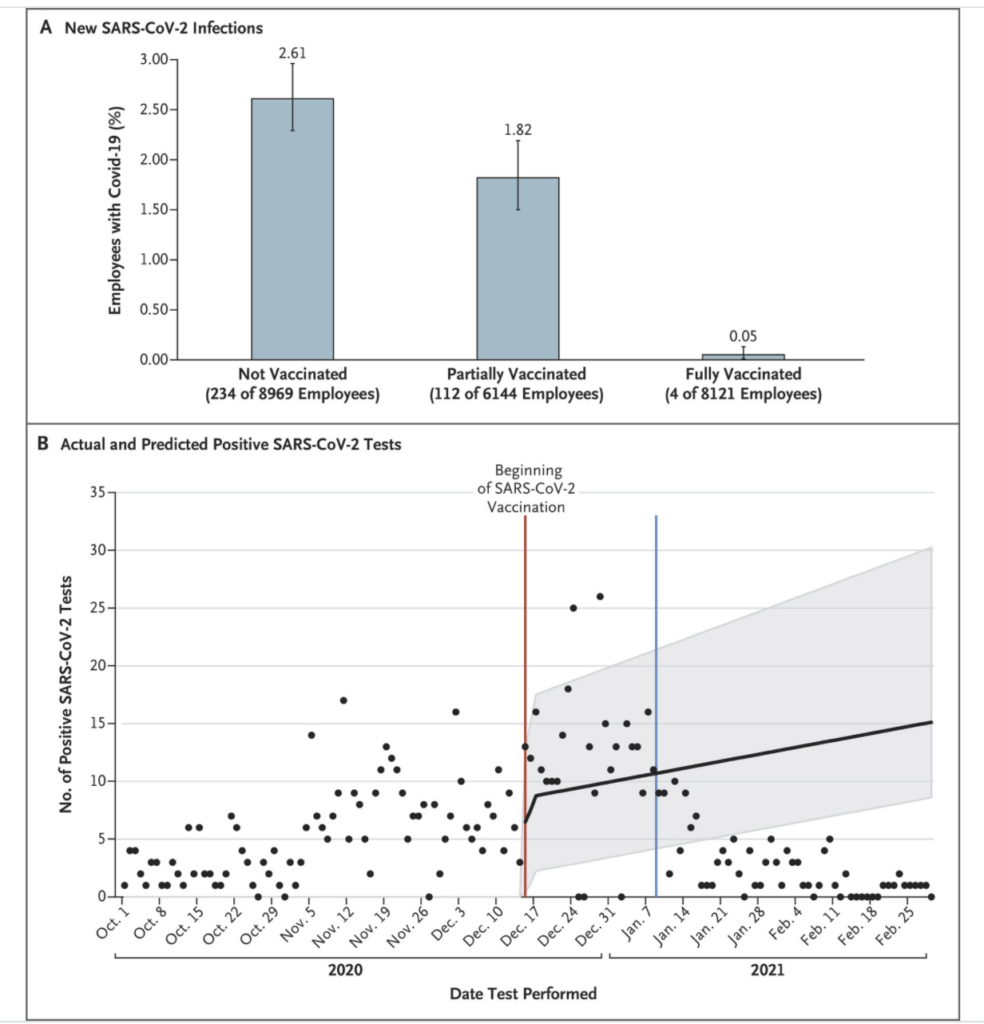 Krispy Kreme is providing a sweet incentive to encourage more people to roll up their sleeves for the Covid-19 vaccine: Free doughnuts through the end of 2021. The campaign drew outrage from some people online, who said that the company is promoting obesity and unhealthy lifestyles. My view: It's a donut — just take it and if it helps more people get vaccinated, that's fabulous.
Pregnant women who receive a coronavirus vaccine not only acquire protective antibodies against the virus for themselves but also may pass along immunity to their babies, emerging research shows.
According to reporting from POLITICO's Erin Banco, there is wide variability in the deployment of the Johnson & Johnson vaccine — which we see in the data. While some states may be holding supplies back to better reach specific groups, others are using them as soon as possible.
The Washington Post's Julie Zauzmer dives into a question I've been thinking about and tracking for weeks: Why is DC's vaccination rate so low? The answer is a combination of vaccinating non-residents and allocating to federal agencies.
Vermont currently leads the nation in vaccinating people over 65% — 85.1% of Vermonters have received at least one dose of the vaccine. This comes as a preprint finds that age-prioritization would reduce deaths during a vaccine campaign by about 93% relative to no vaccine and 85% relative to age-neutral vaccine distribution.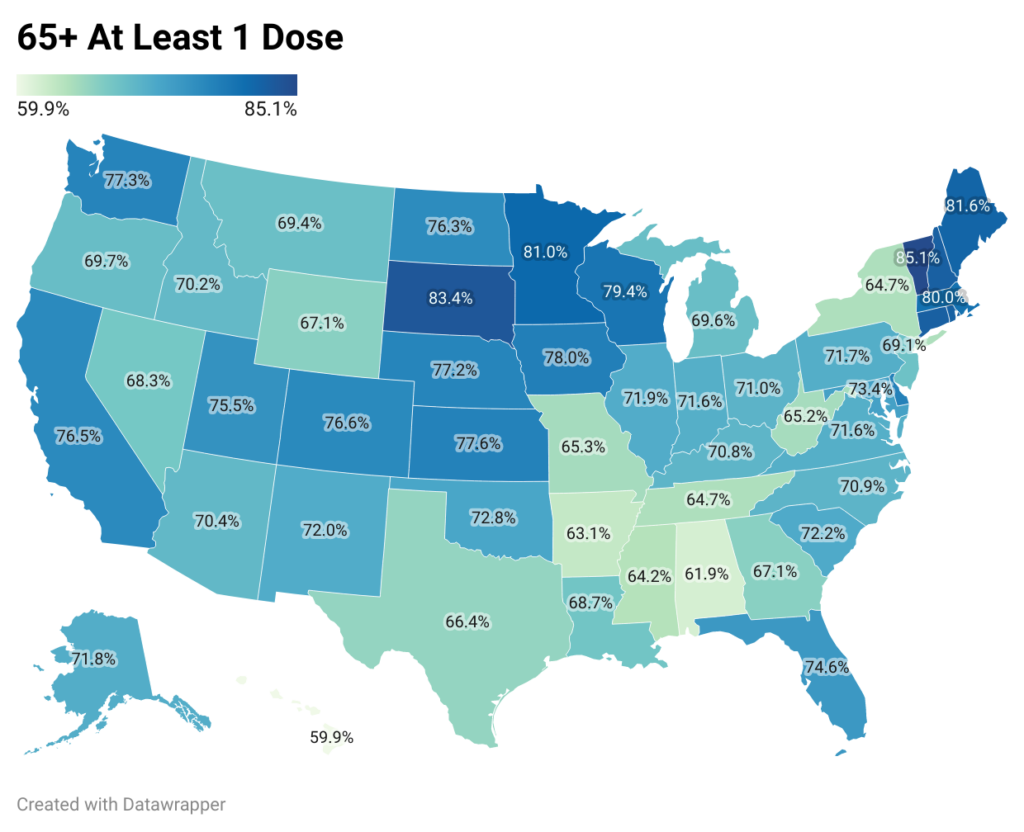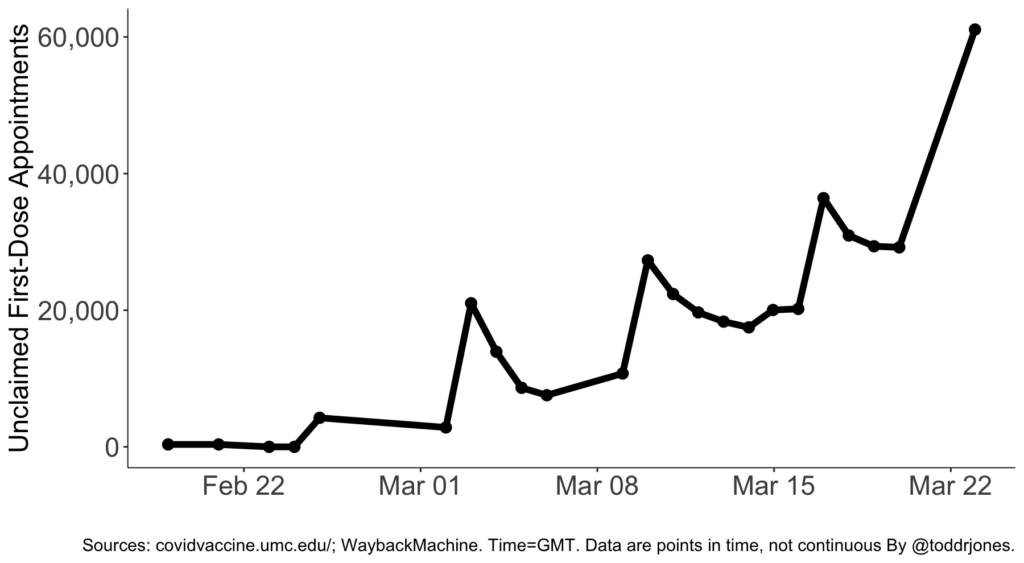 One final note: In a documentary airing tonight at 9 p.m. Eastern, CNN's Dr. Sanjay Gupta interviews six top doctors, including many serving on the previous administration's coronavirus task force, and examines critical missteps in an autopsy of the pandemic. It is a program that will definitely be worth watching and sure to elicit headlines.
Let's move on to our discussion of higher education.
Higher education
This week's higher education discussion continues to revolve around two issues: spring break and vaccines. The risk of a post-spring break surge is still of concern, as one student told Kaiser Health News her roommate was traveling during spring break to "[make] up for lost time in quarantine." As most college students have yet to be vaccinated, there is still a significant risk of a Covid-19 outbreak on campuses, not to mention the effects of variants at schools like the University of Vermont and the University of Pittsburgh.
This week we also have seen exciting news on the vaccine front for some schools. Indiana health officials have indicated that Notre Dame will receive enough Pfizer vaccine for every student — undergraduate, professional, and graduate — to be fully vaccinated with the requisite two doses before the spring semester concludes. Students are encouraged to use the site on campus. At the University of North Carolina, students will be vaccinated in the coming weeks, and the Daily Tar Heel published a useful guide on how students can receive their vaccine. UNC will use the Johnson & Johnson vaccine; its one-and-done nature makes it suitable for transient populations, like college students.
As all adults become eligible in many states in the coming weeks, expect some states to work with colleges to provide vaccine supply and delivery points on campus. Rutgers University has announced that proof of a U.S.-authorized vaccination will be required for students planning to attend this fall, the first college to do so. In New Hampshire, Governor Chris Sununu announced that college students from out of state are not eligible to receive vaccines — a misstep in my opinion as college students are possible spreaders and are key to reach herd immunity. Numerous Penn and Drexel University students have received the Covid-19 vaccine despite being ineligible under current Philadelphia vaccine distribution guidelines, city officials confirmed to The Daily Pennsylvanian. My message to college students is this: If you're eligible to get the vaccine, by all means sign up. If you're not currently eligible, just know millions more doses are coming in just weeks. We need to first give the most vulnerable their chance. Dickinson State University in North Dakota has a plan to encourage students to get their Covid-19 vaccinations: Students who have been fully vaccinated will receive a pin or a bracelet that will exempt them from the campus-wide mask mandate. While this plan may have good intentions, it is not completely in line with CDC guidance (which urges people to wear a mask and practice social distancing in public even after they are fully vaccinated). Finally, as University of Maryland professor Dr. Zoe McLaren notes for her faculty colleagues, "getting a Covid-19 vaccination is always more important than coursework."
In the coming months, colleges will also play a critical role in vaccine clinical trials. On Friday, a major study was announced with 12,000 college students to help understand the impacts of Covid-19 vaccination on further spread and transmission. The study, called Prevent COVID U, will take place at 21 universities nationwide. About half of the students will receive the vaccine injections right away, and the other half will receive the vaccine a few months later. The students will each identify "close contacts." These close contacts, around 25,000 of them, will also be in the study. Students will swab their noses daily for viral load measurements, as well as periodic blood samples. They will also participate in twice-weekly testing through their universities. Students and contacts will also complete daily diary questionnaires. College students are ideal for this type of study as it can give us insight on asymptomatic spread. The daily swabs will enable researchers to see viral latency on a day-by-day basis. I urge my fellow students at the colleges on this map to consider signing up for this trial — more information is available here.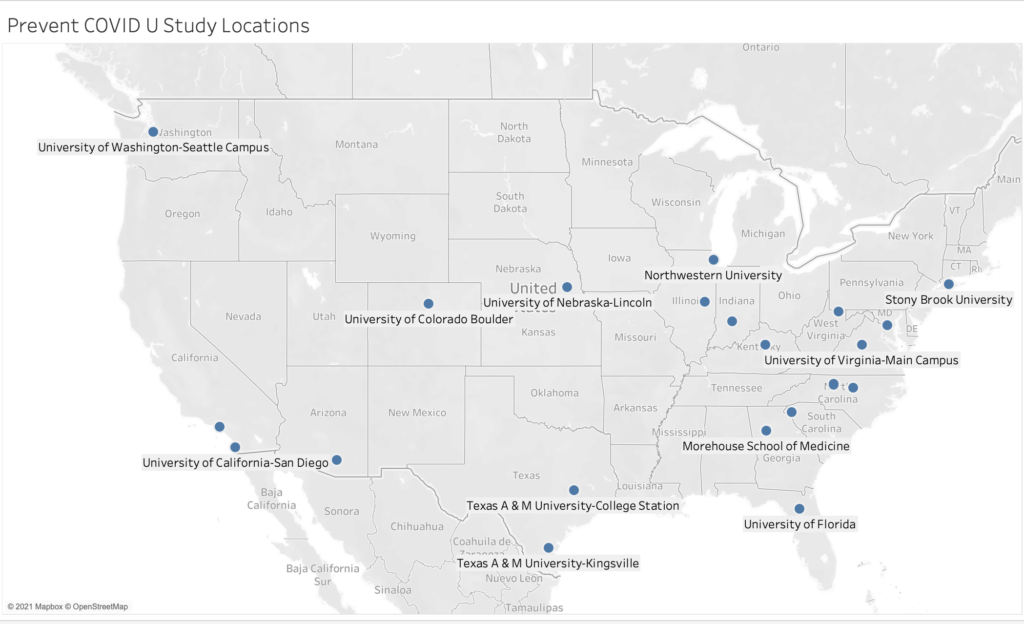 Here is a roundup of this week's higher ed news: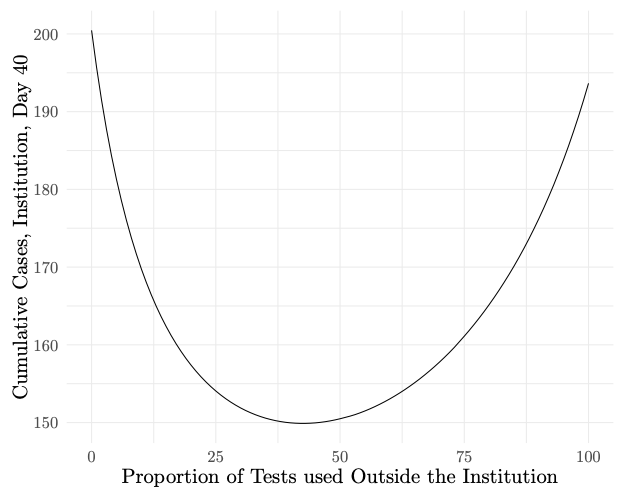 The Good Stuff
Let's roll the clips of the good stuff. In my usual tradition, I feature my favorite stories from the week. Here are my Top 11.
Conclusion
Each week we become more encouraged with news of the impacts of vaccinations throughout the population. These vaccines are proving to be highly efficacious at decreasing hospitalizations and deaths among the most vulnerable. However, with much of the older population vaccinated, it is now the younger population who could drive a fourth surge. We must understand that simply blaming college students for partying will not work. Some people, due to occupational or household risks, are more likely to be infected. This underscores the importance of a public health strategy that protects the most vulnerable to infection. For example, it may not be the best idea to open indoor dining fully with most servers unvaccinated, as this may cause them to transmit the virus to others. Local and state governments have an obligation to protect their populations. I wanted to end this week's update with advice from Vermont Health Commissioner Dr. Mark Levine: At the beginning of the pandemic, health officials stressed protecting the most vulnerable. Now, with the average age dipping below 30, younger Vermonters should protect themselves. Most Americans are just weeks away from getting their first dose of a life-saving vaccine. The risk of Long Covid and chronic symptoms are too great. To put it simply, it's not worth it to get sick at this point. Young Americans should do all they can to avoid the virus.
I'd like to thank all the student journalists with whom I have the pleasure of working. In the next weeks and months ahead, they will become vital in chronicling their colleges' paths forward for the spring and beyond. Support their work by reading it.
My best to all for good health.
Like what you see? Don't like what you see? Want to see more of something? Want to see less of something? Let me know in the comments. And don't forget to subscribe to the weekly newsletter!
For more instant updates, follow me on Twitter @bhrenton.