Welcome back to Week 51 in my weekly reports analyzing the Covid-19 pandemic and its effects on the country and higher education in the Biden-Harris administration, and Happy Easter to all. For those of you reading this on my blog, Off the Silk Road, I have also launched a newsletter, where these reports can be sent directly to your email each week. Click here to subscribe.
Last week, we examined the beginnings of a possible fourth surge as more vaccines were distributed. This week, we will continue to focus on the split screen pandemic as it is shown through vaccines and variants.
A national look
"I'm going to pause here. I'm going to lose the script. And I'm going to reflect on the recurring feeling I have of impending doom. We have so much to look forward to, so much promise and potential of where we are, and so much reason for hope, but right now I'm scared."
These were words spoken by CDC Director Dr. Rochelle Walensky at Monday's White House Covid-19 press briefing. The evidence is clear: We are in a race between vaccines and variants, and in some places, the variants are winning. Surges in Michigan, the Northeast and Florida have driven case counts to increase, especially in largely unvaccinated young people. Emergency rooms are filling up again, all with unvaccinated patients. In New York City, data show that variants make up 72% of cases. Although this new surge may be hitting the U.S. evenly due to universal variants, differences in vaccination rates have led to heterogeneity in case counts.
Last year around this time, the former president said that this country would be up and running by Easter. When we think about the latest trends, it feels like Groundhog Day all over again. This will realistically be the last holiday for which Americans will need to stay home/gather in incredibly small groups. After all we have lost over the last year, we are counting on everyone to ensure we minimize fatalities over the next few weeks.
In Florida, cases have already started to increase among young people from ages 15 to 34.
In Michigan, Covid-19 cases (black lines) are rising in younger demographics, many of whom have not been vaccinated (blue lines). Cases in the older age bands are flatlining due to a slow vaccine rollout.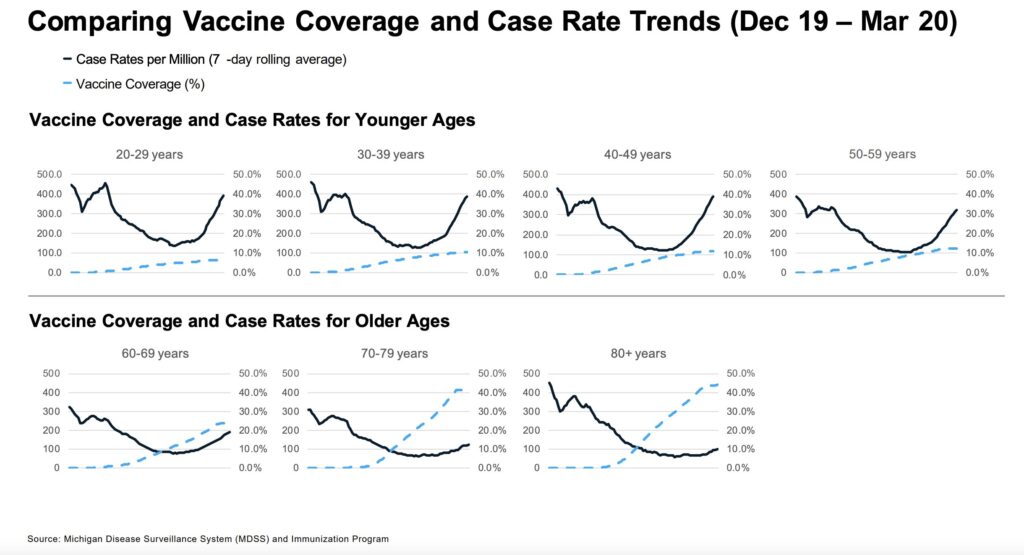 Last Sunday, CNN premiered an incredible documentary by Dr. Sanjay Gupta entitled "Covid War," which unpacked the U.S.' Covid-19 missteps and lessons learned with the nation's top doctors leading the initial response. You can see a summary in this Twitter thread here. Dr. Gupta excelled in dissecting every misstep of our pandemic preparedness and response in chronological order, pressing these officials on what they knew, when they knew it and the decisions they made as a result. History will remember those who were complicit, those who did not speak the truth and hid behind the curtain while hundreds of thousands of Americans perished.
Let's take a look at some of the latest scientific developments: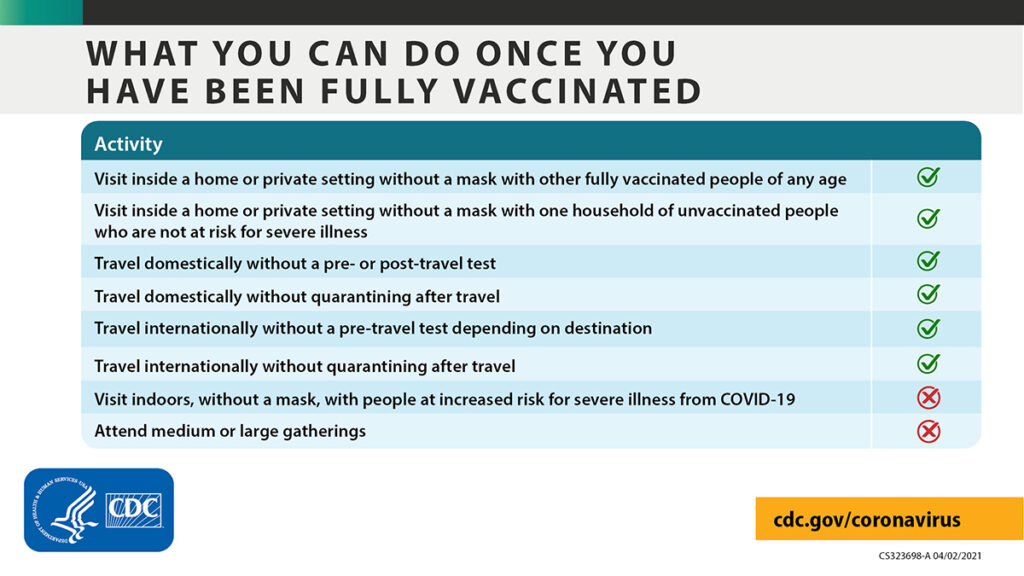 Yesterday, the U.S. reported a record of 4.08 million doses administered, with the 7-day average now at 3.07 million shots per day. Over 100 million Americans have had at least one dose. This is an historic accomplishment. In 21 states, vaccinations are now open to anyone over the age of 16. All states have announced dates to open vaccine eligibility for all adults, with 93.5% of the American adult population scheduled to be eligible by April 19. This is in line with President Biden's new 90/90 plan — 90% of adults eligible by May 1, and 90% of Americans within 5 miles of a vaccination site.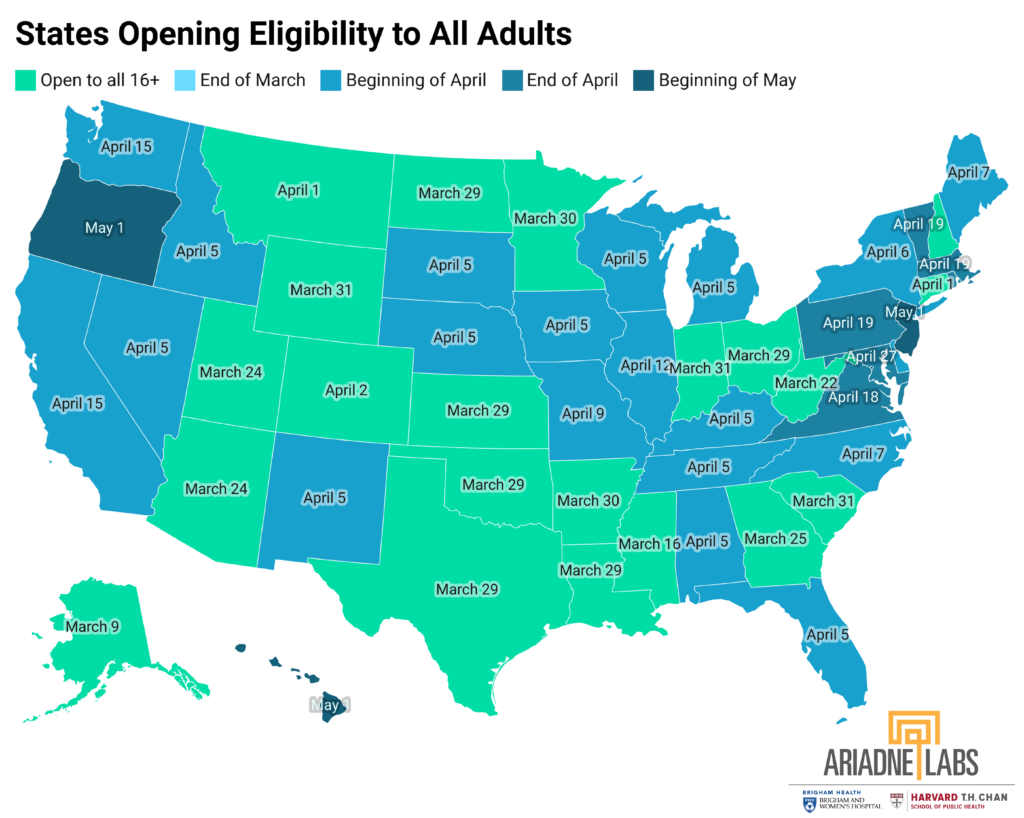 The latest polling data show that vaccine hesitancy is declining in much of the U.S. From a Kaiser Family Foundation survey, the overall percentage of those unwilling to receive a vaccine has remained constant but the number of those in the "wait and see" group have declined. One of the most interesting findings is that among the "wait and see" group, significantly more people would want to get the Johnson & Johnson vaccine due to its one-dose nature.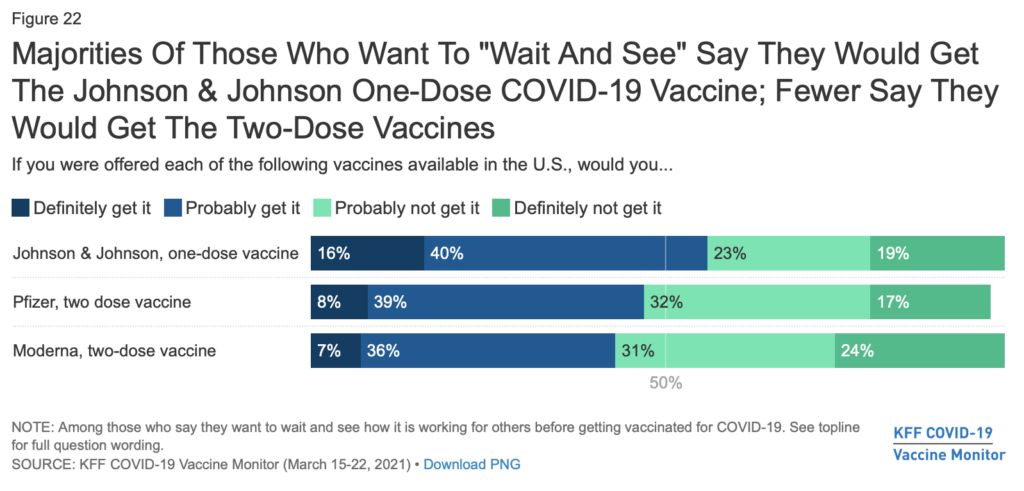 However, the country is obviously not one heterogeneous entity, and in the coming weeks we will be seeing two factors at play: limited vaccine delivery infrastructure and signs of vaccine hesitancy. As seen here, Massachusetts has two steady curves of vaccines distributed and administered. However, Mississippi's gap has widened. This may point to issues accessing vaccines, or probably more likely vaccine hesitancy. The doses are there and no one is there to take them. This week, the White House said it has not made a decision to possibly change allocations based on demand.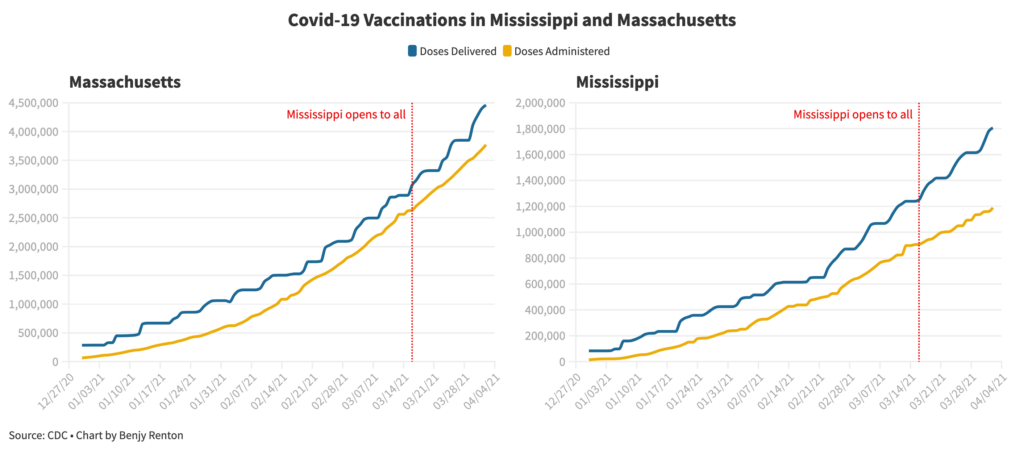 On the other side of the world, impressive results from Israel's vaccination campaign continue. As of a week ago, the latest Health Ministry data showed 56.1% of the population has received their second dose. Herd immunity is not a binary — once more people are vaccinated, cases decline.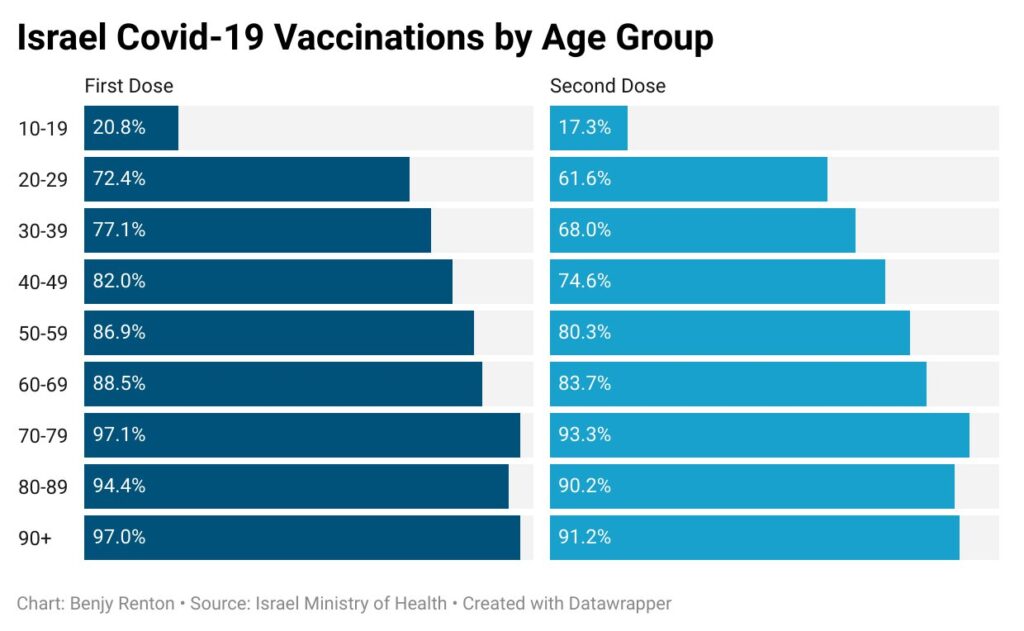 As we head into April, supply will no longer be a constraint. Data from the manufacturers (Pfizer, Moderna and Johnson & Johnson) show that all three met their supply targets for the end of March.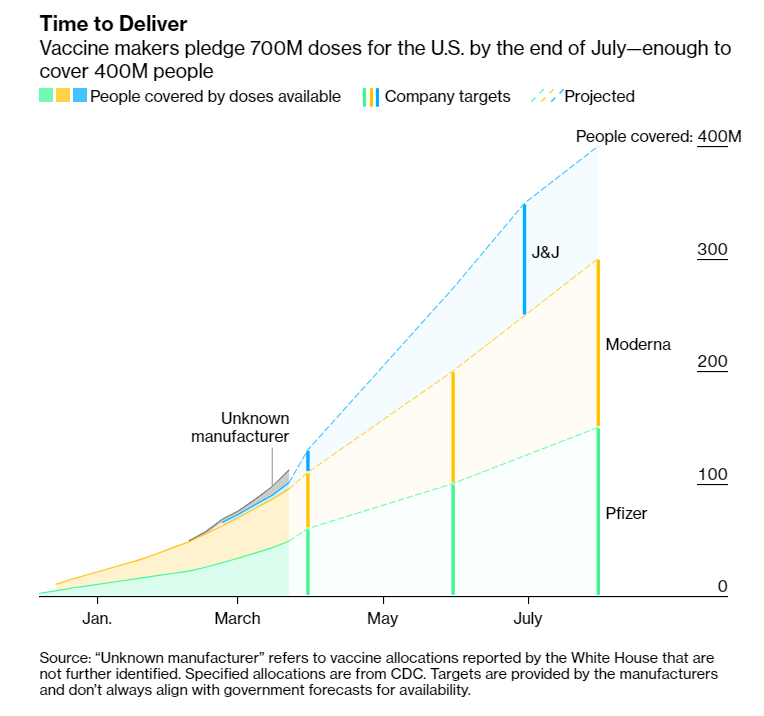 We still have a long way to go when it comes to ensuring vaccine equity. Hispanic people across the United States, for example continue to be especially underrepresented among those vaccinated for Covid-19, according to a New York Times analysis of state-reported race and ethnicity information.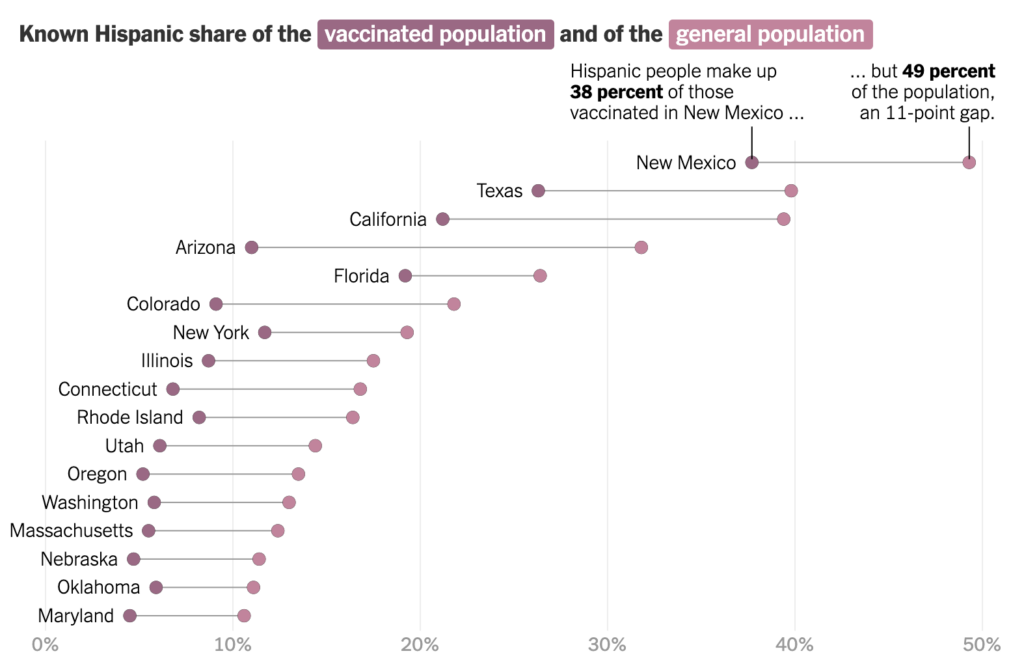 A few other updates on vaccines: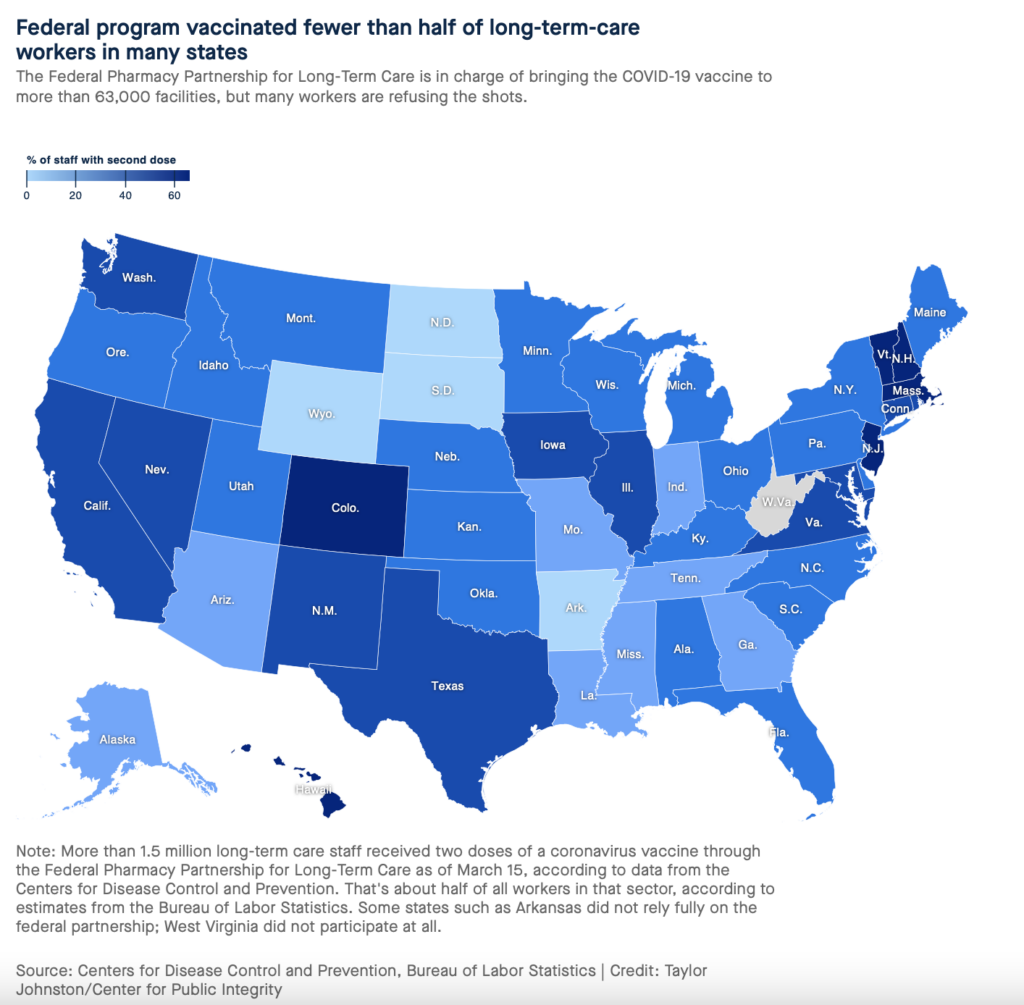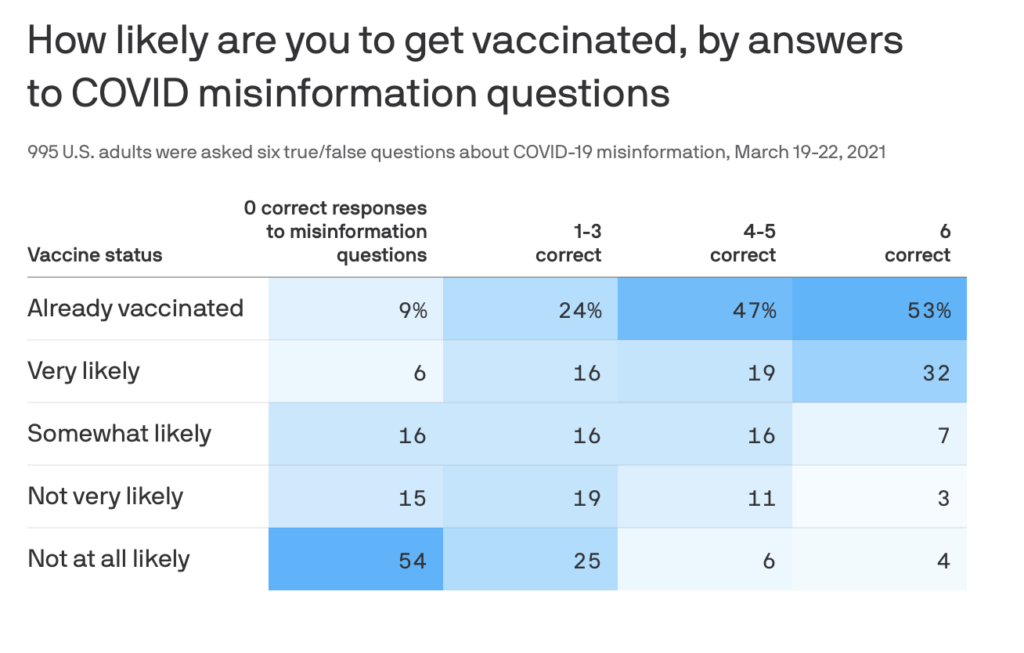 And one final note of levity, for those Survivor fans out there:
when more vaccination appointments are added pic.twitter.com/3xxIovNa3S

— gabe bergado (@gabebergado) April 2, 2021
Let's move on to our discussion of higher education.
Higher education
As college students in many states are undergoing the process of being vaccinated, we have yet to see the effects of spring break trips. At Boston University, cases are already on the rise. At Bates College, students are confined to their rooms due to an outbreak. The University of Michigan has yet another rise in cases. Data from Davidson College's College Crisis Initiative found that 26.3 % of surveyed institutions had no break scheduled, while 40.8% had a regular spring break scheduled. Interestingly, 32.8% of institutions had some "other" type of spring break.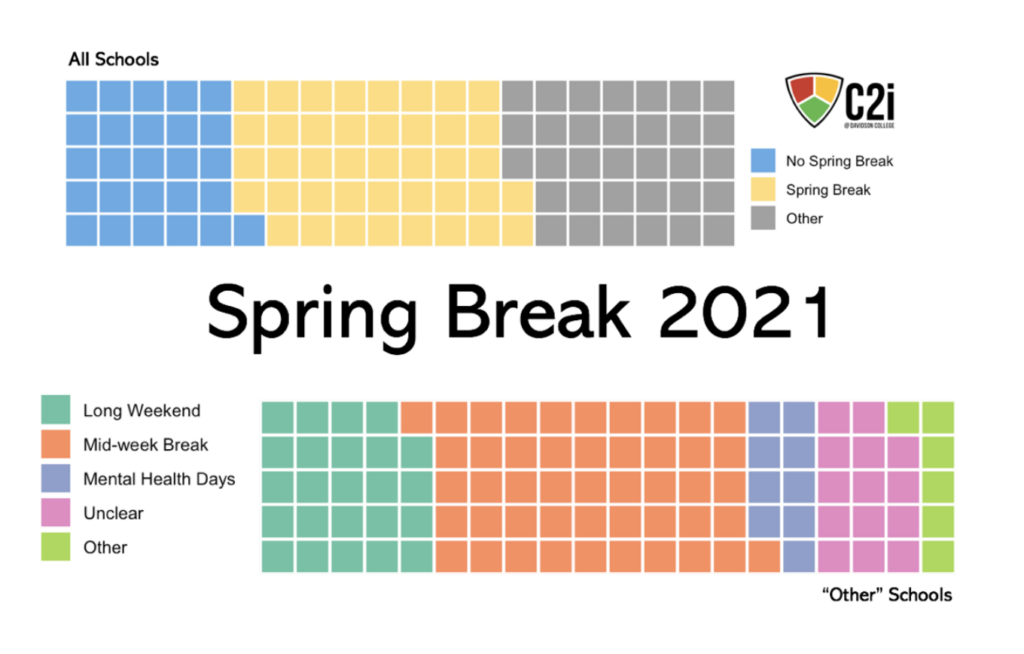 In many areas, college student vaccinations have already begun. Ohio and Connecticut have announced statewide plans to vaccinate college students with the Johnson & Johnson vaccine. At Notre Dame, the school will hold clinics for students to receive the Pfizer vaccine. The City of Philadelphia has approved the University of Pennsylvania as an official Covid-19 vaccination site, paving the way for Penn community members to receive vaccines on campus in the coming weeks. Some schools in New Hampshire have announced plans to hold vaccination clinics, with out-of-state students left out due to the governor's orders.
The ethics of prioritizing college students for vaccines remain divided. "If college students are going to take shots in bars during spring break, it's time we make sure they have shots in their arms. Students need to jump to the front of the line for Covid-19 vaccinations even if they don't fall into high-risk groups," Davidson College professor Chris Marsicano writes. "Doing so will make them and the communities they visit safer — and allow colleges and universities to reopen for the fall to avoid disrupting more educations and local economies." However, in many states, the most vulnerable have still not received the chance to be vaccinated. "Once we have more vaccine available, which should be very soon, it's reasonable to vaccinate college students, especially ones who are returning to multigenerational families, and colleges should certainly do this," David Michaels, a professor at George Washington University's school of public health who served on the Biden administration's Covid-19 advisory board during the presidential transition, said to The Chronicle of Higher Education's Francie Diep. "But right now, I'd like to see the states focused on older people, people with comorbidities, and essential workers." It will be a race against the clock, with a push to ensure students do not receive a second dose in the middle of final exams, given possible side effects.
In other higher ed news this week, NPR's Elissa Nadworny reported on custodians cleaning the University of Florida in the middle of a pandemic and the Chronicle's Karin Fischer documented a year without study abroad.
The Good Stuff
Let's roll the clips of the good stuff. In my usual tradition, I feature my favorite stories from the week. Here are my Top 10.
Dolly gets a (second) dose of her own medicine.

Thank you Dr. Naji Abumrad, Andrea Calhoun and Heather O'Dell of @VUMChealth ❤️ pic.twitter.com/IDez2DnkzX

— Dolly Parton (@DollyParton) April 2, 2021
Conclusion
The summer prognosis continues to look excellent, and with each week's data we become more encouraged with the abilities of these vaccines. Families have been able to reunite with those in long-term care facilities as visitation policies are relaxed. However, we need to continue to promote equity and vaccinate the most vulnerable. This will help reduce mortality. Young people are continuing to drive this surge of cases nationally, and we need to do all we can to ensure they are able to avoid illness before they get vaccinated as well, which is only in a number of weeks. While vaccinations will win in the end, these next few weeks will test Americans for one final time.
I'd like to thank all the student journalists with whom I have the pleasure of working. In the next weeks and months ahead, they will become vital in chronicling their colleges' paths forward for the spring and beyond. Support their work by reading it.
My best to all for good health.
Like what you see? Don't like what you see? Want to see more of something? Want to see less of something? Let me know in the comments. And don't forget to subscribe to the weekly newsletter!
For more instant updates, follow me on Twitter @bhrenton.