Welcome back to Week 45 in my weekly reports analyzing the Covid-19 pandemic and its effects on the country and higher education in the new Biden-Harris administration. For those of you reading this on my blog, Off the Silk Road, I have also launched a newsletter, where these reports can be sent directly to your email each week. Click here to subscribe.
Last week, we examined new concerns about variants as the CDC released new guidance on schools and vaccinations continue. This week, we will discuss the effects of severe weather across the country as the current national picture continues to improve and variants continue to spread. We will also look at some outbreaks at colleges.
A national look
First, we must take a moment to express our deepest sympathies for those affected by winter storms and deep freezes in Texas. Over 26 people have died in the state, including an 11-year-old boy. In order to build a healthier future, we need to take the time to address our relationship with the environment and ensure we build sustainable solutions to counteract the effects of climate change.
Cases, hospitalizations and deaths in the U.S. continue to drop, and while they are not yet down to summer levels, they are improving. The Atlantic's Derek Thompson attributes these trends to four factors:
Changes in behavior
Seasonality
Partial immunity
Vaccines
It is quite likely all of these factors play a role in the national picture, but it is critical that we maintain this progress. The CDC has confirmed 1,523 cases of the B.1.1.7 variant in 42 states, which is most certainly an undercount. Researchers have reported 7 variants in multiple U.S. states, all containing the same mutation. Additionally, medical experts are concerned about possible effects of the winter storms on viral transmission. As disasters always disproportionately affect the most vulnerable, gatherings of multiple families indoors to shelter and stay warm may also harbor the virus. Testing and vaccination sites throughout the country have been closed this week due to a lack of power. However, a new survey draws attention to the U.S.' continued lack of testing, even without a winter storm: According to a STAT poll, close to 50% of Americans surveyed who wanted a test were unable to access one due to proximity issues or long wait times. Throughout many counties in the U.S., residents live miles away from a testing site.
One of the more shocking statistics this week came from a new CDC study. Researchers concluded that life expectancy in the U.S. dropped a full year from 2019 to 2020, the largest drop since World War II. Like much of this pandemic, there were racial and ethnic inequities; life expectancy of the Black population declined by 2.7 years in the first half of 2020, slicing away 20 years of gains. The effects of this pandemic will be felt for years to come.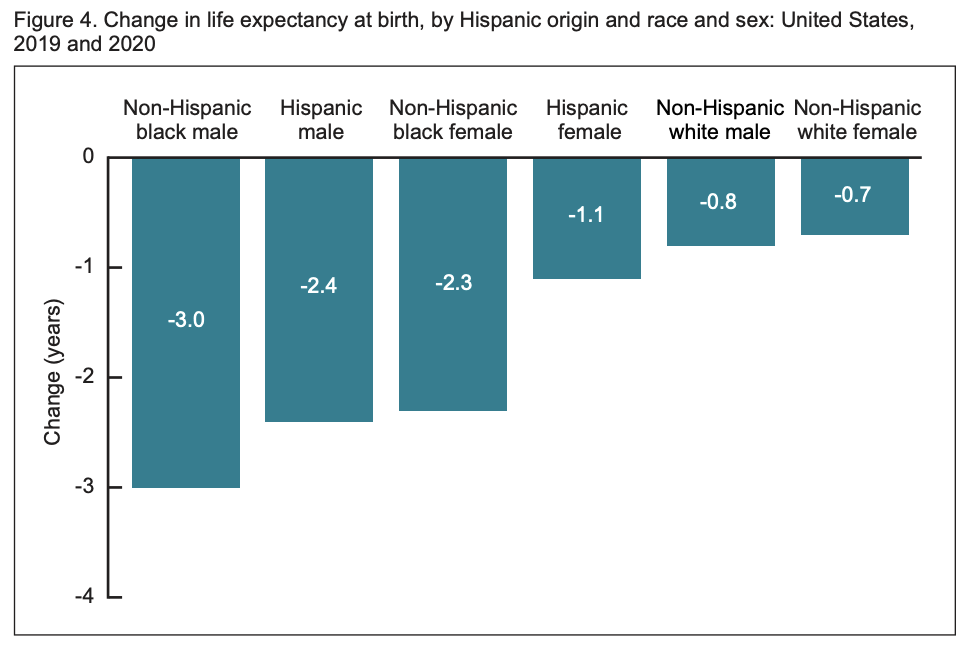 President Biden and his administration continue to take aggressive action to combat the pandemic. This week, he announced the allocation of $650 million to testing in K-8 schools and congregate settings, $815 million to testing supply manufacturing and $200 million to genomic sequencing, in addition to $4 billion to COVAX, an initiative to equitably distribute vaccines around the world. President Biden also visited the Pfizer manufacturing facility in Michigan, where he address his plan to have enough doses for 300 million Americans by the end of July.
As we continue into the spring, the variants are the greatest wildcard between now and an optimistic summer. Brown University School of Public Health Dean Dr. Ashish Jha believes that by the summer, many Americans will be able to travel and gather (unlikely in large gatherings, but among friends and family). He says that while the variants do pose concern, there is currently little reason to doubt the adequate protection of the vaccines. Until then, we must continue to protect each other and resist the temptation to ease restrictions too early. A model published in The New York Times found that if the U.S. accelerates to 3 million shots per day, "herd immunity" may be reached by May with 90,000 further deaths between now and then.
Let's take a look at some of the latest scientific developments: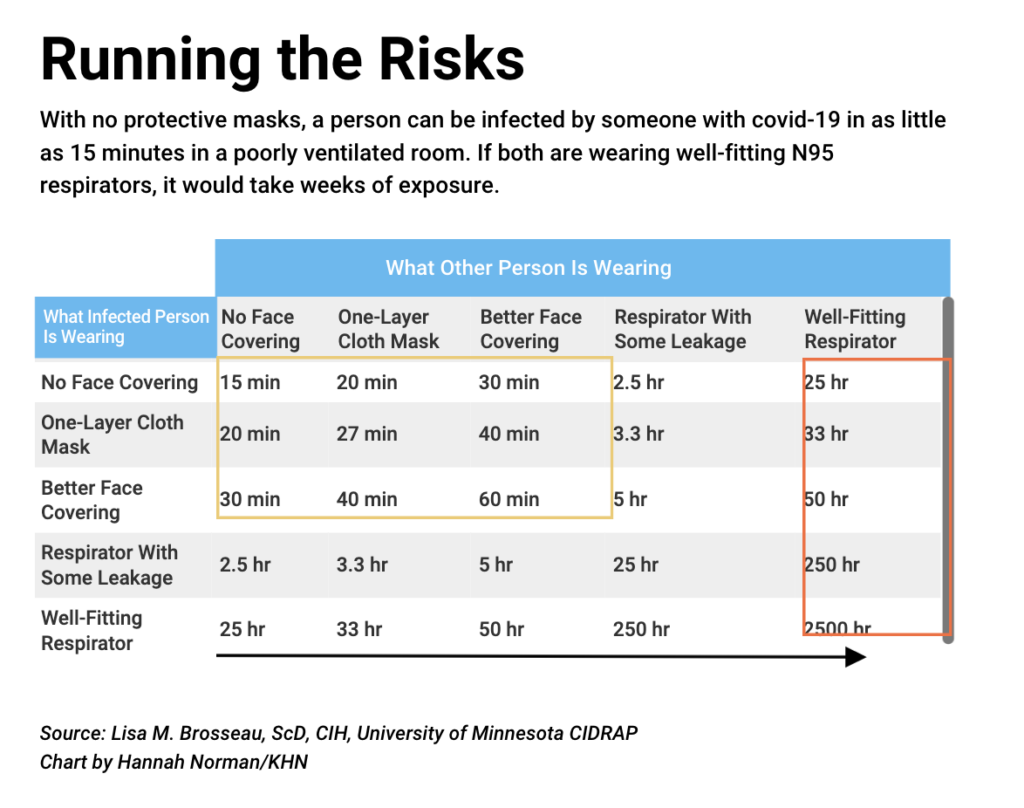 Severe winter weather throughout much of the U.S. had a sizable impact on vaccine distribution this week, shutting UPS' Worldport hub for the first time in the company's history. On Friday, the White House said 6 million doses were in storage and will be sent to states as soon as possible. On Thursday, 20 states reported no increase in the doses delivered in the past 24 hours. The storms have contributed to a lack of supply in many sites, forcing appointments to be cancelled and second doses to be prioritized. However, on Friday we saw the first signs of supply chain recovery, and shots in arms will soon follow. Next week, 13.5 million vaccine doses will be allocated to states, a 23% increase over this week. 2 million doses will be sent through the federal pharmacy partnership.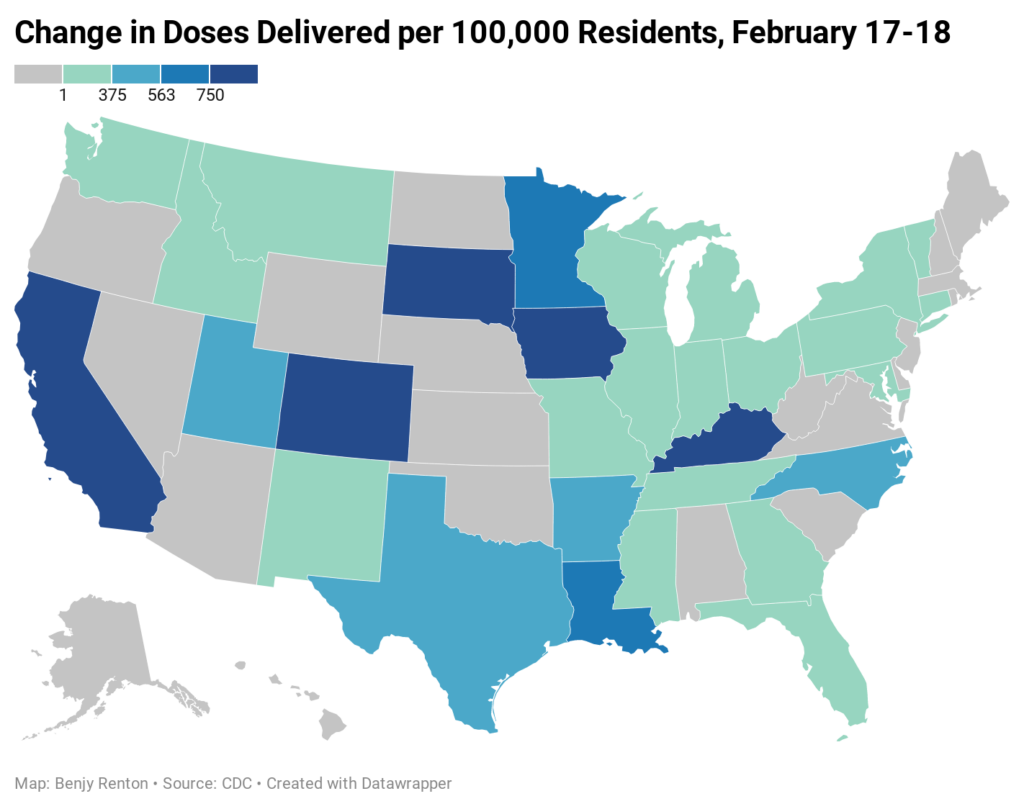 It has now been one month since the Biden-Harris administration has taken office, and under the new leadership the country has made significant strides in vaccine rollout. We have a long road ahead of us, including recovering from severe weather, but we have seen great progress.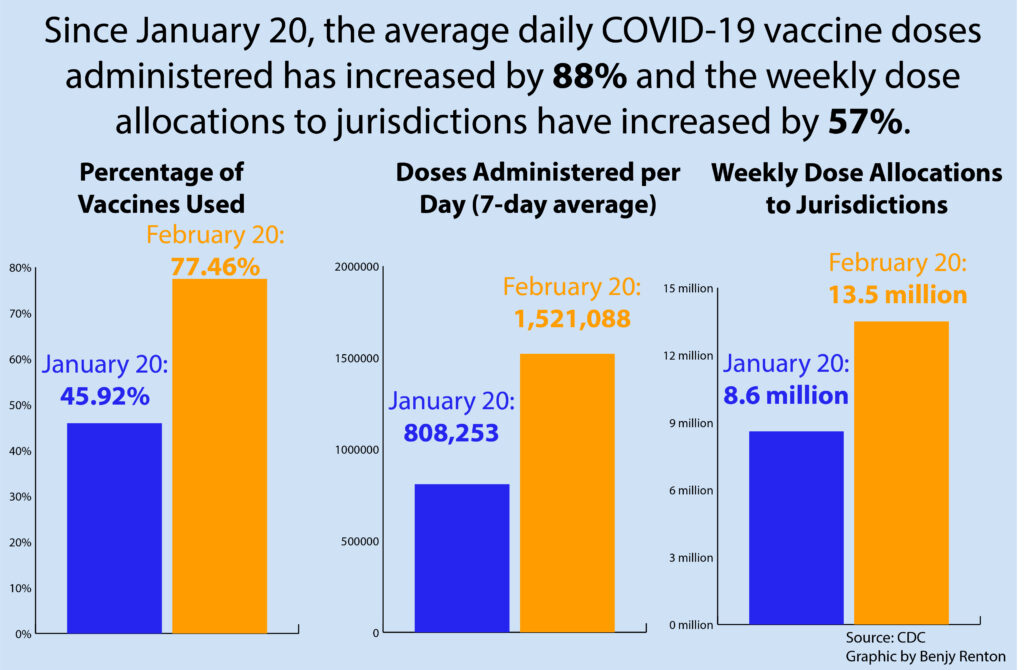 Vaccines have been severely disrupted in Texas, with many vaccination sites without power through the week. FEMA has reported more than 2,000 vaccine sites are located in areas with power outages.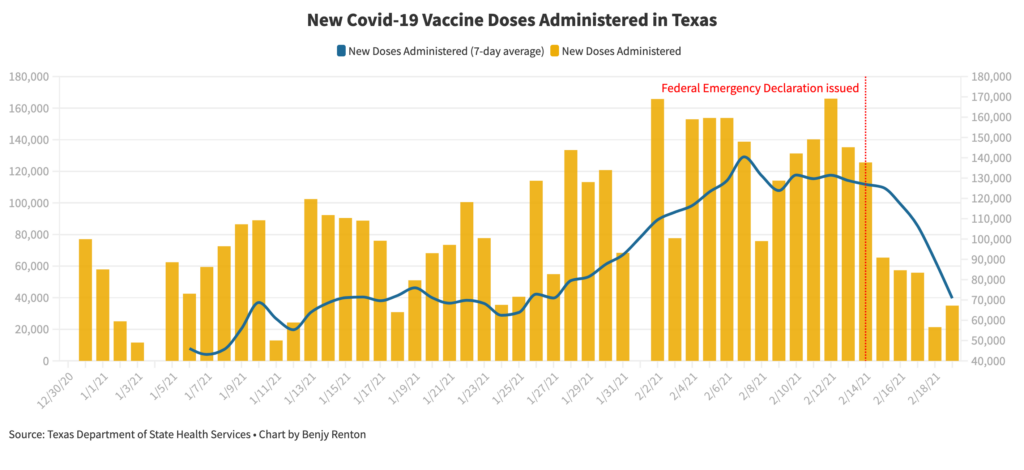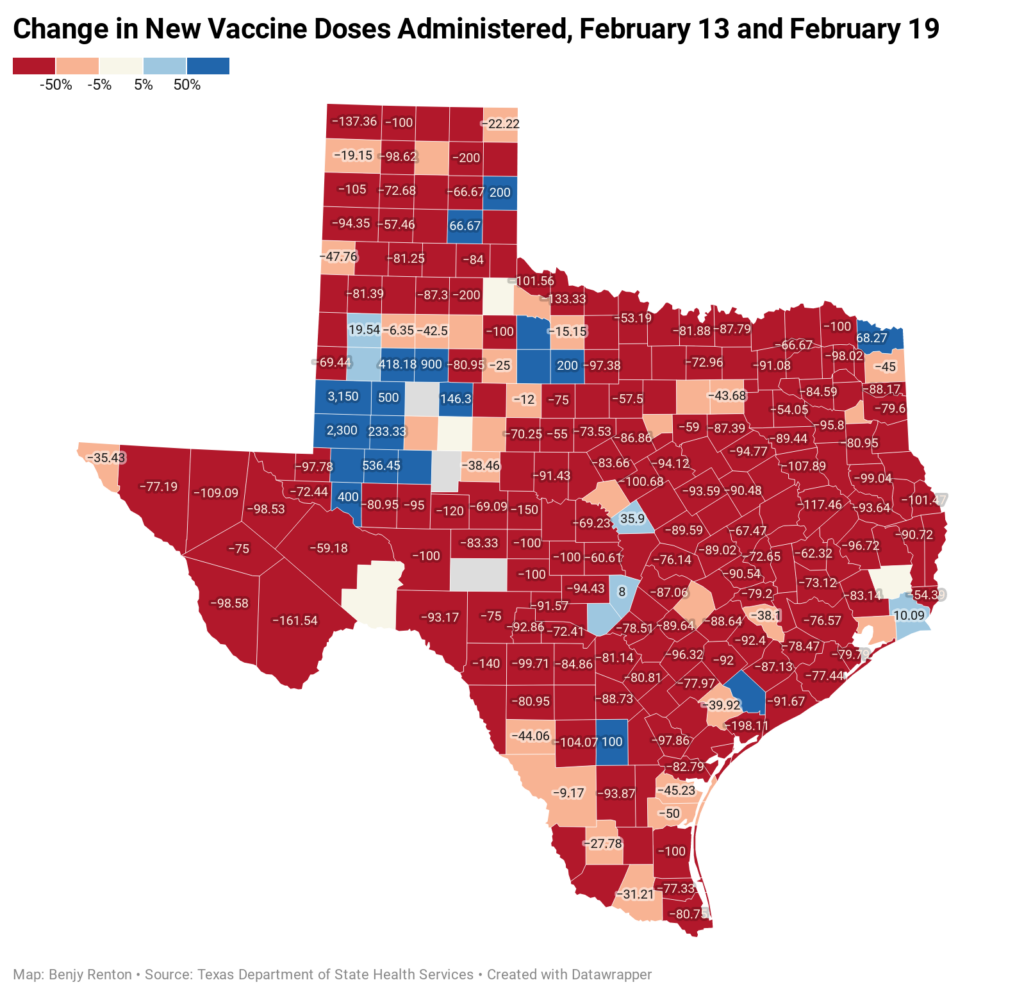 Despite these small roadblocks, vaccine production is expected to increase significantly in the coming weeks, with the possibility of the U.S. having enough capacity to administer over 3 million doses per day.
A few other updates on vaccines: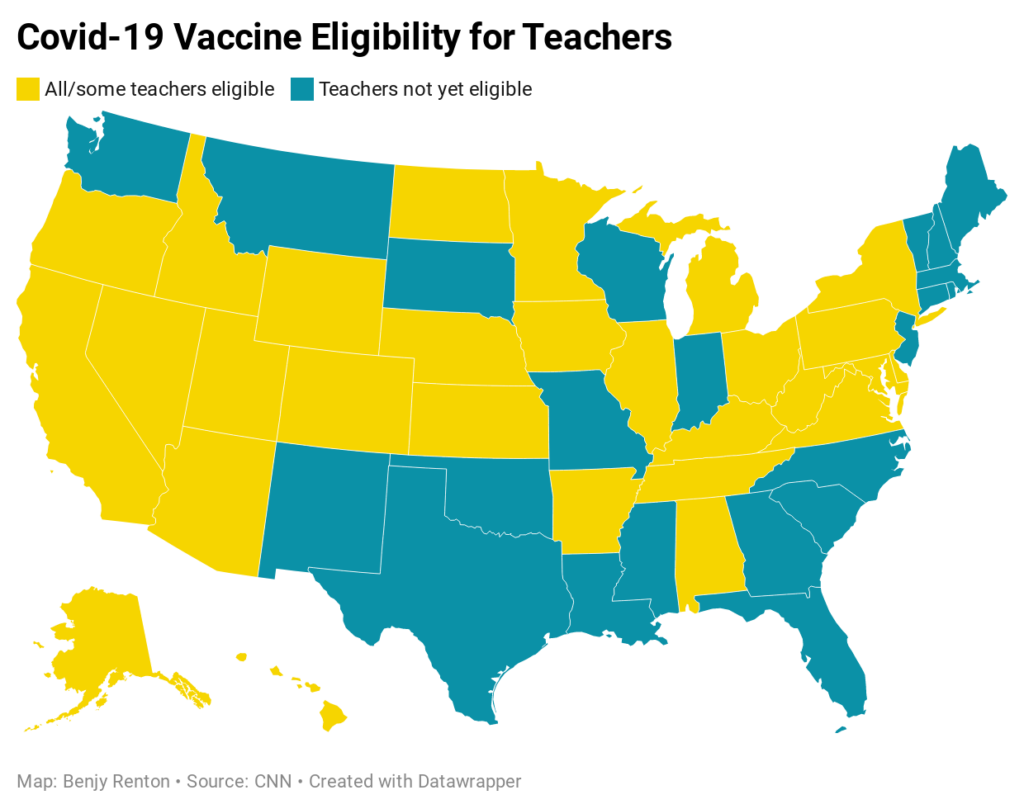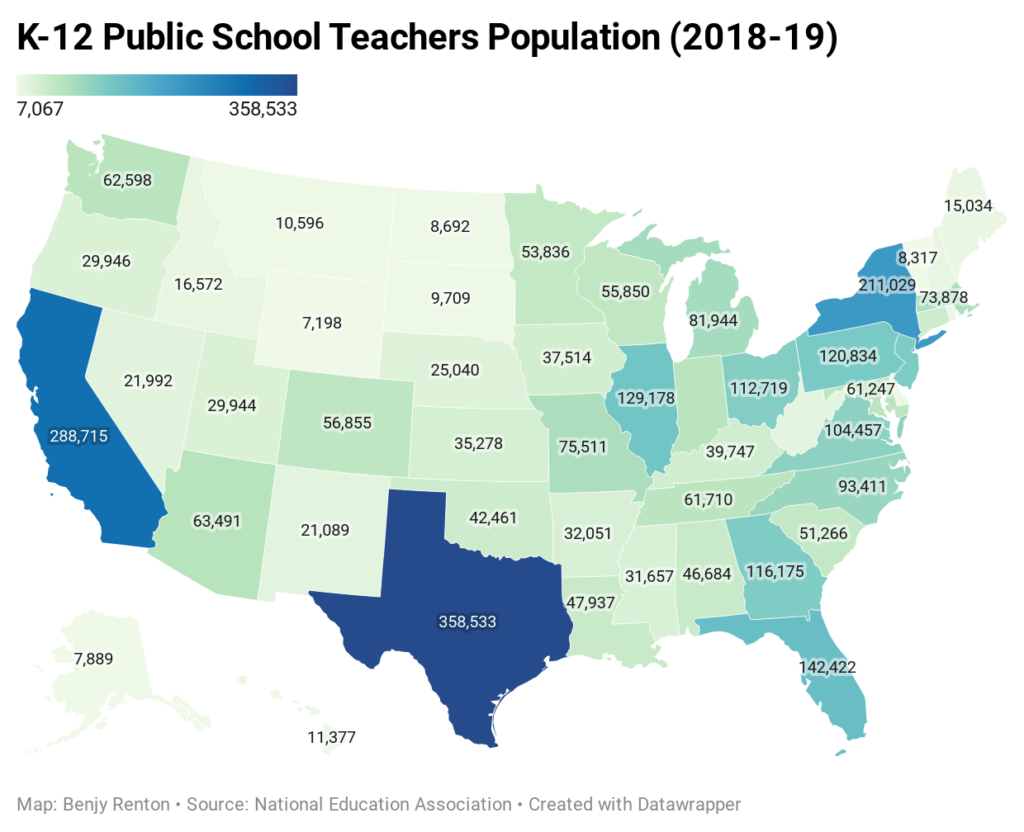 Let's move on to our discussion of higher education.
Higher education
Despite case counts subsiding nationally, many colleges and universities are seeing record-high case counts and multiple outbreaks, with some eclipsing fall semester case totals. Earlier in the week, I posted an analysis on Twitter with six universities currently experiencing outbreaks. From this table, we notice that colleges have been reaching case peaks ~14 days after the start of classes.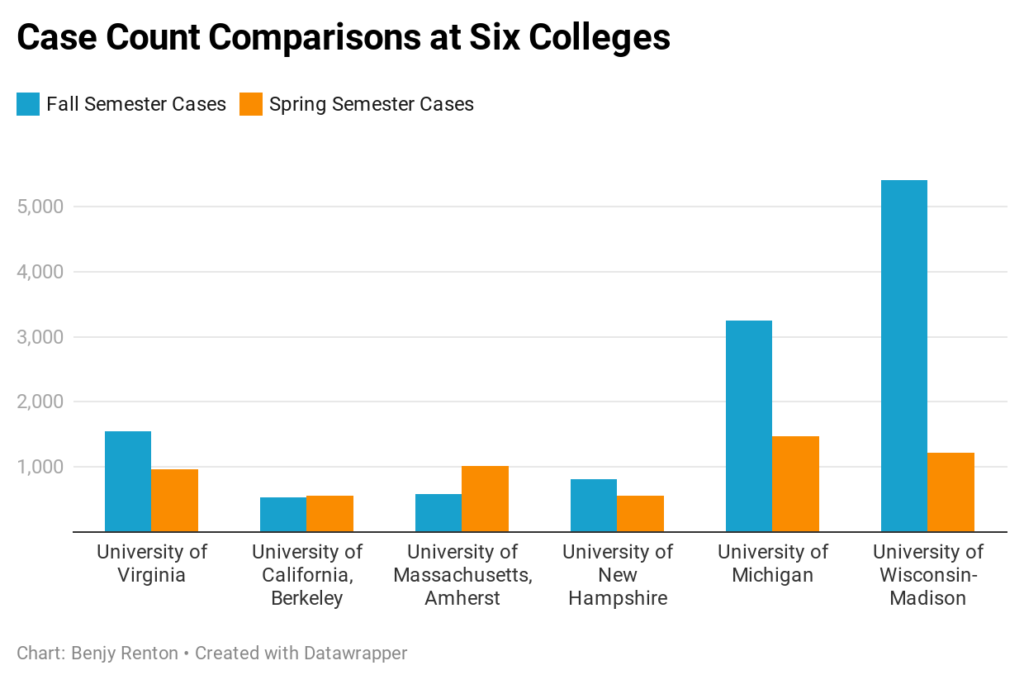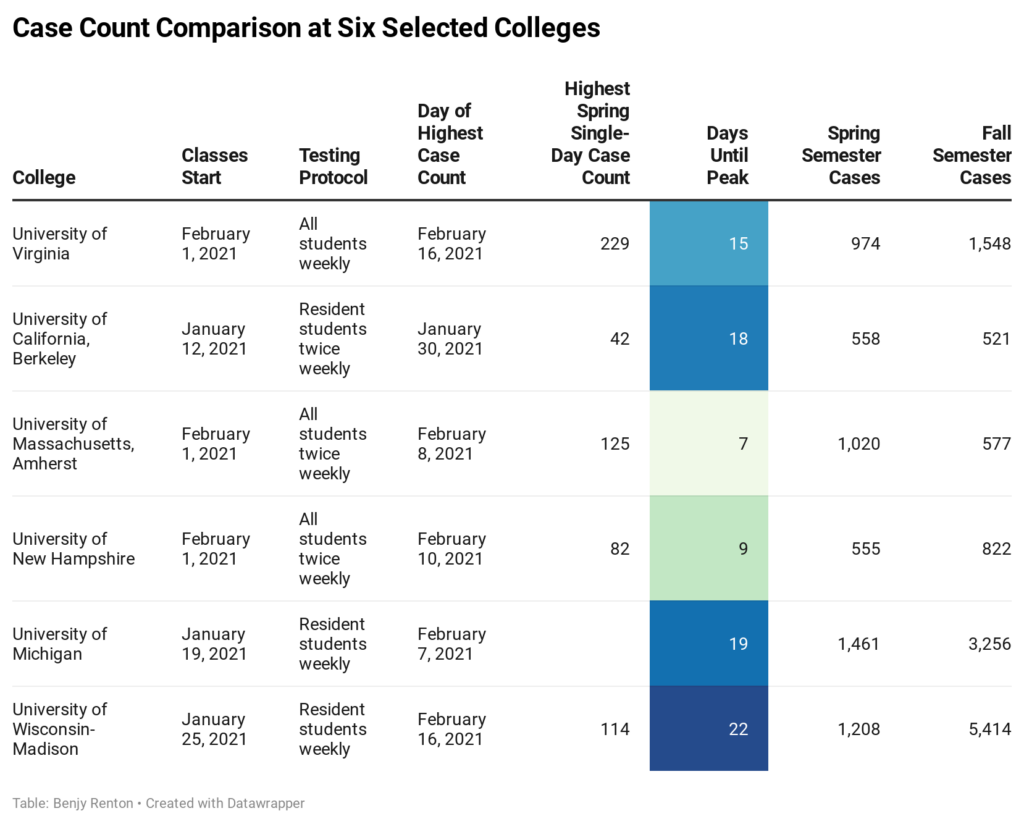 What does this mean? Based on the virus' incubation period and national transmission, we can assume that cases are imported when students return to campus. However, the vast majority of spread occurs when these imported cases spread to others within the first few days after moving in. An additional factor is variants. According to my count using Inside Higher Ed data, the B.1.1.7 variant has been confirmed on 9 college campuses. 3/6 of the colleges in this analysis have recorded variant cases — exact numbers unknown. I applaud the work of many institutions (including the ones listed here) for ramping up testing compared to the fall — it may be because of this we are "finding" more cases. In summary, the first two weeks are critical to controlling outbreaks (solely relying on arrival testing will not cut it). Colleges should consider a quiet/hibernation/phased reopening for the first few weeks, in addition to conducting multiple layers of arrival testing.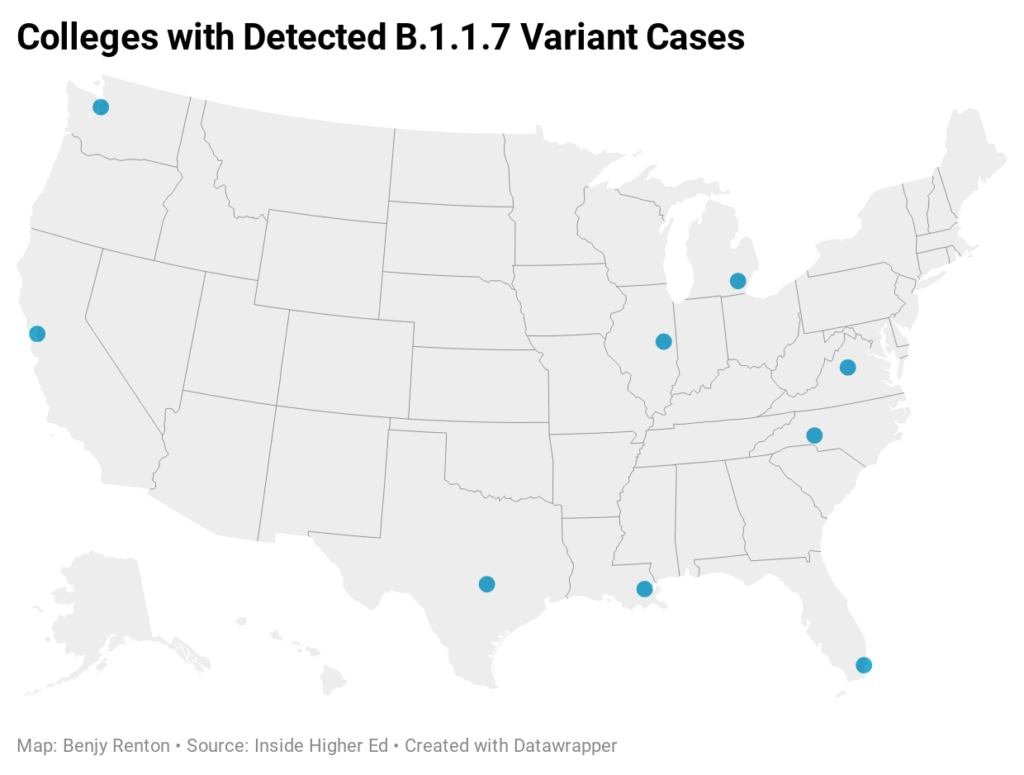 Here is a roundup of this week's higher ed news:
I wanted to finish the higher ed section underscoring the importance of a multifaceted approach to keeping Covid-19 off college campuses. Many schools have significantly increased testing this semester and my fear is that students will see testing as a panacea. Earlier this week, a technology executive in California apologized for hosting a conference after which two dozen attendees and staff members at the event tested positive for the coronavirus, despite having required frequent testing. "I allowed myself a false (and dangerous) sense of security based on the belief that sequential PCR testing serves as a safety mechanism," Peter Diamandis wrote, "which I can now tell you is a fallacy." Yes, testing works. But it's not enough on its own, especially at colleges.
The Good Stuff
Let's roll the clips of the good stuff. In my usual tradition, I feature my favorite stories from the week. Here are my Top 10.
Conclusion
As vaccines continue to roll out and case counts continue to decline, there is a cause for optimism. It is likely that by the summer, many Americans will have access to a vaccine and life may return to resuming some normal activities. However, the variants present a clear and present danger in the next few months. As the weather begins to ramp up, we need to stay ahead of the curve by enhancing genomic sequencing and keeping community transmission down.
And no, Senator Ted Cruz, going to Cancun during a pandemic (never mind during a statewide disaster) is a horrible idea.
I'd like to thank all the student journalists with whom I have the pleasure of working. In the next weeks and months ahead, they will become vital in chronicling their colleges' paths forward for the spring and beyond. Support their work by reading it.
My best to all for good health.
Like what you see? Don't like what you see? Want to see more of something? Want to see less of something? Let me know in the comments. And don't forget to subscribe to the weekly newsletter!
For more instant updates, follow me on Twitter @bhrenton.