I hope this note finds everyone well. I wanted to use this forum to share my perspective on where we are in the Covid-19 pandemic and how I see possible ways going forward. First, a brief background on myself. At the end of January, I was caught in the middle of the coronavirus outbreak in China and repatriated back to the U.S. I've been following this story through my reporting in Vermont and have frequently discussed its implications for the U.S. on Twitter and other media. I am not a public health expert nor administrator of any sort — these are my opinions based on data, facts and news that I consume throughout the week, as well as a comparative look of recovery situations in China and the U.S. I'm hoping to release these on a weekly or biweekly basis, but we will see how the situation plays out. My news reporting beats include higher education, Vermont and study abroad, so much of the issues I will discuss will revolve around these beats.
A few areas of interest:
A national view
So what are we seeing nationally? The term "peak" has been thrown around. We may have hit this peak. But we must remember that the peak represents the highest number of daily cases. I do not expect it to drop so quickly. 600-odd fatalities in New York each day, while a drop from over 700 per day, is still an unfathomable number. Numbers of cases and fatalities must decrease for a prolonged period of time before we begin to even think about going back to some sort of normal. Some believe that the U.S. has hit its peak only because "the country has hit a ceiling in its testing capacity," due to a 20% positivity rate (the percentage of tests that come back positive). This is an insanely high number. We need to broaden the testing criteria, which will also cause the case fatality rate to go down (since there would be more registered cases). Ideally, I'd like to see a situation where we randomly test people to get a sense of where penetration of this disease occurs and how the U.S. could better direct resources. Check out this map showing the increases of cumulative incidence (cases per 100,000) in states from March 31 to April 7. They help us point out potential hotspots.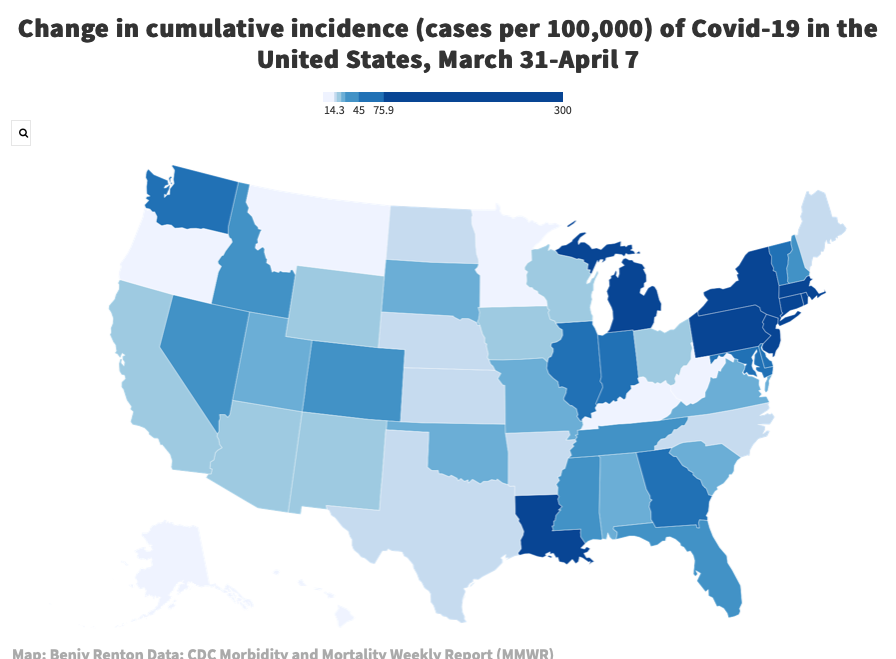 Key states of interest (in addition to the Tri-State Area) and New England include Georgia, Michigan, Louisiana. But a state-level analysis is not sufficient. Viruses don't know state or county borders. We must conduct more analysis on a county level. This is something I anticipate looking at in the weeks ahead. Test test test.
But testing is not a be-all and end-all. As we all know, there are two main types of tests: a test to determine if you have the virus and a test to determine if you have antibodies for the virus. The former test is useful to show outbreaks across the country and we must continue to use it. Supply chain issues pose international challenges which have stymied testing capacity. As accurate antibody tests begin to become available, we must also conduct widespread deployment to ensure we can get a sense of who could be immune to the disease and who has had exposure. Something we don't know too much about is asymptomatic cases. Data from Iceland and China have shown that many more people could have been exposed to the virus and have shown no symptoms. According to the Iceland study, "43% of the participants who tested positive reported having no symptoms, although symptoms almost certainly developed later in some of them."
Another statistic important discussing relates to the concept of herd immunity, where a significant portion of a population would be exposed to a disease so that it would be contained. Since models (driven by tests of mainly symptomatic individuals) have shown that we have not hit that point, I do not believe we will hit that point in the near future.
Could the spread of the virus escalate if we relax social distancing measures too quickly? Yes. We must continue to monitor the real-time transmissibility number.
So how do we get out of this state? Catherine Marfin of The Dallas Morning News explains the steps that need to be taken.
Widespread testing and contact tracing
Enhanced hospital preparation for new cases
Consistent decrease in new cases
Isolating mild cases in centralized centers is also an innovative strategy, as data in China show the majority (at times 80%) of cases spread within families at home. Carl Minzner writes about turning hotels into quarantine centers. I support this idea.
A note on contact tracing. We do not have the ability currently to technologically contact trace with phone location data and surveillance (similar to what China has done with health codes). Boston has piloted a contact tracing model with human contact — people calling those who may have come into contact with confirmed cases. I believe this model could be expanded and would be critical in quarantining populations who could be exposed.
Reopening public places relies on three primary factors: contact intensity, number of contacts and modification potential (the degree to which mitigation measures can buy down those risks). See this new report from Johns Hopkins.
A step-by-step opening approach to gradually returning back to life is critical. See Michael Pettis' tweets for insights from Beijing. I don't think we're there yet though. Hang in there. It's going to be gradual. See these results from Beijing.
Higher education
The impact on the coronavirus on higher education is only beginning to be understood. Economically, it's huge. Why? A few reasons.
First, the class of 2024. A national survey by Simpson Scarborough of over 1,000 high school seniors and college students can give us clues about affordability and going to college in the fall. Around half of high school seniors said that their family situation has been affected by Covid-19. Now, it's a small sample size, but still notable.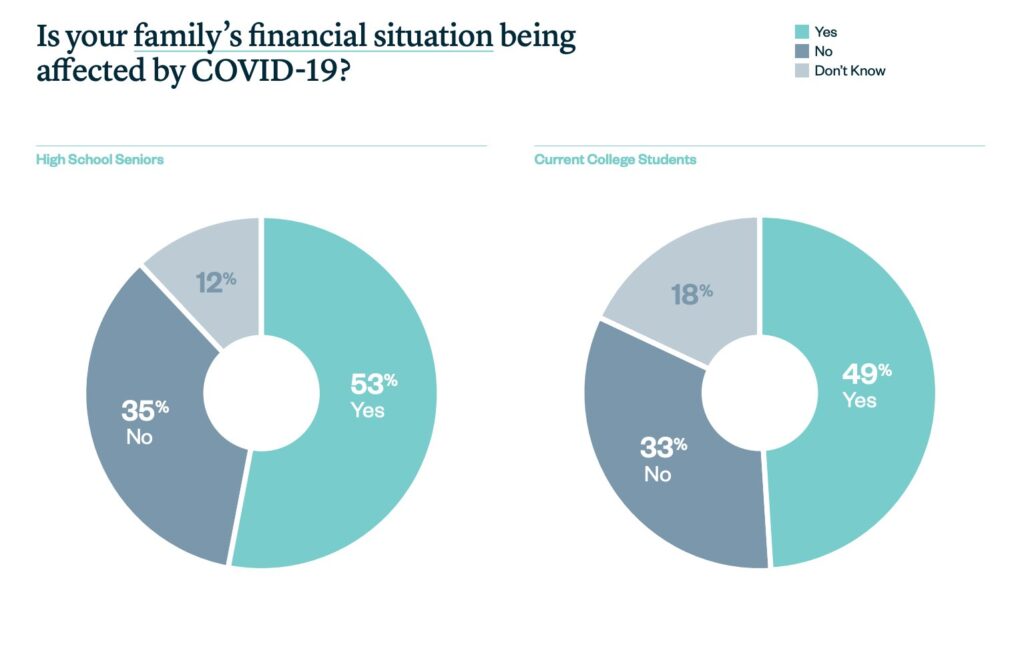 While many high school seniors have decided where they will attend college next year, up to 1 in 4 of them now say their college choice has been affected by the pandemic. 20% of high school seniors say it is likely/highly likely they will not be going to college next term. Some students are expressing doubts on their choice. Possible reasons include geographic location and financial aid offers. Students want ways to learn more about schools through virtual means. I'd encourage institutions in these next few weeks to increase outreach efforts. Consider letting students sit in on online classes. There is an enrollment risk for the incoming class, as some colleges predict a major drop. We need more data to determine this. May 1 will help, as after then we will be able to get concrete numbers for many schools on their fall first-year class enrollment.
A quick note on a gap year. I've worked with gap year travel programs for a few years. I am currently not confident that they will run in the fall. Other jobs (such as staying at home and working a service job, for example), may not be available in the fall. So I believe that while many students may consider deferring enrollment in higher education for the fall, I do not really see any viable other gap year options. It will be interesting to see how this plays out.
Now, the question you all want answers to: whether colleges will be able to go back to on-campus life in the fall. I remain optimistic that this will be the case. However, much is still uncertain, and I feel we will get a more complete picture in June or July. As seen from this Cornell University study, disease can spread quickly even in college classes, not to mention residence halls and other activities. Accommodations must be considered for social distancing. Orientation is on my mind a lot — many of these activities are conducted in large groups. As this Chronicle of Higher Education article points out, colleges should consider alternative plans for orientation activities — checking in with students over the summer 1-on-1 is a great idea. Orientation trips? Too early to tell.
A McKinsey study shows us three possible options for a return to in-person instruction.

I believe we could be in the virus contained scenario, returning to instruction on campus in the fall of 2020. However, we must be ready for a resurgence at any time and should prepare accordingly. Schools have begun to develop plans for a possible opening in January 2021; Boston University is one of them. All options are on the table. Beloit College is launching a plan with two sessions of seven-week classes which they say will offer more flexibility. Students take two courses in each session. This way, we could see a delayed start to on-campus instruction without losing the whole semester. I just don't know at this point.
On international students: it is possible that many international students will not be able to come to the U.S. given travel and visa restrictions. Colleges and universities should prepare for the possibility of instructing them remotely. I don't know how this will play out. Which brings us to the final topic: study abroad and international travel.
On-campus summer programs are mostly cancelled.
Smaller colleges will continue to feel the financial effects of the coronavirus. So will small towns nationwide. Three Vermont state colleges are expected to close.
Study abroad and international travel
Summer abroad programs? Nope. Most have been cancelled.
Fall? Possibly, but unlikely. I believe this could either be decided on a country-by-country basis or worldwide. Running abroad programs consists of two main questions, in my mind:
What is the risk of sending students to a country?
What are the restrictions in place that inhibit an abroad student's experience?
Binghamton University is one school that has cancelled all fall programs. I believe we will see more colleges make decisions about study abroad mid-June. Institutions and program providers will need to be flexible to accommodate students withdrawing and returning to their home campus. Here are some changes that need to happen before study abroad programs can run, in my opinion.
The State Department needs to lower its Global Travel Advisory.
Flights need to run again in abundant supply — some airlines have indicated they will begin to start flights as late as September. For example, Los Angeles to Beijing on American Airlines is not expected to start until October 2020.
Visas need to be easily processed.
Country-specific entry bans and quarantines need to be lifted. In my opinion, we cannot send students to a country where they would need to quarantine for 14 days before starting their program.
Local host universities need to open (this has not been announced in China yet).
We must be careful of local outbreaks (community transmission could be occurring in Beijing, brought in by imported cases from abroad).
This study, while now slightly out of date, shows how students studying abroad in China were affected by Covid-19.
January and spring 2021? I think we'll be able to start opening some programs. Even then, parents and students may not want to go abroad. The impact of Covid-19 on international education is still being understood and something I will be looking into further as fall programs begin to possibly announce suspensions.
Conclusion
There is hope. As one friend in Dali, China reports, "But hope, as the saying goes, springs eternal, and there are signs all around us." We must look worldwide to see glimmers of hope and recovery. International operations of non-essential travel (i.e. study abroad) may not resume for some time. Large gatherings, concerts and sports games may not resume for a while — Taylor Swift cancelled all her shows for 2020.
But there's so much we still don't know. We must remain vigilant in our efforts as we gather more data.
Public health should never be political (@ the White House). I've done some preliminary research on analyzing cases along urban/rural and political lines.
A note on the featured image: regardless of what is happening with the virus, spring is coming in most of the country. That's a beautiful thing and we should value that.
Thanks for reading this long stream of consciousness summarizing what I've read, watched and reported on this week (it was a lot). Slowly, we will begin to return to some sense of normal. Let's all keep doing what we're doing and we'll get through this together. My best to all for good health.
For more instant updates, follow me on Twitter @bhrenton.