Today's Silk Road travels bring us to Turpan, a small city and former oasis on the Silk Road. With the construction of the new high-speed railway in 2015, this city is now only an hour by train from Urumqi.
The train was scheduled to leave Urumqi at 9:07 a.m., so I figured that waking up at 7 would leave me with plenty of time. At 7:17, I woke up with a dead phone, realizing that the car I had booked for 7 had already left and I may miss my train. I ran out the door and sped to the train station. After passing a minimum of three metal detectors, I had entered Urumqi's modern station with time to spare.
The train passed through the sand dunes and flatlands of Xinjiang before reaching Turpan. After arriving in Turpan, I was met with more security checks, as a policeman with a rifle around his neck takes a picture of me and my passport with his phone. (This picture, as I later found out, was uploaded to a central system, tracking my movements around the region.) The first stop on my quick tour of Turpan were the ancient ruins of Jiaohe City. Spanning over 20,000 square meters, this city has over 2,500 years of history. While I usually am not one to take tourists shuttle buses, a walk of over 6 kilometers made the bus well worth it. Turpan is also located in the heart of the Turpan Depression, which is the second-lowest depression in the world and the hottest spot in China. Temperatures in the summer will often go well above 104ºF.
A group of Chinese tourists came along for the ride. They insisted I take a picture with the women in the group.
After climbing onto the rocks via a flight of stairs, you could see the Jiaohe ruins on one side and sand dunes on the other. There was a large canyon in between.
The next stop on the tour was the ancient city itself. The tour group on the bus with me hired a guide, so I joined their group for the tour. The ruins themselves were quite impressive.
I then hailed a Didi (China's version of Uber) to take me back to the center of town for lunch. He recommended a traditional Uyghur restaurant, where I had a plate of tomato noodles.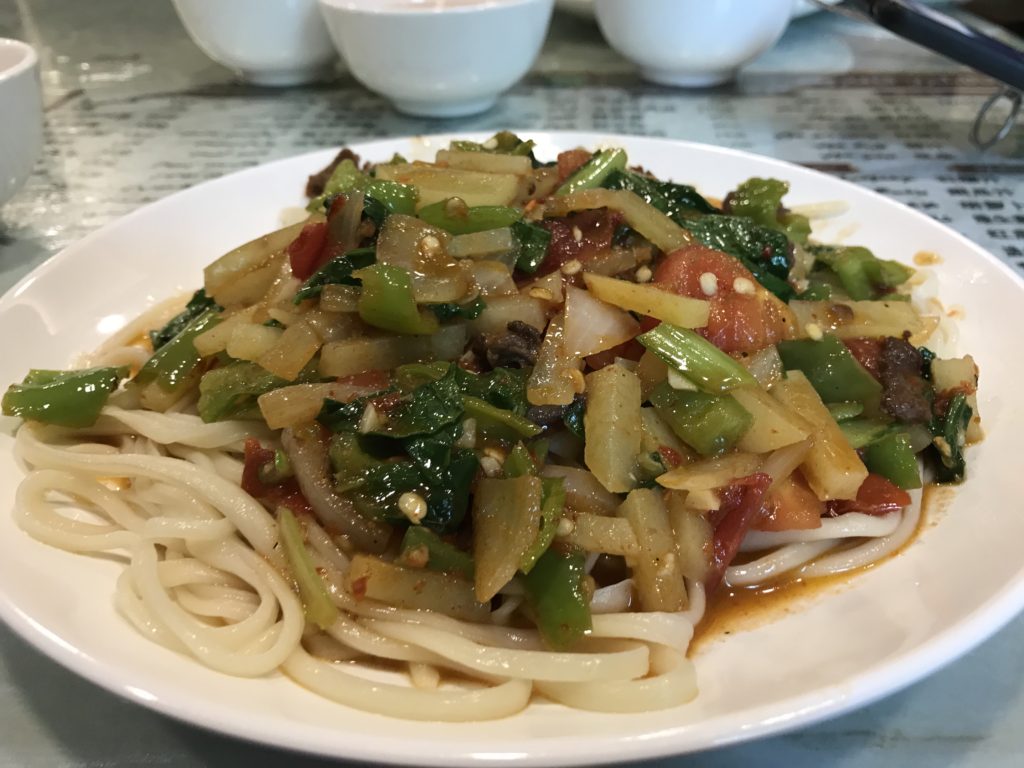 After lunch, I happened to hail the same driver again. Turpan's Didi network must be very small! He took me to the Emin Minaret, a mosque, minaret and Uyghur cemetery.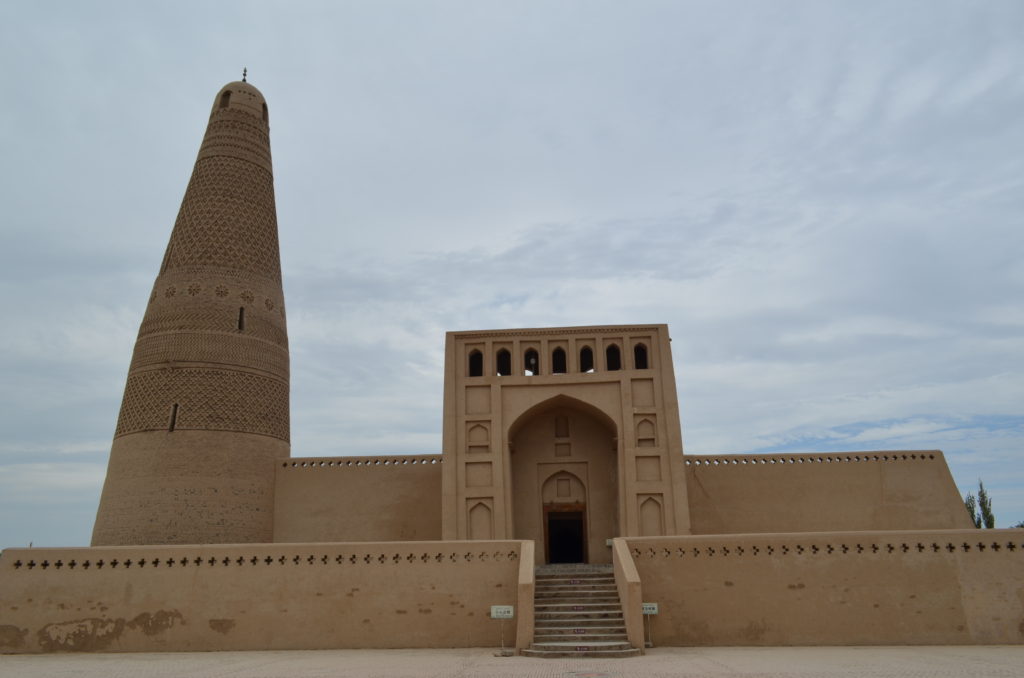 I then went to the Turpan Museum, which had a large collection of artifacts and historical information.
The final stop before the train station was dinner at Herembag restaurant, a traditional Uyghur restaurant. One of their specialties was 抓饭, literally "pulled rice," which was basically a rice pilaf with beef. Their lamb buns, or samsas, were very good too. The restaurant had great views of the park nearby.
Then it was back to the train station for a 7:30 train. Security in Xinjiang is very strict, with police stations at almost every street corner and residents are required to scan their IDs and pass through a metal detector when entering tourist sites, shops, restaurants and hotels. Even something as simple as buying gas requires the car to be screened before entering the gas station and the driver to scan his or her ID before pumping gas. Policemen with helmets and 安全员 (security officers) are present at most shops. Barbed wire is also a common sight around parks and other sites.
Turpan is famous for its grapes, and while I did not have time to visit the Grape Valley, I bought a bunch of sweet grapes near the train station.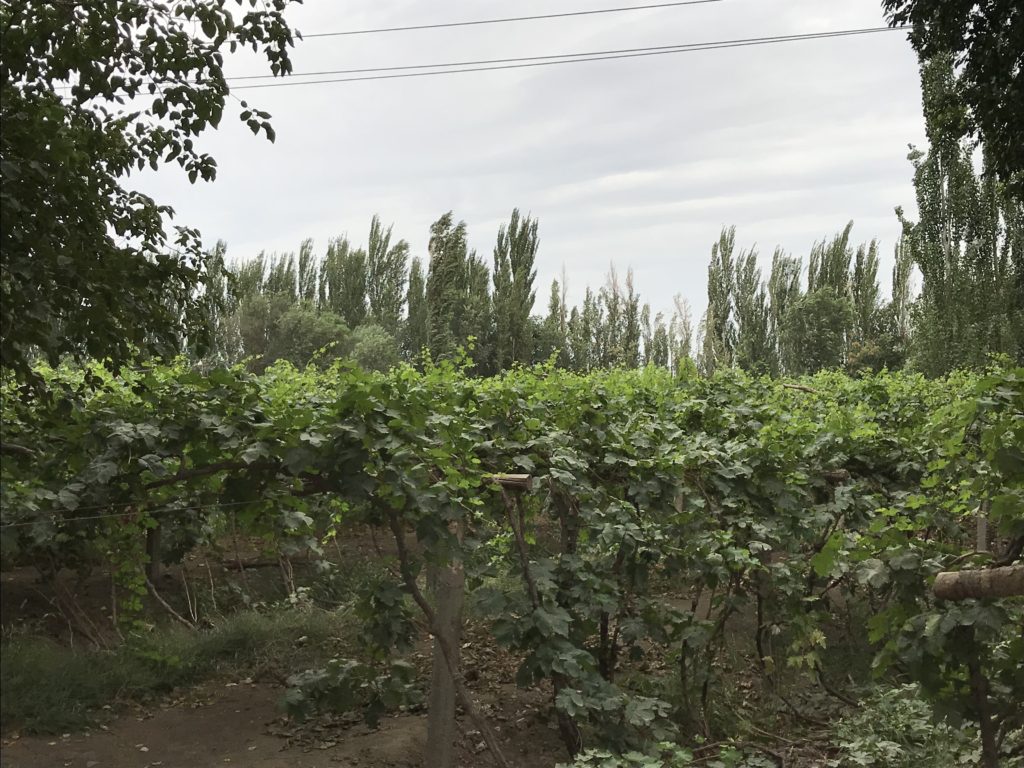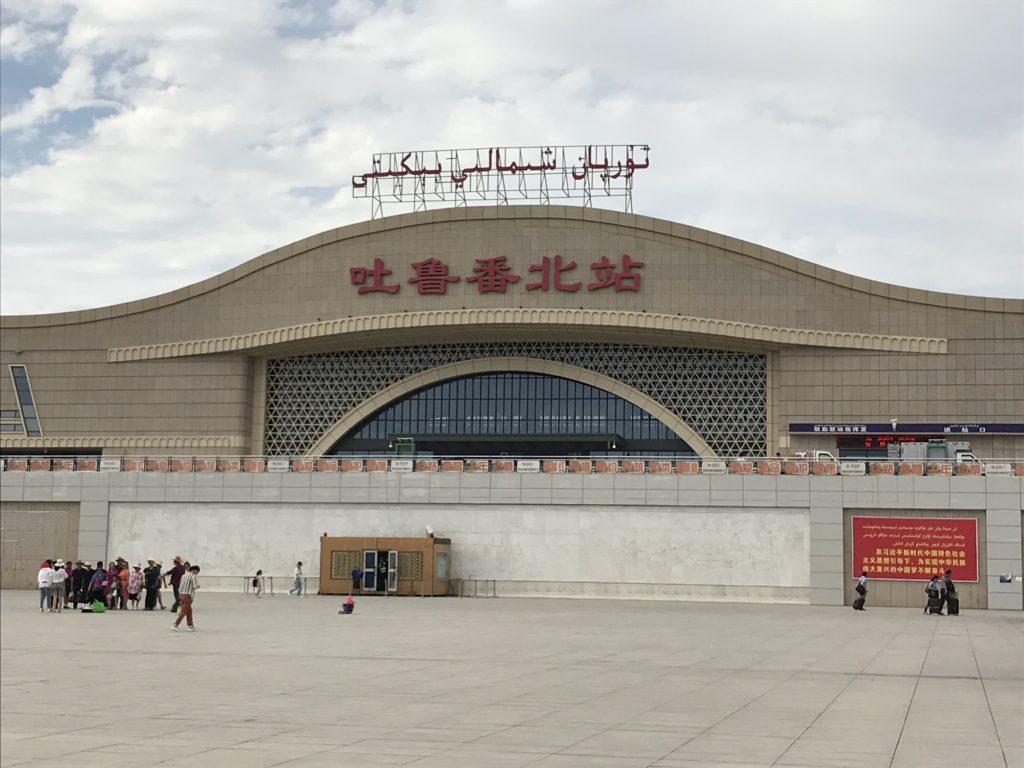 I'm now back in Urumqi for one more day in the region's capital. Until next time!