Welcome back to Week 54 in my weekly reports analyzing the Covid-19 pandemic and its effects on the country and higher education. For those of you reading this on my blog, Off the Silk Road, I have also launched a newsletter, where these reports can be sent directly to your email each week. Click here to subscribe.
Last week, we discussed vaccination in the context of the Johnson & Johnson pause (which has now been lifted) as every American adult is now eligible for a vaccine. This week, we will examine the "vaccine enthusiasm frontier" as many states are currently seeing thousands of available appointments and many communities remain largely unvaccinated.
A national look
We must begin by acknowledging this week's verdict by a jury in Minneapolis to convict former police officer Derek Chauvin on all three counts relating to the murder of George Floyd. America has a long way to go in its fight for racial justice, but this is certainly a productive step.
Although variants are still spreading, the U.S. continues to see declining cases on a national scale, with the most recent 7-day average of new cases holding at 59,562.
While the U.S. may be winning its battle against the virus, India is an example of the virus spreading unchecked. India has recorded over 300,000 new cases each day over the past few days, most certainly an undercount due to lack of testing. Hospitals have run out of oxygen and some of the metal in crematoriums has started to melt due to being hot for so long burning dead bodies. People in the ICU are better off as they may have an increased chance of even accessing oxygen. Families have taken to Twitter or other online sites to solicit plasma and oxygen for their families. This tragic situation in India is due to a failure on behalf of the government to expect a resurgence and as a result, the medical system has collapsed. Some of the U.S.' prominent medical experts, such as Dr. Ashish Jha at the Brown School of Public Health, have advocated for the U.S. to send vaccine doses or raw materials to India. Vaccinating the world should be our top priority.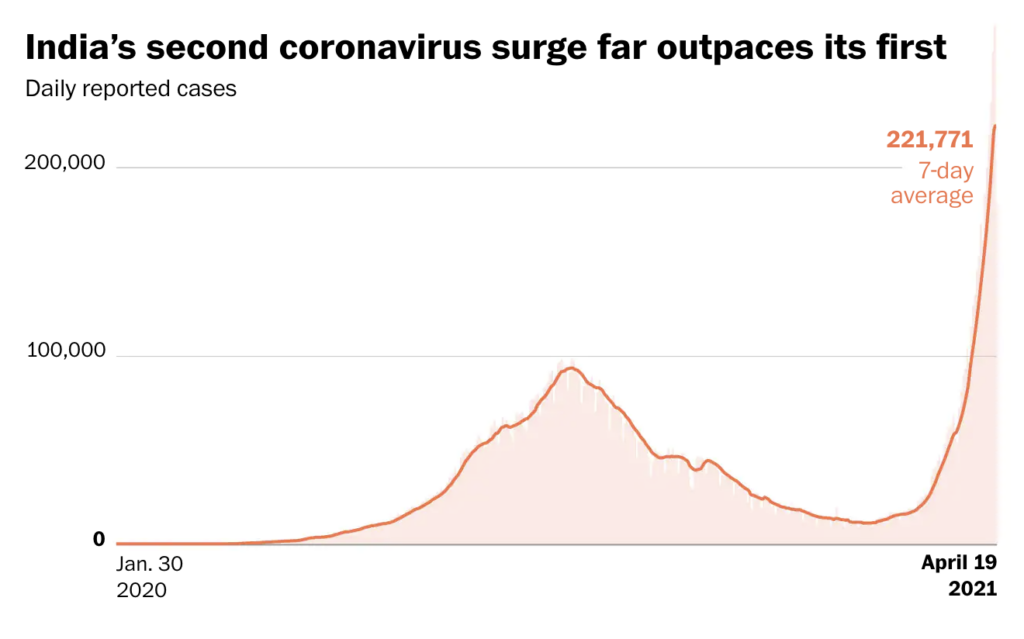 Let's take a look at some of the latest scientific developments: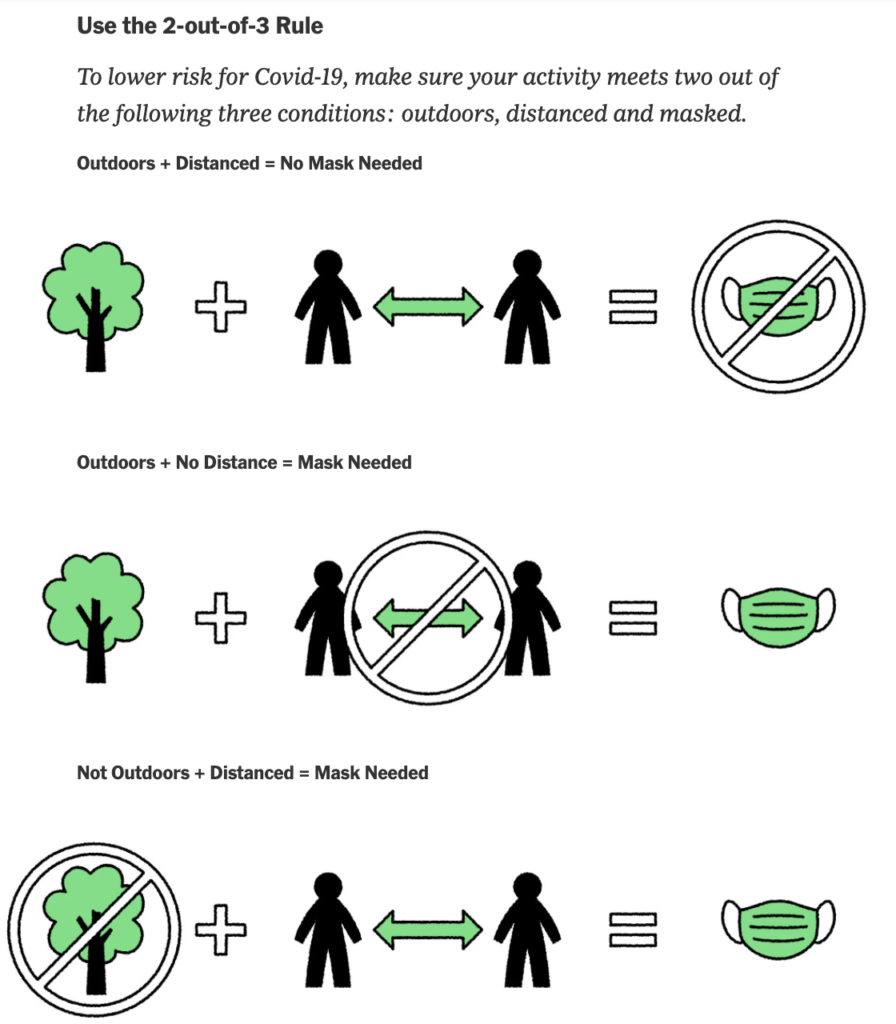 Major milestones in the vaccine rollout were reached this week. The Biden administration reached its goal of 200 million shots in just 92 days and the world has now administered 1 billion doses. Every adult in the U.S. is now eligible for a vaccine.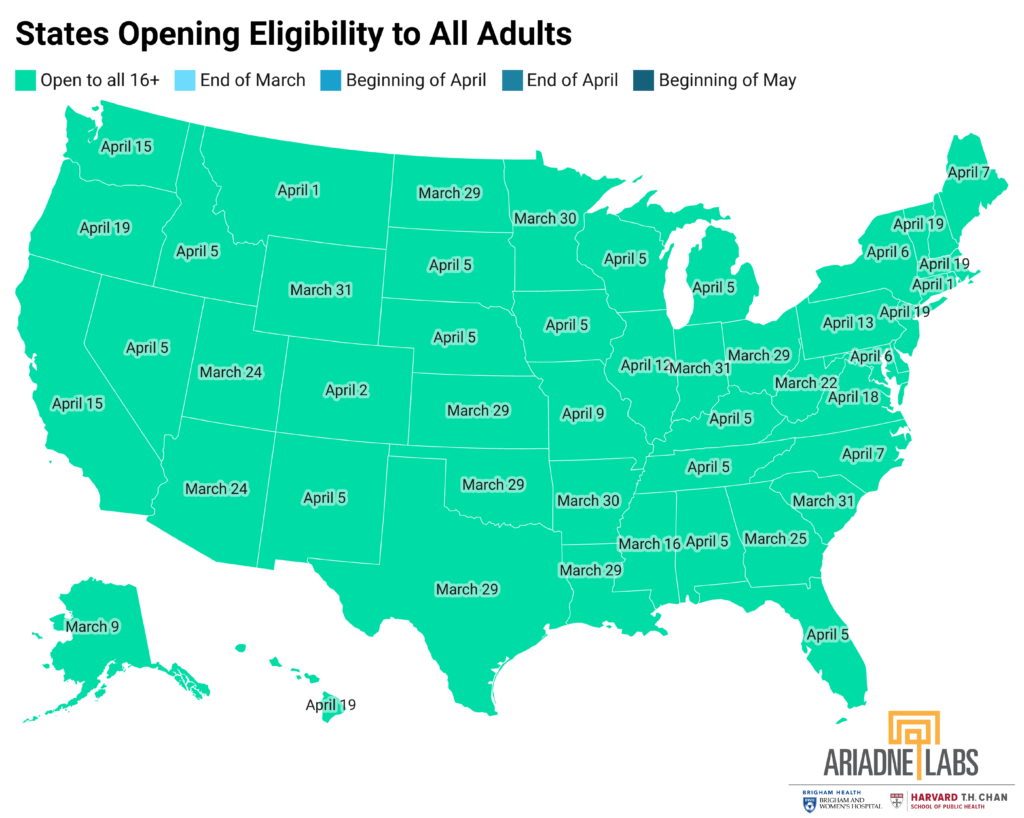 While every adult is now eligible and vaccine open season has now begun, we are seeing first signs of hitting a "vaccine enthusiasm frontier." As I explained in a Twitter thread earlier this week, the U.S. needs a vaccination rejuvenation. Daily doses administered is declining, which is only partially a result of the Johnson & Johnson pause. Vaccinating the next 50% of Americans is going to be a great challenge, as we need to now move away from mass vaccination sites and distribute doses everywhere. We need to greatly augment walk-in appointments and make it as easy as possible to get a vaccine. That way, those who may be slightly hesitant will be more likely to get it. An analysis I conducted earlier this week shows a correlation between vaccine hesitancy and open pharmacy appointments, as seen on this dashboard here.
One of the major hesitant groups is Trump voters, as seen from this Morning Consult poll. Additionally, many seniors in rural areas have still not been vaccinated, pointing to possible access and hesitancy issues.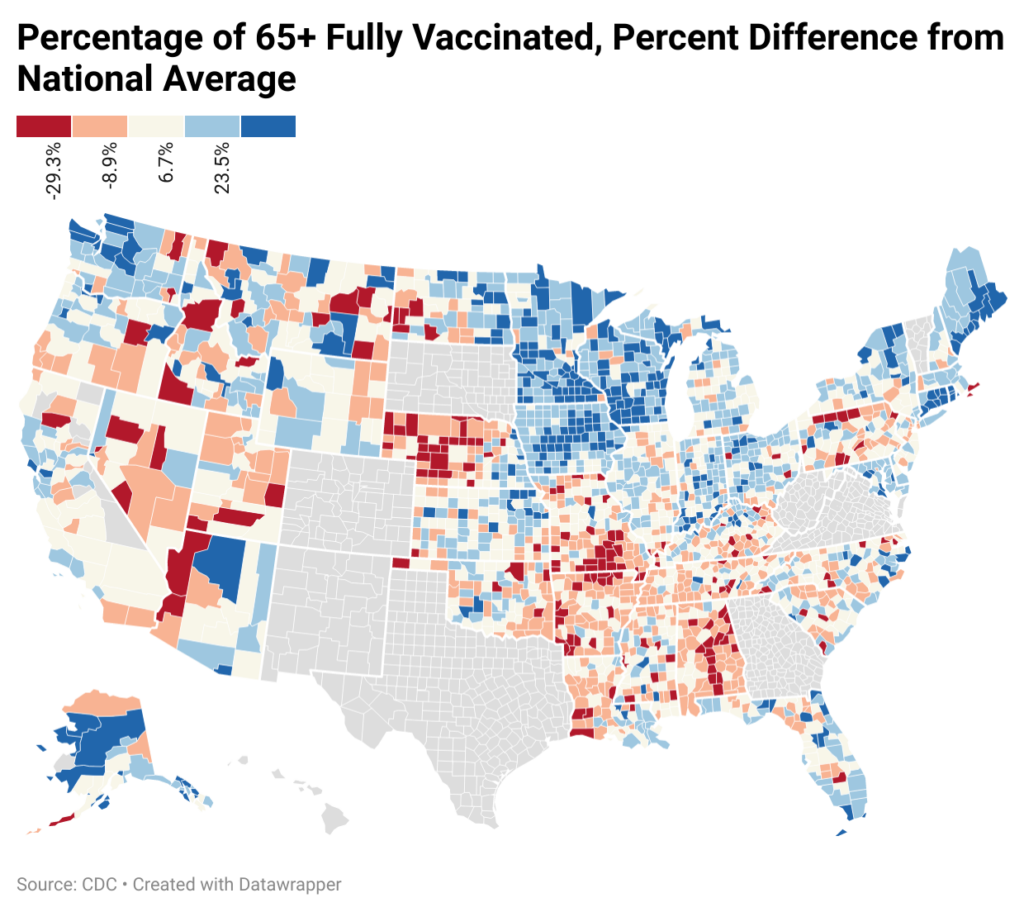 What does this all mean? As seen from this Kaiser Family Foundation analysis, the scales have tipped in many places and supply now exceeds current demand. However, we cannot let up now. Some counties are beginning to turn down vaccine shipments. In Mississippi, CNN's Martin Savidge reports that the state's website has 74,000 open appointments far into May. At one drive-thru site, just 275 were scheduled. Since we now have adequate supply, we can now make choices we could not before — sending vaccine doses to all areas and settings (including primary care). Doses administered have now decreased by 12% compared to last week. While we may not ever see the record numbers of 4+ million doses per day again, we now need to conduct outreach to ensure we vaccinate as many communities as possible.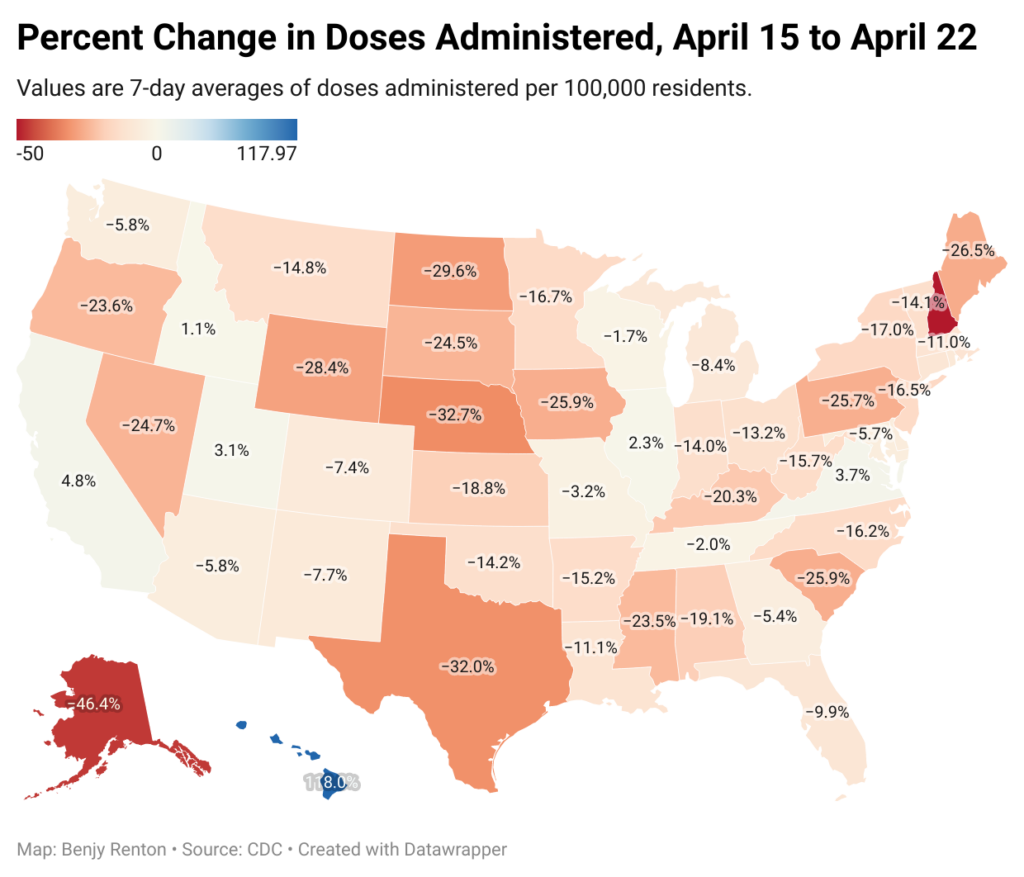 One of the major tools now back in our arsenal is the Johnson & Johnson vaccine, whose pause has been lifted as of this past Friday night. After careful deliberations, the CDC's Advisory Committee on Immunization Practices decided that the benefits of the vaccine greatly outweigh the risks, as seen on this slide from Friday's meeting.
With over 10 million doses on hand in state and federal channels, we need to deploy these immediately. The good news is that polling data show that vaccine confidence has not changed dramatically as a result of the pause. Data from the de Beaumont Foundation found that 76% percent said the J&J pause does not decrease their likelihood of getting vaccinated and 87% of those who have been vaccinated said they would "definitely" make that same decision again.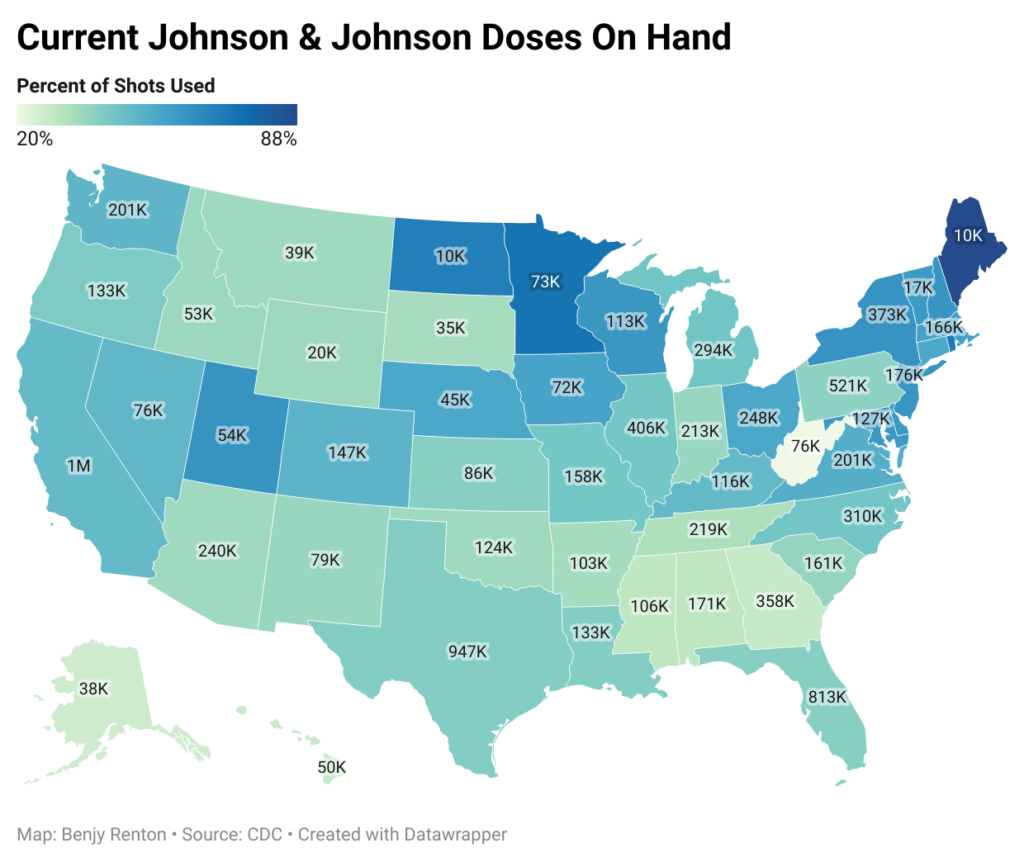 A few other updates on vaccines: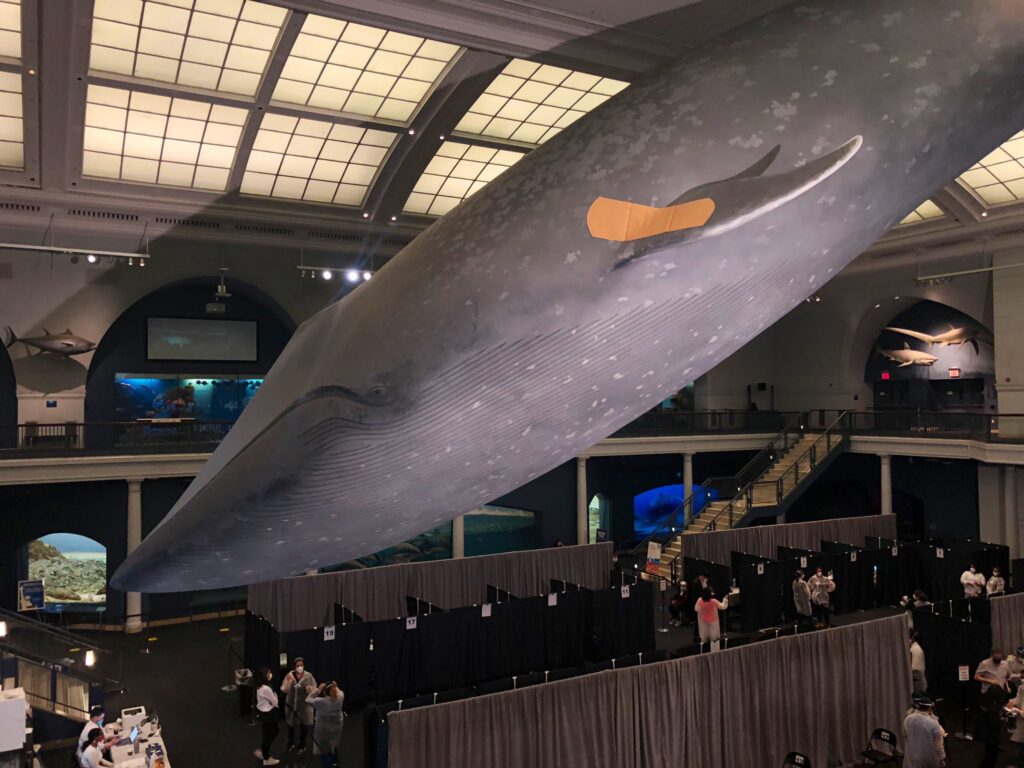 Happy Bleach Day to all those who celebrate. One year ago on Friday, the former president went into the White House briefing room and encouraged the American people to inject bleach into themselves to kill the coronavirus. "It arguably changed the course of political history," POLITICO writes.
Let's move on to our discussion of higher education.
Higher education
As the Johnson & Johnson vaccine pause has now been lifted, it remains unknown if colleges will now resume its administration with student vaccinations. Regardless, college students continue to be vaccinated in large numbers. 61% of the Syracuse University student body is reporting that they have been fully vaccinated, according to Vice Chancellor J. Michael Haynie.
The tides on college vaccination mandates are turning, with some of the nation's largest public institutions announcing they will require vaccination for all students on campus this fall. The University of California system announced it expects to require vaccines if the FDA grants full approval of the vaccines by the fall. The California State University system enacted a similar policy — particularly notable as this system was among the first of many colleges last summer to announce it will remain all-remote for this past fall. Our current count of colleges requiring vaccines for the fall stands at 70.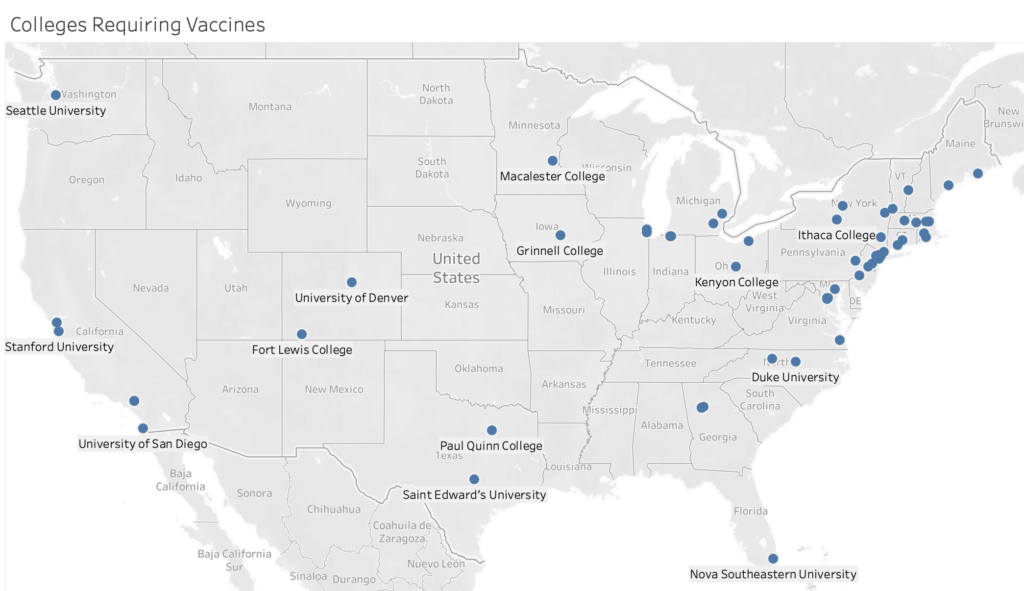 Here's a roundup of this week's higher ed news:
The Good Stuff
Let's roll the clips of the good stuff. In my usual tradition, I feature my favorite stories from the week. Here are my Top 10.
Watch a 7-year-old surprise her grandma for her 75th birthday after spending 14 months apart due to Covid-19.

"My heart exploded," says Bonnie Pitman, the grandmother, who shed tears of joy in the heartwarming moment. pic.twitter.com/mIdH5nR05o

— Cuomo Prime Time (@CuomoPrimeTime) April 24, 2021
Conclusion
As the U.S. appears to be on the verge of dodging the major bullet of rapid variant spread and heading for the "pandexit," it faces one last hurdle: convincing enough Americans to get vaccinated. The data are clear: in many communities, some predominately Republican and rural, appointments are going unfilled and vaccination rates remain low. We need a course correction, which starts on a grassroots level, to meet Americans where they are. The next few weeks are critical to readjusting demand channels and increasing daily output. We need to flood the country with vaccines. Once those who are hesitant see how easy and accessible it is to get a vaccine, they will be more likely to take it. The health of our nation this summer is up to all of us.
I'd like to thank all the student journalists with whom I have the pleasure of working. In the next weeks and months ahead, they will become vital in chronicling their colleges' paths forward for the spring and beyond. Support their work by reading it.
My best to all for good health.
Like what you see? Don't like what you see? Want to see more of something? Want to see less of something? Let me know in the comments. And don't forget to subscribe to the weekly newsletter!
For more instant updates, follow me on Twitter @bhrenton.