Welcome back to Week 53 in my weekly reports analyzing the Covid-19 pandemic and its effects on the country and higher education. For those of you reading this on my blog, Off the Silk Road, I have also launched a newsletter, where these reports can be sent directly to your email each week. Click here to subscribe.
Last week, we looked ahead at the next few months for vaccine distribution as Michigan and other states continued to battle surges. This week, we will discuss vaccination in the context of the Johnson & Johnson pause as every American adult will be eligible for a vaccine starting tomorrow.
A national look
We must begin by mourning the victims of yet another mass shooting in America — the 45th mass shooting since March 16 and at least the 147th so far this year. Gun violence is a public health epidemic and we must take concerted action for gun reform on a federal level. "It's harder to get a vaccine in Indiana than it is a gun," Indianapolis City-County Councillor Ali Brown said on Anderson Cooper 360 on Friday night.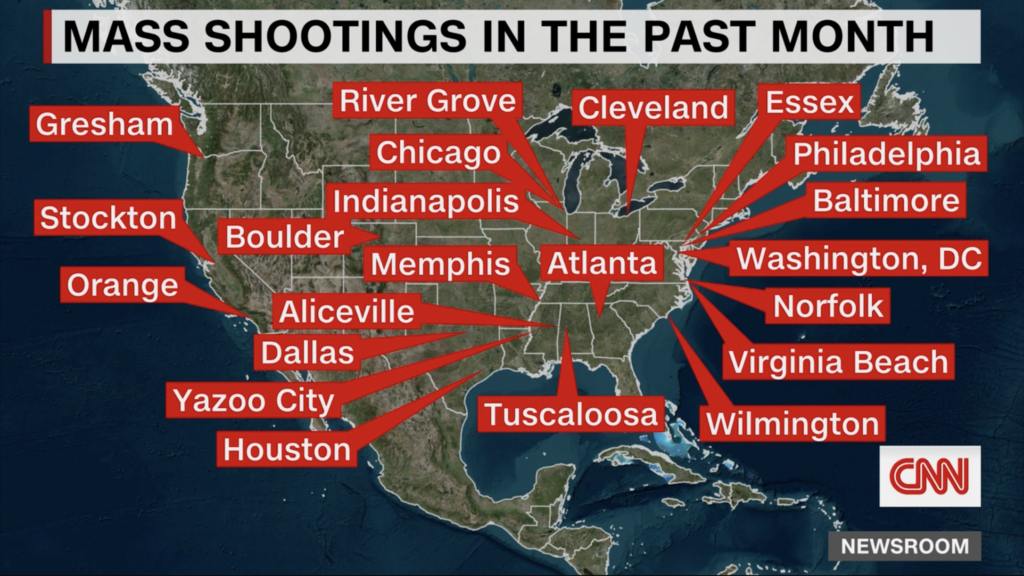 While more Americans are being vaccinated at a record pace, the nation's daily case count still remains dangerously high, mainly driven by rising cases in the Northeast, Michigan, Minnesota, Pennsylvania and Florida. When we look at cases by age group in Florida, we see particularly concerning spikes in 5-14 year olds (orange), 15-24 (yellow) and 25-34 (green).
This past week, 27% of those admitted to the hospital were 18-49 years old, the highest percentage ever. Patients over 70 made up 31% of admits, the lowest percentage ever, due to high vaccination levels in seniors.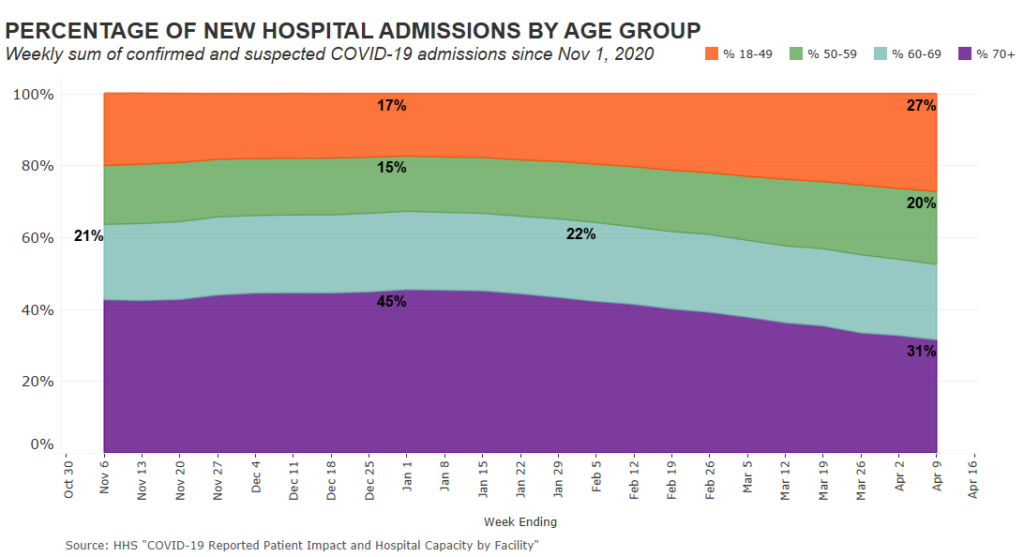 "America has pandemic senioritis," Amanda Mull writes in The Atlantic. As activities begin to return to pre-pandemic levels, and more states let mask mandates expire too early, vaccination appears to be the only way out of this pandemic.
While this solution may be sustainable in the U.S., which has an oversized portion of the world's vaccine supply, many countries around the world are experiencing uncontrollable surges. We are watching continued tragedies unfold in Brazil, where patients are intubated without sedatives due to a drug shortage. In India, a new potentially dangerous variant is spreading, but a lack of genomic sequencing is contributing to a failure to detect it. Cases are also spiking in our neighbor Canada, which has seen a slow vaccine rollout. An outbreak anywhere is an outbreak everywhere, and it is up to us to help the world. The United States is on track to have gathered an oversupply of hundreds of millions of coronavirus vaccine doses as soon as July, even while many countries in the developing world will have to wait years to vaccinate a majority of their populations, according to a report by the Duke Global Health Innovation Center.
This week, the White House announced a $1.7 billion investment to fight Covid-19 variants, which includes $1 billion to genomic sequencing. The administration also announced it will invest more than $4 billion to combat Covid-19 in Indian Country.
While we do not talk about the cast of characters in the former administration too often these days, we were greatly surprised (and humored) to learn that Dr. Robert Redfield, former director of the Centers for Disease Control and Prevention, has joined Big Ass Fans, lending his scientific credibility to a company division that says its ion-generating technology kills the coronavirus. The company charges $9,450 for a fan with technology that academic air quality experts question. As The Washington Post's Dan Diamond put it, an official with few fans at CDC finds big fans in the private sector.
Let's take a look at some of the latest scientific developments:

Last week, we introduced the concept of the vaccine wall, and in many places around the country supply has outpaced demand. In the coming weeks, we will continue to shed light on where these places are and the strategies we can use to combat this issue. America is approaching a crisis of vaccine confidence. Part of the problem is access. "Increasing access to vaccines is critical for increasing confidence in vaccines," Surgeon General Dr. Vivek Murthy said earlier this week. "The more people see those around them get vaccinated, particularly family and friends, the more comfortable they become with getting vaccinated themselves." In many states, despite being open to all adults, the gap between doses distributed and administered is widening. As I wrote in a Twitter thread on Friday, look at these two maps which show the percentage of county residents who are estimated to be vaccine hesitant (taken from Census data) and the gap between doses distributed and administered. See any patterns? Last year we flattened the curve. Now, we need to close the gap.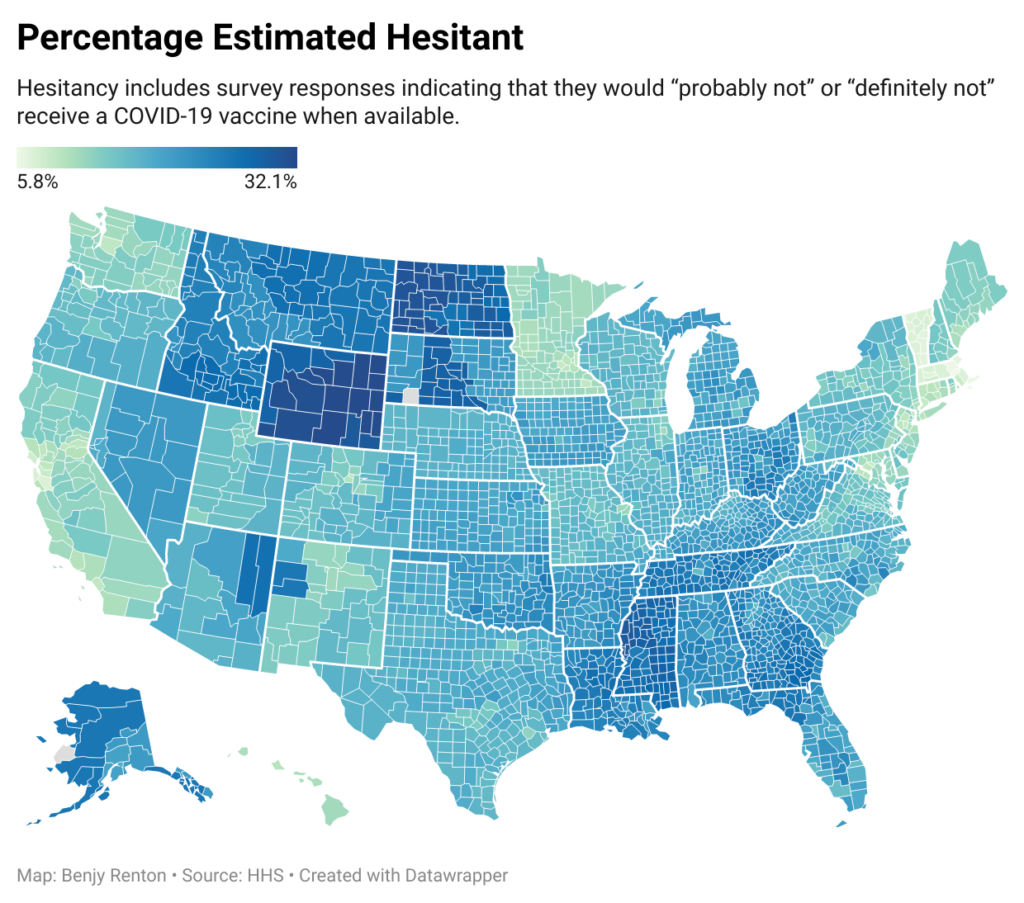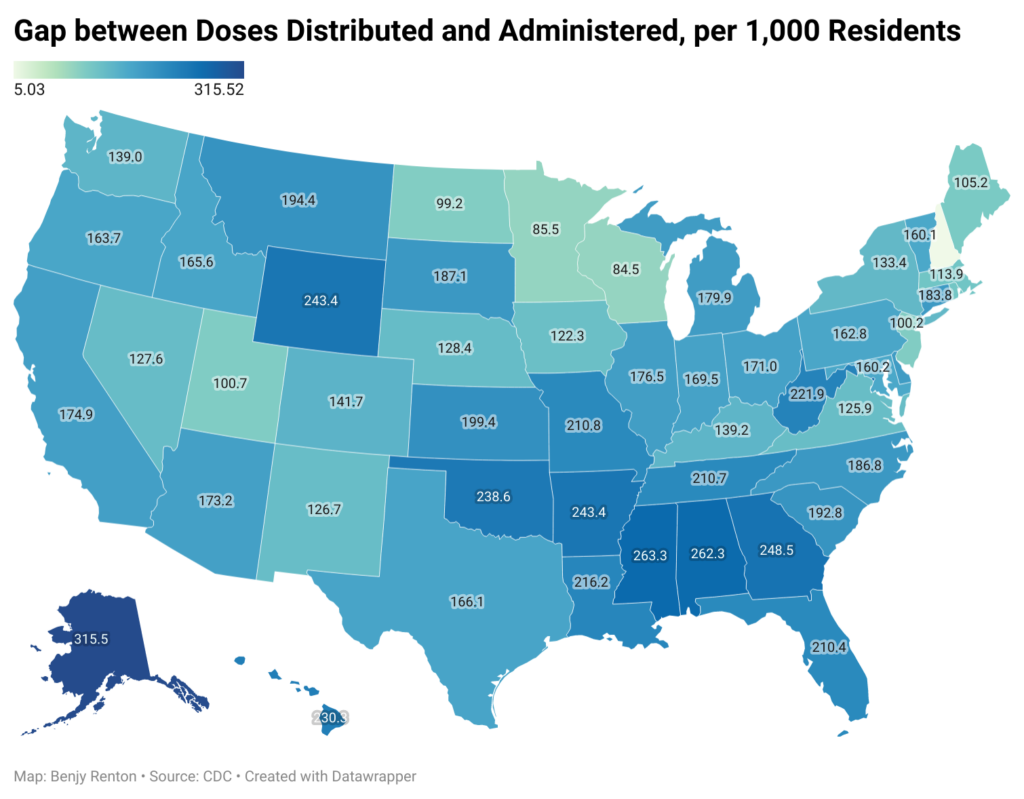 Much of this week's vaccine discussion revolves around the pause of administration of the Johnson & Johnson vaccine, which was paused earlier this week after the CDC's Vaccine Adverse Event Reporting System (VAERS) detected blood clots in six women who had received the vaccine. This pause is an example of our safety systems working and warrants an in-depth investigation. While we still do not know the reason for these blood clots, and if they are directly linked to the vaccine, it is possible that it may be a similar issue to the AstraZeneca vaccine, which also uses an adenovirus vector. "Even if more cases are discovered, the risk of this happening to you remains vanishingly slim," virologist Dr. Angela Rasmussen, who recently took the Johnson & Johnson vaccine, writes. "The pause and the resulting careful, transparent deliberation shows our regulatory systems are robust and cautious." The CDC's Advisory Committee on Immunization Practices (ACIP) met on Wednesday and will meet again next Friday. It is likely the pause on the J&J vaccine will continue until then.
From a vaccine distribution perspective, the pause brings immense challenges. I'm not going to go much into the polling data surrounding the J&J pause as I don't think we can read too far into it yet. Vaccine confidence is a complex issue and how long the pause will be may determine how confident people are in the vaccine. In most states, J&J doses represent around 3% of total doses administered. So while this temporary pause may have a small effect in the short-term with cancelled appointments, most states can still reach their vaccination goals if this pause continues. However, we will need to use the other two vaccines in our toolbox (Pfizer and Moderna) to work reaching more vulnerable populations, which greatly benefitted from the J&J vaccine. The J&J vaccine is also vital to vaccinating the world.
In other vaccine news, the United States administered its 200 millionth shot this week and is on track to meet President Biden's goal of 200 million shots during his time in office in just a matter of days. Vaccine open season officially starts Monday as every adult in the United States will be eligible for a vaccine. However, our work does not end there. The New York Times examined survey and vaccine administration data for nearly every U.S. county and found that both willingness to receive a vaccine and actual vaccination rates to date were lower, on average, in counties where a majority of residents voted to re-elect the former president in 2020.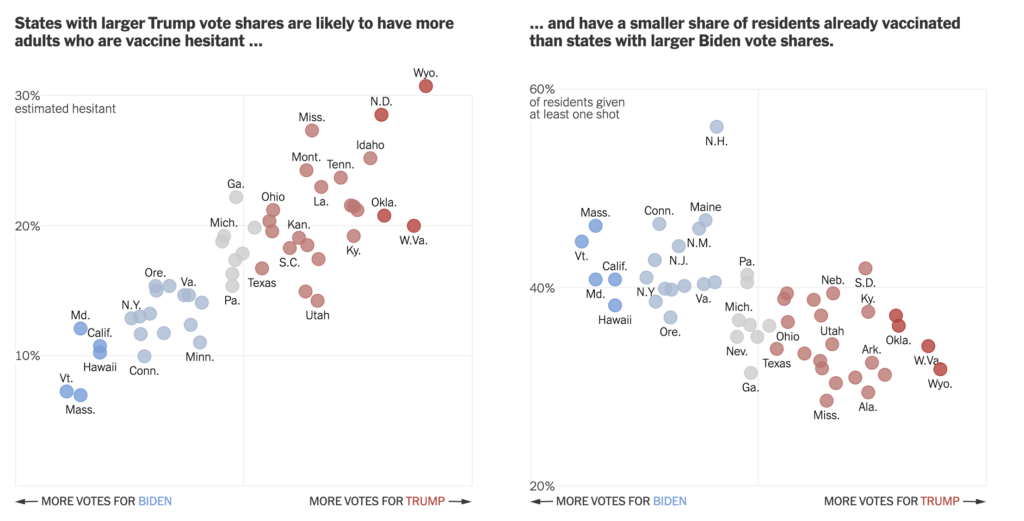 A few other updates on vaccines: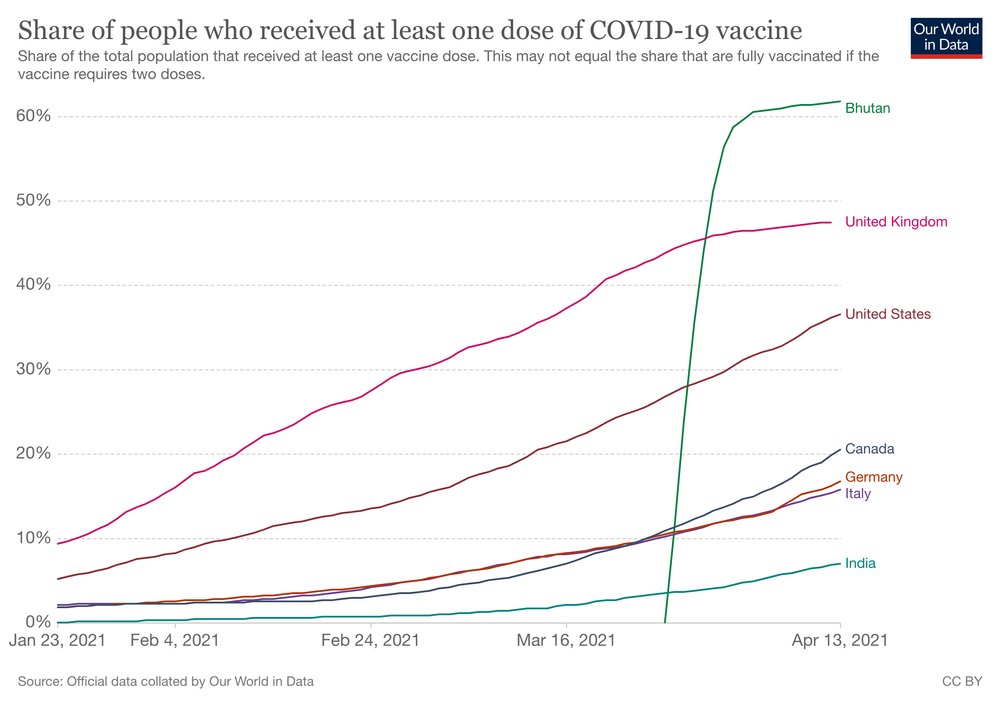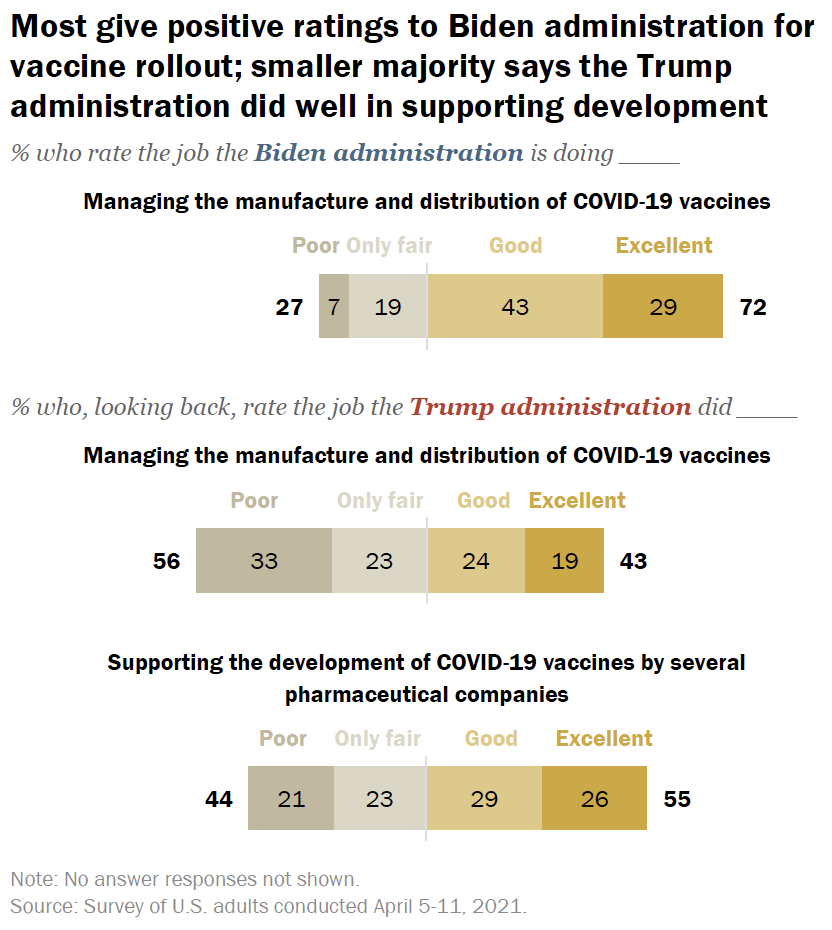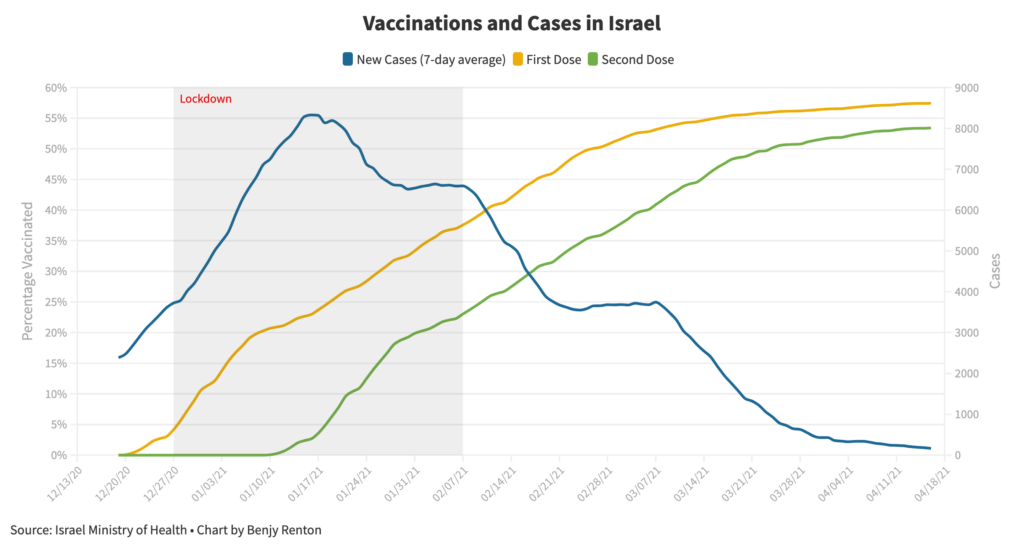 Once you're vaccinated, you can be like these dogs.
This is Simba and Cooper. They're finally fully vaccinated. Hugging for the first time in over a year. Both 14/10 heartwarming as h*ck pic.twitter.com/rm8KUne0tp

— WeRateDogs® (@dog_rates) April 15, 2021
Let's move on to our discussion of higher education.
Higher education
As the Johnson & Johnson vaccine has been paused, many colleges have had to redesign their vaccination campaigns. The University of Michigan, University of Akron, Duke University and Iowa State University are all among the many colleges that paused distribution of the J&J vaccine on their own campuses. Most have immediately switched to the other two mRNA vaccines.
In many colleges, it's vaccine open season. In just weeks, the University of Notre Dame has achieved its goal of vaccinating 90% of its student population with at least 1 dose. Nearly 60% of Yale University students and over 60% of faculty and staff have made a vaccination appointment or have received at least one dose of the vaccine. "Requiring COVID-19 vaccinations for students this fall will help keep Penn's campus and the West Philadelphia community safe," the editorial board of The Daily Pennsylvanian writes. "Thus, the University should follow the example of peer institutions and implement this policy." The paper's front page on Thursday showed Penn students being vaccinated.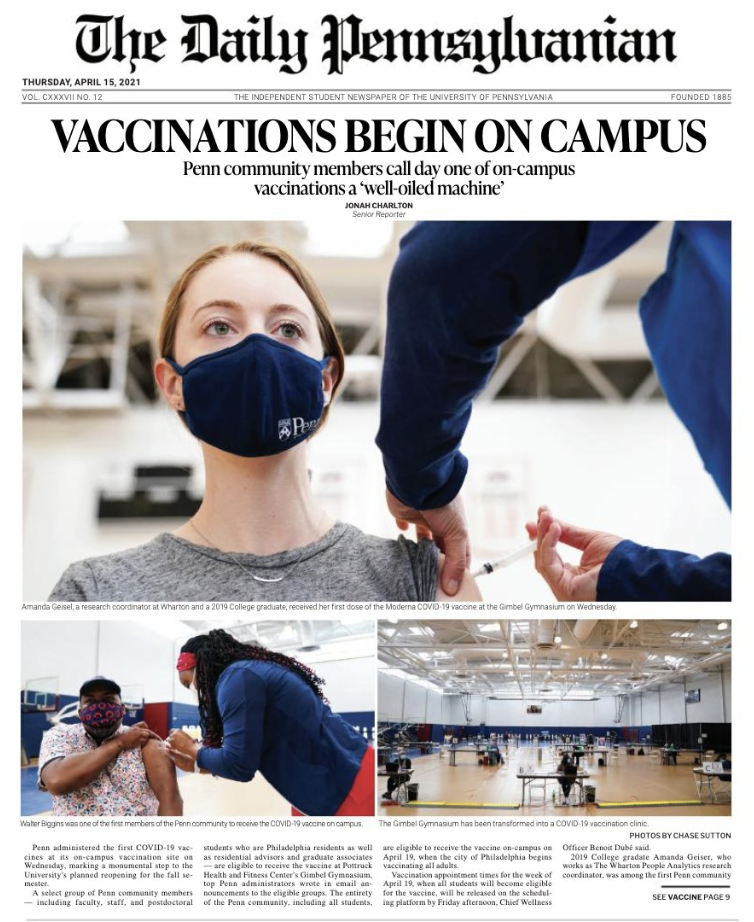 More and more schools continue to require vaccination before arriving on campus this fall — the current count stands at 35 colleges and universities. Hampton University, a historically Black college in Virginia, is requiring all faculty and staff to be fully vaccinated against Covid-19 by May 31. Some colleges are incentivizing students to get vaccinated by relaxing some restrictions when vaccinations hit a certain level or entering students in a lottery to win free items. At Wesleyan University, the beloved late-night snack haunt, WesWings, was turned into a vaccination site.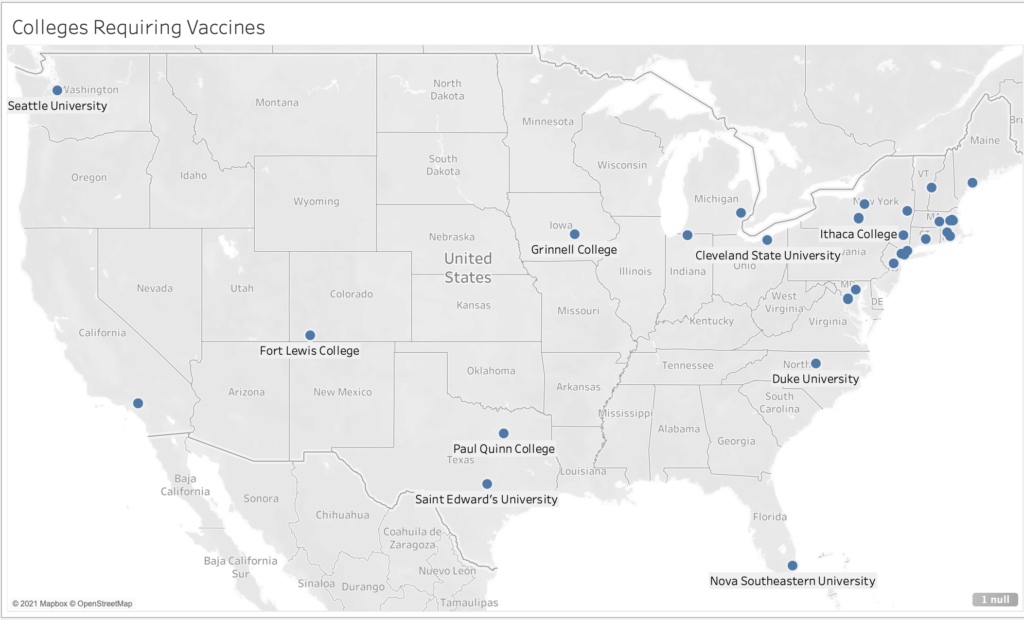 Here's a roundup of this week's higher ed news:
The Good Stuff
Thank you to all of you who have submitted pictures in response to last week's newsletter, where I asked for image submissions which you feel best represent your life throughout the pandemic over the last year. I'm proud to present some of the photos below.
Let's roll the clips of the good stuff. In my usual tradition, I feature my favorite stories from the week. Here are my Top 10.
Conclusion
As vaccines continue to be rolled out and vaccine open season approaches, some parts of the country are coming close to hitting a "vaccine wall." Today, the U.S. will reach the milestone of 50% of adults being vaccinated with at least one dose. However, the second 50% will be much harder than the first. Now is the time to implement community-based strategies to increase vaccine access and uptake. Getting a vaccine should be as easy as buying bananas in the supermarket. We cannot settle for a plateau at around a ~60% vaccination rate nationwide. The health of our nation this summer is up to all of us.
I'd like to thank all the student journalists with whom I have the pleasure of working. In the next weeks and months ahead, they will become vital in chronicling their colleges' paths forward for the spring and beyond. Support their work by reading it.
My best to all for good health.
Like what you see? Don't like what you see? Want to see more of something? Want to see less of something? Let me know in the comments. And don't forget to subscribe to the weekly newsletter!
For more instant updates, follow me on Twitter @bhrenton.