Welcome back to Week 48 in my weekly reports analyzing the Covid-19 pandemic and its effects on the country and higher education in the new Biden-Harris administration. For those of you reading this on my blog, Off the Silk Road, I have also launched a newsletter, where these reports can be sent directly to your email each week. Click here to subscribe.
Last week, we shed light on the accelerating vaccine rollout as some states took the foolish step of relaxing restrictions. This week we will focus on President Biden's new goal for all adults to be eligible for a vaccine by May 1 as we enter into a new phase of the pandemic response.
A national look
This week marked the one-year anniversary since the start of the pandemic in the U.S. After the WHO declared the outbreak a pandemic, the previous administration imposed travel restrictions on Europe a year ago this week and Americans first learned of the terms "social distancing" and "stay-at-home order." After 532,000 American lives lost, we are finally beginning to see a path toward the end of the pandemic. In his first primetime address on Thursday, President Biden instructed states, tribes and territories to make all adults eligible for the vaccine by May 1. "Let me be clear: That doesn't mean everyone's going to have that shot immediately, but it means you'll be able to get in line beginning May 1," he said. "Every adult will be eligible to get their shot." He also put another date on our calendars: July 4. By then, President Biden said that vaccinated people would be able to gather for small events with family and friends. This goal "will make this Independence Day truly special," he said. It would "not only mark our independence as a nation, but mark our independence from this virus." Here are the other key elements of this new national strategy: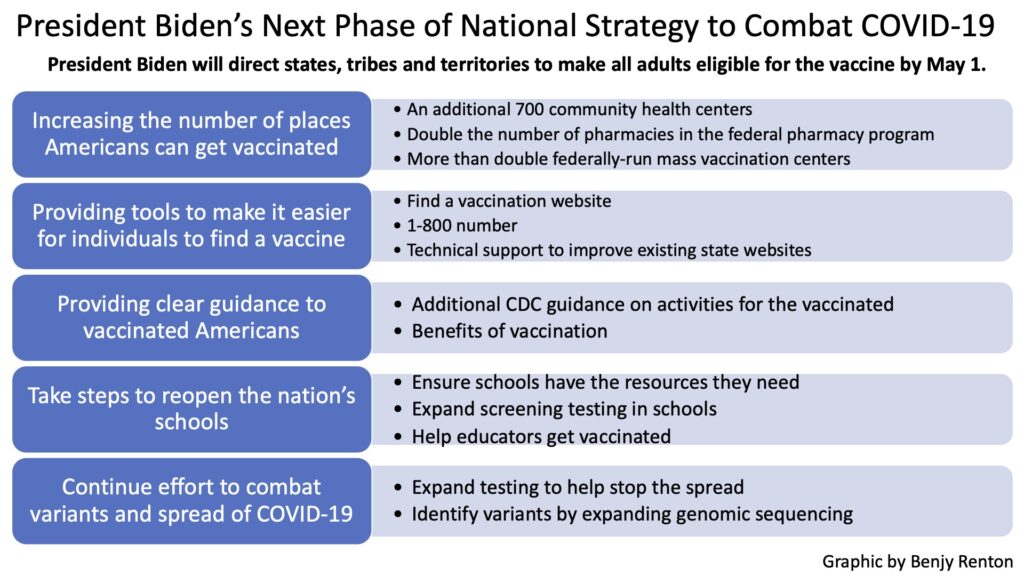 With just weeks to go until mass vaccination, we must still remain vigilant. Although the variants have not caused a huge spike in cases in places such as Florida, where the B.1.1.7 variant currently is estimated to comprise 50% of the cases, there may be some other effects we have not seen yet. However, the vast majority of scenarios include the nation on a downward trajectory in cases, hospitalizations and deaths.
This week was a major week for the Biden administration. The president secured 100 million more doses of the Johnson & Johnson vaccine, the administration will launch a website for all Americans to find vaccination sites near them, and Congress passed the historic $1.9 trillion American Rescue Plan. President Biden also took the first steps to address a global vaccine shortage by partnering with Japan, India and Australia to expand global vaccine manufacturing capacity.
Let's take a look at some of the latest scientific developments: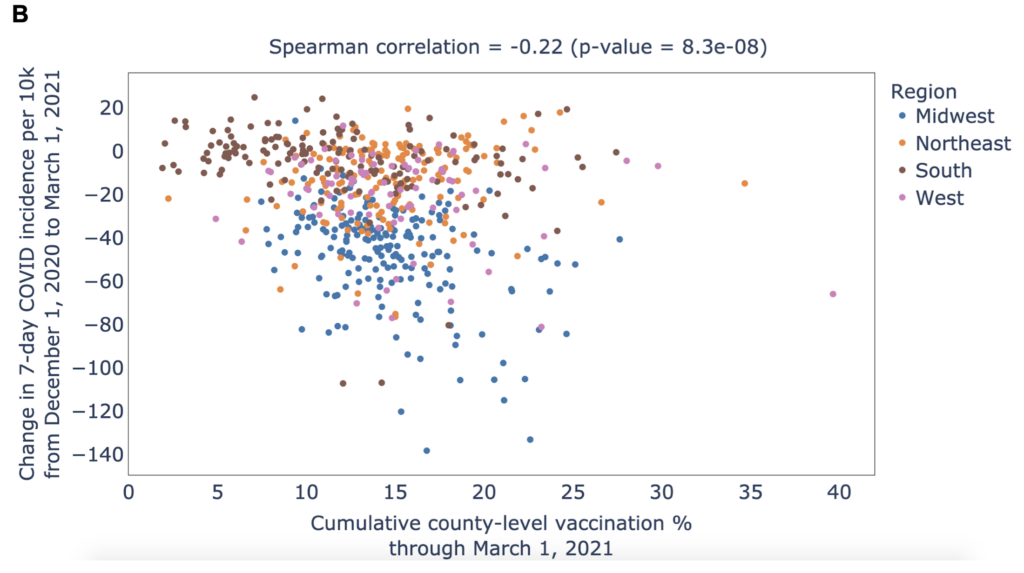 On Saturday, many people were shocked when the CDC reported 4.6 million new doses administered in the past 24 hours, far beyond any previous record. However, the CDC clarified this increase, saying that it pulled data from states later than usual — usually at 6 a.m. If it had pulled the data at the normal time, the day's reported doses would have been 2.98 million — a record regardless. These data anomalies draw attention to the 7-day average of vaccinations, which is now at 2.5 million per day. Vaccine allocations will be accelerating during these next few weeks as the U.S. just surpassed 100 million shots in arms since rollout began. 1 in 4 adults have received at least 1 dose of the vaccine.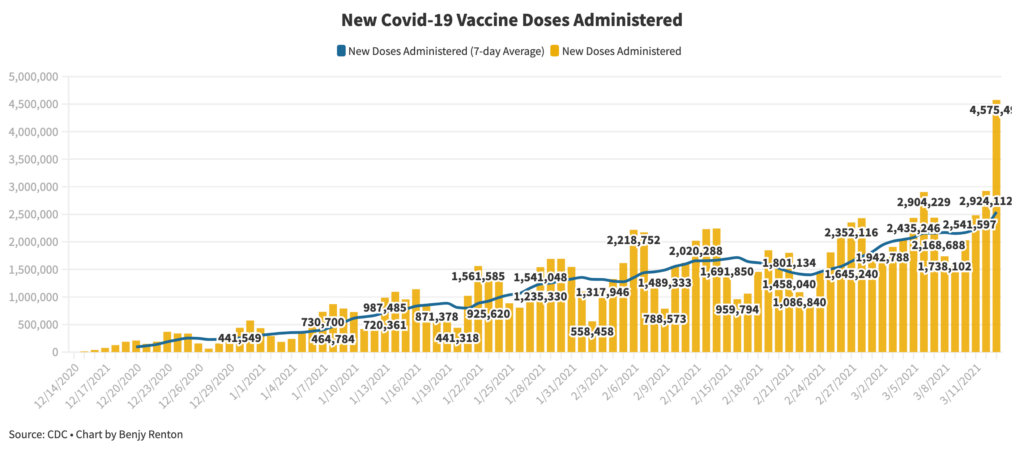 A few other updates on vaccines: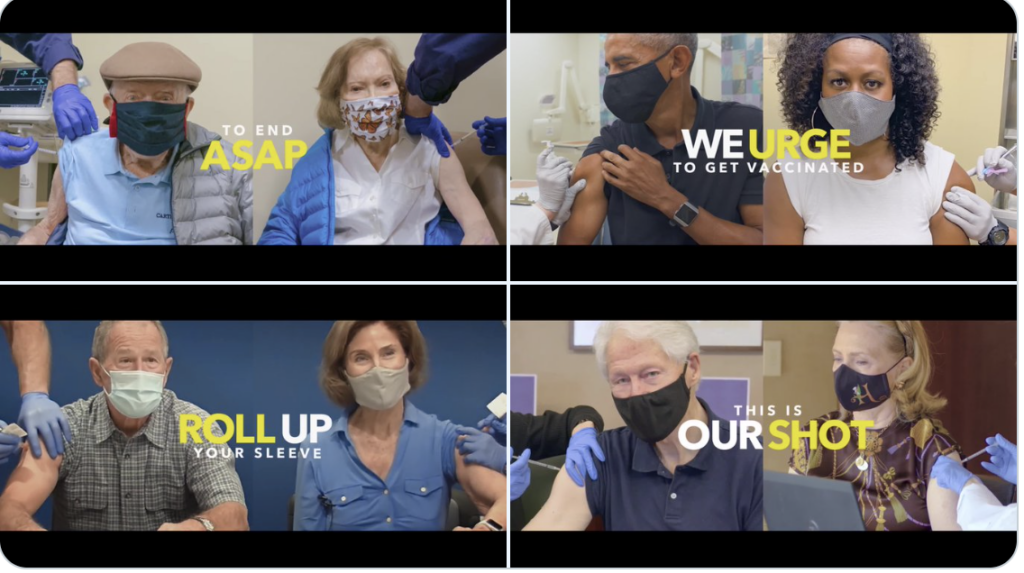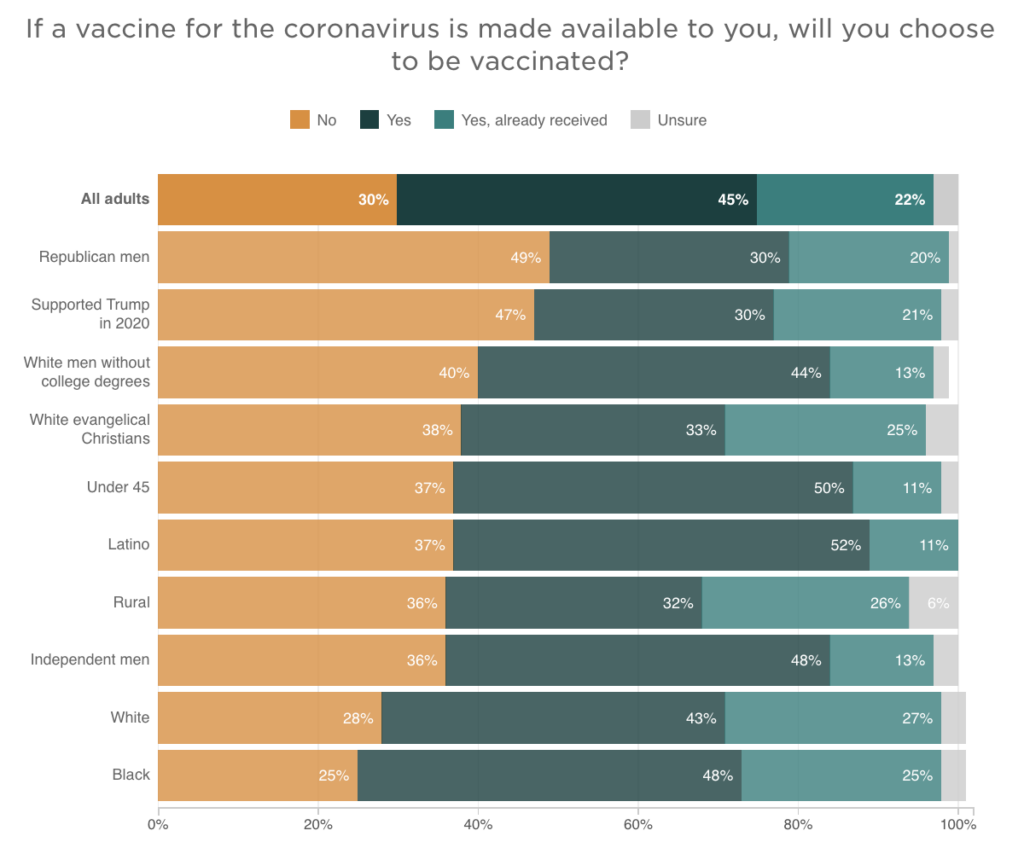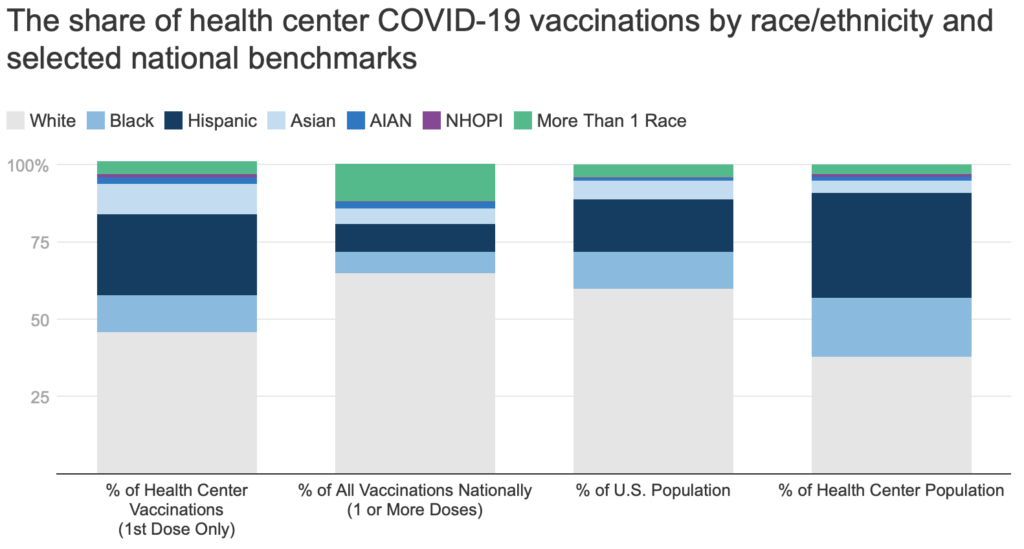 In the coming weeks, we expect more states to open up vaccine eligibility to the general public, joining Alaska (effective March 9) and Michigan (effective April 5). We will continue to keep track of these states.
Let's move on to our discussion of higher education.
Higher education
This week's higher education discussion revolves around two issues: spring break and vaccines. I remain concerned that spring break (and more imminently, St. Patrick's Day), particularly in places such as Florida, may cause outbreaks on campuses in the coming weeks, particularly because most of the university populations are not yet vaccinated. The University of California at Davis is offering $75 "staycation" grants for students staying in town for spring break in late March. Some Texas colleges, however, have kept the traditional spring break.
Next, vaccines. Some states are at the stage where some college students are eligible for vaccination. Oklahoma is one of the only states (by my survey) to prioritize college residents in the state's vaccination plan. Students at the University of Oklahoma were eligible to be vaccinated on campus yesterday. Other states may prioritize "frontline" student workers (such as residential life staff). In many states, individuals (and by extension, students) with underlying conditions are currently eligible for vaccines. Colleges should provide guidance to these students on how to sign up for a vaccine in the local community, if the university is not currently functioning as a mass vaccination site. Eligible in other states, some Brown University students traveled home to receive a vaccine. Some larger universities have already started operating as vaccination sites — roughly 26% of the University of Michigan community has been fully vaccinated as of March 5. In the coming weeks, I envision more colleges partnering with state governments to vaccinate their communities on campus. It will be beneficial to vaccinate students before they leave for the summer to avoid further spread to their families. In addition, vaccine hesitancy may be possible among younger individuals, including college students. Some schools, such as Macalester College, have added vaccination statistics to their dashboards. And no, regardless of what "many people say," colleges (in all of the cases I am aware of) have not "purchased" vaccines or have secret stashes — all vaccines are distributed from states, tribes, cities and territories.
Here is a roundup of this week's higher ed news: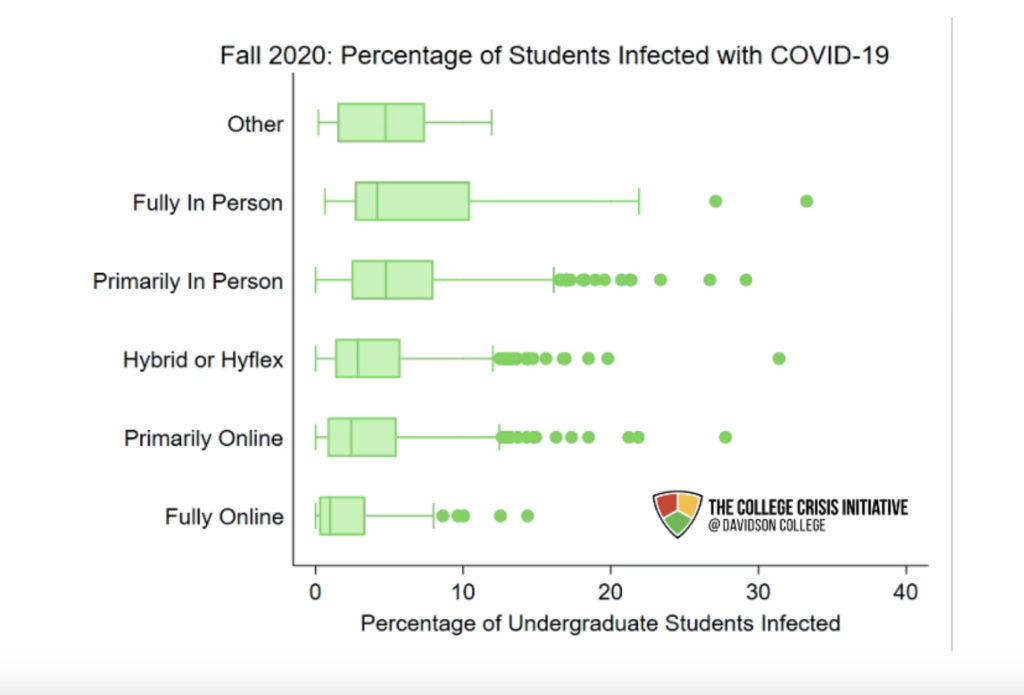 The Good Stuff
Let's roll the clips of the good stuff. In my usual tradition, I feature my favorite stories from the week. Here are my Top 10.
Conclusion
A year after the pandemic began, this week was the first time many Americans could see a possible way out of it. With every American adult due to be eligible for a vaccine by May 1, many people can envision the summer as a time to begin traveling and having small gatherings. CNN and other companies have already announced plans to start bringing employees back in August and September. However, we must not lose sight of the present as variants can derail progress in some states and regions, which would turn into a national crisis. It is vital we continue social distancing and mask wearing practices until more Americans are vaccinated. Herd immunity is not binary; rather, it is a dimmer switch where more restrictions will be eased as the effects of vaccines will be reflected in the data. The CDC is expected to update its guidance for vaccinated people as the weeks continue.
I'd like to thank all the student journalists with whom I have the pleasure of working. In the next weeks and months ahead, they will become vital in chronicling their colleges' paths forward for the spring and beyond. Support their work by reading it.
My best to all for good health.
Like what you see? Don't like what you see? Want to see more of something? Want to see less of something? Let me know in the comments. And don't forget to subscribe to the weekly newsletter!
For more instant updates, follow me on Twitter @bhrenton.