Welcome back to Week 47 in my weekly reports analyzing the Covid-19 pandemic and its effects on the country and higher education in the new Biden-Harris administration. For those of you reading this on my blog, Off the Silk Road, I have also launched a newsletter, where these reports can be sent directly to your email each week. Click here to subscribe.
Last week, we showed why the U.S. is at a critical point in the pandemic as a third vaccine was just authorized. This week, we will shed light on the accelerating vaccine rollout as some states take the foolish step of relaxing restrictions.
A national look
Next week marks one year since most of the initial restrictions were imposed at the start of the pandemic in the U.S. A year later, it is clear some states are trying to prolong it. This week, Texas and Mississippi, among a few other states, have rescinded mask mandates, one of the easiest ways to help slow the spread of the virus. Other states have set dates to relax some measures and open up dining to full capacity. In the case of Texas, every time the state has reopened too soon cases have spiked.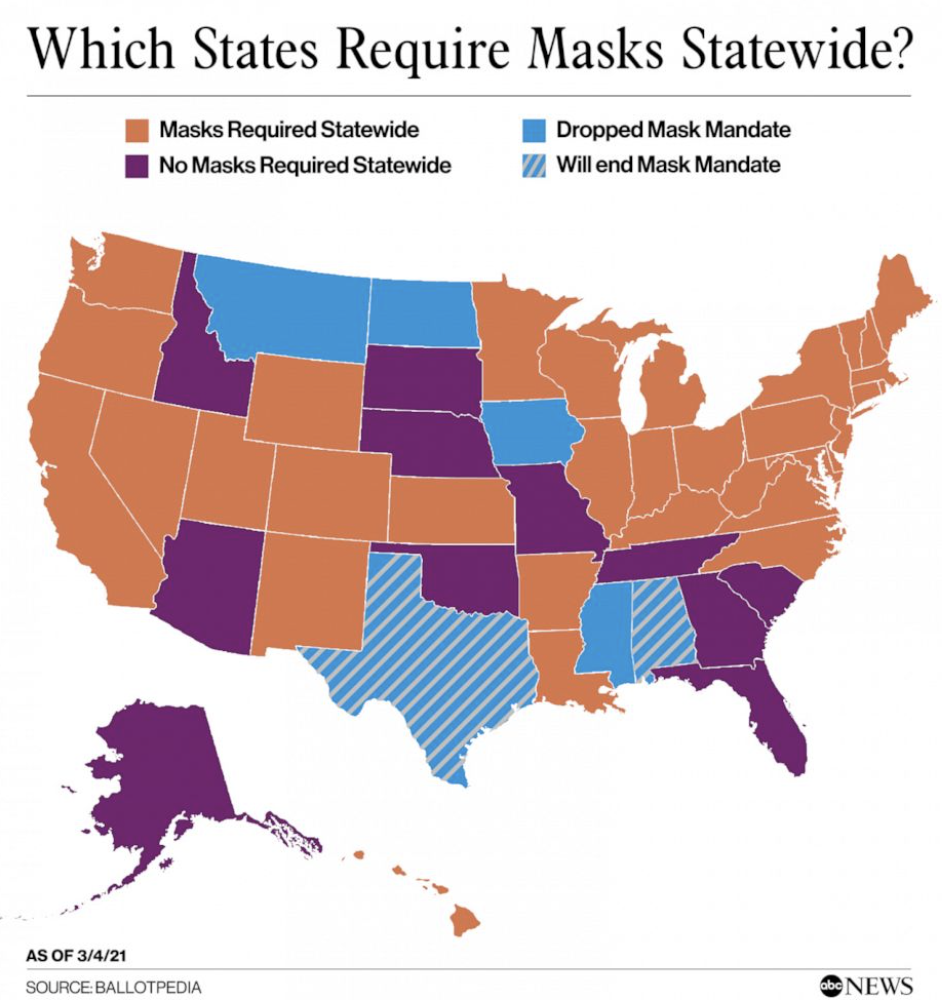 While it is likely that as more Americans are vaccinated, we will be able to relax these restrictions later in the spring and into the summer. However, now is not the time to do so. A recent analysis from lab testing company Helix found that even as cases in the U.S. continue to decline, the B.1.1.7 variant (first discovered in the UK), now constitutes around 20% of new cases in the U.S. In Florida, that number is over 30%.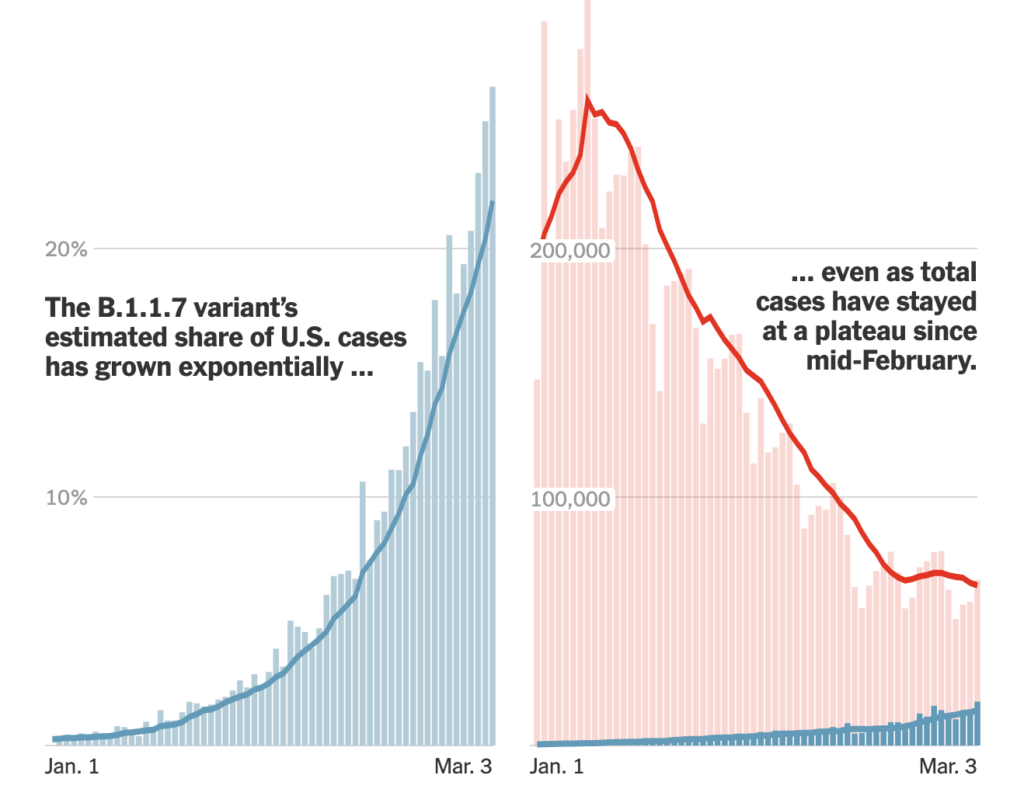 In addition to the B.1.1.7 variant, health officials are also monitoring four other variants, as seen from this White House briefing document.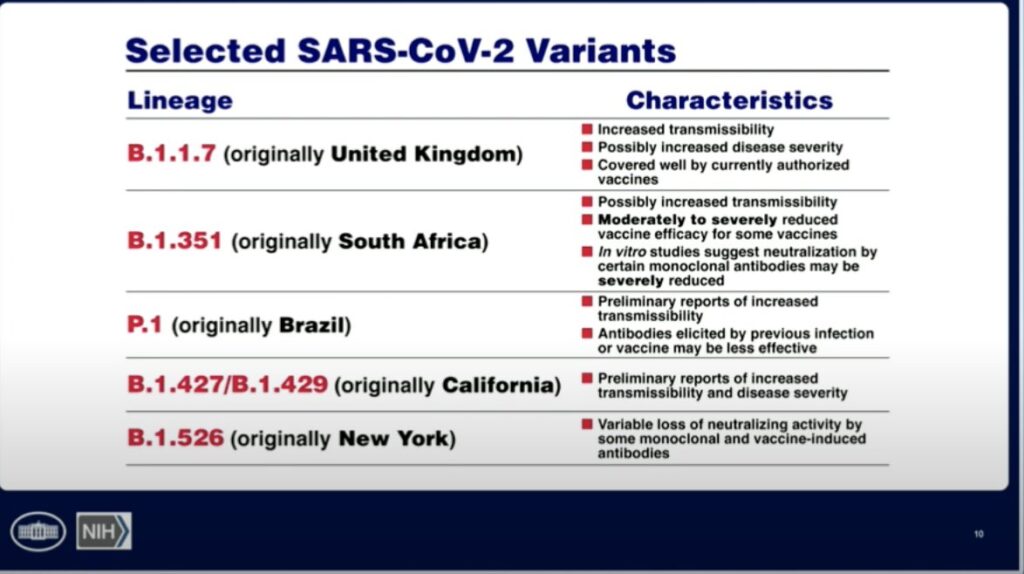 President Biden continues to take aggressive action to combat the pandemic and find new ways to help Americans. Just this week, he announced a historic partnership with Merck and Johnson & Johnson to help manufacture the latter's vaccine. This means that the U.S. will have enough vaccine supply for every American adult by the end of May (with 100 million Johnson & Johnson doses, as well as 200 million of both Pfizer and Moderna). President Biden would also like all states to vaccinate (with at least one shot) all teachers, childcare workers and school staff by the end of this month. Many states have now continued to prioritize teachers as a result of the White House's directive. Additionally, the American Rescue Plan was just passed in the Senate and will move to a House vote next week, a critical step to getting aid to millions of Americans.
Let's take a look at some of the latest scientific developments:
In the past few weeks, the CDC has dramatically ramped up sequencing of SARS-CoV-2 genomes. Labs have been contracted to help meet the agency's goal of 7,000 sequences per week. Last week it surpassed it by 5,000 samples.

This week, 3.9 million doses of the Johnson & Johnson vaccine were deployed across all states, cities and territories. While some are worried that vaccine hesitancy may turn into "brand hesitancy," early anecdotal evidence shows that people are eager to get the vaccine due to its advantage of only one shot and its slightly lower side effect profile. This past week saw the highest number of doses from all three manufacturers allocated to states since vaccine rollout began.
A few other updates on vaccines:
While some are divided on "vaccine selfie" etiquette, many say it can help boost confidence in the vaccine. "By turning the vaccine from a faceless, scary thing into something dozens of people you know have received, vaccine selfies can open a dialogue and help normalize vaccines as part of everyday life," journalist Maya Kosoff writes in The Washington Post.
As the former president took the stage at CPAC and told Americans to get vaccinated for the first time, sources told The New York Times that he and the first lady were vaccinated privately before he left office in January. This comes as a new poll shows that vaccine hesitancy is higher among white Republicans than any other demographic group. The former president had the chance to convince his supporters to take the vaccine and he lost it.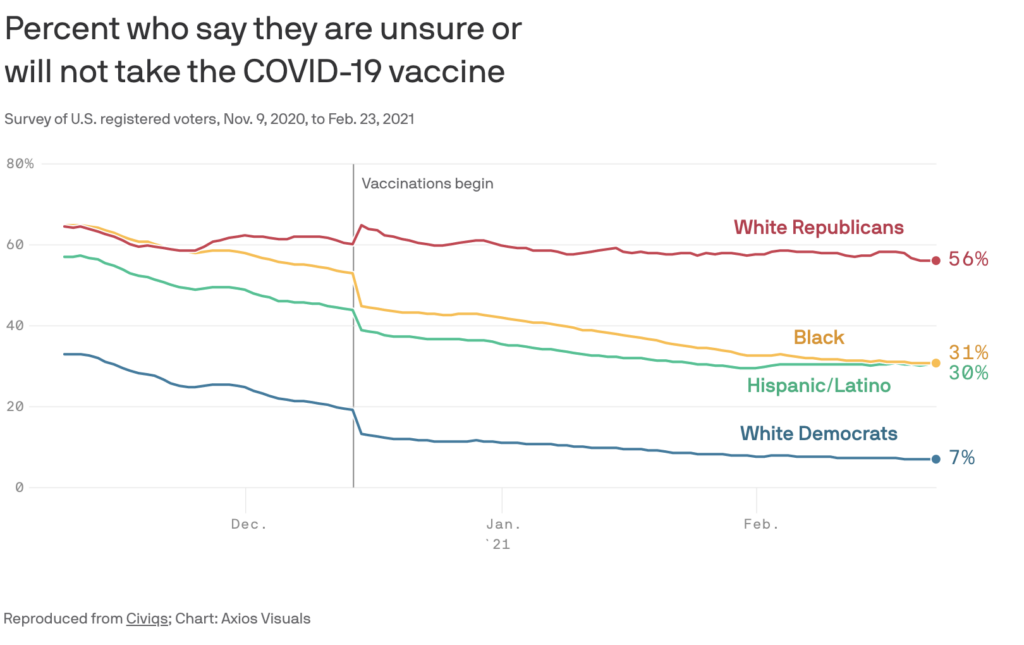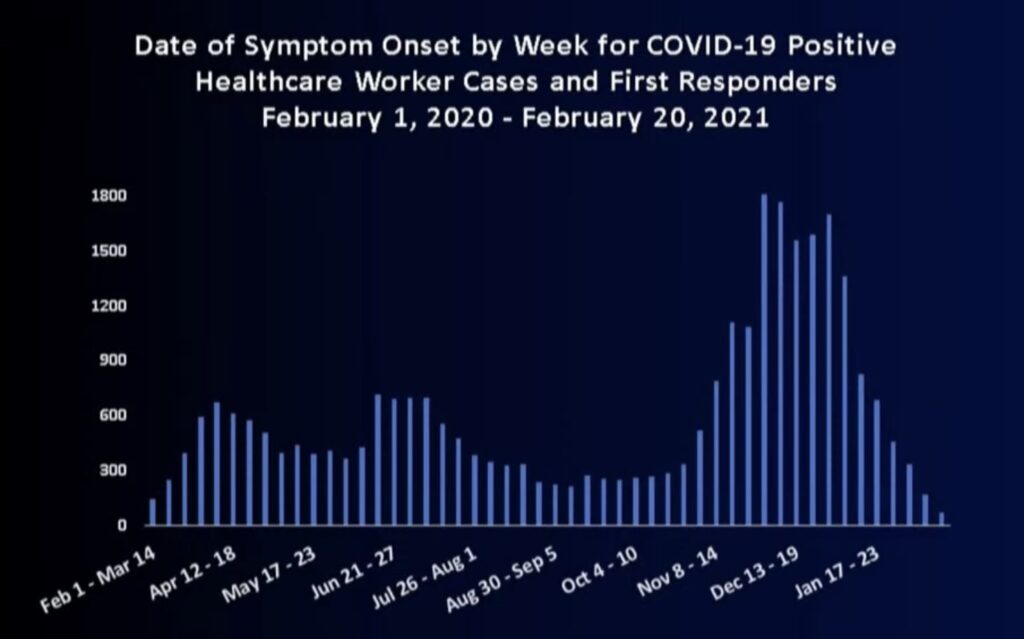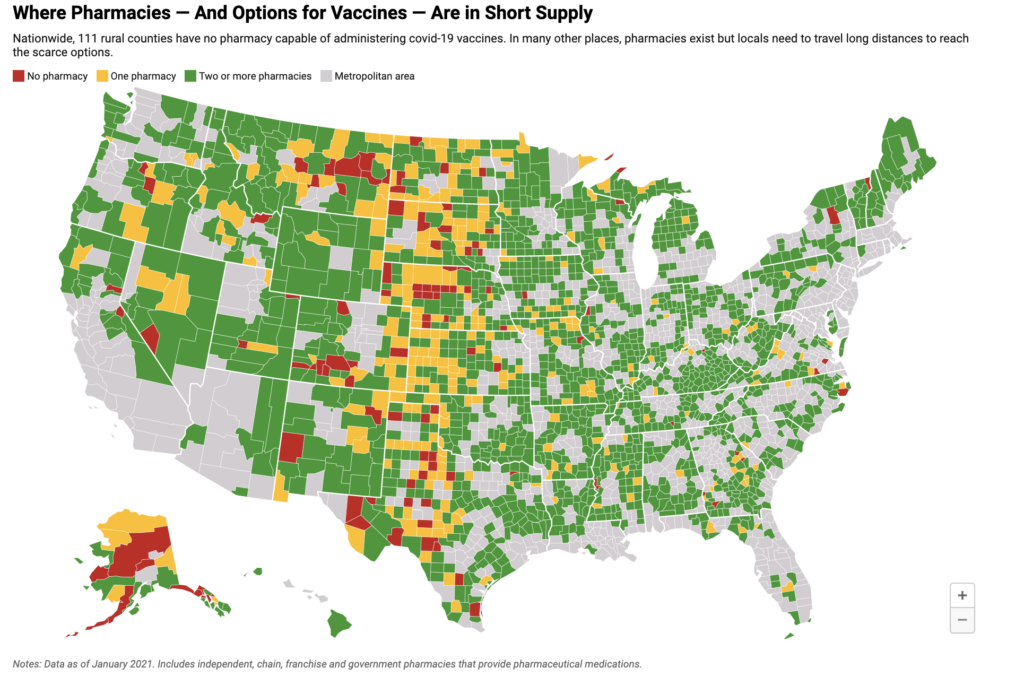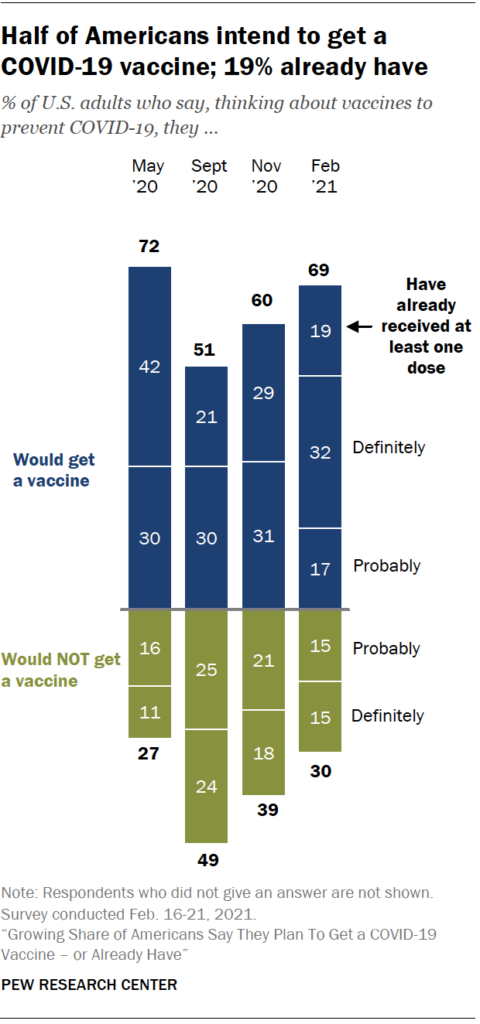 This week marked a significant milestone as the CDC reported the highest day of vaccine administration in the U.S. yet: 2,904,229 were reported on Saturday. This is 20% higher than the previous record. We have a long road ahead of us, but we are well on our way.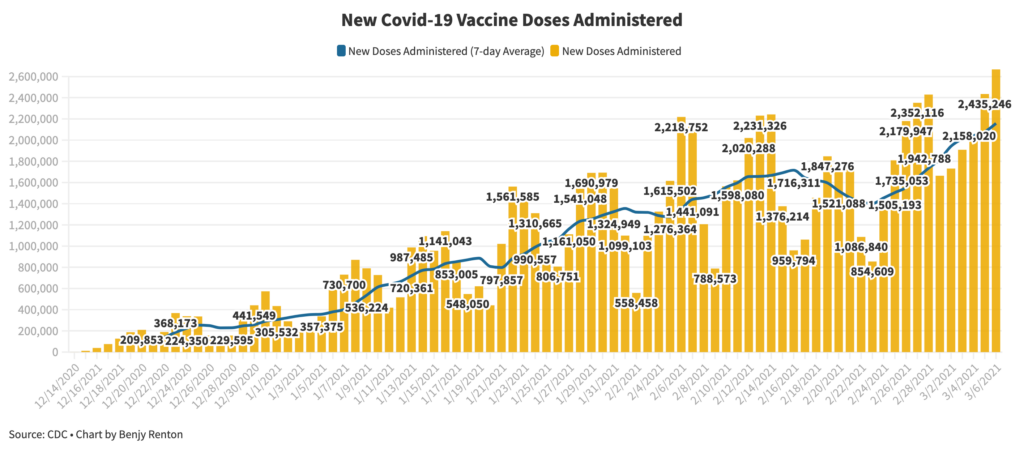 Let's move on to our discussion of higher education.
Higher education
Here is a roundup of this week's higher ed news: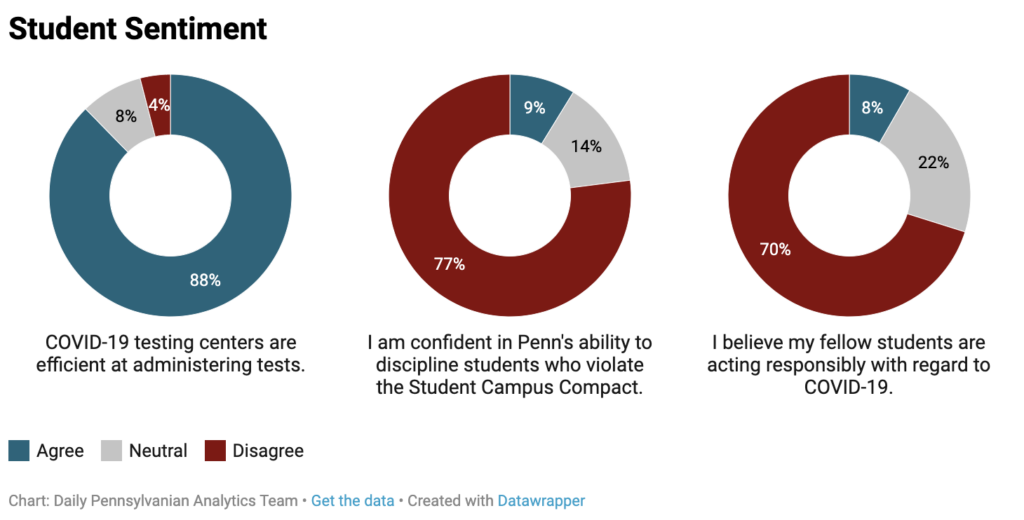 I remain concerned about the effects of spring break on spread on college campuses, particularly if students travel to Florida. We will wait to see forthcoming evidence this month.
The Good Stuff
Let's roll the clips of the good stuff. In my usual tradition, I feature my favorite stories from the week. Here are my Top 10.
This week Dolly Parton received a dose of her own medicine when she received the Moderna vaccine, for which she donated $1 million, singing "Vaccine" to the tune of her song "Jolene." The doctor who vaccinated her was Dr. Naji Abumrad, whom she met while being treated for an injury from a car accident in 2013. "Honestly, I never had to ask for her support for the research," Abumrad said, "She's the one who suggested it."
Dolly gets a dose of her own medicine. @VUMChealth pic.twitter.com/38kJrDzLqC

— Dolly Parton (@DollyParton) March 2, 2021
Conclusion
As vaccinations ramp up, the U.S. faces one final hurdle: Variants. This month will be critical to mitigate the effects of various variants on our national trajectory. Now is not the time to relax measures, especially mask mandates. Vaccinations are expected to significantly accelerate in the coming weeks; we just need to get there.
This week we pay tribute to the COVID Tracking Project, whose team members will publish its final data update today. The project has been an invaluable resource through the pandemic, particularly in the early days when federal data was unavailable or hidden. It is through the hard work of hundreds of volunteers that the public was able to be adequately informed. The project will continue in the coming months to produce valuable resources and documentation, including this piece on how to use federal Covid-19 data.
And no, it is never a good idea to burn life-saving masks, as seen here at this "rally" in Idaho.
I'd like to thank all the student journalists with whom I have the pleasure of working. In the next weeks and months ahead, they will become vital in chronicling their colleges' paths forward for the spring and beyond. Support their work by reading it.
My best to all for good health.
Like what you see? Don't like what you see? Want to see more of something? Want to see less of something? Let me know in the comments. And don't forget to subscribe to the weekly newsletter!
For more instant updates, follow me on Twitter @bhrenton.