Welcome back to Week 44 in my weekly reports analyzing the Covid-19 pandemic and its effects on the country and higher education in the new Biden-Harris administration, and happy Valentine's Day to all. For those of you reading this on my blog, Off the Silk Road, I have also launched a newsletter, where these reports can be sent directly to your email each week. Click here to subscribe.
Last week, we summarized the most recent vaccine news from around the world as the mass vaccination effort ramps up in the United States. This week, we will examine new concerns about variants as the CDC releases new guidance on schools and vaccinations continue.
A national look
In terms of cases and hospitalizations, the national picture is favorable: the 7-day average for cases has dropped below 100,000 for the first time since November 2. The U.S. surpassed 50 million vaccine doses administered, with the average pace now at 1.66 million doses per day. President Biden continues to take decisive action against the pandemic, announcing new vaccination programs and continuing to clearly communicate science with the American people. However, imminent victory may be short-lived as the B.1.1.7 variant, first discovered in the UK, is spreading rapidly in the U.S. The CDC has confirmed 981 cases in 37 states. One of the largest states for B.1.1.7 prevalence is Florida, which saw massive maskless crowds following the victory of the Tampa Bay Buccaneers in the Super Bowl. The NFL failed to protect its community by holding a mass superspreader event, and supposedly honored healthcare workers while packing thousands into a stadium. Of course, there was hand sanitizer and protocols were followed. However, this sets a terrible example for the nation and especially put those who had Super Bowl parties at risk. This all comes as a new analysis published in Science found that the vast majority of states are not conducting nearly enough genomic sequencing to effectively track the variant's spread.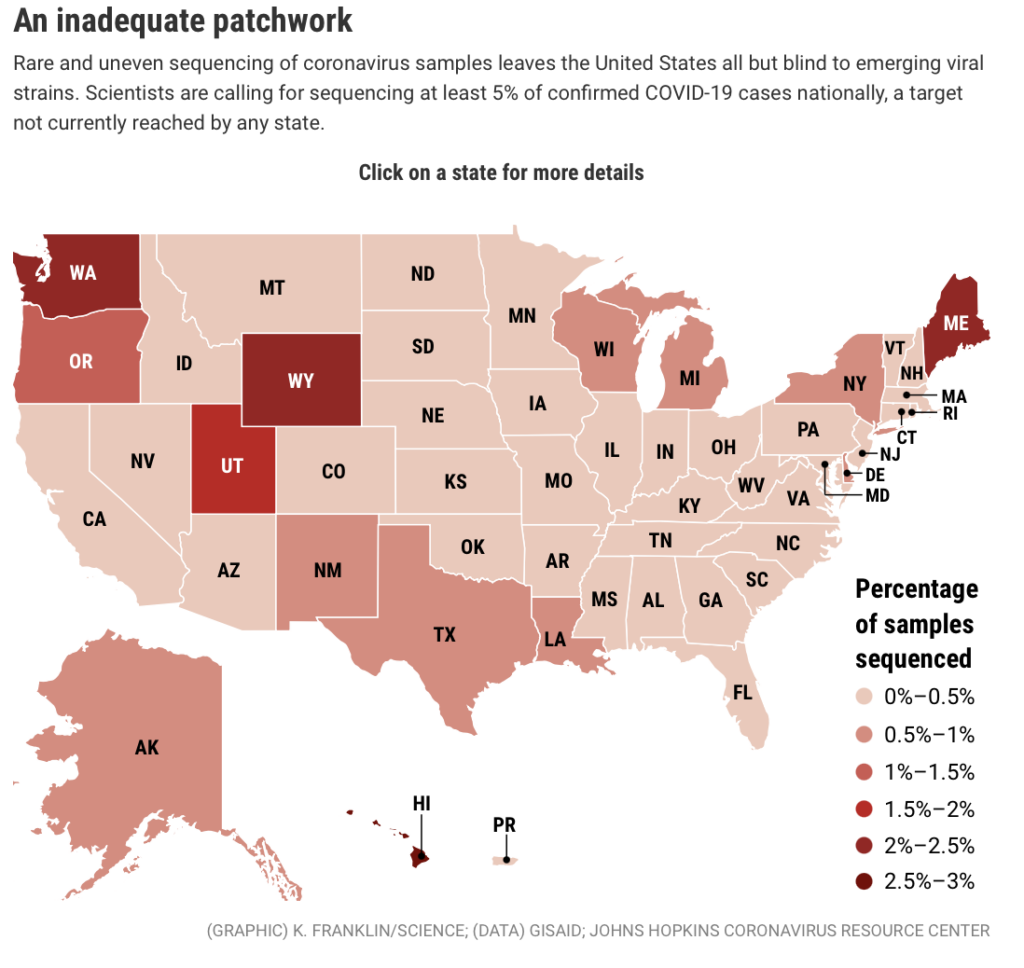 One of the major developments this week was from the CDC, which released new guidance for schools to reopen. The guidance was the most detailed yet from the agency, and highlighted growing evidence that schools can open safely if they use protective measures. Notably, however, the guidance did not focus on ventilation, key to preventing transmission indoors. Testing was emphasized as a way to help schools open, even in high transmission areas. Central to the guidelines is a set of thresholds for community transmission, based on cases in the last 7 days in each county and test positivity. At high levels of transmission, the CDC recommends most middle and high schools remain virtual — the "red zone" currently covers around 82% of all counties. You can see your county's data and its CDC threshold level in an interactive map here.
While we did promise not to discuss the former president following President Biden's inauguration, there are a number of new updates to report. New coverage from The New York Times shows that former President Trump was sicker than previously reported at the time he contracted Covid-19, with his blood oxygen levels extremely low and concerns that he would be put on a ventilator. Emails released from a House oversight committee show new examples of Trump appointees manipulating health information and downplaying testing since it was "preventing the workforce from working," and of course, a push to approve hydroxychloroquine. A new Lancet health commission report on public policy and health in the Trump era found that a staggering 40% of the nearly 500,000 Covid-19 deaths in the U.S. over the last year were avoidable. "Trump exploited low and middle-income white people's anger over their deteriorating life prospects to mobilise racial animus and xenophobia and enlist their support for policies that benefit high-income people and corporations and threaten health," the authors wrote.
Let's take a look at some of the latest scientific developments:
The CDC issued new guidance on masks, emphasizing the importance of fit and suggested that Americans consider wearing two masks. This comes as a new CDC study tests the effectiveness of double masking (cloth over surgical) and knotting the earloops of surgical masks to tighten the fit. Unknotted surgical masks blocked 42% of particles, while a cloth mask covering a surgical mask blocked 92.5% of particles.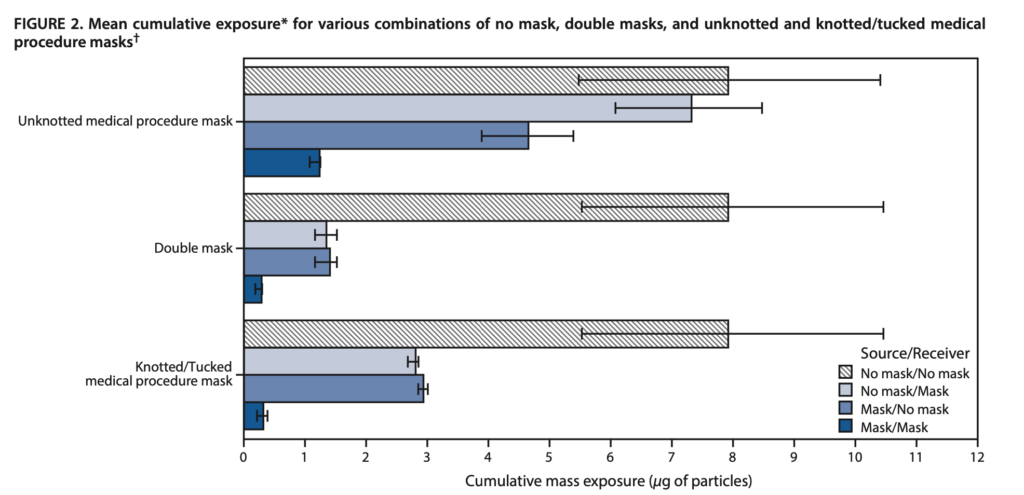 New modeling from Dr. David Paltiel, Dr. Paul Sax and Amy Zheng found that mailing rapid antigen tests to every home in America and asking people to use them once a week could greatly reduce total infections and mortality at a justifiable cost. In the absence of a testing intervention, the model anticipates 15 million infections, 125,000 deaths, and $10.4 billion in costs ($6.5 billion inpatient; $3.9 billion lost productivity) over a 60-day horizon. Weekly home testing under base case assumptions could reduce infections to 11 million and deaths to 106,000.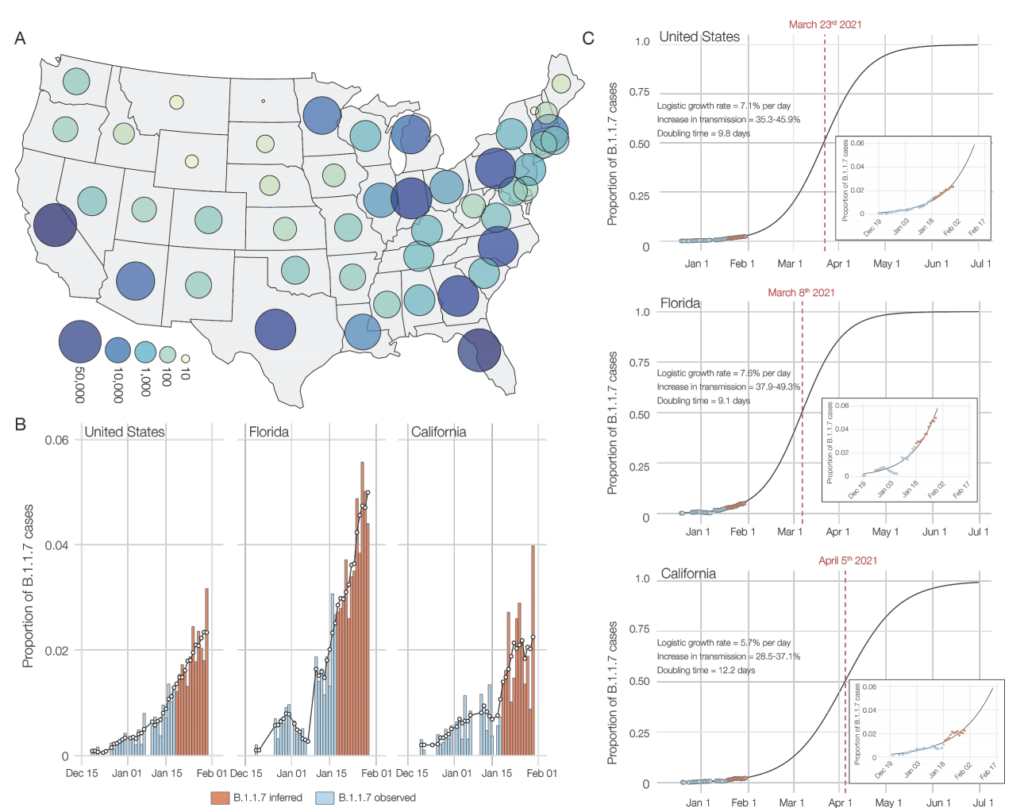 The U.S. hit a record for vaccinations on Saturday, with 2,231,326 doses reported as being administered between Friday and Saturday. This is promising, and we can expect the pace of vaccination to continue to ramp up significantly in the coming weeks. You can view all vaccination data on my Vaccine Allocation Dashboard.
This week, President Biden announced that his administration had finalized deals with Pfizer and Moderna for another 200 million doses of the two companies' vaccines, giving the country enough vaccine by the end of July to cover every American adult. Additionally, the timelines for these deliveries were moved up, as seen below.
His administration also announced that it will send some of the Covid-19 vaccine supply directly to community health centers starting next week as part of an effort to reach underserved areas. The initial phase of the program will include 250 health centers. As seen in this map, community health centers cover most of the United States. This is a big step to achieve equity in vaccine outreach.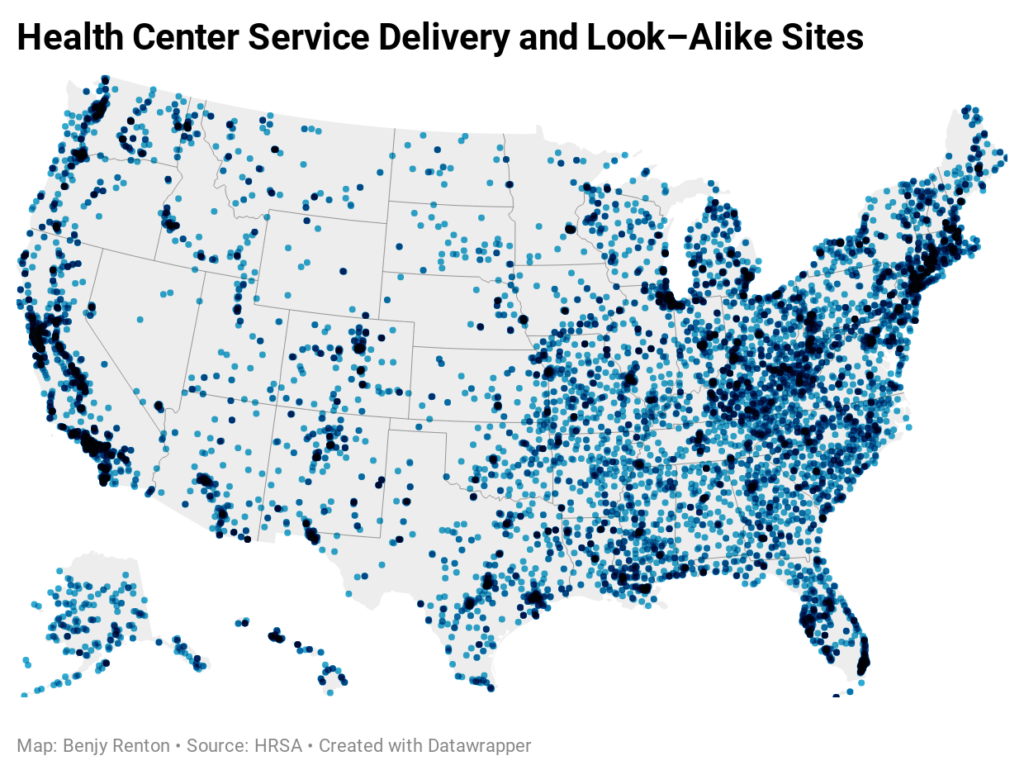 On the data front, earlier this week the CDC released demographic data divided by race/ethnicity (available for 54% of doses), age (available for 92% of doses) and sex (available for 89% of doses). The data show that as of earlier this week, 5.9% of vaccine recipients are Black, despite being 9.8% of the population. At the time, 36.7% of the U.S. population over 75 has received at least 1 dose of the vaccine.
As the vaccine rollout continues, calculating the average pace of vaccination in each state is a key metric to determine when certain groups will be able to be vaccinated. This can be determined by the average daily doses per capita in the last 7 days. As of earlier this week, Utah leads the country in this metric.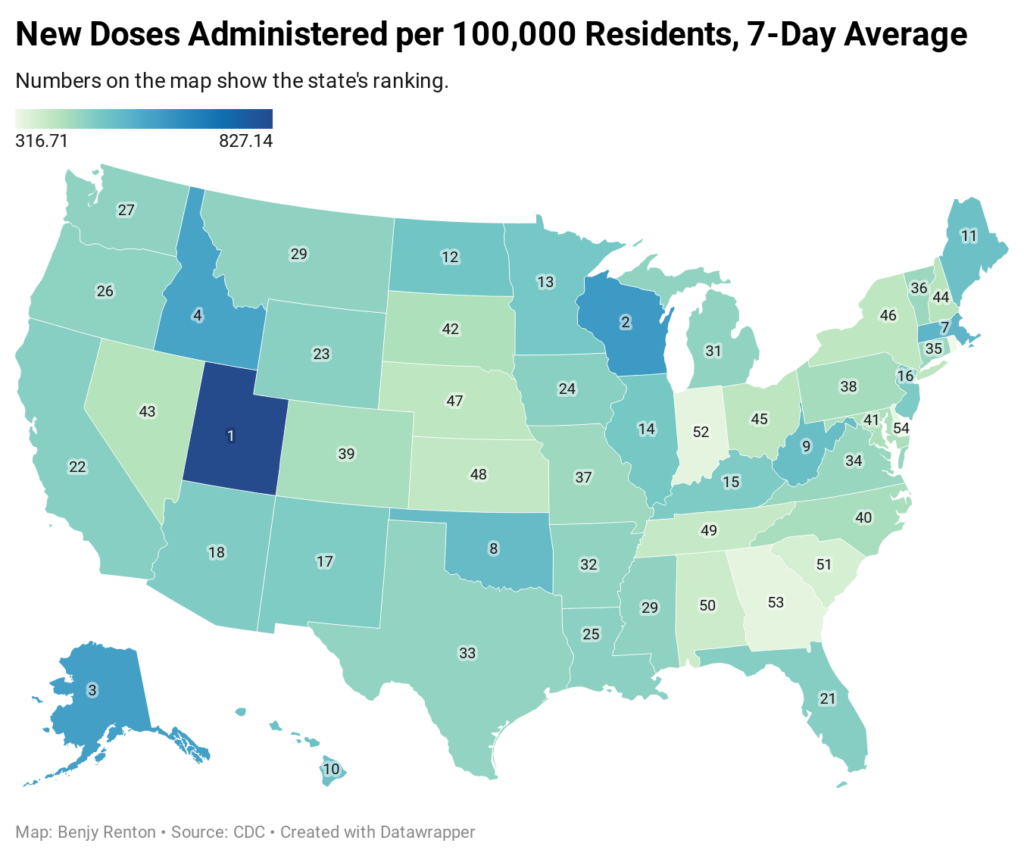 A few other updates on vaccines:
Newly released CDC guidance for fully vaccinated individuals says they are not required to quarantine if the exposure occurs between two weeks and three months after the last dose in the vaccination series and they have remained asymptomatic.
The dashboard to rule all dashboards: Peru's health ministry has set up a national dashboard which updates in real-time (every 5 minutes or so) and shows vaccinations at the region, province, district and even individual hospital levels.
Three professors want President Biden to enact a National Vaccine Day. "A one-time federal holiday to recognize and promote vaccination would help disseminate the message that safe and effective vaccines save lives," they write in an op-ed in STAT.
South Africa has halted its rollout of the AstraZeneca vaccine after a study in the country showed little efficacy against the B.1.351 variant.
Preliminary analysis from biology professor A. Marm Kilpatrick estimated that the Moderna vaccine blocks >90% (87-93%) of infections and 91% (89-94%) of transmission.
Facebook has announced that it will ban vaccine misinformation.
Dissatisfaction with the vaccine rollout is high, according to a Gallup poll. "These differences suggest people may still be evaluating the situation based on their assessments of…Trump's handling of the vaccination effort, rather than Biden's."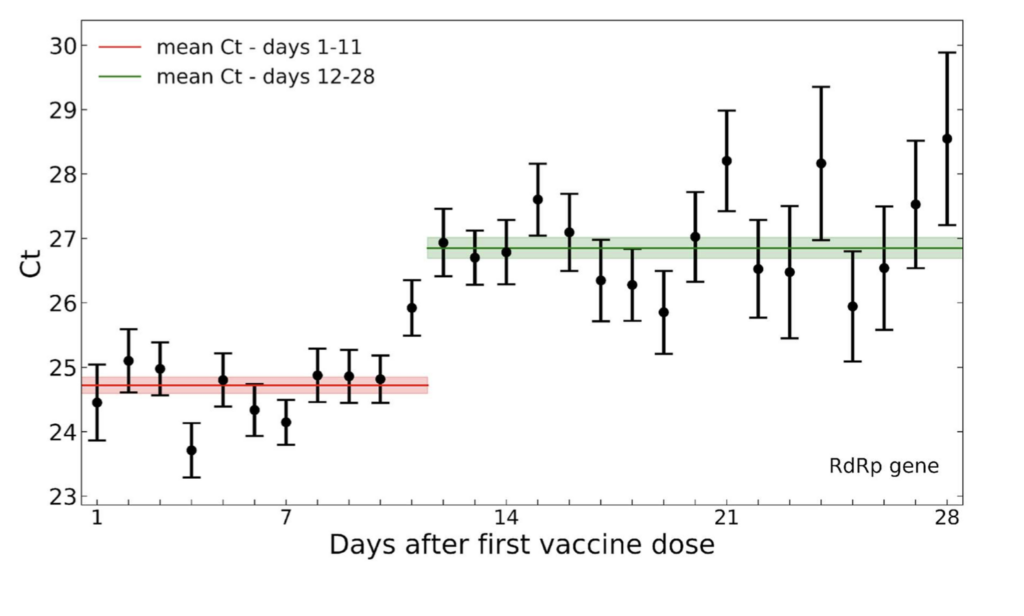 Dr. Monica Gandhi at UCSF published a graphic on vaccine optimism that is useful for addressing vaccine hesitancy. She suggests a tiered approach showing the benefits of vaccination.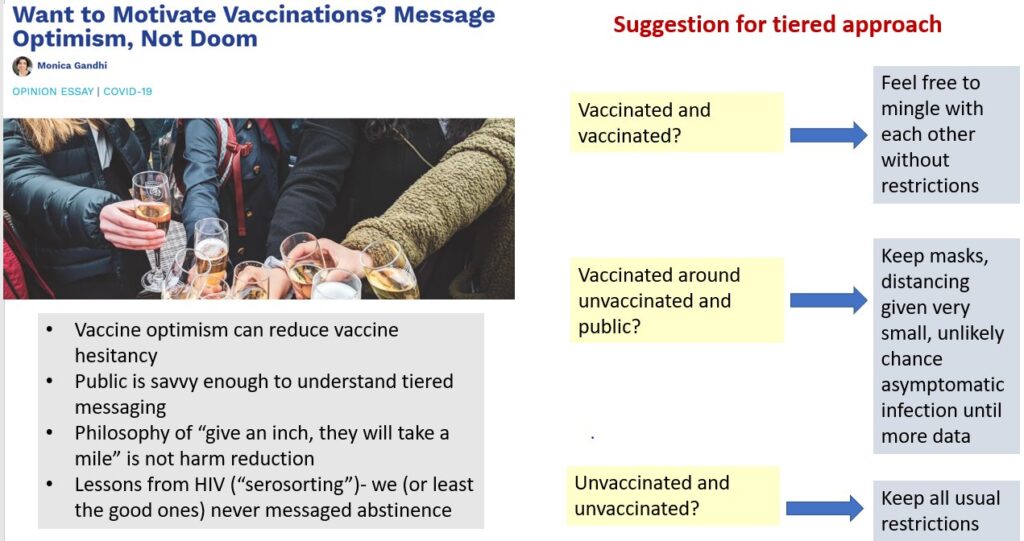 Let's move on to our discussion of higher education.
Higher education
As the spring semester at many schools continues and others start bringing students back, it is evidently clear that colleges need to double down on their precautions used in the fall. Spikes in cases at many colleges have forced them to go into lockdown or quarantine periods. In the case of UMass-Amherst and UC-Berkeley, their quarantine periods forbade students from exercising or going outside. It is important to note that there has been no significant evidence of outdoor transmission of Covid-19, provided that individuals are masked and distanced. "Banning college students from outdoor walks won't make them stay inside their dorm rooms for weeks on end," The New York Times' David Leonhardt writes. "But it probably will increase the chances that they surreptitiously gather indoors." Colleges should adopt a risk reduction approach to their operations this spring. After widespread backlash, both universities have now allowed students to go outside. Reporting from Will Katcher, Sofi Shlepakov, and Cassie McGrath at the Massachusetts Daily Collegian underscores the importance of college students limiting social contacts for the first two weeks of the semester. Social gatherings between students' Day 0 and Day 4 tests fueled much of the spread.
On the other hand, many large universities which saw major outbreaks at the beginning of the fall have not seen as many cases this spring. A number of reasons are possible for this trend, including students being more careful, less comprehensive testing protocols to detect cases and previous infection (essentially that so many students contracted the virus in the fall fewer are susceptible to infection this spring).
Much comes down to student and institutional culture, as well as concrete support from the institution in the form of a testing plan. "It will lie in the coming weeks of consistently following regulations and making our own choices," the Bowdoin Orient's editorial board writes. "The safeguards that the College has put in place are only as strong as our commitment to them." There is much that colleges can learn from the NFL (minus the Super Bowl part), including:
Mass, frequent testing is key
Identifying high-risk areas and contacts can help contain further spread
Being versatile with limits on activities
Strict mask requirements work
Ventilation is critical
Finally, much of this week's higher ed discussion revolves around vaccines and variants. It still remains to be seen when colleges will be able to have vaccines available for distribution. Boston University's health officer said that if the timing is such that students can only initiate vaccination (with one dose), "we hope to be able to offer just one dose, and that vaccines will be widely available so it would not be a challenge for someone to get their second dose if they go home." This may be a challenge for some colleges depending on their states' vaccine rollout — it may be possible for some college students to be vaccinated before June. However, I do not think we are at the stage where we could risk only giving students one dose and then going home for the second. As vaccines are on the horizon, six colleges have confirmed cases of the B.1.1.7 variant in their communities. In the face of more contagious variants, colleges must double down on protective measures this spring.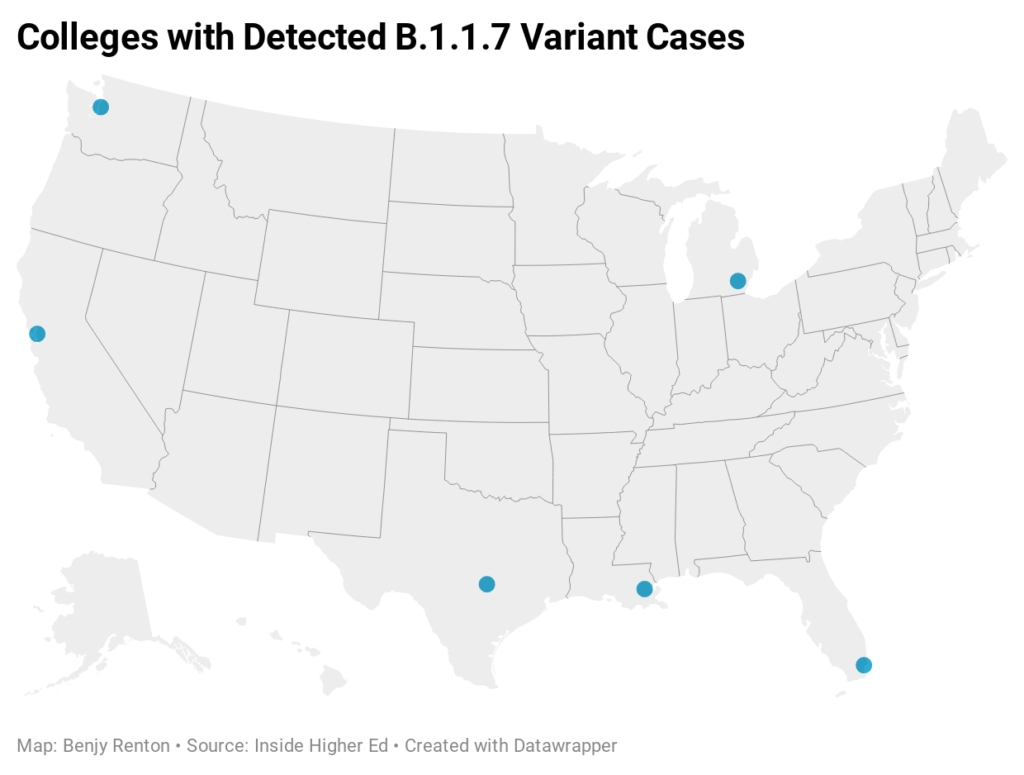 The Good Stuff
Let's roll the clips of the good stuff. In my usual tradition, I feature my favorite stories from the week. Here are my Top 10.
Conclusion
The United States remains at a critical point in its fight against the pandemic. It is tempting to lessen restrictions as case counts decline, however we are only a few months from much of the population being vaccinated. Concerns of new variants underscore the need for us to continue to step up genomic sequencing, keep up our testing and maintain an accelerated vaccine rollout.
And no, Governor Cuomo, it is still not a good time to dine indoors today on Valentine's Day.
I'd like to thank all the student journalists with whom I have the pleasure of working. In the next weeks and months ahead, they will become vital in chronicling their colleges' paths forward for the spring and beyond. Support their work by reading it.
My best to all for good health.
Like what you see? Don't like what you see? Want to see more of something? Want to see less of something? Let me know in the comments. And don't forget to subscribe to the weekly newsletter!
For more instant updates, follow me on Twitter @bhrenton.