Welcome back to Week 42 in my weekly reports analyzing the Covid-19 pandemic and its effects on the country and higher education in a new Biden-Harris administration. For those of you reading this on my blog, Off the Silk Road, I have also launched a newsletter, where these reports can be sent directly to your email each week. Click here to subscribe.
Last week, we discussed how President Biden intends to confront the crisis in his first few days in office. This week's theme is variants and vaccines, and we will show why rapid vaccination is key to saving lives and preventing further mutations.
A national look
As President Biden enters week two of his presidency, he continues to take decisive action to address the pandemic on multiple fronts. This week, his science team held the first of regular briefings with public health officials, and his data team released the full set of state-level reports, previously kept secret during the Trump administration. These are notable steps towards transparency and will be critical in improving the public health response. This all comes as former coronavirus response coordinator Dr. Deborah Birx spoke out and recounted her experiences working for the previous White House Coronavirus Task Force. "I saw the president presenting graphs that I never made," Birx said on CBS' "Face the Nation." "So, I know that someone — or someone out there or someone inside was creating a parallel set of data and graphics that were shown to the president." Dr. Anthony Fauci opened up in a New York Times interview: "I would try to express the gravity of the situation, and the response of the president was always leaning toward, 'Well, it's not that bad, right?' And I would say, 'Yes, it is that bad.' It was almost a reflex response, trying to coax you to minimize it. Not saying, 'I want you to minimize it, but, 'Oh, really, was it that bad?'"
Much of the discussion this week revolves around variants, three of which could have major implications for the pandemic in the U.S. Both the B.1.351 (first discovered in South Africa) and the P.1 (first discovered in Brazil) variants were newly detected in the U.S. this week. With an absence of widespread genomic sequencing, we must treat every case as a new variant and take further action to curb the spread of the virus. Suppressing transmission nationwide will prevent the emergence of new mutations.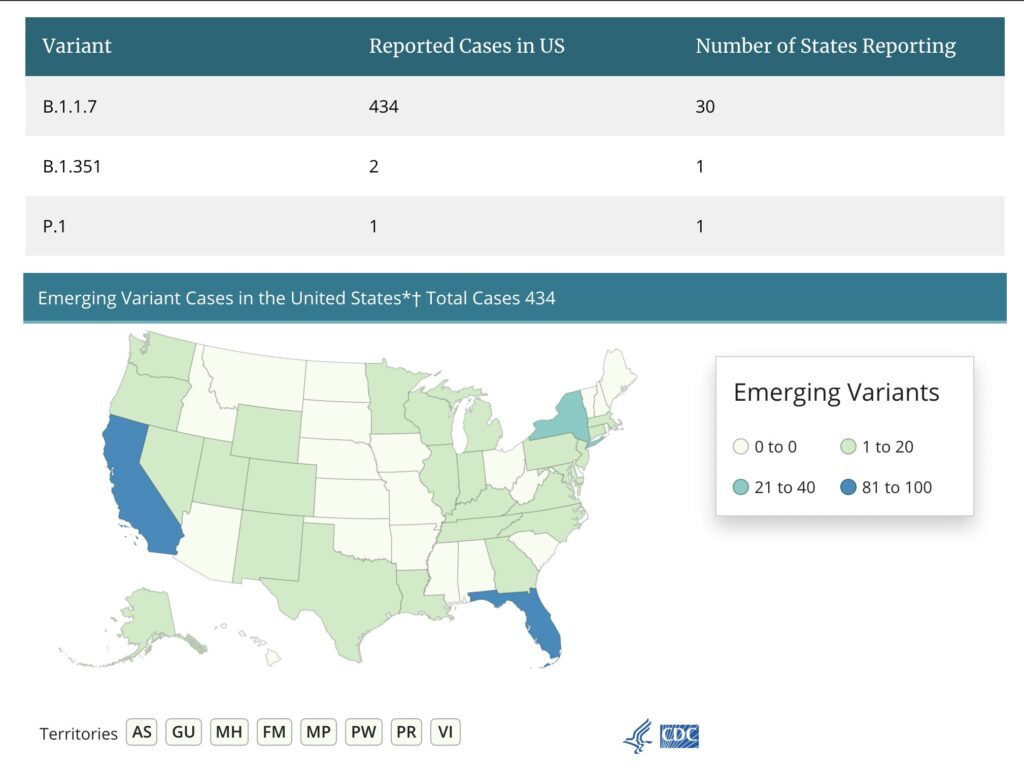 Although cases are declining nationwide, they are still at an incredibly high level. Modelers at the Institute for Health Metrics and Evaluation at the University of Washington project that the variants will add 85,000 deaths by May, bringing the projected deaths up to 594,623. The model also accounts for the possibility of states relaxing social distancing measures after part of the population has been vaccinated. We are currently at a critical juncture in this pandemic and we must continue to double down on precautionary measures.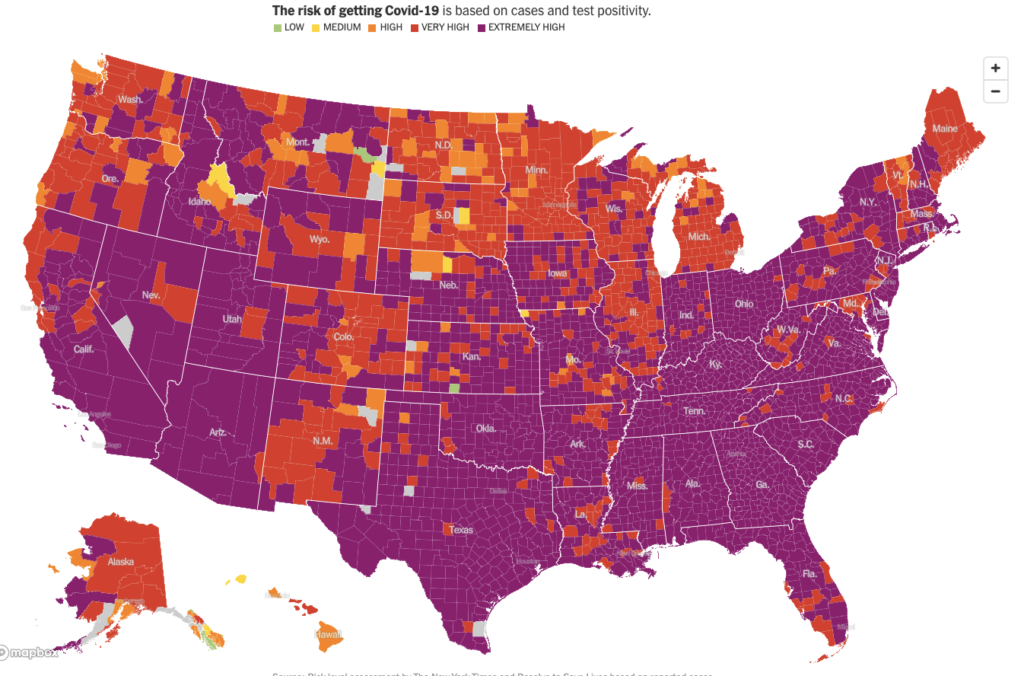 Let's take a look at some of the latest scientific developments:
Much of this week's scientific discussions revolved around schools. According to a CDC report, reported student mask-wearing was high, and the Covid-19 incidence among students and staff members was lower than in the county overall (3,453 versus 5,466 per 100,000). Among 191 cases identified in students and staff members, only seven cases (3.7%), all among students, were linked to in-school spread. In an accompanying commentary, the authors called for measures such as shutting down indoor dining to keep schools open. Additional modeling from colleagues Alyssa Bilinski and Dr. Carl Bergstrom shows the importance of testing to slow the spread in schools, as well as the vaccination of teachers (which is more important and practical than students, for now).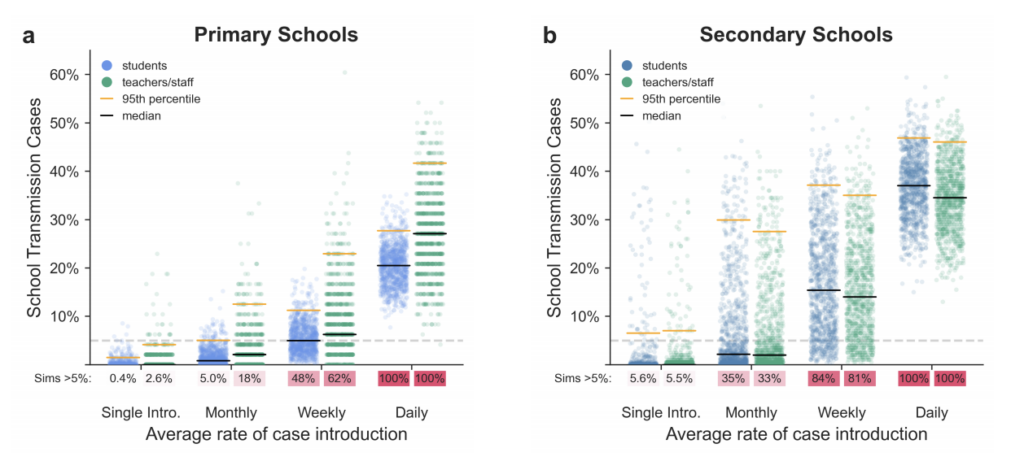 The U.S. hit a record for vaccinations on Saturday, with 1,693,241 reported as being administered between Friday and Saturday. This is promising, and we can expect the pace of vaccination to ramp up significantly in the coming weeks. However, there are still unsolved issues and bottlenecks in the process. The Daily Beast's Erin Banco reported on irregularities throughout the vaccine distribution pipeline, indicating that there could be as many as 20 million doses unaccounted for across the country. A failure from the previous administration to enact a federal strategy has led to states complaining about lack of supply, while simultaneously holding doses in state stores, at the point of delivery, or at unknown locations. The Biden administration has spent this past week attempting to locate these doses and will now encourage states to use all doses, allocating 10 million doses total for shipment next week. This is a 16% increase from this past week. States will also be able to know their weekly allocations three weeks in advance, a huge improvement from the current notification of one week. Despite all these changes, it is clear that more investment must be made in the distribution process. A GAO report found that of the $16.3 billion spent on Covid-19 vaccines and therapeutics by Operation Warp Speed last year, just $377 million (2.3%) was directed to vaccine distribution (and part of that amount went to purchase vials and other ancillary supplies).

A few other updates on vaccines: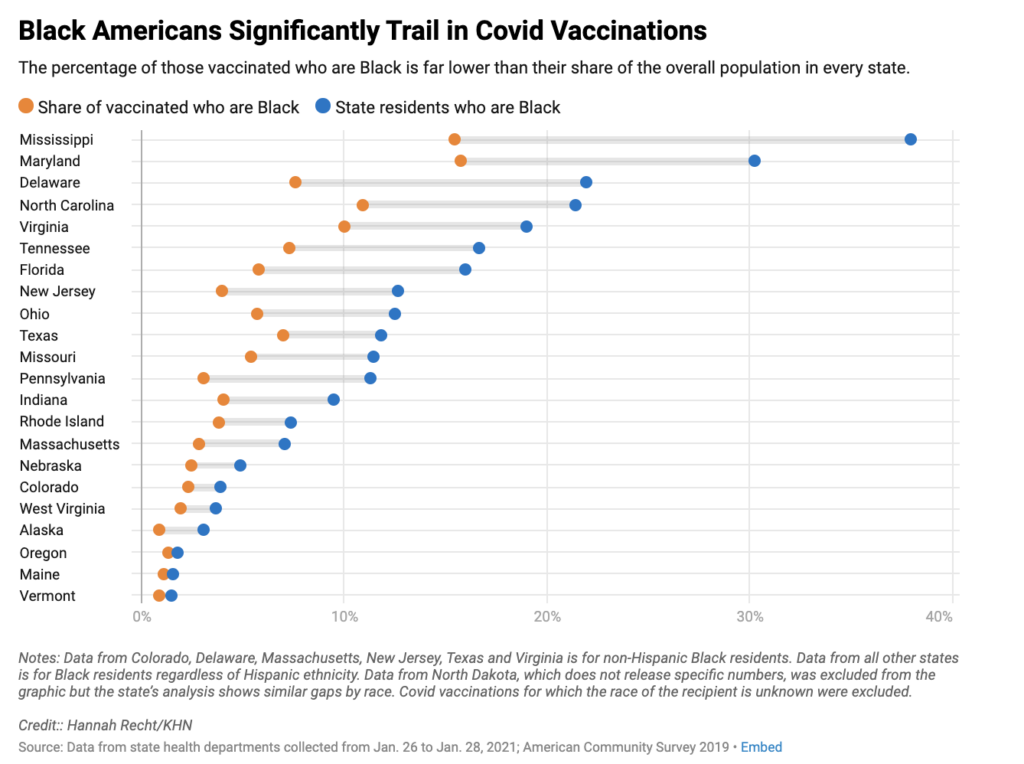 Let's move on to our discussion of higher education.
Higher education
Here's a roundup of this week's higher ed news: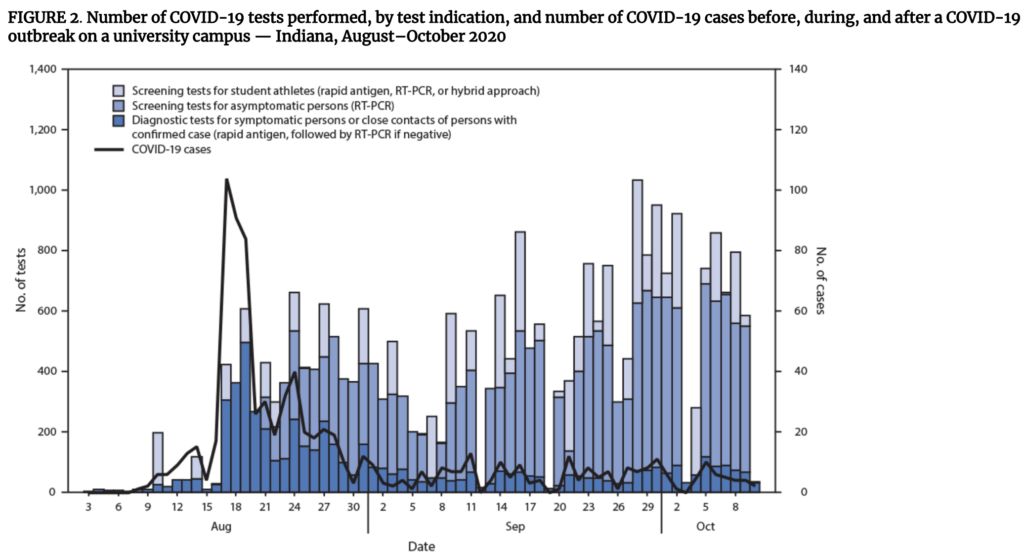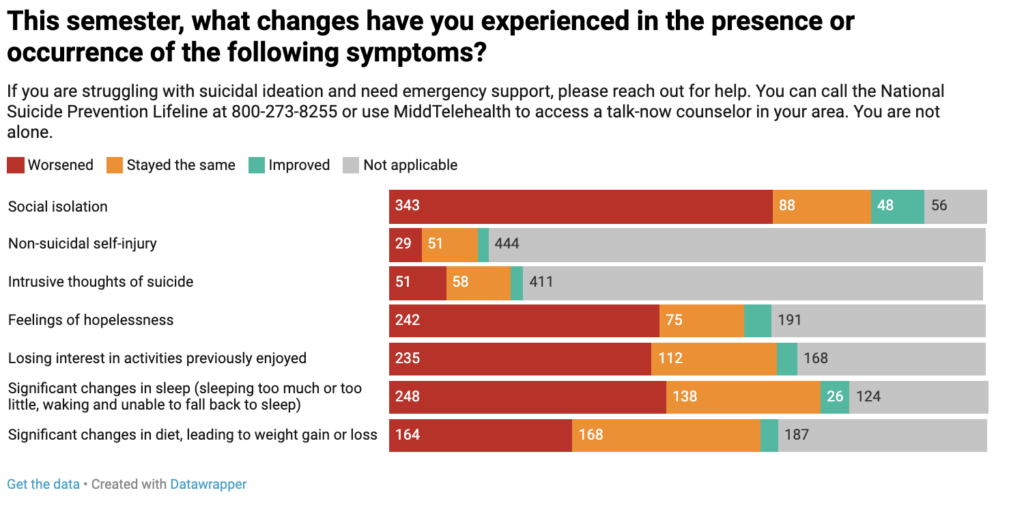 The Good Stuff
Let's roll the clips of the good stuff. In my usual tradition, I feature my favorite stories from the week. Here are my Top 10.
Conclusion
Over a year into the pandemic (and a year since I left China after being forced to repatriate — see my experiences here), we now have a playbook of what works. Mask-wearing, social distancing, ventilation and testing are all important tools we must use to suppress the virus. With the spread of these new variants, we must double down on precautionary measures, including increasing the number of layers in masks. It is quite likely that the B.1.1.7 variant (first discovered in the UK) will become more prevalent in the U.S. and the other variants to an extent as well. We must accelerate the pace of vaccination with highly efficacious vaccines in order to induce protection before the virus continues to mutate more dangerously. As Brown University School of Public Health Dean Dr. Ashish Jha notes, "For those of you keeping score at home / 26 million Americans are known to have had Covid, 420K of them died from Covid / 29 million Americans have gotten Covid vaccines, 0 have died from COVID vaccines / When it comes to generating immunity / vaccine > infection / Easier, way way safer."
And no, Governor Cuomo, it is not a good time to dine indoors on Valentine's Day and get married with 150 people in March.
I'd like to thank all the student journalists with whom I have the pleasure of working. In the next weeks and months ahead, they will become vital in chronicling their colleges' paths forward for the spring and beyond. Support their work by reading it.
My best to all for good health.
Like what you see? Don't like what you see? Want to see more of something? Want to see less of something? Let me know in the comments. And don't forget to subscribe to the weekly newsletter!
For more instant updates, follow me on Twitter @bhrenton.