Welcome back to Week 40 in my weekly reports analyzing the Covid-19 pandemic and its effects on the country and higher education, a special inaugural edition. For those of you reading this on my blog, Off the Silk Road, I have also launched a newsletter, where these reports can be sent directly to your email each week. Click here to subscribe.
Last week, we discussed possible ramifications from the insurrection at the Capitol on January 6. This week, we will focus on the presidential transition and the stagnant vaccine rollout, as well as examine the latest Covid-19 outbreak in Congress.
A national look
Assuming nothing out of the ordinary happens, this will be the last week we will mention President Trump in this newsletter. Almost every aspect of the administration's failed response is as a direct result of his actions (or inactions) and he will certainly not be missed in the field of public health. In an interview with NPR, outgoing CDC director Dr. Robert Redfield, is asked the question of why the U.S. has done worse than the rest of the world at controlling the pandemic. He cites Americans' underlying health conditions as a primary reason and fails to mention anything about a botched response. As a comparison, incoming CDC director Dr. Rochelle Walensky writes in The New York Times, "I will tell the president, Congress and the public what we know when we know it, and I will do so even when the news is bleak, or when the information may not be what those in the administration want to hear." In a number of days, America will begin its path to build back better. By the time Biden takes office, around 400,000 Americans will have died from Covid-19, with a CDC model predicting 93,000 more lives will be lost in the next three weeks. President-elect Biden has filled his pandemic response team with our nation's top scientific and political minds dedicated to saving as many lives as possible.
As the virus continues to spread, in many places unmitigated, concern is arising with the emergence of the B.1.1.7 variant, first discovered in the United Kingdom. New modeling from the CDC shows that this variant could be the dominant strain in the U.S. by March. If the U.S. can conduct 1 million vaccinations a day, the model forecasts that daily new infections will decline in the next few months, despite the increased transmissibility from the new variant. Genomic sequencing data show that the variant was present in around 0.3% of cases in the beginning of January, doubling from two weeks prior. Cases have been found and reported in 17 states so far. Since viruses follow exponential growth, it is not hard to see how this will quickly take hold in the U.S. if we do not suppress transmission. "I think we are going to see, in six to eight weeks, major transmission in this country like we're seeing in England," said Dr. Michael T. Osterholm, the director of the Center for Infectious Disease Research and Policy at the University of Minnesota. As seen from this modeling published in the Council on Foreign Relations, a variant with increased transmissibility will actually lead to more deaths as the number of cases will exponentially increase.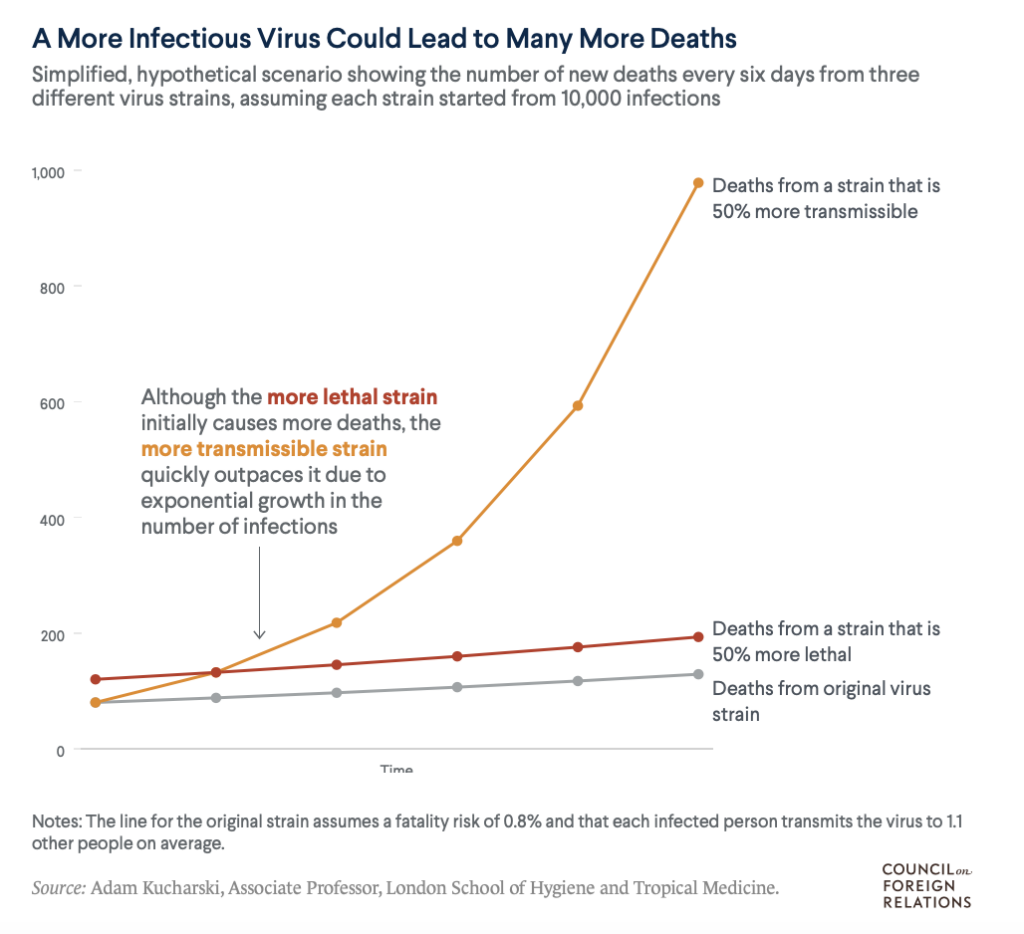 As the U.S. continues to reckon with the political implications of the January 6 siege on the U.S. Capitol, it is evident that epidemiologically, the Capitol insurrection was a superspreader event. While we do not know how many of the rioters contracted the virus, we can now confirm 13 cases among members of Congress and their spouses since January 4. After rioters stormed the Capitol, many members were rushed to a lockdown room, with multiple Republican representatives refusing to wear masks. Out of the 13 cases since January 4, five have been confirmed to have been in that lockdown room. Seven of the 13 cases have received at least 1 dose of the Covid-19 vaccine (with one case receiving both doses), underscoring that it takes up to 2 weeks after the second dose to reach maximum efficacy. I hope the American public takes two lessons from the Congress outbreak (which may still be ongoing): Not wearing a mask jeopardizes the lives of your fellow citizens, and that one dose of a vaccine (or even two, for that matter) does not give you carte blanche to go about life without precautions. Here is a table with all the cases that have been connected to the outbreak.
Data from our Congressional Covid-19 tracker show that the incidence rate in Congress (blue) has been consistently higher than the national, DC, Maryland and Virginia incidence rates, with over 10% of Congress having tested positive since March. This can possibly be attributed to more accessible testing for members of Congress. However, as former Biden spokesperson Kendra Barkoff Lamy and Republican strategist Doug Heye point out, there is still no mandatory testing for lawmakers and staff.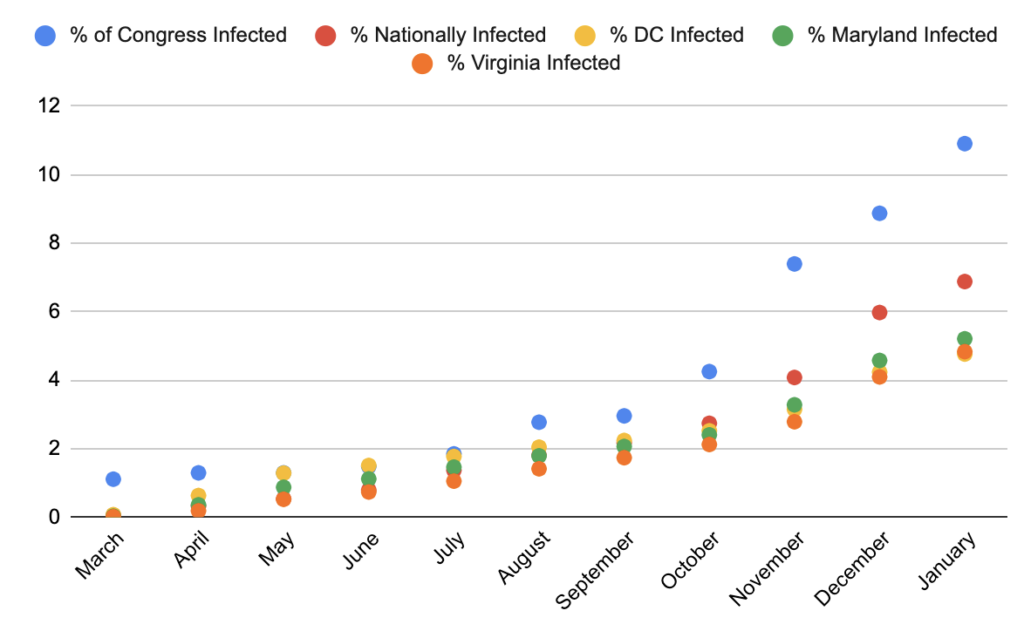 Nationally, we may be seeing a peak in hospitalizations, as Johns Hopkins epidemiologist Dr. Caitlin Rivers notes. While this is reason for hope, we cannot let our guard down, especially with possible highly transmissible variants. Deaths still remain dangerously high.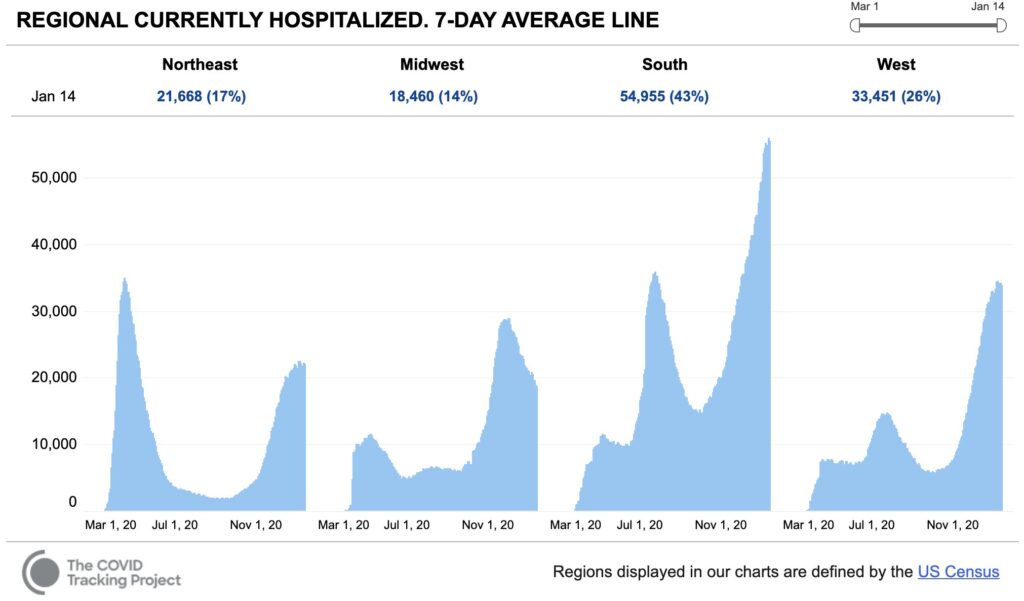 However, as Dr. Ashish Jha at the Brown School of Public Health posted on Twitter earlier in the week, strained ICUs with Covid-19 patients means that in order to accommodate the increase, hospitals are reducing access of non-Covid patients to ICU care.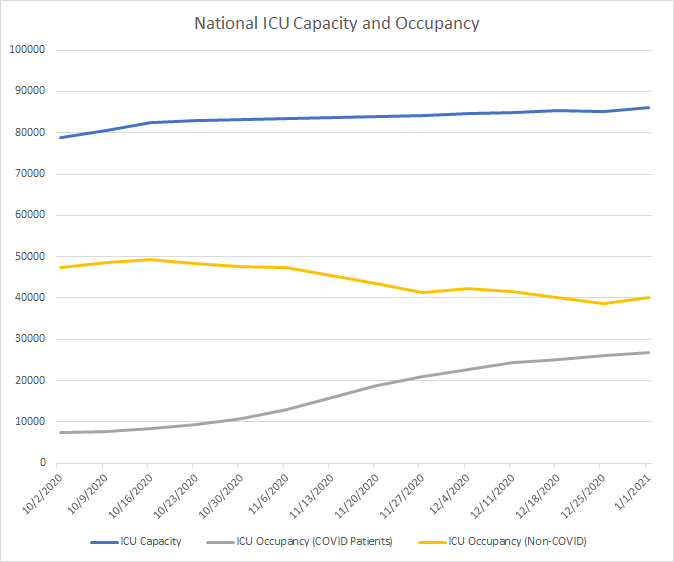 Let's take a look at some of the latest scientific developments: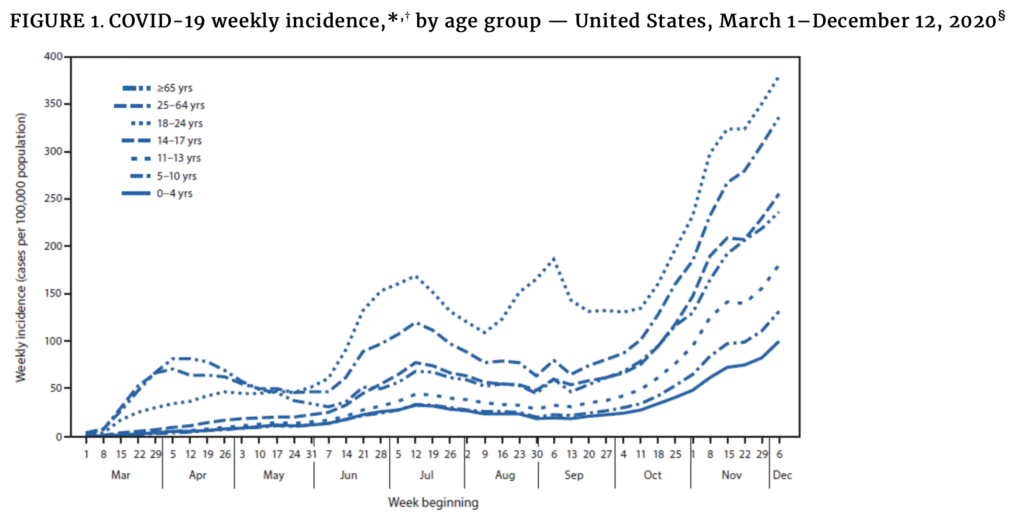 After a slow vaccine rollout by the Trump administration, President-elect Biden unveiled his vaccination plan, which has four key components to increase supply, accessibility, manpower and education campaigns. Here are the essential elements.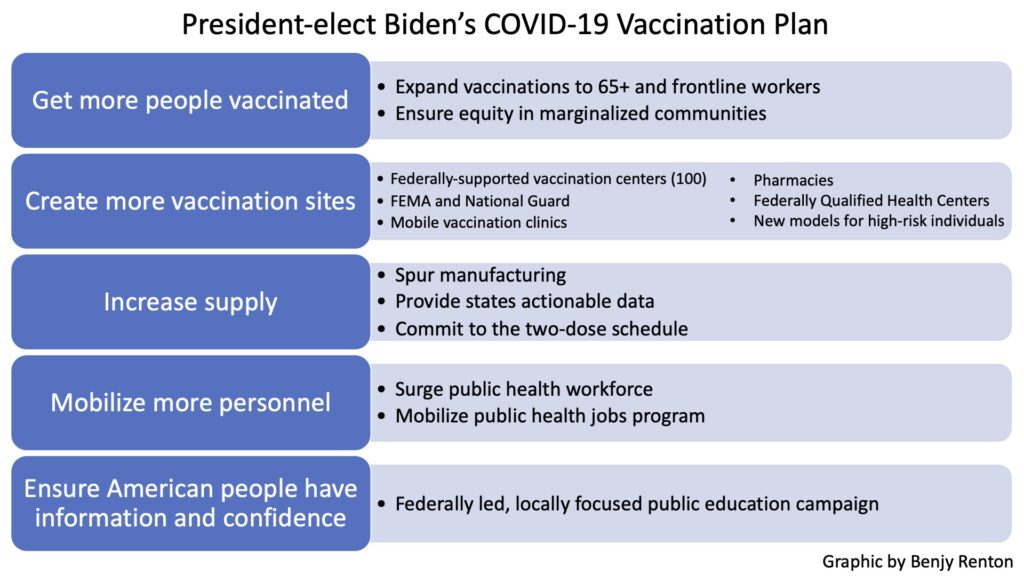 Some of the parts of the plan have already been in practice, such as Disneyland in California, among other sites, turning into mass vaccination centers. I am confident that the Biden team will be able to meet its goal of 100 million shots in arms in 100 days, and should even strive for more.
On the Trump administration front, outgoing Health and Human Services Secretary Alex Azar announced changes to the upcoming dose allocations sent to states. In order to give states an incentive to avoid doses sitting on shelves, the weekly allocations will be changed to being based on the size of the 65+ population in each state and how efficiently states are distributing vaccines. Additionally, the administration is urging states to open up vaccination to anyone over 65, and pledged to release all the second doses in reserve stock. (This can obviously all be reversed by the incoming Biden administration, as these changes were not due to take effect until 2 weeks from January 12). However, this plan came to a screeching halt on Friday when a senior official told The Washington Post that all the reserve stock was used up. CNBC senior health and science reporter Meg Tirrell attempts to explain the confusion around this change; The New York Times says it's all a misunderstanding and that the doses that will be released to states were the second doses for individuals already vaccinated — in other words, the "pool" of new individuals who can be vaccinated would not increase. Regardless of which is correct (and we still do not know), states are expecting more doses each week when it seems that the number of new doses (i.e. the number of new people who can be vaccinated) remains around the same each week.
You can find all the CDC's vaccination data at my Vaccine Allocation Dashboard here.
While the federal government continues to flail its arms around coming up with a vaccination strategy, West Virginia currently leads the nation in the percentage of its distributed doses that have been administered — around 69%. What explains its success?
Not using CVS/Walgreens partnerships for long-term care. Nationally, there is about 1 CVS/Walgreens for every 25 nursing homes. In West Virginia, the ratio is around 1:1. Some nursing homes even have 2 pharmacies to vaccinate residents.
Building off existing pharmacy/facility links
Streamline paperwork
A few other updates on vaccines: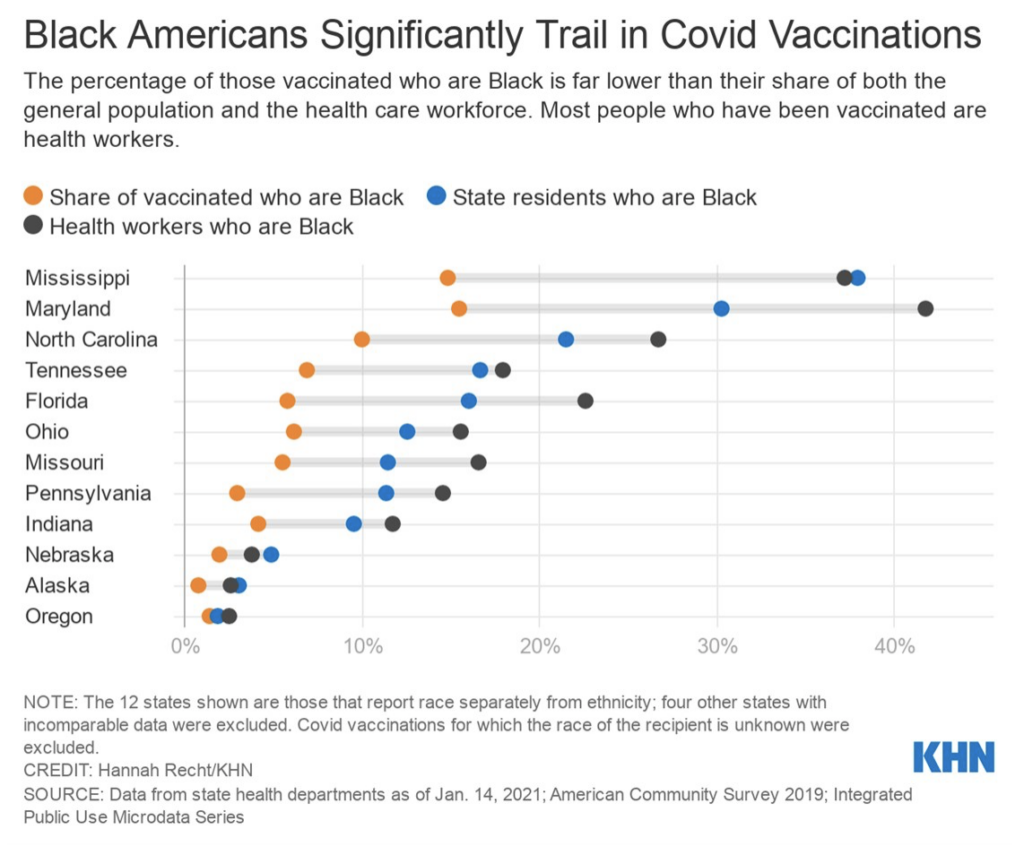 Meanwhile in DC, vaccinations seem to be inversely related to the areas which have suffered the most deaths.
Who is dying: Who is vaccinated: pic.twitter.com/VOEWzaaXwX

— Alex Taliadoros (@AlexCTaliadoros) January 16, 2021
The latest model from the Institute for Health Metrics and Evaluation at the University of Washington predicts 566,720 deaths by May 1. Universal mask-wearing could save around 30,000 lives as recent estimates show that 76% of people nationwide always wore a mask when leaving their home.
Let's move on to our discussion of higher education.
Higher education
The spring semester is fast approaching, and colleges will be opening at a dangerous time for viral transmission in the country. Case counts are much higher than they were in late summer, and the new B.1.1.7 variant could mean more transmissibility on campuses in early March. While some colleges will have learned from the fall, many still do not have sufficient testing protocols to catch outbreaks. Arizona State University began the fall semester with 161 active cases. Now, at the beginning of the spring, it has 900 active cases. UNC has already reported its first cluster of 5 or more cases. Many colleges have pledged to be more ambitious in their fall plans, but the virus is more ambitious than it was in the fall. Auburn University required testing on re-entry in the fall, recording 1,168 cases in the first 2 weeks. For the spring, it will not require re-entry testing. "A one-time one-shot deal is not going to tell you anything," Auburn's president says. On the other side of the spectrum, the University of Missouri will be testing all students on entry.
Here's a roundup of this week's higher ed news, and what I'm looking for in the spring: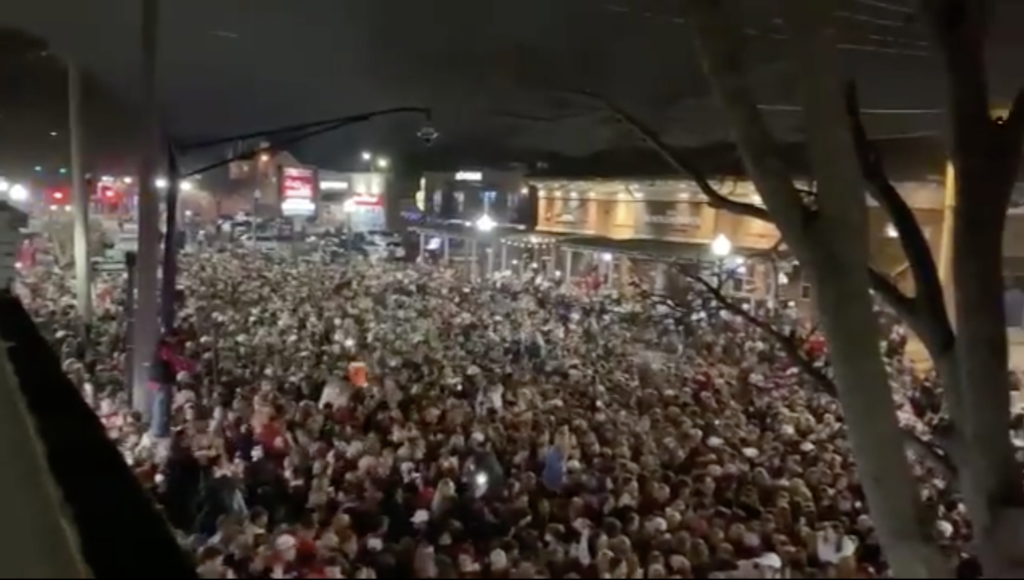 Two new reports on student mental health were published this week, according to the Chronicle's Sarah Brown. One discussed the stress on college counseling services, showing that students at large universities often had difficulty in accessing counselors. A second report showed how faculty and administrators must address mental health issues for all members of the campus community.
A new modeling study published in Computer Methods in Biomechanics and Biomedical Engineering found that from 30 colleges from the fall, 18 of them saw a subsequent peak in community infections following student return. This may partially be because the researchers didn't seem to subtract the county's cases from the college cases and colleges often take a week or so to report their cases to the county, but effects of spread are still worth examining. Despite robust testing at the college level, controlling community infections is more difficult once the virus leaves campus. The data presented in the study are similar to greater national trends we've analyzed with higher education data. The study also reinforces the point that the first two weeks are the highest risk for colleges — an important lesson for the spring.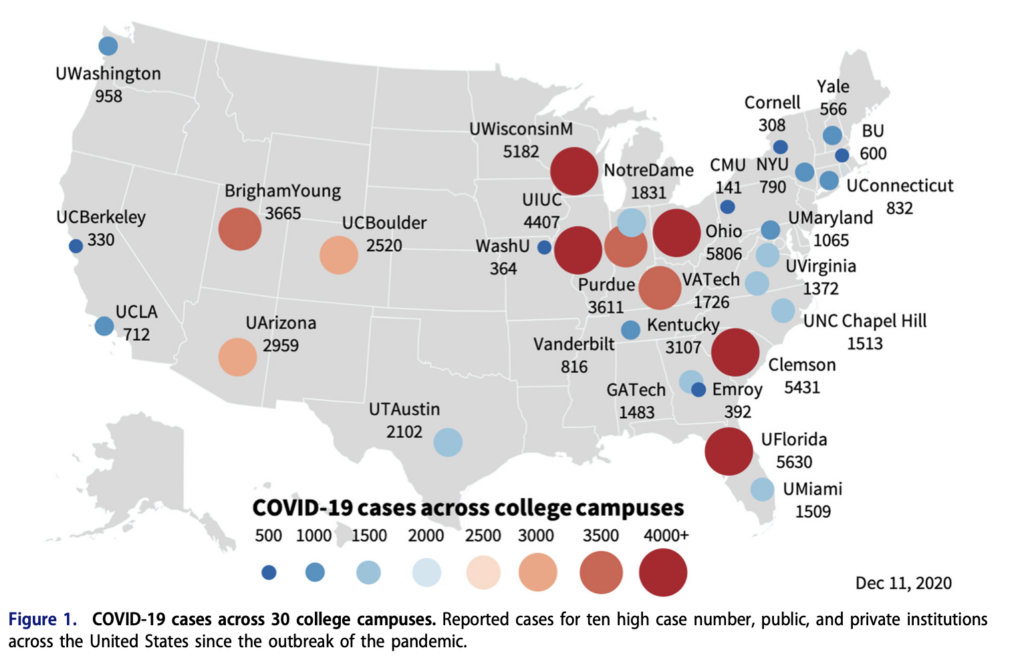 I hope colleges will continue to use lessons learned from the fall to guide spring openings, as high levels of transmission nationally will make mitigation measures critical.
The Good Stuff
Let's roll the clips of the good stuff. In my usual tradition, I feature my favorite stories from the week. Here are my Top 10.
Conclusion
When President-elect Biden takes the oath of office on January 20, he will take command of a country reeling from a pandemic which will have killed at least 400,000 Americans. With new, possibly more dangerous strains on the horizon, the actions we take now will save lives weeks later. We need to suppress transmission rapidly to ensure the virus has fewer chances for infection and mutation. While the vaccine rollout will speed up with a national plan, we will need to continue to accelerate production and distribution. A new chapter in America's public health history will start as the Biden-Harris administration Builds Back Better.
I'd like to thank all the student journalists with whom I have the pleasure of working. In the next weeks and months ahead, they will become vital in chronicling their colleges' paths forward for the spring and beyond. Support their work by reading it.
My best to all for good health.
Like what you see? Don't like what you see? Want to see more of something? Want to see less of something? Let me know in the comments. And don't forget to subscribe to the weekly newsletter!
For more instant updates, follow me on Twitter @bhrenton.