Here we are. Another week as the U.S. and the world continue its fight against the coronavirus. This is the second in my weekly reports on what I've most recently read on the Covid-19 pandemic and how I see some possible ways going forward. You can read the first one here. Again, I'm not a public health expert — just a student journalist who has been monitoring this outbreak since I was caught in the middle of the initial outbreak in China. Like last week, we'll be focusing on three major topics: a national view, higher education and study abroad.
In the words of Chris Cuomo, "Let's get after it."
A national look
As reported all over the media, the outbreak is hitting its peak in many states, judged by the daily death toll. However, we have seen that the descent on this hill is much slower than the ascent. This is why continuing some sort of social distancing is necessary, even as businesses open. A key model by IHME at the University of Washington shows us possible dates to relax social distancing restrictions, provided that testing and contact tracing measures are in place. (We're looking at you, Georgia).
Vermont: May 8
California: May 17
New York: May 27
Massachusetts: June 7
Florida: June 11
Georgia: June 19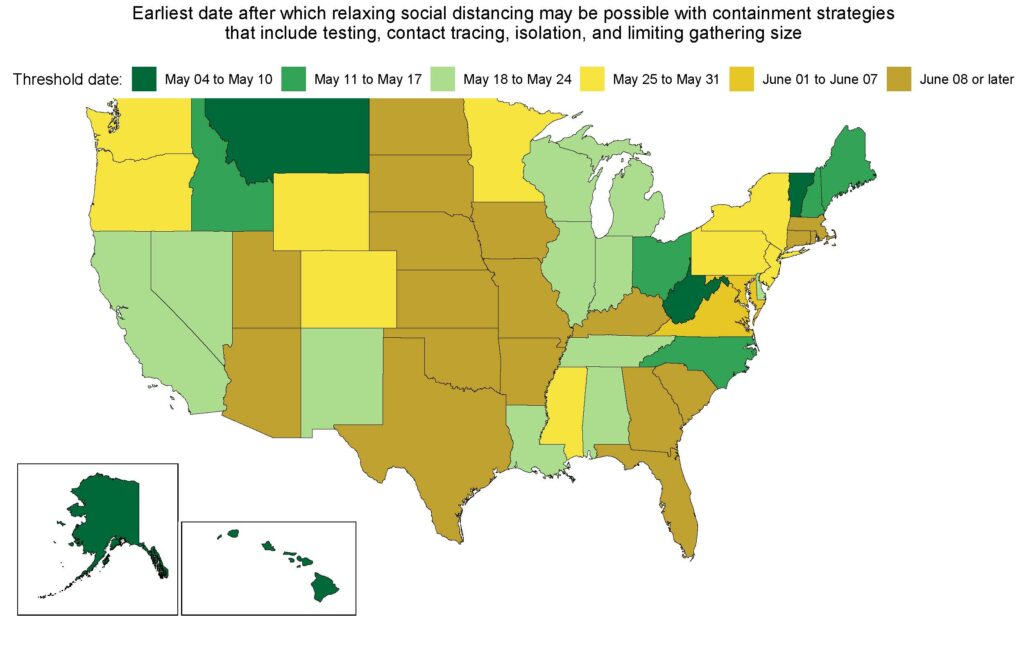 As it's been said many times before, this is not just flicking on a light switch. It's more like turning on a spigot of water, to use Vermont Governor Phil Scott's analogy. There will still be restrictions in place. This article shows what would happen if restrictions are relaxed too quickly. Testing is key and we are still not at that capacity yet.
A few major pieces of news broke this week. An early death on February 6 in California, weeks before the first initially suspected coronavirus death at the end of February, shows that the outbreak was spreading in the U.S. earlier than we thought. I'm not surprised by this. Remember that deaths often reflect widespread community transmission and could signify that the virus has been in the community for around 3-4 weeks before the death occurs. CNN's Dr. Sanjay Gupta shows the four steps in our understanding of the coronavirus transmission:
Jumped from animals to humans
Travel
Community spread
Asymptomatic spread
We've been learning more and more about asymptomatic spread, as seen in this study in Italy where 43% of the infections detected in two surveys were asymptomatic. A CDC study from Guangzhou also shows how the coronavirus can spread in a restaurant, where patrons in the line of air conditioning seemed to contract the virus from a confirmed case. This adds to the growing body of knowledge about aerosol transmission — that the virus can live in the air for a few hours after an infected individual sheds viral particles.
At this point it's worth noting that many of these studies, since they are so new, are not peer-reviewed and thus could contain some elements of doubt and uncertainty.
While we have not heard that much about the struggle for PPE lately, this story in the New England Journal of Medicine epitomizes the dysfunction of the federal government. "Two semi-trailer trucks, cleverly marked as food-service vehicles, met us at the warehouse. When fully loaded, the trucks would take two distinct routes back to Massachusetts to minimize the chances that their contents would be detained or redirected." Are you kidding? This is insane.
Now onto antibody tests. Chances are you've heard about them. In the past week we've seen four major studies attempting to quantify the spread of the outbreak by conducting samples across metropolitan areas: Santa Clara, Los Angeles, New York and Miami. I think we'll expect to see more in the coming weeks. The Santa Clara study shows that "prevalence estimates represent a range between 48,000 and 81,000 people infected in Santa Clara County by early April, 50-85-fold more than the number of confirmed cases." From the LA study:
"Based on results of the first round of testing, the research team estimates that approximately 4.1% of the county's adult population has antibodies to the virus. Adjusting this estimate for statistical margin of error implies about 2.8% to 5.6% of the county's adult population has antibody to the virus- which translates to approximately 221,000 to 442,000 adults in the county who have had the infection. That estimate is 28 to 55 times higher than the 7,994 confirmed cases of COVID-19 reported to the county by the time of the study in early April. The number of COVID-related deaths in the county has now surpassed 600."
Miami-Dade's numbers are leading to a 6% positivity rate for antibodies. In New York City, a sample of 1,300 people could show that 21% of New York City residents have had the virus. Now keep in mind that these sample sizes are rather small and the numbers are quite largely extrapolated, but the numbers do hold some truth. Similar antibody tests are also being conducted in China. Antibody tests are shown as a possible way for us to get out of the pandemic, though in my opinion, a sort of "immunity passport" for the 330 million people who live in the U.S. is next to impossible at this moment. Additionally, a reason for why the antibody tests are not being rolled out across the country just yet is that many are inaccurate.
So how do we get out? Simple (well, not really). Remember the three T's:
These methods are being used in other countries to control the pandemic. On testing: to say that we have made progress to control the pandemic, we need to get below a 10% positive test rate in the coronavirus diagnostic tests (remember, these are the tests used to treat the virus). States like Georgia are still at 23% positive. And you still want to get your hair cut?
Another largely unanswered question: Why does the coronavirus affect people differently? Different strains and mutations could provide the answer, according to a Chinese study. Evidence also suggests that the strains experienced by patients in New York were imported from Europe.
Finally, onto the weird (and somewhat depressing) stuff. Hydroxychloroquine; you've heard of it. A study has shown that for patients taking hydroxychloroquine in a hospital setting, the drug could have no or negative effects. It may even increase the death rate. The FDA has cautioned against the use of the drug in a non-hospital setting. There's also more information here about patients hospitalized in New York. Many who get on a ventilator do not get off.
Gun sales have skyrocketed, as more than 2.5 million firearms were sold in March, including 1.5 million handguns. Poison control center calls have been up 20% as people have been mixing disinfectants. Don't do it. And that's before the whole disinfectant debacle. Just don't do it, people.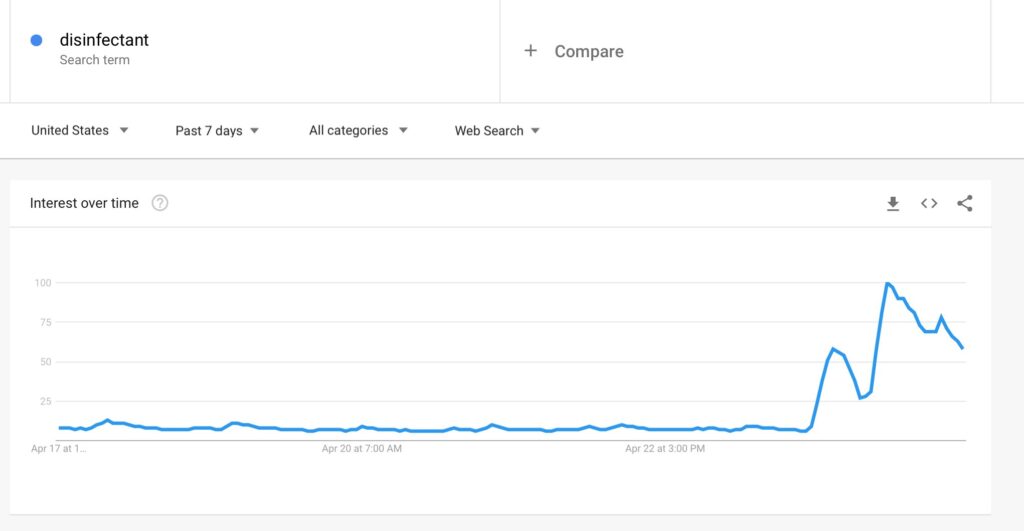 We've seen new research this week that sunlight and warm weather may slow the spread of the virus. It's not a panacea, but there could be some merit to it. We just don't know at this point.
Let's talk about China. CNN's David Culver has produced some brilliant reporting from Wuhan as residents cautiously emerge from a 76-day lockdown. We've also been seeing what restaurants have been doing to provide customer service, including many still sticking to a sort of store-front pickup. I will continue to examine China's recovery in the weeks to come. New research also shows the effectiveness of Wuhan travel restrictions.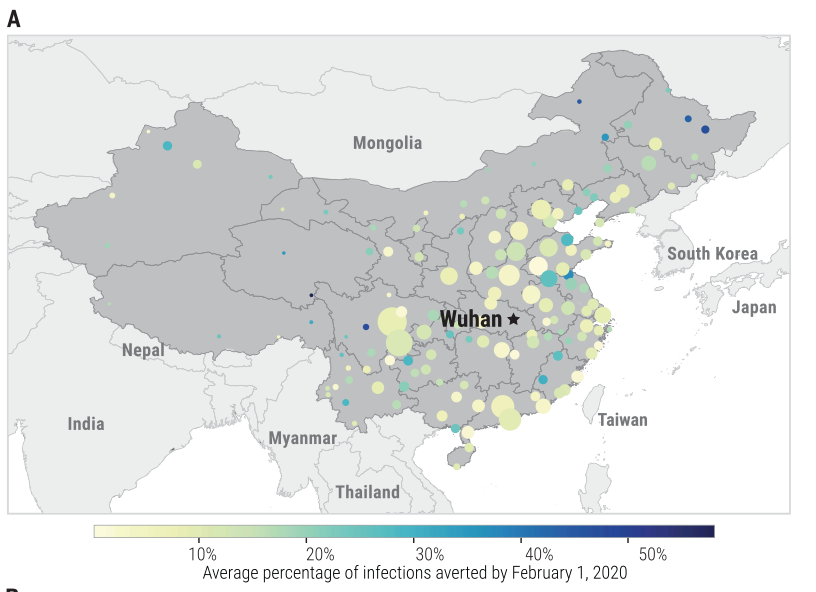 Many people have asked about this "lab theory" — that the virus has been manufactured in a Chinese lab. According to Axios:
Theory 1: The coronavirus was created as part of a Chinese bioweapons research program allegedly linked to the WIV.
Virologists have determined this is highly unlikely. By looking at a virus' genetic material, it is possible to tell if it has been engineered in a lab. The coronavirus shows no such signs, as the World Health Organization also emphasized on April 21.

Some U.S. officials previously showed interest in this theory, but the scientific evidence debunking it has been persuasive.
Theory 2: The novel coronavirus was being studied at the WIV, and a lab accident resulted in the virus' accidental transmission to an employee who then unknowingly spread the virus in the city after leaving the institute premises.
This is plausible, but as yet there is no direct evidence to support it.

It isn't possible to tell from looking at the coronavirus' genetic sequence if it jumped from animal to human in a lab or in a wet market (or somewhere else). Confirmation would therefore have to come from contact tracing and related measures by Chinese authorities.

This theory has gained significant traction within U.S. government circles.
So is it possible that it was lab-manufactured? Maybe. But we can't know for sure at this point. End of story for now.
Before we move onto the fall, I wanted to say that I'll be looking into the impact of the coronavirus on summer camps (especially sleepaway camps) in the coming weeks.
CDC Director Robert Redfield said this week that "There's a possibility that the assault of the virus on our nation next winter will actually be even more difficult than the one we just went through," pointing to the fact that the coronavirus will come at the same time as the flu season. Remember that the virus hit the U.S. (from what we know) towards the end of the flu season this year. We should be prepared for a rebound in the fall. Which brings me to everyone's favorite topic: higher education.
Higher education
Will colleges be on campus in the fall? The whole world seems to be fixated on this question. The University of Central Florida presents four possible scenarios, around which I'll focus today's discussion.
On-time start in September 2020
Delayed start in October 2020
Start on-campus instruction in Spring 2021
Start on-campus instruction in Fall 2021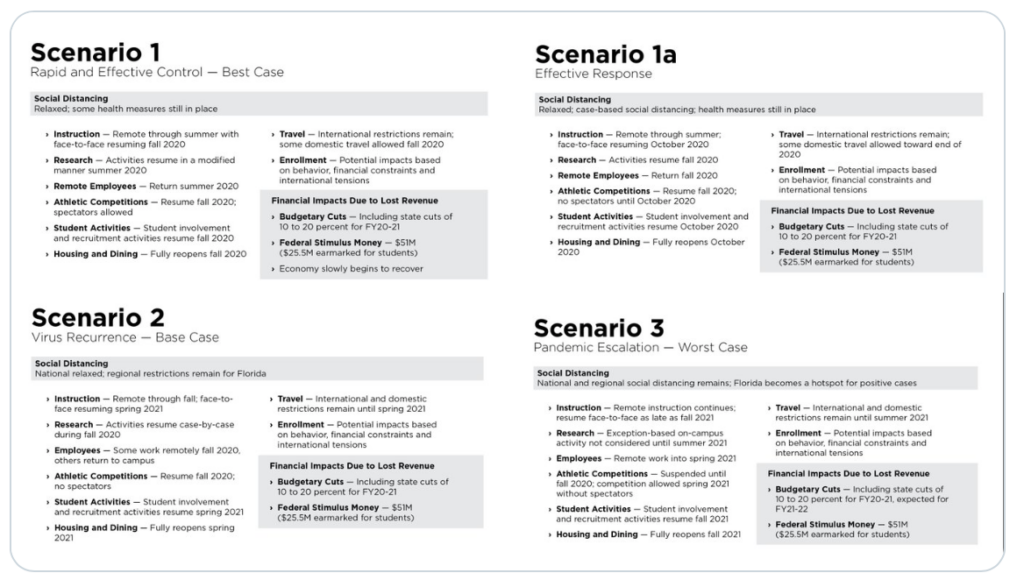 In my opinion, the fourth scenario is unlikely, so I'll be talking about the former three. More sub-scenarios are discussed here and here. Colleges have about the next two months to formulate a plan for the fall. My colleagues at the Chronicle of Higher Education have created this list and Twitter thread (thanks Andy!). California State University at Fullerton shocked the world when they planned to move their fall semester online. I think what we'll begin to see is that colleges will publicly say now that they remain committed to in-person classes for the fall, though this could change and administrators are having discussions about possible scenarios and contingency plans. University of Michigan president Mark Schlissel announced that he is planning for "public health informed in-residence semester." What does that even mean? We will not know more until a few weeks from now.
There's so much stuff out there — speculative reports in the media as colleges make announcements. I think it's important for us to relax and see how the country's trajectory in possible loosening of stay-at-home orders progresses. Maybe we'll see different responses for colleges with a high percentage of in-state students versus those that draw from many places around the country and around the world. It's not just about classes, though. Residence life, activities and athletics are all affected. The president of University of Connecticut has said that most fall sports could be cancelled.
My colleague at the Claremont Colleges, Meghan Bobrowsky, reports on what the five schools are considering for the fall, which could consist of a mixture of in-person and online courses (not just for social distancing requirements, but for those unable to come to campus). A decision could be made July 1 or later. News out of China, where some colleges will require students to remain confined on campus when they do announce plans to open, in my opinion, would be largely impractical in the U.S. Another option being floated around — bringing back certain groups of students as not to overcrowd campus — is possible for some American institutions but impractical for others. Block plans (where the semester is divided into blocks, such as Beloit College in Wisconsin's new model) could alleviate the pressures of a potential delayed start. The key for college administrators at this point is to gather all possible options in a toolkit and continuously monitor the fluid situation to guide decision-making processes. As I said in an article in The Nation earlier this month entitled, "Campuses Are Closed, but Student Journalists Are Still Working," "There's no textbook for the coronavirus." We're writing that book right now, and all options are on the table. Some colleges have suggested the use of antibody tests to determine who is allowed to participate in on-campus activities. We'll continue to look into this.
In the coming weeks, I'll also be continuing to focus on the impact of coronavirus on:
Finances
Admissions (May 1 is National College Decision Day, though some schools have pushed this back to June 1)
Orientation
Summer internships
For more reporting, here's a shameless plug for my college newspaper, The Middlebury Campus. Check us out!
Some final remarks. A survey of college presidents has shown that institutions are concerned about upcoming term enrollment and financial viability. Here are some reflections from professors about remote teaching in a pandemic. And on the admissions side, Davidson College in North Carolina will allow students to defer their tuition payment for the fall until August 2021, recognizing financial challenges for students and their families.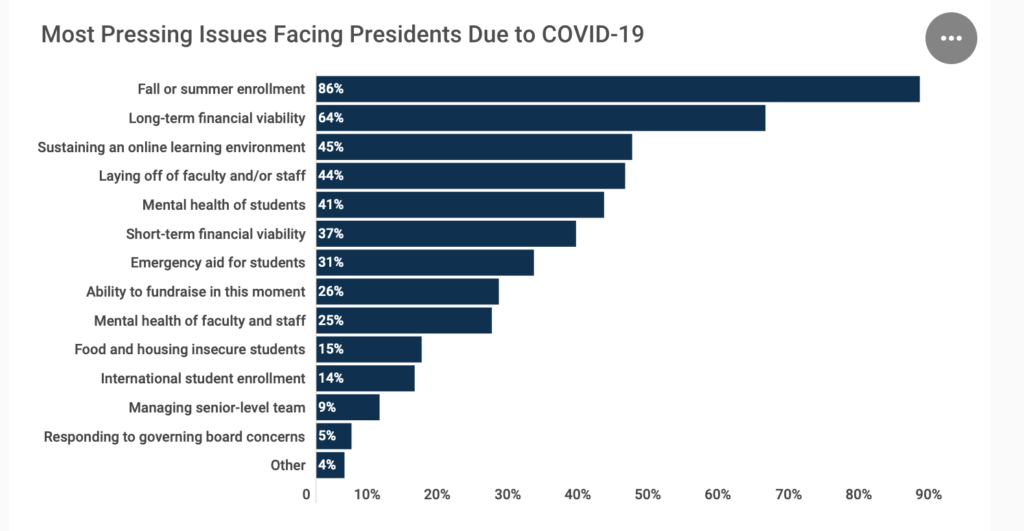 Study abroad and international travel
Not much has changed on this front since my last update. I'll continue to monitor it, but the chance of study abroad programs running in the fall seems unlikely, in my opinion.
International students continue to be affected, as Karin Fischer reports. It is possible that many of them will not be able to come to campus in the fall if colleges hold in-person classes due to travel and visa restrictions.
China has also increased their quarantine requirements to 21 and 28 days in some regions, with two weeks in a centralized quarantine and 1-2 more weeks in home isolation. In my opinion, programs cannot run where students would have to quarantine. China may also loosen restrictions to foreigners, with an agreement for South Korean nationals in the works. I'll continue to monitor this.
I've been watching news all week about the opening of schools in China. Today, the Sichuan Provincial Department of Education announced that college and university students can start returning to school in batches starting May 6.
The Good Stuff
If you've made it this far, you've probably read about all the complex insights we've seen this week. I wanted to start this section of the report to share some of the things that have made me happy this week.
Conclusion
Hang in there. This isn't easy, I know. But we'll get through it soon.
Thanks for reading this long stream of consciousness summarizing what I've read, watched and reported on this week (it was a lot). Slowly, we will begin to return to some sense of normal. Let's all keep doing what we're doing and we'll get through this together. My best to all for good health.
Like what you see? Don't like what you see? Want to see more of something? Want to see less of something? Let me know in the comments.
For more instant updates, follow me on Twitter @bhrenton.