Day: T-1
Current Location: Beijing (北京)
Hello friends!
It's been 30 days since I arrived in Beijing and I have written 0 blog posts. My days have been filled with work, learning and exploration.
With the Beijing part of the trip behind me, I now turn to the second part: the epic 3,212 mile journey across China. In the next six days, I will be taking a series of planes, trains and boats through Yunnan and Hubei Provinces, finishing back in Beijing next Friday, August 4. The itinerary leaves no room for error; with only a night in each place (for the most part), it is imperative that I make each plane, train and boat. Cities I will visit in the next few days will include:
Lijiang
Kunming
Chongqing
Yichang
Wuhan
For those of you who like maps, here is a visual representation of the journey.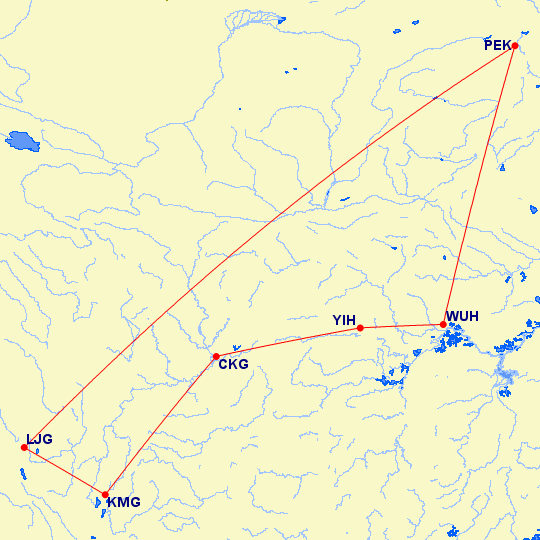 As I was packing tonight, I wanted to think of some goals I had for this expedition. While I am sure more will emerge as the trip progresses, here is what I have so far:
Reconnect with friends and local contacts in Kunming and Lijiang in order to strengthen my relationships with the Chinese people.
Make a return to the Nanyao Village, the village I stayed in two summers ago and visited last summer.
Interact with Chinese tourists and locals on the Yangtze River passenger boat.
Make every single plane, train and boat (with time to spare )to avoid a complicated mess of rebooking.
Write a blog post every night reflecting on the day's events.
Maintain the highest standards of safety, security and health throughout the trip.
So there you have it. 3,212 miles is a lot to cover in six days, but I am glad I have chosen to take this trip. It will be great to reconnect with old friends in Yunnan and have some new experiences as well. I am happy that you, as readers, will also join me along this journey. Please feel free to comment with any questions or suggestions you may have.
As I said in goal 5, I will attempt to write a blog post every night reflecting on the day's events. Most of the time, it will include pictures, depending on the internet connection. Although I will be traveling to somewhat remote places, wifi access seems to be reasonably abundant, so I'm hoping I can keep the blog going over the next week. Stay tuned!
Next stop: Lijiang. ETA: Saturday night China time.
The photo above is the view from my apartment in eastern Beijing. While I'll miss the view and egg tarts downstairs for breakfast, I know there will be many more exciting adventures and rich experiences ahead.
Until tomorrow,
Benjy