Update Wednesday, January 29, 11:58 p.m.: As of 11:58 p.m. Beijing time on January 29, 6,095 confirmed cases of the novel coronavirus have been found in China, with 9,239 suspected cases and 133 deaths. 119 individuals have recovered from the virus. The first case in Tibet was found, a 34 year old male who came to Lhasa on January 24 on a train from Wuhan. Australia has joined the latest list of countries to plan an evacuation of citizens from Wuhan, including France, South Korea, the U.S., Japan, Morocco, Germany, Kazakhstan, Britain, Canada, Russia, the Netherlands and Myanmar. An American plane carrying more than 200 Americans from Wuhan landed in Anchorage for quarantine Tuesday night. According to the New York Times, a dearth of test kits has hindered the ability to accurate track the spread of the virus, as the real number of cases and deaths could be much higher. The virus could also be showing early signs of traveling abroad, as cases in Vietnam, Taiwan, Germany and Japan are present in individuals who never visited the affected area during the outbreak.
In and around Beijing, over 116 train lines have been suspended, the full list of which can be seen here. Many of these trains travel the busy intercity route between Beijing and Tianjin. Around our campus here at Capital Normal University, campus security have begun barricading the campus and all residents must sign in and out (sometimes twice) Checkpoint Charlie-style entrances. Temperatures are checked randomly as only those with official college business can enter. Students and faculty must show their student ID card and register with their residence and phone number. "It's for the good of all of us," a security officer said as he told a resident to wear a mask the next time he enters. Cars from outside the campus community are currently not allowed entry. As students began to depart campus, security guards asked for a consent form giving us permission to leave campus. Students will agree to not go to other areas in China to avoid cross infection and will not return to campus until explicitly given notice from Capital Normal University. We were alerted by the front desk staff at our residence that students with temperatures above 37.2ºC (99ºF) would be turned around at the airport. Each student's temperature is taken upon their departure to the airport.
The biggest piece of news from today came at 5:42 a.m. Beijing time from Assistant Director of International Programs Bill Mayers. In an email to all students and parents studying abroad in China, Mayers said:
I'm writing to let you know that, regrettably, Middlebury has decided to suspend the School in China for the spring 2020 semester. I know that this will come as a great disappointment to you all, but please know that the decision was not made lightly. As I mentioned in previous messages, we have been monitoring the situation over the last week or so and have been meeting daily to determine the best course of action. With the situation unfolding so rapidly, we often waited until the next day to see what new piece of information we might be able to base the next move on—yet every day there was more uncertainty. We have come to the decision today that there is too much at stake to risk any course of action other than suspending the program. We are considering both the potential health and safety risks, as well as the consequences for your academic progress. By suspending the School in China sooner rather than later, we are able to provide alternatives that will hopefully allow most of you to get full credit for the spring semester.
Mayers outlined a number of options for both Middlebury and non-Middlebury students. Of the 37 total students scheduled to enroll in our schools in Beijing, Hangzhou and Kunming this spring, 19 attend Middlebury College and 18 attend a wide variety of other institutions, including Smith, Yale, Bowdoin, Kenyon, Columbia, Scripps, Bates, Williams, Oberlin, Davidson, Redlands, Georgetown, Colby, Wellesley and Boston University. Many students at these schools will have already started their spring terms. As a result, Mayers noted that permission has been granted for these students to enroll at Middlebury College in Vermont for the spring. Students would be housed on campus and would take four courses. Students whose home institutions have not started spring semesters, including Scripps, can seek readmission into their home institution. Students from other schools can attempt to enroll in other programs. At the time of this statement, CET's programs in Beijing, Harbin and Shanghai are still continuing as scheduled and mainland China Programs are due to now start on February 27. Check this alert for more updates. CET's Taiwan program is scheduled to start on February 19. Middlebury will also give students the option to enroll in summer Language Schools on its Vermont campus. For those who meet Spanish language prerequisites, Middlebury can accommodate students at its schools in Uruguay or Buenos Aires, Argentina.
"We expect the School in China will be fully operational for fall semester 2020. We would welcome you all to join us in China then. I understand there may be some hurdles for some of you to jump by going abroad in your senior year. Middlebury College students will need to apply to the Administration Committee for approval to be off campus during the senior year, but we will work with them to ensure this will be a possibility for you," Mayers said.
Carlos Velez, Middlebury's Dean of International Programs, followed Mayers' email with a message to the Middlebury community, which you can see here on Middlebury's Global Operations Page. "We are well aware of the burden that this unexpected influx of students will put on members of the Middlebury community, both faculty and staff. We will do everything we can to lessen the impact. We do hope that you will help us in every way you can to make them feel welcome. Whether they are Middlebury students to begin with or if they come to us from other institutions, they will be Middlebury students for the time they are here. I will continue to send updates as needed and I thank you in anticipation of your collaboration during these difficult times," he said.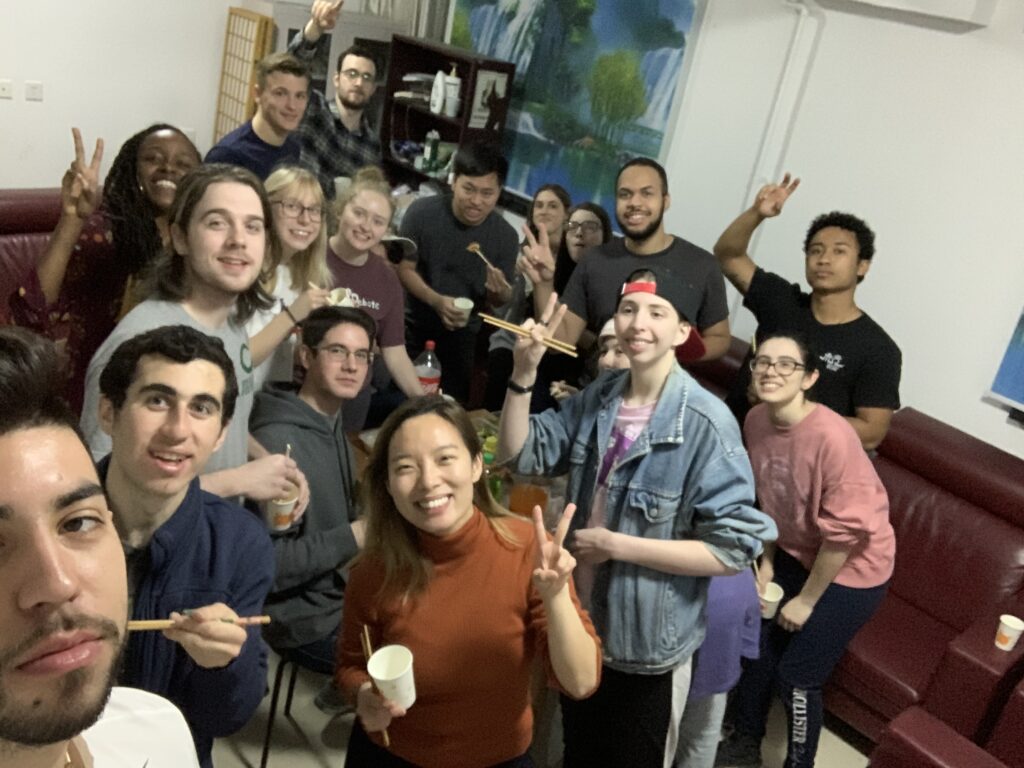 Students awoke flustered and shocked, and as a result, I called a meeting with all Middlebury Schools Abroad students to discuss repatriation options and ensure that all students would be able to formulate a plan to depart Beijing as swiftly as possible. Local cakes and fruits were provided. This includes flight booking to a repatriation airport in the U.S., as well as shutting off cell phone and banking services in China, if desired. This repatriation plan ensures the smoothest departure from China. Students have already begun departing from our campus — three left today and others will leave between now and Saturday. I will be among the last to leave, myself leaving on a flight to New York on Saturday evening. Throughout the next few days, we will ensure that students make their flights and leave China without any issues. We also enjoyed a group lunch together.
At Beijing Capital International Airport, our contacts report minimum wait times in security, immigration and health checks. Temperatures are checked upon entering the airport and travelers will fill out a health declaration form with departing flight information and listing any symptoms. Three students have made flights this evening and we will continue to monitor the airport for any changes to protocol. Our students have reported temperature checks at Terminal 2, but not Terminal 3. United Airlines has announced a reduction of flights to China from February 1 to 8, citing low demand. These changes can be viewed in detail here. Students should check with their airline as to their flight schedule prior to departure. American, Delta and United are all waiving change fees to affected customers from China. British Airways will suspend all flights from London to Beijing and Shanghai immediately. Air Canada and Cathay Pacific have reduced capacity of flights to China, the latter reducing to 50% of original capacity. Lufthansa and Swiss have also just announced cancellations. China's railway bureaus have extended the ticket refund period to March 24. Hong Kong has closed its high-speed railway station with links to China.
The CDC has announced procedures at U.S. airports for passengers from China. According to their website,
The screening procedures include:
Travelers fill out a short questionnaire about their travel, any symptoms, and contact information.

CDC staff take the temperature of each traveler with a hand-held non-contact thermometer (thermometers that do not touch the skin) and observe the traveler for cough or difficulty breathing. If sick travelers are identified, CDC evaluates them further to determine whether they should be taken to a hospital for medical evaluation and to get care as needed.
In Vermont, Middlebury's home state, I have appeared on WCAX to discuss our experiences here and will appear on NBC 10 Boston shortly. Vermont's Department of Health has issued a statement on the coronavirus here.
CET is expected to send out a further update with their plans for their mainland China and Taiwan programs by January 31. Students will continue their departures at this time. We would like to issue our sincerest wishes of gratitude to the staff at CET and Middlebury for their support with our ~50 students during this time. These are complicated times but we will ensure that students are able to continue their academic careers with minimal disruption.
We will continue to monitor the situation throughout the day and will send out another update in the near future should new information arise. The safety, security and health of all students is of utmost priority and we will work from Beijing, DC and Vermont to ensure a smooth and successful repatriation for all students.