So you're about to travel to China. As part of your trip preparation, it is important to remember to prepare your phone by downloading apps that will be very useful during your time in the Middle Kingdom. Contemporary Chinese society is becoming increasingly reliant on mobile technology — between cashless payments and online food delivery, Chinese people are constantly on their phones and use technology to make their daily lives easier. Become integrated into the local online computer by downloading these apps before you go to China. The links provided for each app will direct you to the Apple App Store, but I'm sure you can find some of these apps in the Google Play store as well.
This blog post serves as the 2019 update of Top 10: Must-Download Apps for China Travelers.
WeChat is more than just a communication tool and messaging app in China. Aside from its basic functions of making calls and sending text messages, you can use WeChat to pay for items, book train tickets and unlock bikes on the street. WeChat also contains many mini programs — essentially apps within the larger WeChat app. As part of its scan feature, WeChat allows you to point your camera at a sign in Chinese and it will automatically translate it in to English. If you decide not to download WeChat, be prepared for a long, boring stay in China. Set up an account before you go and WeChat can search your phone's contacts for friends.
Trip.com is a very useful website that I use when booking flights, trains, hotels and attraction admission tickets in China (they also have vacation packages). Since much of the train system is in Chinese, it is great to have a website where you can book your train tickets in English (albeit for around a small 30 RMB service fee), without the stress of waiting in a poorly formed line at a Chinese train station with angry customers. Once you book your train ticket and pay (Western credit cards such as Visa and MasterCard are accepted, in addition to WeChat Pay), the website will give you a reservation number, which you show a ticketing agent at a train station to pick up your ticket. You also can accumulate rewards points for discounts on hotel bookings. The flight booking portion of the website is also very easy to use and works just like Expedia or Kayak. The website is in English, and so is the app.
Didi is China's version of Uber and allows you to hail many types of cabs, from official taxis to carpools to luxury vehicles to now even bikes. It works in a similar way to Uber in other countries and should allow you to connect a foreign credit card. Didi works in most cities in China and has an English version. It is very useful to hail a cab where a driver knows exactly where you're going. Consider using the carpool feature — it is often noticeably cheaper than hailing your own car and the algorithm is smart to match you with people going along the same route. Similar ride-sharing apps include Caocao and Shenzhou Zhuanche.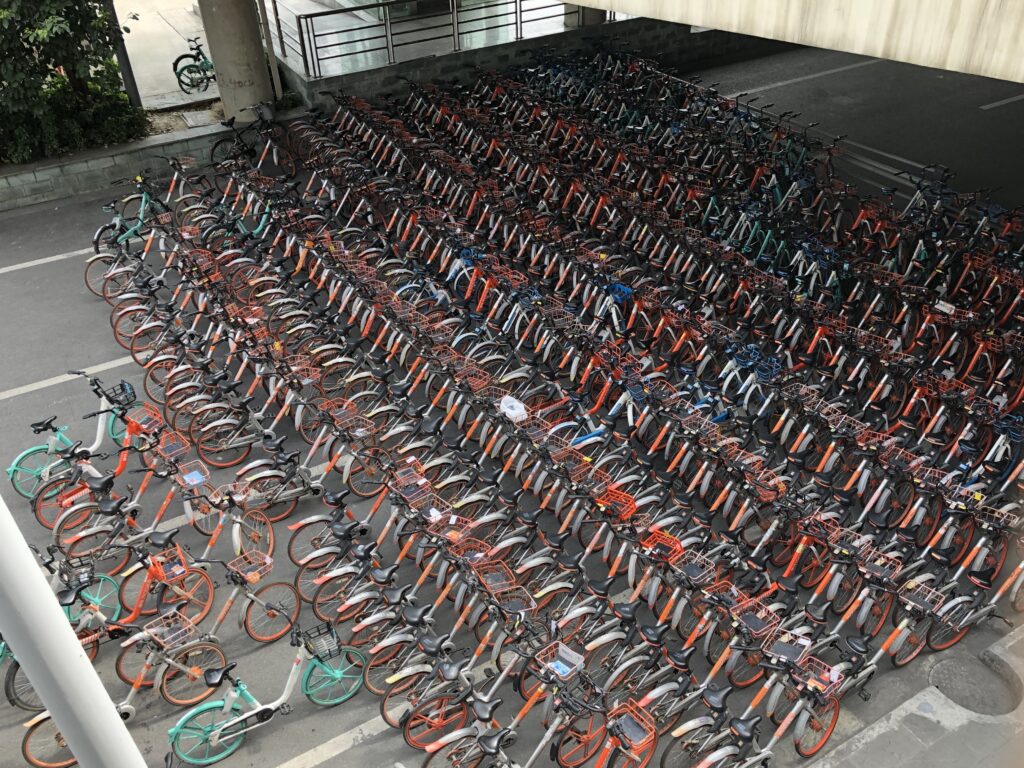 A recent phenomenon in China has been the influx of rental bikes in China's major cities. Now, most companies do not require a deposit and creating an account is easy. With an account, travelers can unlock millions of bikes for short-term use. While many companies exist, Mobike has a disroprotionaly large share of the market (may Ofo rest in peace). You can also use the Didi app to hail certain color bikes. Consider buying a monthly subscription pass — a Mobike 30-day pass in Beijing is under 30 RMB. Note that passes are not transferrable between cities.
12306.cn is the China State Railway Group's official website and this is their app. This app is similar to Trip.com in that it enables you to book railway tickets across China; however, this app is only in Chinese. It eliminates the 20-30 RMB service free Trip.com charges as you are booking directly with the railway company. The app does not accept foreign credit cards — just WeChat Pay and Alipay. You can also use the app to order food during your train journey from passing stations (when the train stops at the station, someone from the station's restaurant will run onto the train and hand the food to the conductor for distribution) and check train status (although you would probably never need to use this feature as trains are mostly immaculately on time).
Anyone who studies Chinese can confirm that this app has saved their life numerous times. It functions as a dictionary with examples of words used in sentences and allows you to hear the pronunciation of a word. You can bookmark words to review later. The app supports both traditional and simplified calendars. There are some add-ons that you can purchase but the free version is more than sufficient.
Youku is like YouTube in China, giving you access to videos, movies and music. I'm still on the lookout for a good music app (QQMusic is decent for now), so stay tuned.
A VPN (or virtual private network) is necessary for those in China desiring access to sites such as Facebook, Youtube and Google, among others. (I'd prefer not to go into the details of how it works right now, so just believe me that through some marvel of modern technology, it just works. If you're really interested, see this Twitter thread from Peter Hansen — he does a good job explaining it.) While there are many options, ExpressVPN has shown consistent reliability for a small monthly fee. Astrill and NordVPN are also good choices, though note that the reliability of VPNs can change on a daily basis. You can download the app on your computer and phone, and it is recommended to test your VPN before you leave for China.
These apps are quite similar, with both parent companies merging in 2015. Dazhong Dianping unlocks the world at your fingertips, giving you information on restaurants (with reviews), movie theaters, hair salons, karaoke places, bars, spas…you name it. Heck, you can even get a wedding photographer on there. The platform relies heavily on reviews from the people (hence the name 大众 – the masses) and so when picking a restaurant you can search by cuisine and read the reviews. (I often find this a good opportunity to practice my Chinese by writing restaurant reviews for the places I have been.) The menu is often posted with recommended dishes as well. You can use the app to order takeout, book a table and wait in a virtual line for a table (at some places). Its integration in a WeChat mini program means you can easily send listings to friends. Be on the lookout for coupons at select restaurants and save up to 50% sometimes. When using a coupon, you'll pay for it using mobile payment and show a QR code the app will generate to your server or cashier. The algorithm is smart and the app will send you notifications for discounts nearby or places that they know you may like based on your eating/view history (it must collect a serious amount of information). Seamlessly book movie and travel tickets as well. Think of the app as a combination of Yelp, TripAdvisor and Groupon, all in one. The power of this app cannot be understated and I'd highly recommend it.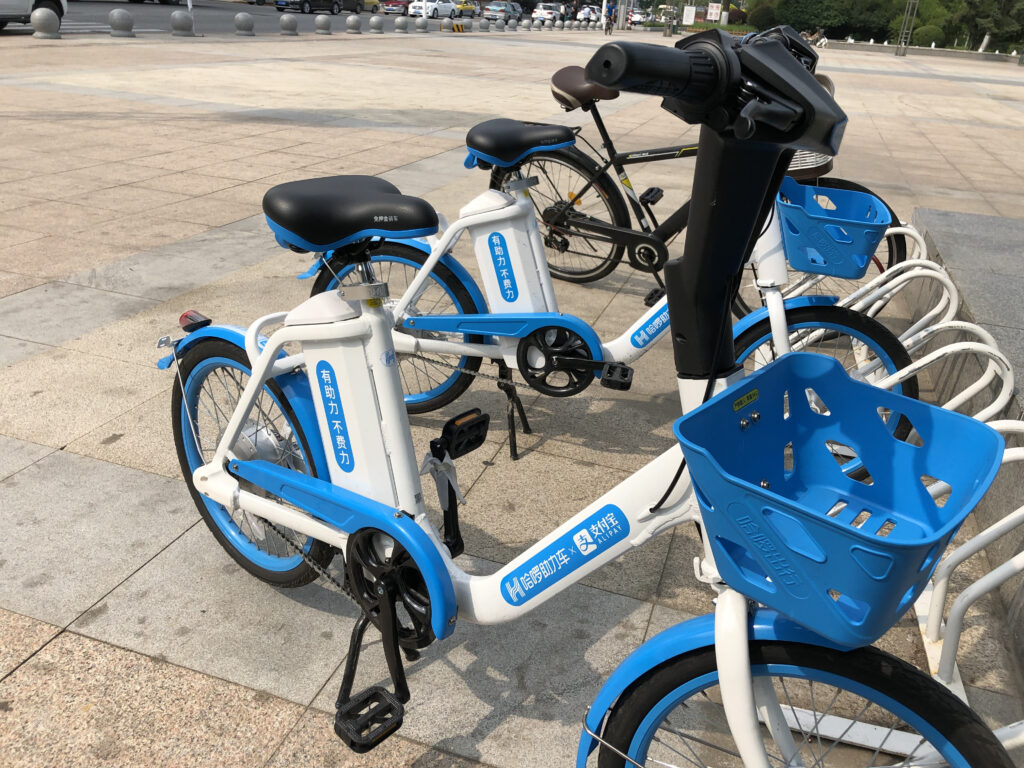 Alipay is one of China's two most popular mobile payment platforms, the other being WeChat Pay. Both are used pretty interchangeably in daily life, though Alipay is used as the preferred payment option on sites such as Alibaba and Taobao. You need to have a Chinese bank account to use the money service, I believe — foreign credit cards do not seem to be accepted yet. You can also book air and train tickets within the app and unlock HelloBikes (the blue and white ones).
Air pollution is a problem that people living in China encounter on a daily basis. With AirVisual, you can wake up to an alert of the air quality level in many Chinese cities. With data from the U.S. Department of State, you can see the history of air quality levels and read health recommendations based on the pollution level.
Search agent giant Baidu has also developed a map app, similar to Google Maps. The app features public transportation integration, spoken directions and advanced route planning technology, and is a must for traveling to China. You can also download portions of the map for offline use. Here are some other cool features of the app — it can also turn into a tour guide and read aloud information relating to a particular attraction's history.
Baidu is the Chinese version of Google and, due to current internet restrictions, is the best search engine in China. It has a website, but the app is worth downloading as well.
14. Subway
If you're spending time in China's big cities, chances are you'll be taking the subway. I'd recommend you download a map of the city's subway (such as Metro Beijing Subway or Metro Shanghai Subway) to help you get around. 亿通行 is an app used on the Beijing and Dalian subway systems and functions as a mobile transport card. Connect the app to WeChat Pay and a QR code will pop up. Scan it at the turnstile when you enter and exit the subway and the fare will be automatically deducted from your WeChat balance.
Taobao is the Amazon of China, featuring products that can even offer same-day delivery. While they also have a website where you can shop to your heart's content, the Taobao app is great to have on your phone when you need…anything.
16. Takeout (外卖??)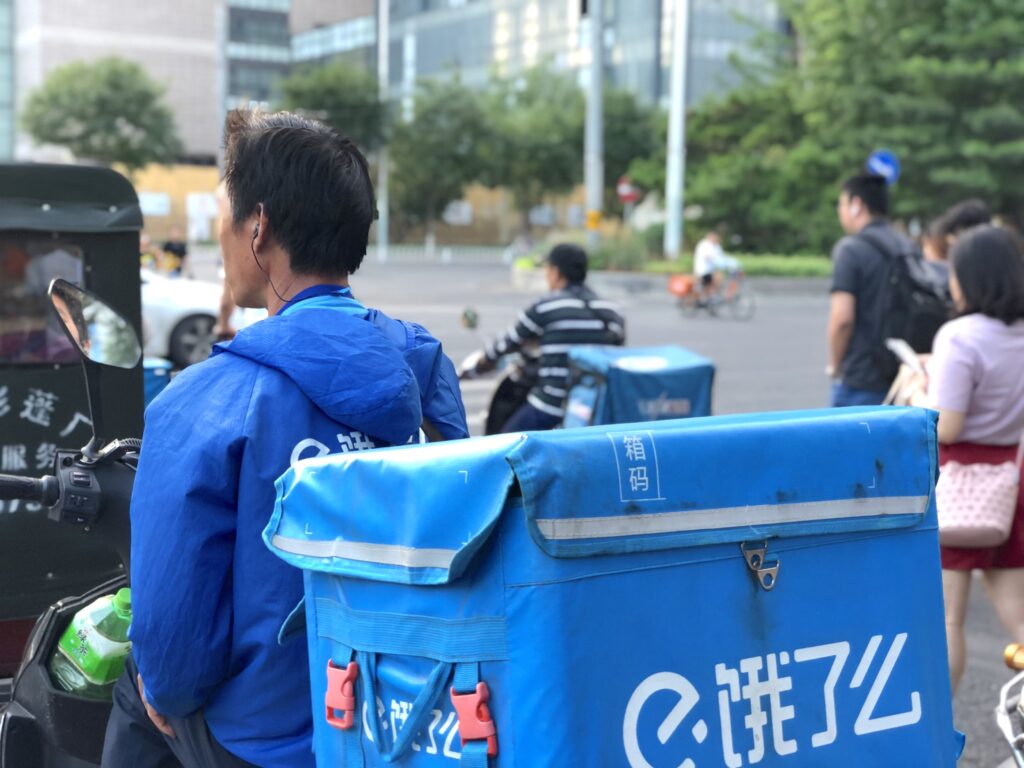 Chinese takeout is a recent and popular phenomenon in China. Deliverymen on motorcycles weave through city streets, delivering food from local restaurants to residents and workplaces. While their are many apps out there, Meituan Waimai (美团外卖), Eleme (饿了么) (literally translating to "are you hungry?") and Sherpa's are among the most popular (Sherpa's is an English-language app available for select restaurants in Beijing, Shanghai and Suzhou — for a better selection of restaurants and better deals, use the Chinese-language apps). Jinshisong/JSS (锦食送) is an English-language app with restaurants available in Beijing and Shanghai.
Sina Weibo is a micro-blogging platform similar to Twitter, but for a Chinese audience. You can create your own profile and share photos, videos and texts. Many businesses and newspapers also have Weibo accounts.
The Lonely Planet guidebook provides a great starting point for recommendations on what to see, do, eat and where to stay while traveling in China. This app enables you to download (for free) guides for certain major cities and see information for guided tours. It's great to see all the places on an interactive map as well.
And there you have it. These apps will help you stay connected, informed and equipped while traveling in China. You'll fine that China's mobile infrastructure means that using these apps will make your life incredibly convenient and help you accomplish daily tasks. Any apps I missed? Let me know through the "Contact" page.
Featured image: Bicycles in Beijing, July 2019