Update Friday, January 24, 8:15 p.m.: As of 8:30 p.m. Beijing time on January 24, 894 confirmed cases of the novel coronavirus have been found in China, with 1076 suspected cases and 26 deaths, including individuals in Hebei and Heilongjiang Provinces. The city of Wuhan and 12 other nearby cities are on lockdown, with trains skipping Wuhan's three stations and residents unable to leave. In supermarkets and public places across Beijing, members of the public were out in masks. The recent surge in confirmed cases of the novel virus in Wuhan is due in part to a shortened diagnostic process and accelerated distribution of test kits. The World Health Organization has declared a global health emergency over the coronavirus outbreak in China, but has declared an emergency within the country. Starbucks has enhanced health precautions in all stores across China, disinfecting every two hours and offering hand sanitizer. The People's Daily reports that one confirmed patient with the Wuhan Coronavirus in Beijing has fully recovered and been released from the hospital. The Beijing Municipal Health Committee has officially designated three Beijing hospitals as disease control centers for the Wuhan Coronavirus. The U.S. Department of State has issued Level 4-Do Not Travel advisory for Hubei Province. The CDC recommends that travelers avoid all nonessential  travel to Wuhan, China.
At 2:00 p.m. on Friday, Beijing and Shanghai issued Level 1 emergency responses. This will allow authorities to regulate daily essentials like water, electricity and food. Officials can also take preventative measures against the hoarding of medical and protective supplies and price gouging. The following attractions in Beijing are closed until further notice and many theaters are closed as well. Many attractions in major cities across China are also closed, including Shanghai Disneyland.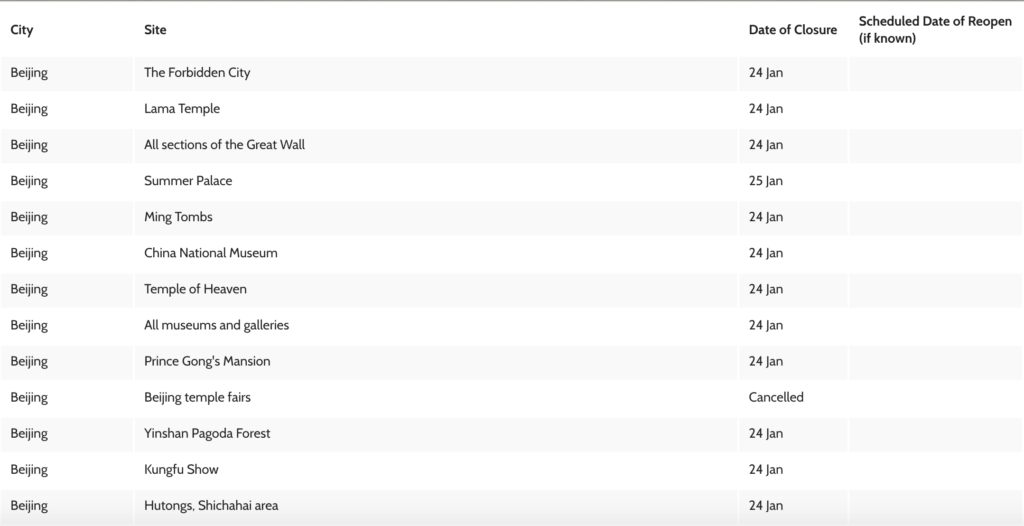 In Beijing, we are 655 miles away from Wuhan. Travelers are urged to:
Avoid contact with sick people.
Avoid animals (alive or dead), animal markets, and products that come from animals (such as uncooked meat).
Consider wearing a mask in public
Wash hands often with soap and water for at least 20 seconds. Use an alcohol-based hand sanitizer if soap and water are not available.
Avoid travel to the Wuhan area.
As many students are preparing to travel across the country for the holiday break, we will actively monitor the situation and advise of any further updates or modifications to travel plans. Currently, travel will continue as scheduled — temperature checks are expected to be in place across many Chinese transport hubs and students are advised to arrive with plenty of time to spare. I will be traveling to Harbin tomorrow and will advise on the travel situation. Students are advised to stay healthy through drinking plenty of fluids, eating nutritious meals and ensuring adequate sleep.
We will continue to monitor the situation and will send out further updates if necessary. Wishing you all a happy and prosperous Year of the Rat! 春节快乐,万事如意!